TOEFL 2022 Exam - Dates, Application Form, Admit Card, Syllabus, Result
Stay up-to date with TOEFL News
About TOEFL 2022
The Test of English as a Foreign Language (TOEFL) is a premier English-language proficiency test that is conducted by the Educational Testing Service (ETS). The TOEFL exam is conducted in computer-based mode, known as TOEFL iBT. The alternative paper-delivered mode is only available for locations where testing via the internet is not available. TOEFL iBT test measures all 4 communication skills — reading, listening, speaking, and writing, and is preferred by educational institutions.  Over 11,000 universities and institutions spread across 150 countries accept TOEFL scores for admission, jobs, and immigration purposes. The computer-based test is administered more than 60 times a year and can be taken at designated test centres. Availability of test dates and exam centres can be checked at the time of TOEFL 2022 registration. 
The score of TOEFL is valid for a period of two years from the date of the test. 
TOEFL 2022 registration is open 24/7. Also, note that there is no specific eligibility criteria to take the TOEFL test; instead the applicant must refer the minimum TOEFL score - both section-wise and overall - prescribed by the institution he/she is seeking admission to.
TOEFL 2022 Highlights
| | |
| --- | --- |
| Full Exam Name | Test of English as Foreign Language |
| Short Exam Name | TOEFL |
| Conducting Body | Educational Testing Service |
| Exam Level | University Level Exam |
| Languages | English |
| Mode of Application | Offline / Online |
| Mode of Exam | Online and Offline |
| Exam Duration | 3 Hours |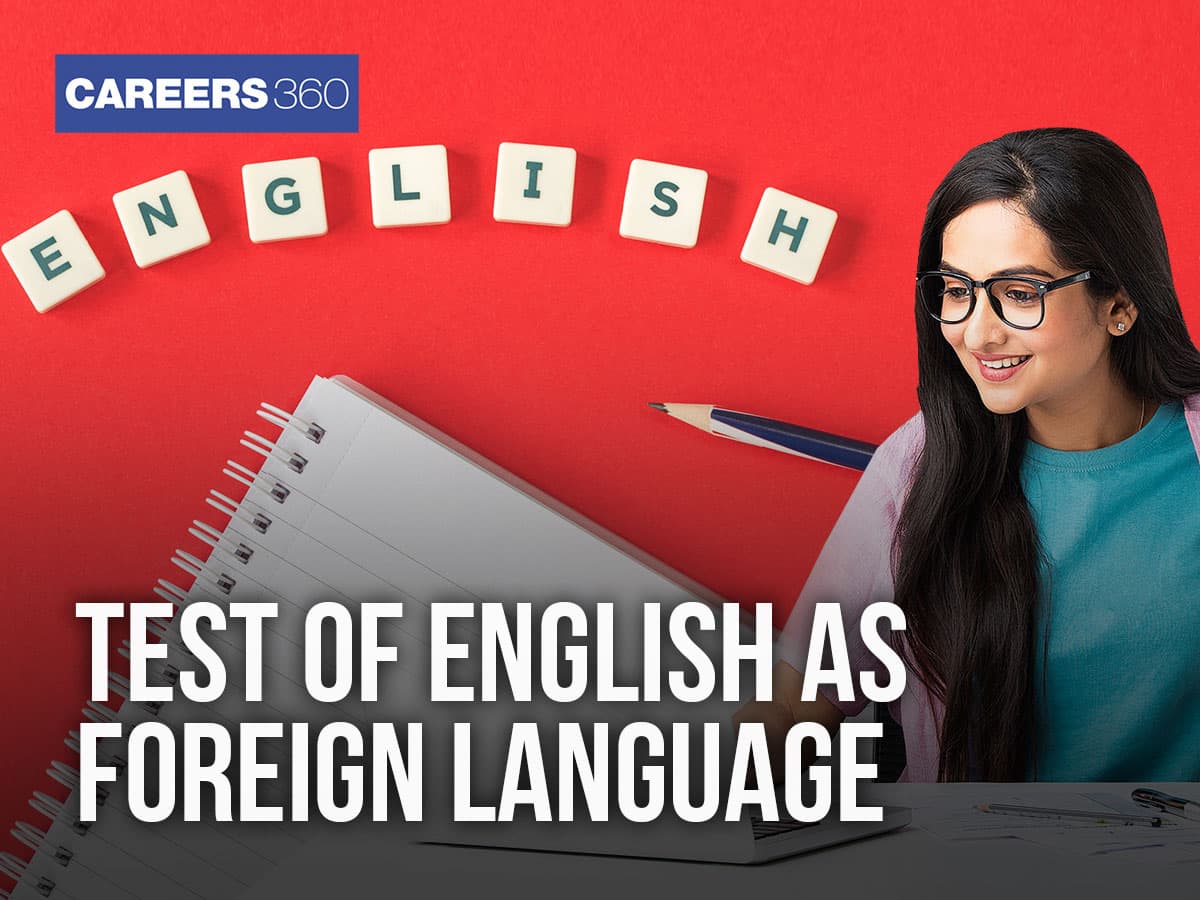 There are no specific eligibility criteria for the TOEFL iBT 2022 exam as it is an English language proficiency test and any person who wants to study, work or immigrate abroad can take the TOEFL 2022 exam. That being said, the applicant must meet the institute-specific TOEFL eligibility criteria or minimum section-wise or overall marks in TOEFL 2022 as mandated by the institute applied for admission.
Please note that the minimum TOEFL scores prescribed by universities may vary from one institute to another.
Mode of Application : Offline and Online
Mode of Payment : Credit Card | Debit Card
TOEFL registration 2022 can be done in any of the following three ways:
Online through one's ETS account
by phone 
by mail
Online registration is the most common, fastest, and easiest method. TOEFL 2022 registration is open 24 hours a day, 7 days a week.
TOEFL Online Registration 2022
The steps to register for the TOEFL iBT Test are as follows.
Step 1 - Creation of applicant account 
Create a candidate account by entering personal information like name, date of birth, and gender. Next, enter a current email address for correspondence, and furnish an address and phone number. The candidate will also be prompted to enter a username and password to create the account.
Step 2 - Select a test centre and date
The TOEFL iBT test will be conducted more than 60 times a year at designated test centres. To search for a suitable test date and convenient test centre, click on TEST CENTRE search bar.   
Then enter a location and then select a 2-month period during which to take the test.

The two-month period can be any consecutive two months (say, January - February, February - March, March - April, etc)

Based on the selections made, a list of available test dates and corresponding test centers will be displayed on the screen.  

To check availability of seats for a test centre, click on the "Show Test Times and Register" option given against the test centre. 

Finally, select a test centre and date
Step 3 - Complete registration 
Choose a score recipient with whom TOEFL scores will be shared once score are available. A maximum of four universities can be selected without any additional cost, except for exam fee. 
But to add more institutes, a fee of US$20 per institute has to be paid.
TOEFL Fee Structure 2022            
| | |
| --- | --- |
| Country | Cost |
| The US | $205 |
| Australia | $300 |
| India | $180 |
| Germany | $255 |
| South Korea | $200 |
Details of the extra payments related to the TOEFL 2022 exam:
| | |
| --- | --- |
| Registration | Country-specific |
| Late registration | $40 (USD) |
| Rescheduling | $60 (USD) |
| Reinstatement of cancelled scores | $20 (USD) |
| Additional score reports (per institution or agency) | $20 (USD) each |
| Speaking or Writing Section score review | $80 (USD) |
| Speaking and Writing Section score review | $160 (USD) |
| Returned payment     | $20 (USD) |
TOEFL Registration 2022 - By Phone
To take the TOEFL iBT test in an exam centre located in the US, U.S. Virgin Islands, Puerto Rico or Canada, call at +1-443-751-4862 or 1-800-GO-TOEFL (1-800-468-6335).
For any other location, the applicant has to call the Regional Registration Center (RRC). 
TOEFL Registration 2022 - By Mail
Download the TOEFL 2022 Registration Form 

Fill the form using Black/Blue pen ink.

Choose a payment method from available options.

Send the completed TOEFL 2022 application form along with payment receipts to the address mentioned on the form or to the Regional Registration Centre 

Completed applications must reach the admission office at least four weeks before the test date.
TOEFL 2022 Syllabus
Reading
Reading: Unit 01
Reading: Unit 02
Reading to find information
Reading: Unit 03
Reading: Unit 04
Reading: Unit 05
Reading section description
Reading: Unit 06
Reading: Unit 07
Reading: Unit 08
Reading: Unit 09
General reading activities
Reading: Unit 10
Reading for basic comprehension
listening
listening: Unit 01
Academic listening skills
listening: Unit 02
Listening for basic comprehension
listening: Unit 03
Listening for pragmatic understanding1
listening: Unit 04
Connecting and synthesizing2 Information
listening: Unit 05
Listening section description
listening: Unit 06
listening: Unit 07
Conversations in an academic setting
listening: Unit 08
Listening skills practice
listening: Unit 09
General listening activities
listening: Unit 10
Listening for pragmatic understanding
listening: Unit 11
Listening to connect and synthesize Ideas
Speaking
Speaking: Unit 01
Speaking: Unit 02
Speaking section description
Speaking: Unit 03
Speaking: Unit 04
Speaking: Unit 05
How speaking responses are scored
Speaking: Unit 06
Speaking: Unit 07
Speaking: Unit 08
Speaking: Unit 09
Group speaking activities
Writing
Writing: Unit 01
Writing: Unit 02
Writing section description
Writing: Unit 03
How writing responses are scored
Writing: Unit 04
Writing: Unit 05
General writing activities
Writing: Unit 06
Writing: Unit 07
Writing: Unit 08
Test day and beyond
Test day and beyond: Unit 01
What to expect on test aay
Test day and beyond: Unit 02
Test day and beyond: Unit 03
Test day and beyond: Unit 04
Test day and beyond: Unit 05
Test day and beyond: Unit 06
In order to ensure comprehensive preparation for the TOEFL 2022 test, one may refer to the following TOEFL 2022 preparation tips in mind:
TOEFL 2022 Listening Preparation:
Listen to radio, TV and online English broadcasts to get familiar with the English language, pronunciation, voice fluctuation, accents and enunciation.
Practice questions and take notes of every potential point of importance during the listening exercises.
TOEFL 2022 Speaking Preparation:
When listening to a broadcast, make it a habit to speak after or alongside it
Learn how to enunciate a point clearly, cogently and without hesitation.
Practice speaking in a timed environment via the official ETS Speaking preparatory videos on the TOEFL iBT YouTube channel.
TOEFL 2022 Reading Preparation:
Practice reading questions in a timed environment.
Work on your vocabulary. One way to achieve that is by becoming a vociferous reader - read well-reviewed novels, newspaper editorials, magazines, etc.
TOEFL 2022 Writing Preparation:
Practice how to write on relevant topics in a timed environment.
Ensure that you use the correct vocabulary and have sufficient knowledge of sentence structure and grammar to effectively communicate your opinions and write your answers.
TOEFL iBT test, which is delivered in computer-based mode is most common and also preferred by universities. The paper-delivered test, which is less common, is available only for locations where internet testing cannot is be done. TOEFL exam pattern 2022 is explained below:
Mode of exam - The TOEFL exam is administered in computer-based mode, known as TOEFL iBT Test. A paper-delivered mode is also available but only for locations where the internet-based test is not available.

Sections - Four sections: reading, writing, speaking and listening.

Duration - Approximately 3 hours, with each section to be allotted fixed time.

Break: There is a 10-minutes break after the reading and listening section.
TOEFL Test Pattern 2022
Section

Number of Questions and duration

Tasks

Reading






Questions: 30–40 questions




Duration - 54–72 minutes

Reading 3 or 4 passages from academic texts and answering questions.

Listening






Questions: 28-38




Duration - 41-57 minutes

Expressing an opinion on a familiar topic; speaking based on reading and listening tasks.




10 minutes BREAK

Speaking





Questions: 4 tasks




Duration - 17 minutes

Writing essay responses based on reading and listening tasks; supporting an opinion in writing.

Writing






Questions: 2 tasks




Duration - 50 minutes

Candidates need to write essay responses based on reading and listening tasks, along with supporting the opinion in writing.

Total duration

About 3 hours

-
TOEFL 2022 Exam Centers
State
City
Gujarat
Ahmedabad
Vadodara
Uttar Pradesh
Allahabad
Punjab
Amritsar
Ludhiana
Karnataka
Bengaluru
Madhya Pradesh
Bhopal
Gwalior
Odisha
Bhubaneswar
Chandigarh
Chandigarh
Tamil Nadu
Chennai
Coimbatore
Madurai
Uttarakhand
Dehradun
Delhi
New Delhi
Andhra Pradesh
East Godavari
Tirupati
Vijayawada
Visakhapatnam
Haryana
Gurgaon
Telangana
Hyderabad
Nizamabad
Warangal
Rajasthan
Jaipur
Jodhpur
Kerala
Kochi
Thiruvananthapuram
Thrissur
West Bengal
Kolkata
Maharashtra
Mumbai
Nagpur
Nashik
Pune
Bihar
Patna
Puducherry
Puducherry
Chhattisgarh
Raipur
Documents Required at Exam
Valid government issued Passport
TOEFL iBT 2022 scores will be available around 6 days after the test date. It can be viewed by logging into one's ETS account; the candidate will be notified about the availability of the TOEFL score through their registered email accounts.  
TOEFL 2022 scores will be valid for a period of two years from the date of the exam. So, once the PDF score reports are available, download and get a printout of the scorecard. PDF score reports are usually ready for download within 8 days of the test.
TOEFL 2022 Result              
| | |
| --- | --- |
| Sections | Scores |
| Reading | (Score of 0–30) |
| Listening | (Score of 0–30) |
| Speaking | (Score of 0–30) |
| Writing | (Score of 0–30) |
| Total TOEFL Result | (0–120) |

TOEFL 2022 Scores          
Sections

Score Range

Level

Listening Section

0–30

High (22–30)

Intermediate (15–21)

Low (0–14)

Speaking Section

0–30

Good (26–30)

Fair (18–25)

Limited (10–17)

Weak (0–9)

Reading Section

0–30

High (22–30)

Intermediate (15–21)

Low (0–14)

Writing Section

0–30

Good (24–30)

Fair (17–23)

Limited (1–16)

Total TOEFL Scores

0–120

 -
Questions related to TOEFL
Showing 201 out of 201 Questions