About TOEFL 2018
The Test of English as a Foreign Language or TOEFL 2018 is an internationally recognised English language proficiency examination which is conducted by Educational Testing Services or ETS. The TOEFL 2018 test scores can be used to meet English language proficiency requirements for admission to various postgraduate and undergraduate programs abroad. The TOEFL test evaluates a candidates proficiency in the English language on the basis of four parameters namely Reading, Writing, Listening and Speaking. TOEFL scores are valid for up to 2 years from the date of the examination.
Exam level:
University Level Exam
Languages
English
Conducting Body:
Educational Testing Service

Duration
4 Hours 30 Minutes
There is no specific eligibility criteria for the TOEFL iBT 2018 exam as it is an English language proficiency examination and any person who wants to study or work abroad is eligible to take the TOEFL 2018 exam. Instead, the candidates have to meet individual TOEFL requirements for the prospective colleges and universities of application. Generally, these institutions release a minimum eligible total score for application and in some cases, sectional score requirements also need to be met by the candidates.
Mode of Application : Online
Mode of Payment : Credit Card | Debit Card
In order to register for the TOEFL 2018 exam online, a candidate is required to follow the given procedure:
The candidate must first register by creating an ETS account on the registration link available on the official ETS web page.
The candidate must fill in the requisite details and complete the registration process after which he or she will receive an email regarding login details.
Using the newly registered login details, the candidate can log into his or her ETS account and schedule a TOEFL test.
The candidate can then select the test centre and test date from an available list of centres and dates as per his or her requirement.
Upon selection, the candidate will also have the option of picking up to four recipient universities for his or her TOEFL scores. Each additional recipient added will require a payment of USD $20.
The final step in the application process is payment of the exam fees of USD $180 via credit or debit card.
Registration for the TOEFL 2018 exam can also be carried out via mail or phone.
TOEFL E-books and Sample Papers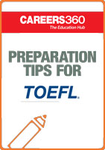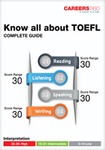 In order to ensure comprehensive preparation for the TOEFL 2018 test, candidates should keep the following preparation tips in mind:
TOEFL 2018 Listening Preparation:
Candidates should listen to audio media in English to enhance familiarity with oral English and various accents and enunciation differences which he or she may come across in the language.
Candidates should do practice questions and take notes of every potential point of importance during the listening exercises.
TOEFL 2018 Speaking Preparation:
Candidates should enunciate clearly and avoid hesitancy.
Candidates should practice speaking in a timed environment via the official ETS Speaking preparatory videos on the TOEFL iBT YouTube channel.
TOEFL 2018 Reading Preparation:
Candidates should practice questions in a timed environment.
Candidates should enhance vocabulary by regular revision of vocabulary words in order to effectively understand the reading passages.
TOEFL 2018 Writing Preparation:
Candidates should practice written expression of their opinions in a timed environment.
Candidates must ensure that they have the required vocabulary and knowledge of sentence structure and grammar to effectively communicate their opinions and answers.
The TOEFL iBT 2018 exam has four sections or parameters upon which a candidate's proficiency in English is evaluated:
Reading
Writing
Listening
Speaking
Each section is scored on a 0-30 point scale and the total TOEFL iBT score is on a scale of 0-120 being a summation of the scores from individual sections.
TOEFL 2018 Exam Pattern
| | | | |
| --- | --- | --- | --- |
| Section | Duration | No. of Questions | Type of Questions |
| Reading | 60-80 minutes | 36-56 | Passages from academic texts |
| Writing | 20 minutes | 2 | Written expression of opinions, responses based on reading and listening tasks |
| Listening | 60-90 minutes | 34-51 | Audio recordings of academic lectures, conversations, discussions |
| Speaking | 20 minutes | 6 | Oral expression of opinions on specific topics, responses based on reading and listening tasks |
TOEFL 2018 Exam Centers
State
City
Gujarat
Ahmedabad
Vadodara
Uttar Pradesh
Allahabad
Punjab
Amritsar
Ludhiana
Karnataka
Bengaluru
Madhya Pradesh
Bhopal
Gwalior
Odisha
Bhubaneswar
Chandigarh
Chandigarh
Tamil Nadu
Chennai
Coimbatore
Madurai
Uttarakhand
Dehradun
Delhi
New Delhi
Andhra Pradesh
East Godavari
Tirupati
Vijayawada
Visakhapatnam
Haryana
Gurgaon
Telangana
Hyderabad
Nizamabad
Warangal
Rajasthan
Jaipur
Jodhpur
Kerala
Kochi
Thiruvananthapuram
Thrissur
West Bengal
Kolkata
Maharashtra
Mumbai
Nagpur
Nashik
Pune
Bihar
Patna
Puducherry
Puducherry
Chhattisgarh
Raipur
Documents Required at Exam
Valid government issued Passport
The TOEFL 2018 result is available to candidates for download approximately 13 days after the test day. The results can be accessed via the candidates' registered ETS account and unofficial scores can be downloaded in PDF format. The TOEFL iBT 2018 result comprises the candidate's individual scores in the 4 sections as well as the cumulative score on the 0-120 point scale.
TOEFL iBT 2018 Scores:
The scores for each individual section are calculated on a 0-30 point scale. The total TOEFL score is the cumulative result of the four individual sections.
TOEFL iBT 2018 Score Analysis
Section
Scoring Scale
Score Analysis
Reading
0-30
High : 22 - 30
Medium : 15 - 21
Low : 0 - 14
Writing
0-30
Good : 24 - 30
Fair : 17 - 23
Limited : 0- 16
Listening
0-30
High : 22 - 30
Medium : 15- 21
Low : 0 - 14
Speaking
0-30
Good : 26 - 30
Fair : 18 - 25
Limited : 10 - 17
Weak : 0 - 10
General Information
| | |
| --- | --- |
| Validity of Exam Result: | For 2 Years |
| Mode of Exam: | Online |
| Contacts: | 91124-4147700 |
| Relevant Links: | Official Website Link Click Here |
| | +1 More |
Questions related to TOEFL
Conducting Body
Educational Testing Service
Download the Careers360 App on your Android phone
Regular exam updates, QnA, Predictors, College Applications & E-books now on your Mobile