IELTS Eligibility Criteria 2022 - Qualification, Age, Test dates
IELTS Eligibility Criteria 2022 - The British Council and IDP are the conducting bodies who release the eligibility criteria for IELTS (International English Language Testing System). The IELTS eligibility criteria 2022 per se doesn't provide for any strict rules that the prospective candidates have to comply with. As the IELTS exam is taken by people who want to pursue studies or employment at an English speaking country. It is provided by the officials that candidates at least above 16 years of age are preferable as per IELTS eligibility criteria. The article below contains aspects related with IELTS 2022 eligibility criteria.
Stay up-to date with IELTS News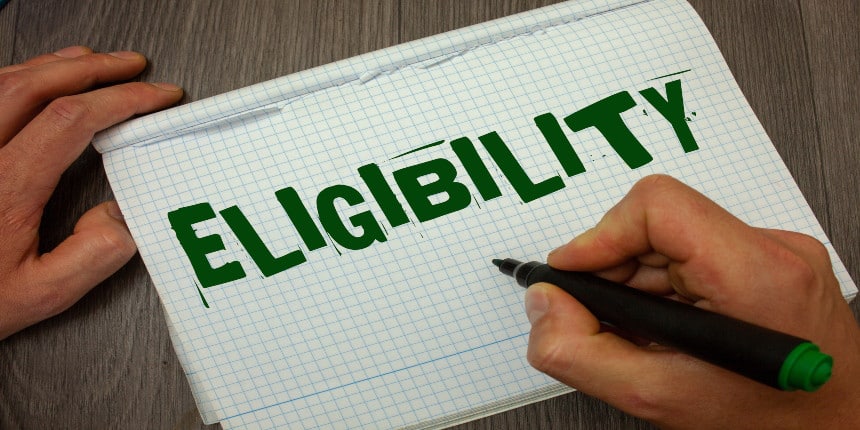 IELTS Eligibility Criteria 2022
The IELTS test is an English language proficiency test. The test does not require any basic eligibility criteria, this test is taken by individuals planning to study or work in countries where English is the primary language. Countries such as the UK, the US, Canada and Australia accept IELTS scores.
As such there is no such eligibility criteria for IELTS, but there are some factors that need to be complied with by candidates planning to take the IELTS.
IELTS Age Criteria 2022
As per the instructions released by the British Council and other concerned authorities, candidates above the age of 16 years can take the IELTS exam.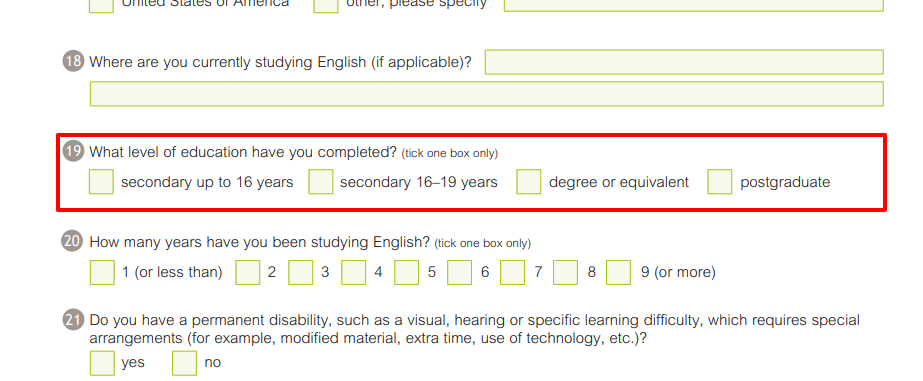 There is a disclaimer where the authorities have clearly denied to discriminate on any basis but have mentioned about IELTS eligibility criteria that "it is not recommended to persons under 16 years of age".

Why to take the IELTS Exam?
IELTS is an exam which is accepted by countries where English is the main language for communication purposes. IELTS test scores are considered for employment in an organization, or eligibility for admission into a particular institute, or a requirement for the purpose of migration into a specific country. To know more about the reasons why people take the IELTS exam, refer the table below:
Purpose of taking IELTS
| | |
| --- | --- |
| Various fields where IELTS is relevant | Official Page Link |
| For Migration to Australia, Canada, New Zealand and UK | |
| For Study (As an evidence of English proficiency) | |
| For Work | |
IELTS Eligibility Criteria 2022 for Institutes/ Organizations
As the IELTS exam is one of the basis for work or admission to academic programs, or migration, candidates need to not only comply with the IELTS eligibility criteria 2022 but also the eligibility requirements of future institutions or organizations. Along with the conditions required for IELTS eligibility criteria, one should check the important eligibility conditions provided by organizations for admission into academic or work fields respectively.
8 min read
Mar 05, 2022
Read More
Popular Online Language Courses and Certifications
Who Accepts IELTS Score?
The IELTS score is accepted by various organizations across the world as one of the necessary parameters for selecting the right candidate suitable for the purpose of employment or academics. The official website contains a section wherein, candidates can select the type of organization, enter what they are looking for, location preferred, city or state preferred. They will be able to see a list of organizations as per information they enter.
Type of organization accepting IELTS Score
Educational: University, college, training program

Employer: Multinational businesses accepting IELTS

Government: Immigration and border control, work departments

Professional Registration
Difference between IELTS Academic and IELTS General Training
The IELTS academic scores are accepted by universities or institutions for higher education in the foreign countries. Admission to the undergraduate or postgraduate courses is based on the results of the IELTS academic test. IELTS Academic may also be required to join a professional organization abroad. In such cases, it is of utmost importance that a candidate should fulfill the IELTS eligibility criteria of the concerned institutions and organizations. In other words, most of the top universities require IELTS academic scores of above 7.0 bands and sectional scores not below 6.5 bands as IELTS 2022 eligibility criteria.
Coming to IELTS General Training, the test format evaluates a candidate's general English language for survival in broad society and workplace. Typically, people who move to foreign countries for pursuing vocational education, work experience or engage in training programs, register for IELTS General Training. Such people have to fulfill the particular organizations' eligibility criteria, regardless of IELTS eligibility criteria 2022. People migrating to Australia, Canada and New Zealand must appear for the General Training exam and obtain a minimum score of 6 bands. The IELTS 2022 exam scores are accepted by institutes and organizations, once the aspirant fulfills other eligibility criteria prescribed by the respective governing body.
Candidates who comply with the IELTS eligibility criteria and are planning to appear for the exam have to first go through the IELTS test dates and location. One has to select the date and then book for exam they want to appear for, i.e. IELTS academic or IELTS general training. As there are both IELTS computer based test and also paper based test, aspirants have to make a choice because the computer based one is conducted more frequently as compared to the paper based test.
Students Also Liked
Frequently Asked Question (FAQs) - IELTS Eligibility Criteria 2022 - Qualification, Age, Test dates
Question: Who can appear for IELTS?
Answer:
The IELTS eligibility criteria 2022 does not mention any specific conditions for candidates. So, any person above 16 years who wants to pursue studies, wants to work or migrate to an English speaking country can appear for IELTS.
Question: Is 6 a good score for IELTS?
Answer:
The preferable IELTS score can be found at the website of concerned organizations or universities.
Question: What is the validity of IELTS Score?
Answer:
The IELTS Score or IELTS Test Report Form (TRF) is valid for 2 years.
Question: Is a person with physical disability eligible for IELTS?
Answer:
Yes, IELTS doesn't discriminate based on physical disability. It's just that candidates with special abilities have to inform the test center before taking the test for any kind of special arrangements required.
Question: When does a person become eligible to retake the IELTS?
Answer:
There is no limit on attempts, hence, candidates can retake the exam at any time.
Question: Can I change the IELTS test date?
Answer:
Yes, you can but within five weeks of the test date.
Question: How soon will I get my IELTS scores?
Answer:
You will receive your score 13 days after the exam.
Question: What is the average IELTS score required by universities?
Answer:
Since the score requirement for each university is different, it is difficult to say but the average score expectation is between 6 to 7.5 bands.
Questions related to IELTS
Showing 438 out of 438 Questions