Study in Singapore: Know top colleges, courses and admission cycle
Study in Singapore: – Aspirants from India and abroad have vied to study in Singapore as the country has evolved into one of the top education destinations. Popularly known as the financial centre of Southeast Asia, Singapore enjoys its reputation as one of the education hubs of the world. Ranked among the top five places for students in Asia, the city-state promises to deliver all the demands of foreign students on a platter. Singapore is home to a number of top colleges and universities including domestic as well as campuses of international universities making it a popular destination for students as well as academicians. Study in Singapore is also very much sought after as it is the best place to enjoy the benefits of world-class education and as well as be exposed to a global work environment. Best part about life in Singapore is that is known for its technology driven classrooms and an exciting campus life which encourages a milieu of adventurous ideas.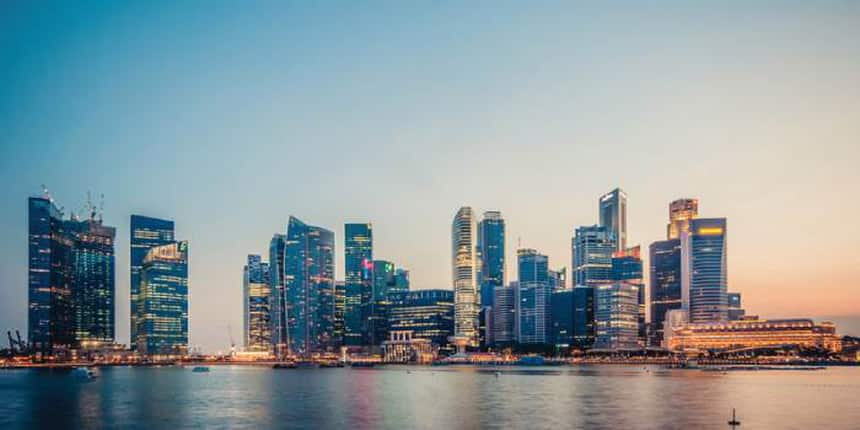 Country Introduction
Singapore or Republic of Singapore, is a sovereign state of area 721.5 square kilometers and lies just above the equator. The country is made up of one main island and 62 islets. According to the Human Development Index, Singapore ranks at 5th position. The country also has the 3rd highest GDP per capita. Among other things, Singapore also occupies one of the top positions in education, healthcare, life expectancy, quality of life and personal safety.
Study in Singapore
A major attraction for international students flocking to study in Singapore is the motley of opportunities for students from all fields of study. Essentially known as the financial centre of Asia, Singapore is popular as a work centre as well with big brands from across the world setting up their Asian headquarters in the city. Not just for students studying graduate and other online degree programmes, but even exchange programme students are able to reap the full benefits of Singapore's pragmatic approach to learning. What puts it on the education radar is its two most popular universities-National University of Singapore and Nanyang Technological University, which are ranked among the top universities in the world.
Singapore is home to over 50,000 international students, which is one of the highest in Asia. Not just that, it also attracts the largest chunk of students from Asia and Europe, especially, exchange students going to study in Singapore for a shorter period. Two of the programmes Singapore is well known for are management and engineering. Many popular universities in Singapore including INSEAD and National University of Singapore (NUS) are listed among the top business schools in the world, which explain the massive rush of foreign students in these universities. The international students community in both NUS and NTU is over 30% each. Finance and computer science also attract a lot of students to Singapore.

Top Universities in Singapore
S.No

University

QS Rank

THE Rank

ARWU

2018

2017

2018

2017

2017

2016

1

Nanyang Technological University, Singapore (NTU)

11

13

52

54

101-150

101-150

2

National University of Singapore (NUS)

15

12

22

24

91

83

3

Singapore Management University

441-450

431-440

--

--

--

--
Study in Singapore: Admission Cycle
The academic session begins in August for undergraduate as well as the postgraduate courses. Candidates should ideally initiate the process an year in advance. For the August session, candidates should ideally start their search for the preferred programmes in July the previous year, and take the prescribed tests and work towards completing the application process. Nanyang Technological University has two intakes viz, August semester and January Semester.
Singapore Admission Cycle
| | |
| --- | --- |
| Time line | Events |
| June- July (previous year) | Research your options |
| July- August | Register for standardised test |
| October- March | Prepare the application package and get you test scores. |
| December-February | Start applying |
| March- April | Applications close |
| May- June | Colleges start replying to applications |
| June- July | Prepare your finances, explore scholarships and apply for education loans. |
| July- August | Apply for the students Visa |
| August- September | Departure preparations |
| September- October | Session starts |
Singapore Admission Cycle
Institute

Level of study

Application start date

Application end date

National University of Singapore

UG

Mid-October

March end

PG(all courses)

August intake- mid May 

January intake – Mid November

August intake – mid November

January intake – mid May

Nanyang Technological University

UG

Mid-October

1st April

PG

August intake- 1 October

January intake- 1 June

August intake- Mid November

January intake- 31 July

Singapore Management University

UG

Mid October

Mid March

PG

October

NA

Singapore University of Technology and Design

UG

October 1st week

Mid-March

PG

NA

2017 January intake (PhD)- 15th September

INSEAD

PG

January intake – 2 months prior to the deadline

September intake – 2 months prior to the deadline

January intake- 2nd March

September Intake- Mid-September

MDIS

UG

2nd May

Mid July

PG

NA

30st September

Singapore Polytechnic

UG

Early January

NA

James cook University

PG

NA (rolling admissions)

NA

ESSEX Business School

UG

NA

30th June (October intake)

PG

NA

1st July (October intake)
Study in Singapore: Eligibility Criteria
Academic institutions in Singapore require the globally approved exams for undergraduate and postgraduate programmes like GRE, GMAT, BMAT, and SAT to name a few. Admission requirements also include English proficiency exams such as TOEFL and IELTS.
Cost of studying in the country
Singapore is not only one of the sought after education destinations in the world but also one of the most expensive. In fact, expenses for students who study in Singapore can be compared to countries like Australia and USA. The cost of studying MBA can go upwards USD 62,000 just in tuition fee. The undergraduate courses are comparatively less expensive and may cost between S$29,350 – S$37,550. Other than tuition fees, accommodation makes up for the second huge chunk with expenses averaging on USD 5000 annually. Needless to say, in terms of living, too, Singapore can be heavy on your pocket. Including food and transportation, the entire living expenses in Singapore may go upwards USD 22,000 annually.

Singapore admission cycle: Visa Cycle
Singapore offers a Student Pass to international students admitted to universities in the country. Foreign students should apply for the Singapore Student's Pass at least two months before the start of their programmes. Singapore has a list of institutes and only students studying in these colleges and universities are able to apply for a Student's Pass. Before the preparation for your stay in Singapore, international students have to apply via the Student's Pass On-Line Application & Registration (SOLAR) system. Students are offered a visa covering the course duration. In case students want to extend their stay beyond the duration of their programmes and study in Singapore further, they have to apply for renewal through SOLAR.
Also read:
Student visa application process for Singapore
Study in Singapore: Know all about studying in Singapore
MBA in Singapore: Know the Study Cost
Singapore Updates and Articles
Questions related to Singapore
Showing 33 out of 33 Questions