Study in Singapore 2023 - Eligibility, Education System, Visa Requirements, Cost, Top Colleges and More
In recent years, Singapore has become a varied educational centre that gives its pupils a sense of safety and security. The city is a fusion of many different cultures, cuisines, arts, and architectural styles, as well as a technologically advanced way of life. Along with branches of more than 16 renowned international universities, this area is home to a number of top-notch state and private universities. And to top it all off, Singapore offers an affordable option for students who want to study abroad compared to other countries, such as the USA and UK, where the tuition fee is much more.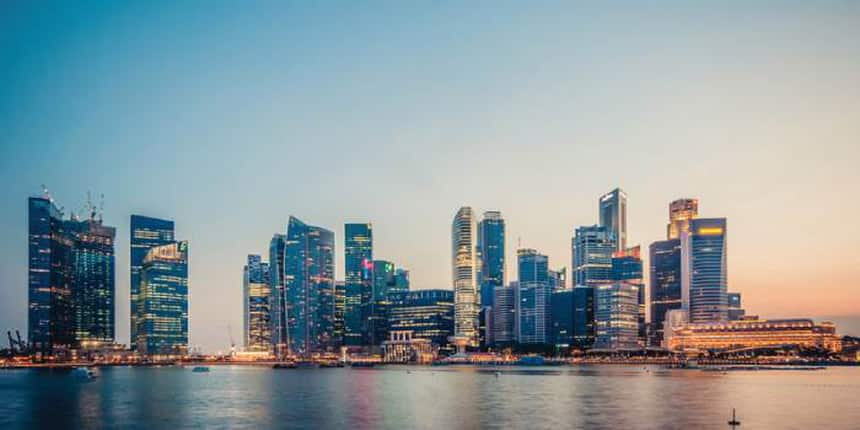 Indian students have a strong preference for Singaporean universities because of Singapore's proximity to India and the fact that the majority of Singaporeans speak both English and Mandarin. Due to the country's cutting-edge educational standards, research possibilities, and exceptionally high living standards, studying in Singapore is a dream for many students. In addition, the presence of more than 7,000 famous organisations in Singapore provides students with the opportunity to improve their careers after completing their studies there.
Want to study in Singapore? Understand the Singapore education system
After finishing your 12th grade in your home country, overseas students are eligible to study in Singapore. The Ministry of Education (MoE) overseas higher education in Singapore, which is delivered by a number of educational institutions.
| | |
| --- | --- |
| Courses to study in Singapore | What they offer |
| Diploma, Advanced Diploma, Specialised Diploma | With an advanced or specialised diploma, you can specialise in the same field after receiving an overview from these. They are finished in two to three years. |
| Undergraduate degree | A full-time bachelor's in any course is offered in the undergraduate program. The completion time frame is three to four years. There are honours programs available at some colleges. |
| Master's degree | A Master's degree in Singapore can be finished in a year or two, depending on your area of emphasis. |
| Doctoral degree | The required period is two to five years, but the majority of students need roughly five years to complete their doctoral studies in Singapore. |
| | |
| --- | --- |
| Types of academic institutions | What they offer |
| Public Universities | Universities owned by the government are mostly funded for Singaporeans. |
| Private universities | Although they are slightly more expensive than public universities, private institutions provide a wide range of courses. |
| Polytechnics | Offers various diplomas. |
| Foreign Universities & Institutes | Branches of various foreign institutes and private academies offering programs and degrees. |
| Art Schools | Private art institutes offering art specialised courses. |
Intakes to study in Singapore
| | |
| --- | --- |
| Government university intakes | February and August |
| Private university intakes | January, February, July, August, September and October |
Intakes of some other popular study destinations
Application process to study in Singapore
The application process required to study in Singapore is broadly classified into online and offline. Let us take you through both of these.
Online application process to study in Singapore
Look for the "Apply" tab on the University's official website.

Please enter your login and registration information.

Give true and accurate information when filling out the form.

Prepare the necessary documents in the format required.

Upload the necessary paperwork online.
Offline application process to study in Singapore
If you choose to apply offline, you will need to print the application form, fill it out, and then deal with the trouble of mailing it and your supporting documents to the admission offices of the university of your choosing.

Your offline applications would typically be sent to the Singapore University's concerned office in India or consultancy offices.

Even though some people prefer the offline application process more, it is always preferable to use the online application process since it is typically error-free and can be completed in a single sitting while remaining at home.
University application fee to study in Singapore
The application fee varies depending on the university you are applying to.

After paying the fee, get a receipt if available.
Documents required to study in Singapore
The following documents are required if you wish to study in Singapore:
Copies of the Standard X, XII, and Bachelor's degree mark sheets that have been attested (if applicable).

At least two letters of recommendation from instructors who have taught you most recently in academic settings.

Two letters of recommendation (LOR) from your employer or boss, who knows you well and can speak to your professional talents, if you have work experience.

Purpose Statement (SOP).

Resume.

GMAT, IELTS, and TOEFL score reports on photocopies.

Portfolio (in the case of students applying for art and design courses and architecture programmes).

Other (state and national awards, extracurricular activities, and certificates of achievement).

Funds verification.
Are you eligible to study in Singapore?
To study in Singapore, you have to fulfil certain eligibility requirements to do which, you shall have to know them first. Let us take you through the eligibility requirements to study in Singapore.
Students must typically submit their 10th and 12th grade transcripts and demonstrate their English language ability with IELTS and TOEFL scores of 6.5-7 or 90-100 in order to be considered for undergraduate admissions in Singapore.

Private institutions require applicants for bachelor's programmes to have a minimum grade point average of 65 percent or above.

IELTS is not required, especially if you are applying to private universities.

Public university bachelor programmes require a cumulative grade point average of 90 percent or higher in both the 10th and 12th grades.

When submitting applications to institutions in Singapore, you must have your SOP/LOR on hand.

You must submit a SOP, 2LORs, a CV, your 10th, 12th, and bachelor's grade reports, as well as your master's report cards if they are accessible, in order to apply for master's programmes.

IELTS is not necessary if you are applying to private universities, however some universities may demand both IELTS and TOEFL.

Singapore requires applicants for master's programmes to have a recognised bachelor's degree with a minimum GPA of 55% or above.

Some universities, including the NUS, NTU, SMU, SP Jain, and INSEAD, may require you to provide evidence of two to three years of work experience while applying for their MBA programmes.

Candidates without any prior job experience are accepted into the MBA programmes at private colleges including the MDIS, PSB, and JCU.
Also read about the Duolingo, CAEL, CAE, CPE, ECCE and AP exams.
Visa requirements to study in Singapore
A Singapore Student Visa, often known as the "Student Pass," is required if you want to study in Singapore, particularly for academic programmes lasting longer than 30 days. The Student's Pass Online Application and Registration system (SOLAR system), created by the Singaporean government, is the official registration division that keeps track of student visa applications.
Students are encouraged to apply for a Singapore student visa at least one month prior to the start of the semester or academic year in which they want to enrol in classes.

For younger students who want to attend a private institution, the Singapore Immigration and Checkpoints Authority processes the student passes immediately.

Students who are 20 years of age or older looking to study in Singapore must participate in an interview if they intend to enrol in a programme that offers a vocational, fine arts, language, or business degree.

Students are permitted to work part-time jobs in the city if they have a Singapore Study Pass. A week after the course has ended, you will also be required to submit your Singapore Student Visa.

The "visit" permit, which enables overseas students to extend their stay for a year in order to investigate career options in the country, must be applied for by students who are interested in finding employment opportunities in Singapore after completing their study. You might want to read more about documents required for a Singapore study visa.
| | |
| --- | --- |
| Country | Singapore student visa |
| Duration | 2 years |
| Work permit | Up to 16 hours a week |
| Age limit | 19 years + |
| | |
| Processing | 2-4 weeks |
| Cost | INR 1637 (processing fee) and INR 3275 (issuance fee) |
Browse student visas to study abroad


Living and study cost in Singapore
Cost of study in Singapore
A public institution typically charges between SGD 8,000 and SGD 9,000 per year for tuition. This, however, is the subsidised price. For non-subsidized and non-Singaporean students, it costs about SGD 10,000 or more. Government funding is also provided for several programmes in Singaporean schools, irrespective of students' nationality.
The Ministry of Education, which is responsible for administering the MOE Subsidy, is where the significant tuition subsidy from the Singaporean government is provided (MOE). It is accessible to all qualified students. If a student qualifies, they only need to submit an application for the MOE Subsidy. For lower tuition costs, international students enrolled in government-funded programmes can apply for the Service Obligation Scheme. After graduating, international students are permitted to work in Singapore under the Service Obligation Scheme to contribute to tuition repayment. But typically this only applies to graduate students.
Average living costs in Singapore (in SEG and USD)
Monthly rent (1 bedroom apartment)

$2800 ($2100)

*private accommodations are expensive, so many students opt for student dorms)

Utilities (monthly average)

$104 ($75)

Monthly public transport pass

$120 ($90)

Meal in an average restaurant

$13 ($9.5)

Coffee

$5 ($3.75)

1 litre milk

$3.2 ($2.4)

1 kg vegetables

$3 ($2.25)

1 dozen eggs

$3.2 ($2.4)

1.5 litre water

$1.6 ($1.2)

1 kg chicken

$10 ($7.5)

Rice

$2.7 ($2)
Best countries to study abroad
Singapore International Graduate Award

ADB - Japan Scholarship for Developing Countries

Commonwealth Scholarship for Integrated Science

Lee Kong Chian Graduate Scholarships

ASEAN Foundation Scholarships

Singapore Millennium Foundation Scholarships

SIA Youth Scholarship

GIIS Singapore Global Citizen Scholarship
Top colleges/universities in Singapore
Top public universities to study in Singapore
National University of Singapore (NUS)

Nanyang Technological University (NTU)

Singapore Management University (SMU)

Singapore University of Technology and Design (SUTD)

Singapore Institute of Technology (SIT)

Singapore University of Social Sciences (SUSS)
Top private universities to study in Singapore
London School of Business and Finance

INSEAD

PSB Academy

Singapore Institute of Management

Nanyang Institute of Management

Amity Global Institute

S P Jain School of Global Management

SIM University

Management Development Institute of Singapore

STEi Institute
Top courses to study in Singapore
MBA

Banking and Finance

Engineering

Computer Science and IT

Law
Jobs and internships in Singapore
Work while studying in Singapore
International students studying in Singapore can work part-time for 16 hours per week during term and full-time during vacations if:
They are registered as full-time students in an approved college/university.

They possess a valid Student Pass issued by the ICA.
Students who want to work in Singapore after completing their studies need to obtain their work visa. There are two types of work visas in Singapore namely skilled & semi-skilled and professional work visas.
Skilled and semi-skilled workers visa: This type of visa is for medium level jobs like a technician. The minimum monthly income for acquiring this visa should be $2,200.

Professional work visas: If you plan to start your own business, you will need to have an EntrePass. In case you fulfil the minimum salary requirement of $3,600 and work in an executive position, you can apply for the Employment Pass. You can also apply for the Personalised Employment Pass after you have worked under the Employment Pass.
Benefits of studying in Singapore
English is the Medium of Instruction

Less Expensive University Fees Compared to US and UK

High-Quality Education

Multicultural

Safe and Comfortable Environment

A Wide Range of Business Programmes
Top consultants for study in Singapore
Edwise International

IDP

Y-Axis

Manya - The Princeton Review

AECC Global

Karan Gupta
Conclusion
Studying in Singapore is a lucrative option for international students, especially Indian students due to multiple reasons discussed above. The environment, high quality education, ease and high standards of living, career opportunities, and much more become alluring factors to study in this country. You can read much more about the popular study destinations at www.studyabroad.careers360.com. Stay tuned!
Frequently Asked Question (FAQs) - Study in Singapore 2023 - Eligibility, Education System, Visa Requirements, Cost, Top Colleges and More
Question: Can you work and pursue full-time study in Singapore?
Answer:
Yes, you can study full-time as well as work while you study in Singapore.
Question: Can foreign possessing students pass work in Singapore?
Answer:
Foreign students who receive a Student's Pass should be in the country primarily for academic purposes. Holders of Student's Passes must have a work pass in order to work in Singapore, just like any other foreigner, in order to prevent potential exploitation.
Question: Can we work on a study visa in Singapore?
Answer:
International students with Student Passes in Singapore are permitted to work part-time jobs for up to 16 hours per week during the academic year and for an unlimited number of hours during the summer, according to the Ministry of Manpower in Singapore, provided that they are enrolled full-time in one of the recognised institutions.
Question: How long can you stay in Singapore on a student visa?
Answer:
After their student pass has been revoked or has expired, graduates are typically given a Short-Term Visit Pass, which allows them to stay in Singapore for up to 90 days.
Question: Can I bring my family to Singapore on a student visa?
Answer:
The graduate students ought to assist their partners and kids in requesting entry visas from Singapore's consulate. The spouse and kids will receive a 4-week Social Visit Pass at the airport when they arrive in Singapore.
Singapore Updates and Articles
Questions related to Singapore
Showing 56 out of 56 Questions
Study in Singapore 2023 - Eligibility, Education System, Visa Requirements, Cost, Top Colleges and More