GMAT Syllabus 2022 - Exam Pattern & Section Wise Syllabus
GMAT Syllabus 2022: Candidates appearing for GMAT exam will need to look at the GMAT 2022 syllabus first to prepare. The GMAT syllabus is divided into four sections namely Quantitative section, Verbal Section, Integrated Reasoning Section, and Analytical Writing Assessment. The maximum score for the GMAT exam is 800 points. To avail the GMAT syllabus 2022 in detail, refer to this article.
Stay up-to date with GMAT News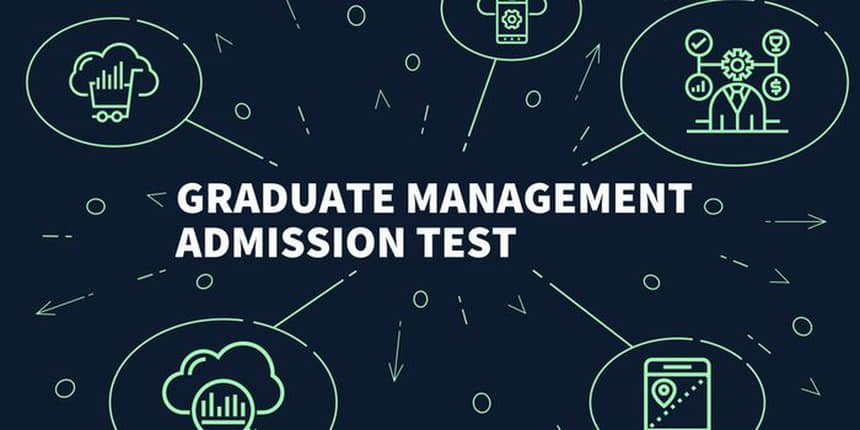 GMAT is conducted by Graduate Management Aptitude Council (GMAC). Candidates across the world take the Graduate Management Aptitude Test for admission in top B-Schools of the world.


GMAT Syllabus and Exam Structure
While understanding the GMAT syllabus in detail, candidates must also understand the exam structure. The time duration for the GMAT exam is three hours and thirty minutes with two optional eight-minute breaks during the exam. So, the overall time will be just over 3 hours for exam completion.


GMAT 2022 Syllabus & Pattern
Test Section
Time Limit (in minutes)
Number of Questions
Question Types
Score Range
Analytical Writing Assessment
30
1
0-6 in 0.5 -point increments
Integrated Reasoning
30
12

Multi-Source Reasoning
Table Analysis
Graphic Interpretation
Two-Part Analysis

1-8 in 1-point increments
Quantitative Reasoning
62
31

Data Sufficiency
Problem Solving

6-51 in 1-point increments
Verbal Reasoning
65
36

Reading Comprehension
Critical reasoning
Sentence Correction

6-51 in 1-point increments
GMAT Syllabus - Analytical Writing Assessment (AWA)
The Analytical Writing Assessment section will comprise one writing task of 30 minutes where a candidate has to give an analysis of an argument with proper reasoning and a critical approach. The topic of the argument can be from any general subject. This section aims to test the candidate's ability to think critically and give the right expression to the idea in the form of an essay. The type of essay asked can be
Argumentative Essay- The candidate will be asked to give reasoning or logic behind the given argument with evidence and examples. The answer should not reflect any baseless assumptions or prior biases. Candidates are expected to follow proper grammar rules, diction, syntax, and structure to write down their answers.
Issue Essay- The candidate has to write an essay in about 600 words on a given topic. The opinions can be in support of the statement or against it. The essay should be reflective of unique content in terms of opinions, arguments, and style of writing.
GMAT Syllabus 2022- Integrated Reasoning
This section is the newest addition to the GMAT syllabus. It tests the candidate's ability to analyze and evaluate the data presented in the form of tables, graphs, passages, or a combination of three. The section will have 12 questions based on the following topics: -
Table Analysis- Questions are straightforward based on the analysis of data given in table format, just like a spreadsheet. The candidate has to solve questions finding the relevant information given in the data.
Two-part Analysis- Questions are numerical, verbal, or a combination of two. The candidate has to analyze the complex relationship between objects given. Questions are based on trade-offs, simultaneous equations, and other such types.
Multi-Source Reasoning- Questions will be based on data given in tables, graphics, text passages, or a combination of three. Candidates have to analyze the data and answer the questions which will be based on drawing inferences or determining the relevancy of the data.
Graphic Interpretation- Candidates have to interpret the data given in a graphical format such as bar chart, pie chart, x/y graph, statistical curve distribution, plot, etc. They have to draw inferences and explain correlations.

GMAT Syllabus - Quantitative Aptitude
The Quantitative Aptitude will comprise two sections: Data Sufficiency and Problem Solving. The section will cover 31 questions in an MCQ format.
Data Sufficiency- There will be a problem comprising a question and two statements. Candidates have to use the data in the statement and their understanding of everyday math concepts to answer the questions. They have to find which data is relevant to solve the problem.
Problem Solving- Problem-solving questions will measure the candidate's ability to apply logic and analytical reasoning in solving numerical problems. The questions will be based on fundamental mathematical concepts followed by five answer choices.
GMAT syllabus for the Quant section can further be divided into
| | |
| --- | --- |
| Section | Topics to cover |
| Arithmetic | Real Numbers, Decimals, Fractions, Square root, Factors & multiples, Percentages, Harmonic progression, decimals, Avg. discrete probability |
| Algebra | Linear equations, Special equations, Quadratic equations, Absolute value, Linear programming, Exponents & Functions, Binomial theorem, Surds & Indices |
| Geometry | Angles, Circles, Coordinate geometry, Polygons |
| Mensuration | Area, Volume, Chords, Cylinders, Triangles, Cuboid, Sphere, Pentagons, Cross-sections |
| Word Problems | Data Interpretation, Simple & compound interest, Profit & loss, Discounts, Clocks & calendars,Measurement problem, Pipes & cisterns |
| Statistics | Descriptive, Inductive, Inferential, Applied |
GMAT Syllabus 2022 - Verbal Reasoning
The verbal reasoning section of the GMAT exam will have 36 questions to be completed in 65 minutes. The questions will be based on three types; reading comprehension, critical reasoning, and sentence correction.
Reading Comprehension- The section will test the candidate's ability to comprehend the written material, draw inferences and, understand the concept or relationship between the points involved in the passage. The passages can come from subjects like social sciences, humanities, physical and biological sciences, and business-related fields. The questions will be based on the main idea, supporting idea, inference, application, and logical structure.
Critical Reasoning- This section will have MCQs based on short reading passages of less than 100 words. The questions measure the candidate's ability to make the arguments, analyze the arguments, frame a plan of action, or draw a conclusion.
Sentence Correction- This section measures the two main aspects of language proficiency. The first is the correct expression and the second is the effective expression. Candidates have to mark the right choice by understanding the grammar rules, correct structure, and effective expression for the sentences.
Best Books for GMAT Preparation
In order to achieve a high score in the GMAT exam, candidates should refer to GMAT prep books and devote sufficient hours to practice different sections of the test. Below are some of the GMAT prep books which will be useful in the preparation. They are easily available on Amazon and Flipkart.
GMAT Official Guide 2022 Bundle
Manhattan Prep's "All the GMAT Bundle, 7th Edition"
Kaplan's "GMAT prep Plus 2022-2023"
Mometrix "GMAT Prep Book 2022-2023"
GMAT official Advanced Questions
PowerScore's "GMAT Critical Reasoning Bible, 2021 Edition"
All the books are available on Amazon website.
Questions related to Abroad
Showing 2 out of 2 Questions
81 Views
I have scored 58% in my Graduation. So Will I be able to purse MBA in Germany universities?
The basic medium of instruction in Germany is either English Taught or Germany Taught,so the students has to take test like TOEFL or IELTS plus GRE to show the proficiency in English.IELTS minimum score should be 6.5+ but some universities accept 6.0 also.TOEFL should be 79-80.MBA In Germany is a 1 to 1.5 year program.Eligiblity criteria and cut off are independently decided by the various universities in Germany.For MBA  program in Germany you should have German equivalent of bachelor's degree.In other words you must have 4 year Bachelor's degree or 3 year degree with a one year Masters degree in business administration to apply for MBA Program from a German University.Some university would also accept 3 year degree with relevant work experience.Minimum of 65 % required in Bachelor's degree and a good score in GMAT/GRE.So it is difficult for you to get the admission but you can check with university officials for the specific eligibility criteria for the program as the eligibility criteria and cut off are independently decided by the university in Germany.MBA is the paid course in Germany.The annual cost of MBA in Germany ranges from 13 lakhs to 33 lakhs INR.
66 Views
Can I get into mba colleges in uk after bba mba integrated in India (second mba). Gmat 600
Hello.
For the entry level requirement in order to get admission in MBA in UK you need to have at least 3 year work experience, along with this you have bachelor as well as master degree so at that point you are eligible and apart from this you also need to to give GMAT exam where your score 600 is considered in good category, and you also need to give IELTS exam with minimum 6 or 6.5 score.
Best of luck.