International students who are planning to pursue higher education in the USA can apply under different categories of student visas. The USA study visa is of two types. The F visa or the M visa, J visa is for study exchange programs. Students are granted a study visa for the USA, based on the course and institute they are applying to.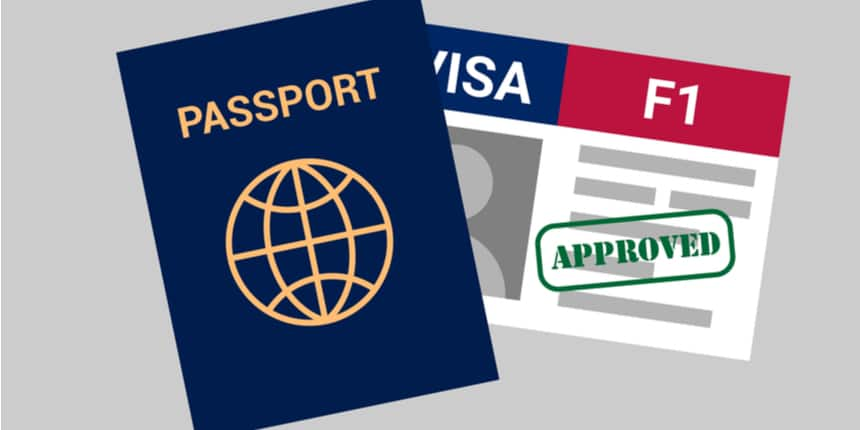 Types of Student Visa for USA
| | | |
| --- | --- | --- |
| S.NO. | Student Visa | Description |
| 1. | F-1 Student Visa | To study at a recognized university or college in the USA or to study the English language at an English language institute. |
| 2. | J Exchange Visa | To participate in a student exchange program at a university or high school level |
| 3. | M Student Visa | To study non-academic courses or vocational training in the USA. |
F-1 Student Visa
USA F-1 visa is for international students applying for a full-time bachelor's and master's degree in the USA. The program should cover more than 18 hours of study in a week.
F-1 visa students need to complete their course by the last date mentioned on their 1-20 form (Certificate of Eligibility for Non-Immigrant Student Status) offered by their Education provider in the USA.
Spouses and children of F-1 visa applicants can accompany them on an F-2 visa. They are not allowed to work; however, they can apply for a separate study visa for themselves.
J Exchange Visa
This visa is applicable for students, lecturers going for an exchange study abroad program. They may be going for a 10-month vocational training or a research fellowship etc.
Spouses and children of J-Exchange visa applicants can travel on a J-2 visa. The spouse can work if he/she has obtained permission in advance.
M- Student Visa
This visa is applicable for vocational training schools. The process for applying for an F-1 visa and M-1 visa is similar. The difference between the two is, the M1 visa is time-stamped and students cannot overstay their visit.
Cost of Student Visa for USA
There are two fees associated with a student visa for USA. One is the SEVIS Fee and the other is Visa Application Fee. Following are the fees paid for a student visa for the USA.
Types of Visas
SEVIS Fee
Visa Application Fee (MRV Fee)
F-1 Student Visa
$350
$160
J Student Visa
$220
$160
M Student Visa
$350
$160
Spouse and children do not have to pay the SEVIS fee if they are going to the USA on F-2 visa or J-2 visa.
Documents Required for F-1 Visa or Student Visa for USA Application
A valid passport
A copy of DS-160, the online application form
SEVIS Fee Receipt
Form I-20 sent by your Education Provider in the USA
Visa fee payment confirmation receipt
Original mark sheets/provisional certificates
Certificates of standardized tests like IELTS, TOEFL, GMAT etc.
Bank statements of three years show enough funds to pay tuition fees and living costs in the USA.
Original pay/salary slips and letter of employment (if employed)
Tax Returns for the past 3 years (Form 16)
Scholarship letter (If a student received it)
The loan approval letter by the bank or concerned authority
4 min read
Feb 28, 2022
Read More
How to Apply for a F-1 Visa or Student Visa for USA?
Student Visa for USA is applied for online. If you are applying from India, visit the website 'US embassy & Consulate in India'-in.usembassy.gov/visas/nonimmigrant-visas/. They are responsible for providing visa services to people entering the USA on a temporary or permanent basis.


Step to Follow for F-1 Visa or Student Visa for USA Application:-
First step- You need to apply for your preferred course and be accepted by a US Education Provider that is certified by Student and Exchange Visitor Program (SEVP). Once you are granted admission, you will be receiving a Form 1-20 from the university/college international student office. This form is a record of your information in the database called the Student and Exchange Visitor Information System (SEVIS).
Second step- Though you can pay your SEVIS I-901 fee anytime during the visa application process, it is better to pay it before you start filling the student visa for USA application form.
Third step- Once you have paid your SEVIS fee and got the payment receipt, apply for a DS-160 visa form. It is the online non-immigrant visa application form. It will take 90 minutes to fill the form. Keep saving the information as the page expires after every 20 minutes.
Fourth step- Payment of the visa fee online for F-1 visa or student visa for USA.
Fifth step- Schedule a Biometric appointment and personal interview appointment for F-1 Visa or student visa for USA.
For a biometric appointment, you have to go in person to get your fingerprint scanned and the photograph clicked for the student visa for USA.
A personal interview for a student visa for USA generally takes around 5 minutes. The visa officer will ask some questions regarding your course, college, finances and your intent of coming back. To answer these questions, you must read about your course details, credit system, duration of the course. Also, go through your statement of purpose (SOP) or admission essay which you have submitted while filling the admission form for USA universities and colleges.
Once the interviewer is convinced with your answers, they will keep the passport to issue a visa stamp.
F-1 Visa or Student Visa for USA - Processing Time
The F-1 visa or other student visa for USA processing time is not too much. If the interviewers are convinced with your documents and personal interview, you will get the result for your student visa for USA application on the same day. Otherwise, they will tell you the reason why your study visa is denied. If for some reason, your visa application result is taking time, then patiently wait for it.
The F-1 visa is issued 120 days before the starting date of your course of study. But you can only enter the USA 30 days before the start date of your course.
Benefits of F-1 Visa
F-1 student visa holders can stay up to 12 months after completion of their degree for OPT (Optional Practical Training). This allows you to work for a year in the USA and gain practical experience in your respective field of study. Once the 12-month time period is over, you are allowed to apply for a work permit if you wish to continue working in the USA.
If you have not applied for OPT or don't have any job offer, you will be given 60 days to prepare to exit from the USA.
Also Read, Top Universities in USA

Popular Online Language Courses and Certifications

Additional Information
What is the I-20 form?
The I-20 form certifies your eligibility as a non-immigrant student in the USA. It is issued by Student Exchange Visitor Program (SEVP) stating that an international student is enrolled in a full-time study program and has sufficient funds to sustain his/her stay in the USA. The student will receive the I-20 form from their designated school official (DS0). Once you pay your tuition fee, your education provider will send you an I-20 form. It is a 'Certificate of Eligibility" as it permits the student to apply for a student visa at a US embassy/high commission in their country.
Once you receive the I-20 form, you should pay the I-1901 SEVIS fee. This has to be paid before entering the USA.
Earlier I-20 form was sent via mail in physical form, but since the pandemic, US Immigration and Customs Enforcement department has allowed the US Universities/Colleges to send it via email.
Students can scan the physically signed I-20 form or can digitally sign the form using electronic signature software to process their study visa application.
The I-20 form is an important document and one must keep it safe through their entire stay as an international student in the USA. It consists of information related to the course, the cost of the program, duration of course, etc.
The I-20 form will be required during your student visa interview at the consulate. At the USA airport it may be asked by the customs officer for verification. It can also help you avail benefits in the USA as an international student such as getting an internship, employment, driver's license, or a social security number.
(I-20 form is a mandatory document to apply for a student visa for USA. However, it does not guarantee to provide you with a visa. You must fulfill other eligibility requirements set up by US authorities to gain a student visa for USA.)


What is SEVIS Fee?
SEVIS or The Student Exchange Visitor Information System is the web-based system of the US Department of Homeland Security (DHS). It maintains the data of all international and exchange students coming to the USA. The Universities/Colleges need to register themselves on SEVIS. When colleges/institutes give an international student admission, they provide them the SEVIS Number on the I-20 form. Students need to pay the SEVIS fee along with Visa Application Fee to start their student visa application for the USA.
Students can pay the SEVIS fee online on the following website- fmjfee.coms


What is the DS-160 form?
It is an Online Non-immigrant Visa Application Form. It is available on the website of US Department of State Consular Electronic Application Center- ceac.state.gov

US Embassy and Consulates Addresses in India -
The U.S. Embassy in New Delhi
Shanti Path, Chanakya Puri 110021
The U.S. Consulate General in Mumbai (Bombay)
C-49, G-Block, Bandra Kurla Complex, Bandra East, Mumbai 400051
The U.S. Consulate General in Chennai (Madras)
220 Anna Salai, Gemini Circle, 600006
The U.S. Consulate General in Kolkata (Calcutta)
5/1 Ho Chi Minh Sarani, 700071
The U.S. Consulate General in Hyderabad
Paigah Palace, 1-8-323, Chiran Fort Lane, Begumpet, Secunderabad 500 003

Students Also Liked
United States of America Updates and Articles
Questions related to United States of America
Showing 50 out of 50 Questions