SAT Syllabus 2018 – SAT® is an internationally approved standardised test owned and conducted by the College Board® who prescribes the SAT 2018 syllabus as well. The exam is taken mostly for the admission at the US colleges and a few other countries for pursuing various undergraduate programmes. As per the SAT syllabus 2018, the test is designed in two distinctive types, namely SAT Reasoning Test or SAT and SAT Subject Test. Both the SAT exam formats follow different patterns to measure candidates' knowledge and hence have completely different syllabus of SAT 2018. Since SAT is attempted by students who are still in their junior and senior high schools or equivalent, the SAT syllabus 2018 is conceived taking the similar academic standards. Hence, SAT test is based on subjects taught in high school programmes. According to the SAT 2018 syllabus, the total duration of the test is three hours (without the essay which is optional). Test takers who opt for SAT with Essay are given another 50 minutes for the Essay. In this article by Careers360, aspirants would be able to gather information on the SAT syllabus 2018 including the individual sections, duration, features etc.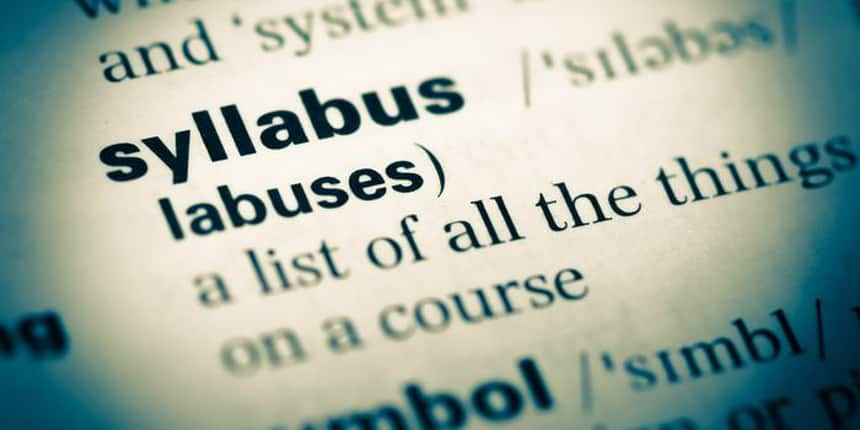 SAT Syllabus 2018: Fast Facts
Components

Details

SAT Format

SAT(Reasoning) Test

SAT Subject Test

Duration

Three hours (SAT without Essay)

3 hours and 50 minutes (SAT with Essay)

Number of sections in SAT (Reasoning) Test

Evidence-Based Reading and Writing, Reading Test, Writing and Language Test, Mathematics and Essay (optional)

Total number of questions in SAT (Reasoning) Test

154 questions + 1 (optional essay)

Type of examination

Mostly objective

Number of Subjects in SAT Subject Test

20
SAT Syllabus 2018: Detailed Description
SAT Reasoning Test/SAT Test - The SAT 2018 test (Reasoning) consists of three sub-sections.
Those are-
1. Evidence-Based Reading and Writing-
Reading Test - The questions asked in this section are based on either short passage reading or long passage reading. It essentially measures a candidate's strength in English vocabulary. According to the SAT syllabus 2018, the time allotted to this section is 65 minutes for attempting 52 questions. All Reading test questions are multiple choice and strictly based on passages. Informational graphics, such as tables, graphs, and charts, accompany some passages for pictorial representation but no math is required in this section. The Reading section always includes-
One passage from a classic or contemporary work of U.S. or world literature.
One passage or a pair of passages from either a U.S. founding document or a text in the Great Global Conversation they inspired. The U.S. Constitution or a speech by Nelson Mandela, to cite an example.
A selection of economics, psychology, sociology, or some other social science.
Two science passages (or one passage and one passage pair) that examine foundational concepts and developments in Earth science, biology, chemistry, or physics.
Writing and Language Test -This section involves an essay and multiple choice questions to test candidates' grasp over grammar and usage. Candidates need to focus on improving sentences, structure and approach; have a sound knowledge of the subject and verb agreement, noun agreement and parallelism etc. The grammar section involves usage of pronouns, incorrect comparisons, conjunctions, misplaced modifiers and punctuation as well. This section is allotted 35 minutes and consists of 44 questions. The passages range from arguments to non-fiction narratives and mostly is about careers, history, social studies, the humanities, and science.
2. Math - This section includes questions on arithmetic operations, algebra, geometry, statistics, and probability. Besides, the syllabus includes mean, median and mode, ratios, direct and indirect variation. The candidate can also expect to be asked questions on probability, combination and permutation and patterns and sequences. As per the SAT test pattern 2018, test takers will be given 80 minutes to solve 58 questions. The Math section is broadly divided into two segments: Math Test– With Calculator and Math Test– Without Calculator.
3. Essay (optional) - The essay is given at the end of the SAT test; mostly postsecondary institutions determine whether they will require the Essay for admission. It evaluates reading, analysis, and writing skills of the test takers as the need to produce a written analysis of a provided source text. Time given to complete the task is 50 minutes. The Essay scores are reported separately. As per the syllabus of SAT 2018, one needs to read a passage, explain how the author builds an argument to persuade an audience and finally support his/her explanation with evidence from the passage.
SAT Syllabus 2018: SAT Subject Tests
SAT Subject Test - This test is based on specific 20 subjects. The candidate may choose his subject of interest from the list provided below:
| | | | |
| --- | --- | --- | --- |
| Subjects | Subjects | Subjects | Subjects |
| Literature | Biology/EM | German | Italian |
| U.S. History | Chemistry | German with Listening | Latin |
| World History | Physics | Spanish | Chinese with Listening |
| Math Level 1 | French | Spanish with Listening | Japanese with Listening |
| Math Level 2 | French with Listening | Modern Hebrew | Korean with Listening |
According to the SAT syllabus 2018, the complete duration of the SAT Subject test is one hour (for each subject). Candidates can choose to opt for more than one subject or as required by the college they are aspiring to get admissions into.
SAT Syllabus 2018: Scoring Pattern
After the test gets conducted, aspirants are provided with the official SAT 2018 scorecard for the SAT Test about five weeks after the test is over, which can be received either online or by mail.
| | |
| --- | --- |
| Components | Details |
| Overall score range of SAT (Reasoning) Test | 400-1600 |
| Evidence-Based Reading and Writing Section | 200–800 |
| Mathematics Section | 200–800 |
| SAT Essay (optional) | 2–8 |
| Overall score range of SAT Subject Test | 200-800 |
| Language Tests with Listening include sub-scores | 20-80 |
SAT 2018 can be taken seven times in a year in the US and five times internationally. The SAT 2018 registration can be completed both online and by mail. The candidates can decide on the SAT Test Date 2018 as per their convenience. One can also select his/her preferred SAT test centre 2018 depending on convenience. There are no specific SAT 2018 eligibility criteria for taking SAT Test. Since it is taken for admission in colleges, students are advised to take the test when they are in junior or senior high school.
Also read,
SAT Redesign - Know the changes in the test pattern
Questions related to SAT
Showing 98 out of 98 Questions