MCAT Exam Eligibility - Association of American Medical Colleges (AAMA) decides the MCAT exam eligibility criteria for the candidates who want to appear in the medical college admission test. AAMA decides the eligibility criteria of MCAT for both students from the USA and international students including those who wish to give the MCAT exam in India. Those who wish to join a health profession program in any college or institute that accepts the MCAT score must take the MCAT test. International candidates who have an MBBS degree appear for the exam as they fulfill MCAT eligibity and do not require any special permission. This is an important aspect of the MCAT exam eligibility for Indian students. Read further to know more about details of MCAT exam eligibility criteria and other related information.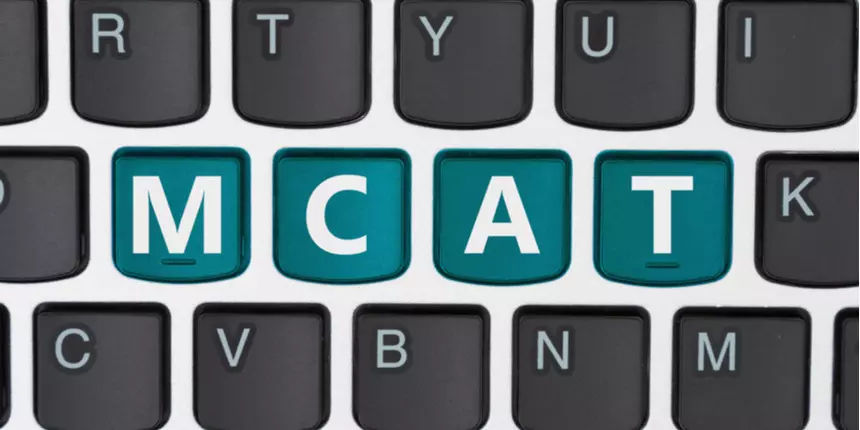 MCAT Eligibility Criteria 2023 - Nationality, Qualification, Special permission
MCAT Eligibility Criteria 2023
MCAT exam eligibility for international students differs for North America students and non-American international students. One reason for this is that MBBS in USA is different from rest of the world. Unlike in other countries, completing PG degree in Medicine is important to practice as a physician in USA. So MCAT eligiblity for Indian students requires them to be either in the final year of MBBS or completed MBBS. Successfully clearing MCAT opens doorways for admission to top Medical schools in USA, Canada, Australia, etc.
| | |
| --- | --- |
| Nationality | Eligibility |
| The US, Canada | Undergraduate degree |
| International aspirants | Pursuing or completing MBBS or special request |
MCAT Exam Eligibility Programs
Candidates can appear in MCAT exam if they want to take admission to the medical colleges who accept the MCAT scores to study the following courses.
MD programs.

DO programs.

Podiatric Medicine (DPM) programs.

Veterinary Medicine (DVM) programs.

Any other health-related programs that accept MCAT scores to satisfy a test score admissions requirement.
MCAT Eligibility for International Applicants
MCAT eligibility for international students requires that candidate should have an MBBS degree.

No additional eligibilty for MCAT is required to be fulfilled by international candidates.
There is no MCAT age limit in eligilit for MCAT as such for international students. Anyone of any age can write MCAT without violating MCAT exam requirements. However, furnishing proper reason at the time of registration is mandated by AAMC.
Explore the study abroad destinations
For those who do not meet MCAT Exam Eligibility
Those who do not meet the MCAT exam eligibility criteria must take special permission before taking the test. Candidates need to take special permission in the following situations:
If the applicant wants to take the test for any other reason apart from applying for admission to a health professions program, provided they fulfil MCAT exam eligibility for international students.

If the candidate has already got admission to a medical school and wants to change the school.

If the candidate does not have any disabilities but is not able to comply with the AAMC testing procedures.
How to Take Special Permission?
In order to get special permission, the candidates must have an AAMC ID. To do this, the candidates must fill up the personal information section and then submit an online service request from the MCAT registration system dashboard. It is better that candidates can fill in as many details as they can in the form. Once it receives the form, the conducting body will review the application and respond within five working days.
What Happens if Special Permission is Not Taken?
If the candidate fails to get the special permission, his appointment may be cancelled, the AAMC could investigate his case and he can even face a ban from taking the MCAT for a given period or even on a permanent basis.
Are International Applicants Required to Take Special Permission?
If international candidates meet all the MCAT exam eligibility requirements, they will not be required to take any kind of special permission for appearing in the examination. This includes MCAT eligibility for Indian students as well.
MCAT Exam Eligibility - Number of Attempts
If you wish to give the test more than once, you must follow these restrictions:
You can have only one MCAT exam appointment at a time.
You cannot give the exam more than three times in a testing year.
You cannot give the exam more than four times over two consecutive testing years.
You cannot attempt the exam more than seven (7) times in your life
MCAT Registration
MCAT Eligible candidates can register online for the MCAT. In order to register, the candidates must create an AAMC ID on the official website of the MCAT. In order to create the AAMC ID the candidate should provide details like name, date of birth, email ID, gender and educational qualification. After creating the AAMC ID, candidates will need to log in to the MCAT registration system and create their complete profile. The profile can be created by providing personal information, biographical information, educational qualifications etc. After this, the test can be scheduled by selecting the test date and test centre.