GRE Preparation Tips 2023 - The Educational Testing Service (ETS) conducts the GRE General Test 2023 at centers across the globe. The GRE General Test is usually administered in computer-delivered mode; a paper-delivered mode is also available but only for locations where computer-testing is not available. Candidates taking the exam must know GRE preparation tips 2023, as a good GRE score is needed to get into the top schools. The GRE General Test 2023 comprises five sections - Analytical Writing, Verbal Reasoning (2 sections), and Quantitative Reasoning. Each section is designed to test a different skill of the candidate. For example, the Verbal Reasoning section measures the ability of the applicant to analyse and draw inferences from written content. Go through the article to learn about the GRE study plan.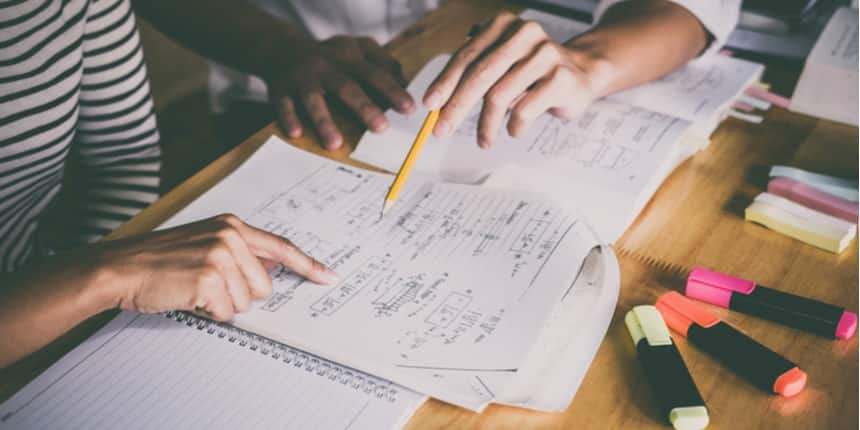 GRE Preparation Tips 2023 (Section Wise) - GRE General Test Strategies
How to prepare for the GRE?
Candidates can go through the section-wise GRE preparation course below and learn how to prepare for the GRE exam at home.
GRE 2023 Preparation Tips - Verbal Reasoning
The Verbal Reasoning section of the GRE General Test tests the candidate's ability to analyse and evaluate content that is written and extract information out of it. The section will comprise three types of questions:
Reading Comprehension

Text Completion

Sentence Equivalence
To prepare for this section, one needs to focus on the following points:
Work on individual words and sentences, so that one is able to understand their meanings

Similarly, read sample paragraphs and large texts and try to figure out what is the inherent meaning

You must be able to draw inference from written content, or even from incomplete information.

Build your analytical skills, so that you are able to distinguish between strong and weak points.

For text completion and sentence equivalence questions, make it a point that you read through the passage before attempting any questions.

Also, if you are able to identify significant words or phrases in the text, it will make the task that much easier.

Work on your grammar, vocabulary and writing skills
GRE 2023 Preparation Tips - Analytical Writing
The Analytical Writing section has two separately timed task:
a 30-minute "Analyze an Issue" task

a 30-minute "Analyze an Argument" task
IMS FREE Online GRE Mock Test
Are you prepared for GRE? Take IMS FREE Online GRE Mock Test.
Start Now
The tasks included in the section encompasses a wide array of subjects ranging from fine arts and humanities to the social and physical sciences. But to answer questions in this section, one doesn't need any knowledge of the specific content.
Here is how one can prepare for the GRE 2023 analytical writing section.
Write, write and write. Yes, the more you write, the more accomplished you would become in using words to make more cogent statements.

Do extensive research. It is because it will help add muscle to your writing and make them informative and useful to the reader. Barebone articles are liked by nobody.

Take time to edit and improve the essays. Remember that your task doesn't end with resting the first draft; in fact it is far from it. Editing will help you zero in on mistakes you are making, be it grammatical or logical. Also, when we start correcting these mistakes you begin to anticipate such mistakes in the future and become more conscious; meaning repeating these mistakes will gradually fade out.

Read sample essays to get an idea as to what is in store for you. Also, these sample essays will help you compare yourself with others, as to how they are responding to an argument or essay. It will also give you ideas as to how you could answer differently, but more efficiently.

Work on your grammar, spelling and vocabulary.
GRE Preparation Tips 2023 - Quantitative Reasoning
The quantitative reasoning section of GRE 2023 will test the following skills:
basic mathematical skills

understanding of elementary mathematical concepts

ability to reason quantitatively and to model and solve problems with quantitative methods
To prepare for the section, the student needs to:
Review the official GRE Math Review and GRE Math Convention. The GRE preparation material includes lots of examples with solutions and explanations that can be used by the candidate to prepare for the exam.

Make use of test preparation resources like GRE Powerprep Practice tests to understand what is being tested, to gain familiarity with questions that are generally being asked, become familiar with testing tools (like online calculators), and also understand scoring.

Solve different types of question formats for various question types like quantitative comparison, numeric entry, data interpretation, and multiple choice questions.
Free GRE General Test Preparation Materials
GRE Test Pattern 2023 for Computer Delivered Test
| | | |
| --- | --- | --- |
| Section (s) | Number of Questions | Allotted Time |
| Analytical Writing | One "Analyze an Issue" task and one "Analyze an Argument" task | 30 minutes per task |
| Verbal Reasoning (Two sections) | 20 questions per section | 30 minutes per section |
| Quantitative Reasoning (Two sections) | 20 questions per section | 35 minutes per section |
| Unscored Section | Varies | Varies |
| Research Section | Varies | Varies |