GRE Eligibility Criteria 2020
GRE Eligibility Criteria 2020 - The Educational Testing Service (ETS) conducts the Graduate Record Examination (GRE) for candidates who meet the GRE 2020 eligibility criteria. The academic qualification, age limit and such criteria make up the eligibility criteria of GRE which aspirants should possess in order to register for the GRE test. While most exams are discipline specific, GRE scores are used across disciplines for admissions to masters programmes across the globe. Therefore, GRE eligibility criteria 2020 does not specify any age bar, academic criteria or any particular degree/ schooling. Candidates just need to produce specific identification proof at the GRE exam centres to be able to write the exam. What is commonly perceived as the GRE eligibility criteria 2020 is the admission criteria to the various institutes which accept the GRS scores. To know all about GRE 2020 eligibility criteria as well as how to check the admission criteria using GRE scores, read the article below.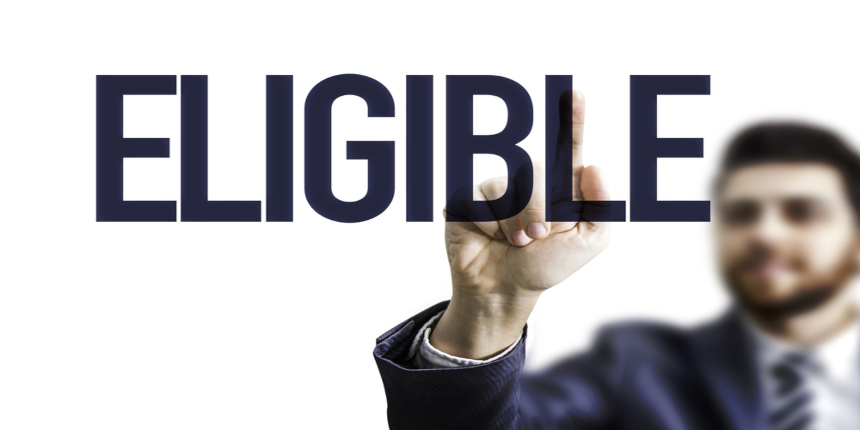 GRE Eligibility Criteria 2020
Candidates who wish to appear for GRE 2020 must know the basic requirements for the exam. As there is no officially specified GRE eligibility criteria, candidates need to worry about getting good GRE scores and check the eligibility specified by the institutes they wish to avail admissions in this regard.
GRE Eligibility Criteria 2020 - Age Limit
ETS has no specific age bar under the GRE 2020 eligibility criteria. Aspirants of any age, who want to pursue programmes like MBA, MS or law programmes can take the GRE test as per the admission requirements of the various institutes across the globe.
GRE 2020 Eligibility Criteria - Educational Qualification
Again, ETS has no specific GRE eligibility criteria as it does not offer any course. However, the educational qualification matters at the time of applying for admission to any institute in addition to the GRE scores. To apply and appear for the GRE test, there is no specific academic qualification under the eligibility criteria of GRE 2020. Mostly candidates who wish to pursue Master's or specialized Master's degree in business, MBA, law, or a doctoral degree take the GRE test. Hence the checklist for the GRE eligibility criteria for academic qualifications can be checked by using the facility offered on the GRE website for the country wise institutes where students can apply using their GRE scores. This can be checked below on this page.
GRE Eligibility Criteria 2020 - Scores
There is no minimum qualifying marks for GRE. The score is generally used as a measurement by institutes about the calibre of the prospective students it depends upon the prospective institutes where admission is sought by candidates. Some institutes have set a cutoff for candidates before seeking admission in the various courses offered. Thus, candidates should check this and prepare accordingly for the GRE 2020.
Institutes Accepting GRE Score
It is known that GRE scores are used to screen students for admissions. The ETS website lists out all the institutes that accept GRE scores making it easier for students to search for the programme and check for the GRE eligibility criteria as well as the academic criteria etc. The table below facilitates students to check which institute to go for MBA or law or other programmes country wise. These are the official links which will allow students to check the eligibility before applying.
Institutes Accepting GRE Score - Course Wise
| | |
| --- | --- |
| Category of Institutes | Link to Check |
| Institutes for Graduate Programmes | |
| Institutes for Law/ J.D. (Juris Doctor) Programmes | |
| Institutes for MBA Programmes | |
Countries with GRE Score Accepting Institutes
Argentina

Armenia

Australia

Austria

Azerbaijan

Bahamas

Bangladesh

Belgium

Brazil

Brunei Darussalam

Bulgaria

Cameroon

Canada

Chile

China

Colombia

Costa Rica

Croatia

Cyprus

Czech Republic

Denmark

Dominican Republic

Egypt

Finland

France

Georgia

Germany

Greece

Greenland

Grenada

Hong Kong, China

Hungary

Iceland

India

Indonesia

Iran

Ireland

Israel

Italy

Jamaica

Japan

Jordan

Kazakhstan

Kenya

Korea

Kosovo

Kuwait

Kyrgyzstan

Lebanon

Liberia

Lithuania

Luxembourg

Malaysia

Malta

Mexico

Monaco

Morocco

Netherlands

Newzealand

Nigeria

Northern Ireland

Norway

Pakistan

Panama

Peru

Philippines

Poland

Portugal

Qatar

Russia

Rwanda

Saudi Arabia

Singapore

Slovania

South Africa

Spain

Sri Lanka

St. Kitts

St. Lucia

Sudan

Sweden

Switzerland

Taiwan, China

Tanzania

Thailand

Tunisia

Turkey

United Arab Emirates

United Kingdom

United States

United States Territories

West Indies

Yemen

Zimbabwe
Registration ID Requirements
At the time of registration for GRE test, candidates need to have a valid registration ID whose details should match with those provided during registration. Candidates have to bring the specified identification document to exam centre on each of the GRE test dates as well. Thus, given below is the set of requirements for ID proof to be brought along:
Original Document- The document of identification should be brought in original, as photocopies or showing IDs through electronic means is not acceptable.

Government-issued ID- The identification to be brought by candidates has to be one issued by the government. It should be an identity card of National, State or Province, recognized in the country of residence or citizenship.

Valid ID- The identification proof should be a valid one, i.e. documents whose validity period is expired is not allowed.

Bears Exact Name- The name mentioned in the photo ID should be the same as mentioned during GRE registration.

Recent Photograph- The document presented should contain candidate's photograph that is recent and recognizable as well.

Signature- The identification document should contain candidate's signature. The name and signature mentioned in the govt. ID should match candidate's name and signature as uploaded for GRE.
Frequently Asked Question (FAQs) - GRE Eligibility Criteria 2020
Question: What is the validity period for GRE scores?
Answer:
GRE test score is valid for a period of 5 years following the test date.
Question: What is eligibility for an Indian student to give GRE test?
Answer:
No specific GRE eligibility criteria are specified as such for Indian candidates. All you may do is check the institute and their course which you want to pursue through GRE test.
Question: Is there a minimum score for qualifying GRE test?
Answer:
No, as such there is no minimum number of marks to be obtained in GRE. However, teh future institutions might demand a specific score limit for admissions.
Questions related to GRE
Showing 445 out of 445 Questions