Student Visa for UK: International students who are aspiring to study in the UK need a student visa. There are various types of UK student visa, each with a separate application process and fees. The UK student visa application depends upon the course and its duration. In a recent report released by the UK government, the Indians received 138,532 UK study visas, the largest number of any nationality. Study visas from Indians who sought to study in the UK have increased to 73% compared to 2021. This has been noticed ever since the Graduate Route was introduced which allows foreign students to study and work in the UK post their studies.
Latest Updates - Recently UK visa charges are increased for students, child students, and dependants. The cost of both the Student visas and Child Student visas for the UK is 490 GBP which is about INR 50,000 for Indian students. The new visa costs will be in effect from October 4, 2023. However, there is no rise in the charges for short-term study visas which allow the students to study the English language in the UK for a maximum period of 11 months.
TOP EXAMS: IELTS | TOEFL | GRE | GMAT
Country Guide: UK | Ireland | Australia | Canada
Students can find all the relevant information on the UK study visa, like the type of visa required, how to apply, documents required, fees, and more. Read further to know about the application process, the eligibility criteria, and other requirements to apply for a student visa for the UK.
Latest UK student visa News
Indian prospects seeking UK student visa can now apply at a Taj hotel or Radisson Blue Hotel near them. Students who are living in Bangalore, Visakhapatnam, and Mangalore can apply through Taj Hotel nearest to them. For students living in Amritsar, Noida, or Mohali, they can go the nearest Radissor Blue Hotels where premium UK visa application centers now held.
The new changes in UK student visa new rules place restrictions for PhD and research students who stay for a duration of less than 1 year and often without completing research.
Indian is the largest country to receive UK student visa and skilled worker visa in 2023.
UK Student Visa- Important Statistics
As of March 2023, 30% of all sponsored study grants to main applicants who are Indian nationals.

Around a quarter of study related visas were issued to dependents of students in the UK.

Top five countries who gained sponsored UK student visas are India, China, Nigeria, Pakistan, and the United States.
UK Student Visa- Number of applicants by country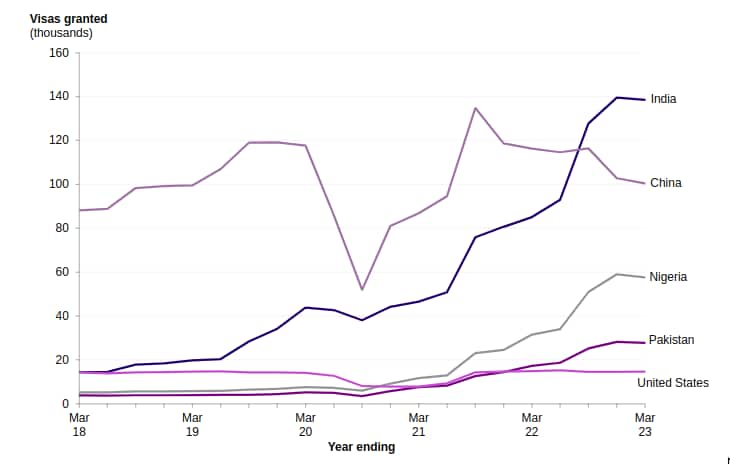 Source: www.gov.uk/statistics
Types of UK Student Visas
International students can apply for the following types of student visas UK:
A standard visitor visa: This is required to do a short course of study with a duration of not more than 6 months.

A short-term study visa: With this visa, a student can study an English language course that is over 6 months and up to 11 months in the UK.

A UK student visa: This is generally applicable for a course of a longer duration. To avail of the UK student visa, students must be sponsored by a licensed college or university and have a confirmed seat in the course. Part-time work may be allowed with this visa. This UK student visa was earlier known as the Tier 4 visa. It has now been renamed as the Student Route. All international students who are 16 and above and wish to study in the UK including those from EU and EEA countries have to apply for this.

A Child Student visa: This is generally issued to students from 4 to 17 years of age who wish to study at an independent school in the UK. This student UK visa is not for higher education purposes. However, students above 16 will be allowed to work under this visa.
Related articles on the UK
When to apply for a UK student visa?
This depends on the admission cycle in the UK and the intake a student has applied for. Moreover, a UK student visa will be issued only if a student has a confirmed seat from any of the sponsored universities/colleges. The UK study visa processing time is not extensive. Ideally, students must apply for a UK student visa from India within 6 months after receiving CAS. However, it is advisable to apply at least 6 to 3 months in advance for a UK student visa. This should help deal with any last-minute issue that could be caused by a delay in the issue of a student visa for the UK.
Where to apply for a UK student visa?
Students can apply for a UK student visa online. Students applying from outside the UK will have to prove their identity by giving their biometrics at a UK visa application centre in their home country. They must also create or sign in to their UK visas and immigration account or UKVI which will provide them with instructions on what to do once they apply. Students can start the application process, save it and continue with it later.
UK Student Visa Requirements
Minimum age of 16 years.

Proof of having funds to cover course fees and living expenses is one of the complusory UK study visa requirements.

Have the level of English language proficiency required by the respective course.

Acceptance letter from approved educational institution.
Documents for UK Student Visa
Proof of funds to cover tuition and living expenses during the course. Financial documents required for UK student visa should be included in the UK student visa application, such as:

Bank statement with existing fund details.

A letter from the bank.

Certificate showing a deposit in the bank.

For a course that is of 9 months duration or more, the maximum a student needs to show as proof of funds will be 9,207 pounds which comes to 1,023 pounds per month. These funds should reflect in the bank account at least 28 days prior to the UK visa application.

CAS reference number.

Acceptance into a full-time undergraduate or postgraduate course or a recognised part-time course or an English language course by a licensed sponsor.

Proof of the ability to read, write, speak and understand the English language for UK student visa from India or other non-English speaking countries.

Under the UK points-based immigration system, 70 points are sufficient to successfully apply for a UK student visa. The breakdown of the points is as under:

50 points for the CAS received from the university.

10 points for proof of required funds.

10 points for proficiency in the English language.
Popular exams to study abroad:
What is CAS for a UK Study Visa?
Confirmation of acceptance of studies of CAS is a 14 digit unique reference number given to every student. This number confirms that a particular university in the UK has agreed to be the Tier 4 sponsor ( this is different from financial sponsorship) which is one of the most important student visa UK requirements. The CAS indicates that the particular university has made an unconditional offer to the student to study in the university and this has been accepted by the student. The CAS sent via email to the student has to be included in the UK student visa application. The CAS number is only valid for studies at the particular university that issues it. It is advisable that every student goes through the details in the CAS statement as soon as she/he receives it.
SOP for UK Student Visa
An SOP or statement of purpose is an essay to be submitted in a written format to UK universities as part of admission application. It is a mandatory among UK study visa requirements. Candidates have to submit the SOP along with UK student visa application. International applicants applying through UCAS also have to submit a mandatory statement of purpose. The word limit is usually 600-900 words. Candidates have to explain their intention to study in UK, why they are applying to a particular course and university, how it helps with their future career goals as well as to the country, and also include their academic achievements. How an statement of purpose is written can make the difference between UK student visa getting accepted or rejected.
UK Study visa without IELTS
International students can get UK study visa without IELTS. It is possible because there are many universities in the country that accept qualifications as a proof of English proficiency- study of English subject with 70% marks in higher secondary certificate from CBSE, ICSE or state boards; candidates must have studied in English medium of instruction. With an admission offer from a UK university, it is not difficult a UK student visa provided they fulfill other UK student visa requirements.
Must Read
Licensed Sponsors UK student Visa
Any institution that has permission to sponsor students from outside the UK for the UK student visa and the Child student visa can be deemed a licensed sponsor. The UK government has listed all such sponsors on its website for the reference of students. This list mentions all institutions that are licensed to sponsor migrant students for a student visa for the UK and child student visas. The list details the category of students the institutions can sponsor in addition to their sponsorship ratings.
What is the ATAS certificate for a UK student visa?
International students and researchers who apply to study or do research in the UK at the postgraduate level in certain sensitive subjects are required to apply for the Academic Technology Approval Scheme (ATAS) certificate to gain UK student Visa. This is in case their research or study areas include Advanced Conventional Military Technology (ACMT), weapons of mass destruction (WMDs) or their means of delivery. Such students must apply for the ATAS UK certificate before they come to the UK.
Exemptions are granted to students belonging to the EU and EEA countries as well as students belonging to Australia, Canada, Japan, New Zealand, Singapore, South Korea, Switzerland and the United States of America.
Some more useful articles
Documents Required for UK Student visa
The following are the list of documents for student visa UK. Candidate can check the following requirements before starting the application.
List of Documents for UK Students Visa
| | |
| --- | --- |
| UK student visa | Child student visa |
| Valid passport | Valid passport |
| CAS number from a licensed institution | CAS number from a licensed institution |
| Proof of funds | Proof of funds |
| Copies of the marksheets of qualifications as per the eligibility requirements | Marksheet copies to prove eligibility for the course |
| NA | Proof of relationship with parent or guardian such as a birth certificate or a document from the government. |
| Consent from parent or guardian to study in the UK for students who are 16 or 17 years old | Consent from parent or guardian to study in the UK |
| Results of the tuberculosis test | Results of the tuberculosis test |
| Consent letter from financial sponsor in case of funding and sponsorship of course fees and living expenses in the past 12 months. | Students who have been provided with sponsorship for course fees and living expenses in the past 12 months must submit the consent letter from their sponsor. |
| ATAS certificate if applicable as per subject/ research area | NA |
| Scorecard of any English language proficiency test such as IELTS, TOEFL, GMAT etc. | NA |
| Proofs of employment (Payslips) | NA |
UK Student Visa Application Process
Ensure to meet every requirement for a UK study visa before starting UK student visa process.

Go to the official website - gov.uk/student-visa to start the UK student visa application process.

Login or create a new account for student visa UK using details such as personal information etc.

Enter the country where students wish to submit their biometrics.

Register an email for all correspondence in due course of time before receiving a UK student visa.

Fill the UK student visa application form.

Upload the requisite documents as per the checklist.

Book an appointment at the visa application centre using the online appointment calendar.

Agree to the declaration.

Candidates who successfully complete a UK student visa application will receive an email containing the UK visa application number.

Pay the UK student visa fees in any of the four ways–

Through a demand draft at branches of Standard Chartered Bank in favour of "British High Commission".

Demand draft from any nationalised or foreign bank in favour of "British High Commission".

Pay offline at the visa application centre at the time of submitting the UK visa application.

Pay online using credit/debit cards of VISA, MasterCard credit or debit card.

Visit the visa application centre chosen on the appointed date to submit the application and biometrics** that include fingerprints and photographs.

Thereafter, the UK student visa processing details and status will be shared via email. Students can also opt for the SMS service for the same.

Once the UK student visa from India application is approved, the passport will be endorsed and returned.
Note: Students who wish to withdraw their applications may do so by contacting UK Visas and Immigration (UKVI). However, fees will be refunded only if the application processing has not begun.
** candidates have around 240 calendar days from the time of registration to submit their biometrics.
UK Student Visa Fees
The cost of the UK student visa is 490 GBP if students are applying from outside the UK. Similarly, it will cost 490 GBP if students wish to extend or apply for a student visa from within the UK. Students will have to pay the UK student visa fees for every additional person who is joining them in the UK. Apart from these embassy fees for UK study visa, there is health surcharge should be paid as part of a visa application whose duration is longer than six months. The health surcharge comes to 776 pounds per year.
Processing time for UK Study Visa
UK student visa processing time is up to three weeks if candidates successfully meet UK student visa requirements. That is it takes at least 3 weeks to get a decision on the UK student visa application. If the application is successful students will either get a Biometric residence permit or BRP which acts as a proof of their identity and allows them to study in the UK and gives them the right to use any public services or benefits in the UK. A sticker or vignette will be pasted on the passport that gives details of the visa, its validity and conditions.
Premium UK study Visa Processing Time
Though the normal UK student visa processing time is minimum 3 weeks, it is possible to reduce this time with premium services such as Priority Visa Service or the Super Priority Visa Service with an additional fee. In Priority Visa Service UK Visa and Immigration expedites the visa application process and gives a decision within five days after submitting biometric information. In Super Priority Visa Service this time is further reduced to 24 hours. These additional premium UK study visa fees are non refundable in general.
Charges for Premium UK visa services
| | |
| --- | --- |
| Premium Service | Additional UK Visa Processing Fees |
| Priority Visa Application | £500 |
| Super Priority Visa Service | £1000 |
Also Read:
Courses Valid under UK study visa
A full-time course that awards a qualification below degree level and offers a minimum of 15 hours/week daytime study.

A full-time course that awards a qualification at degree level or above.

Any full-time course that leads to a qualification at a degree level or above that is equivalent to a UK higher education programme.

Any part-time programme in the UK that awards a qualification above degree level.

A recognised foundation course for PG dentists or doctors.

A Common European Framework of Reference Languages sponsored English language course at B2 level or above.
Dependent Visa UK
This visa is relevant to partners, spouses or family members of a person who has a UK citizenship or settlement in the country. However, to be accepted for a dependent visa UK, the person must show evidence to support the family member financially as per UK requirements.
PSW Visa
With the introduction of the graduate route it is now possible for students to stay in the country for at least two years after completing their course without a separate work visa UK. However those who have completed their PhD or other doctoral programmes can stay in the UK for three years on their graduate visa. Students should be in the UK when they apply for this facility.