Ireland student visa - For entry into Ireland, students from nations other than the United Kingdom or the European Economic Area will require a visa. A long term student visa for Ireland is required if anyone is planning to undertake a course for more than 3 months to study in Ireland. International students have to be registered full-time in one of the programmes on the "Interim List of Eligible Programs" (ILEP). Before applying for an Ireland student visa, it is crucial for prospective overseas students to be aware of the requirements. It is important to be aware of the several types of student visa for Ireland, the requirements for an Ireland student visa, the documents required, etc. To learn more about student visa for Ireland, including how to apply, types, Ireland student visa age limit and more, read this page.
TOP EXAMS: IELTS | TOEFL | GRE | GMAT
Country Guide: UK | Ireland | Australia | Canada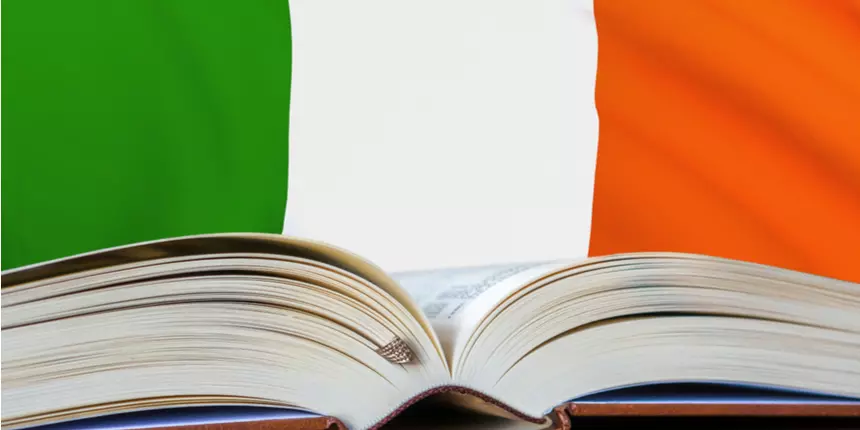 Student Visa for Ireland - Eligibility, Documents Required, Costs, How to apply
Types of Ireland Student Visa
They have to be registered full-time in one of the programmes on the "Interim List of Eligible Programs" (ILEP). The kind of visa they will need will depend on how long their study programme will last. The many forms of student visa for Ireland include
C-Type Study Visa - For study programmes or courses lasting fewer than three months, this is necessary (90 days).

D-Type Study Visa - This is necessary for study programmes lasting longer than three months. Additionally, students requesting this visa must register with the Garda National Immigration Bureau (GNIB).
How to Apply for a Ireland Student Visa
Ireland's student visa application procedure is conducted online for prospects meeting Ireland student visa requirements.

Candidates must print, sign, and date a summary application before submitting it with any necessary supporting documentation.

The Irish Visa Application Center (VAC), which is now run by VFS Global, will also require candidates to furnish their biometrics.

The summary form for Ireland study visa applications will include information on how to schedule an appointment with the VAC.

A visa application number is given once the student visa in Ireland request has been made.

Use this application number to look up the application's status of student visas for Ireland.

The system updates the list every week.

Students will have to send their application to the Irish embassy in their country.

The Irish Embassy will affix the student visa to the passport if it is granted.

Students have two months to appeal the decision if their visa application is rejected.
Note: - Avoid giving any misleading or inaccurate information. It will lead to a five-year ban or the denial of the visa.
You may also like - Benefits of Studying in Ireland
Documents Required for Ireland Student Visa
Candidates may look at the student visa Ireland requirements mentioned below. Keep all these documents ready before applying for student visa Ireland from India. The details about Ireland student visa funds requirements are available on the official website - irishimmigration.ie.
Ireland Student Visa for Indian Students
A passport (must be valid for 12 months from the date of arrival in Ireland).

Letter of acceptance from a recognized university/school/college in Ireland for a full-time course lasting an academic year, with a minimum of 15 hours per week of study time.

Payment proof of the tuition fee - if the course fee is less than 6,000 Euros, the full amount must have been paid. For course fees more than 6000 Euros, the minimum amount to be paid is 6000 Euros. This also depends upon the conditions laid out by the respective education providers.

Proof of English Language Proficiency- Candidates must submit a test certificate like IELTS (Academic), PTE, TOEFL iBT, CELA, Duolingo English Test, ETAPP as proof.

Proof of sufficient funds (minimum of 7,000 Euros) to sustain stay in Ireland.

Proof of private medical insurance.

Color passport size photographs with white/grey background and not less than 6 months old. Size- 45-50 mm (H) and 35-38 mm (W).

Explanation letter for any gaps in education. Candidates need to submit full details of employment history if the gap was due to work.

A letter of confirmation to return to one's student visawn country after completion of studies is required for the student visa for Ireland from India.

Age limit for an Ireland student visa is 18 years.
Cost of Ireland Student Visa
Standard non-refundable visa application processing fees for student visa for Ireland are: -
Single journey visa- 60 Euros.

Multiple journey visa- 100 Euros.
Processing Time for Ireland Student Visa
The typical Ireland student visa processing time is 8 weeks.

A spouse or family visa is not possible with an Irish student visa.

Any partners or kids who want to travel to Ireland with the student must apply for a visa on their own.

Ireland student visa processing time for India is also the same.
Ireland student visa success rate
Since the rejection rate of the Ireland student visa in Ireland is between 1 to 4 per cent the success rate is between 6 to 9 percent.
Ireland student visa rejection rate
rejection rate of the Ireland student visa is very low between 1 to 4 percent so students can be assured that their visa application will not be refused.
How much study gap acceptable in Ireland?
Having a study gap doesn't violate Ireland student visa requirements. Students with study gap can apply to IRsh universities by showing a valid reason which is not the case with other countries.
Ireland student visa- Programmes Allowed
Programs leading to degrees and non-degrees are offered in Irish higher education. The degree programmes are full-time academic programmes leading to significant awards or qualifications at or above Level 7 of the National Framework of Qualifications (NFQ). The programme must be listed in the Internationalization Register maintained by the National Qualifications Authority of Ireland in order to obtain a student visa for Ireland (NQAI).
Ireland Degree Programme Details
| | | |
| --- | --- | --- |
| Level | Description | Duration |
| NFQ Level 7 | Ordinary Bachelor's Degree | 3 years |
| NFQ Level 8 | Honours Bachelor's Degree | 3 to 4 years |
| NFQ Level 8 | Higher Diploma | 1 year |
| NFQ Level 9 | Post Graduate Diploma | 1 year |
| NFQ Level 9 | Masters Degree | 1-2 years |
| NFQ Level 10 | Doctoral Degree | 4 years |
Eligibility to be a Degree Program Student in Ireland
International students can not continue to be a degree program student in Ireland unless they fulfill the following eligibility criteria lest their permission for degree program will not be valid.
Students are progressing academically as per the minimum requirements of grades set by universities.
Full amount of course fees have been paid to their college/school.
Students are not receiving any state benefits.
Their education program fits in with the allowable period to study in Ireland of seven years.
Students are not allowed to move from degree programs to language and non-degree programs.
They must demonstrate that medical insurance has been maintained through letters of renewal.
Can students change their course after arrival?
Students can change their course under certain conditions. These are:
The first year of study is the only time when students can change their course.

Students will only be permitted to switch courses if the new course results in a major award or is on par with or higher than the current NFQ level.

It is not permitted to go from degree programmes to non-degree programmes or language classes.

Students are not permitted to go from a full-time to a part-time course.
Working while studying on a student visa for Ireland
Students enrolled in degree programs on a student visa for Ireland are allowed to take up casual employment to support their living. They can work part-time for 20 hours per week and 40 hours during holidays.

Student visa Ireland work - Students cannot take up a permanent job while studying, nor can they be self-employed nor conduct a business.
Also Read-
Types of Ireland Student Visa- Key Points
They are registered with Stamp 2 permission.

They are enrolled in a course listed on the Internationalization Register.

They are attending a full-time course of education at or above NFQ Level 7.

They are attending a full-time course for a minimum of 25 weeks per annum.

They are on a study program of at least one-year duration.

They are attending a course leading to qualifications approved by the Minister for Education and Skills.
If internships or work placements are required as a part of the curriculum, students may enroll. But it can't go beyond the course's halfway point. For instance, if the degree lasts two years, you can complete an internship or work placement in one year.
Read about, Top Universities in Ireland
Scholarships to study in Ireland
Almost all of the major Irish universities offer a wide range of Ireland scholarships to study in Ireland for all levels of study. These are usually merit-based Ireland scholarships and include course-specific or independent grants. There are also a number of centrally-funded Ireland scholarships available to students from all major Irish universities.
Stay back options on Ireland student visa
If you are on a student visa for Ireland, you can stay in Ireland for a maximum duration of 7 years post-study.
After completion of studies, a student can seek employment under the Irish Third Level Graduate Scheme. Third-level graduates mean graduates who hold level 8 or level 9 awards (bachelor, master's, higher diploma, postgraduate diploma). Under the scheme, they will be granted permission to seek employment and stay in Ireland.
Irish Third Level Graduate Scheme - Stayback and fee details
| | | |
| --- | --- | --- |
| Level | Stayback | Fee |
| NFQ Level 8 (Bachelor Degree) | 12 months | 300 Euros |
| NFQ Level 9 (Master's Degree) | 24 months (Renewed after 12 months) | 300 Euros |
| NFQ Level 7 | 6 months | - |
To apply for a work permit, Indian students on the Ireland student visa can check the website of the Department of Enterprise Trade and Innovation (www.deti.ie)
Address of Embassy of Ireland, India
New Delhi- Embassy of Ireland, C17 Malcha Marg,
Chanakyapuri, New Delhi- 110 021
Mumbai- Consulate General of Ireland, 3rd Floor, TCG Financial Centre, G–Block, Bandra Kurla Complex, Mumbai- 400098
Bangalore- Honorary Consul-General of Ireland, C/o Biocon Limited, 20th KM Hosur Road, Electronics City PO, Bangalore 560 100, Karnataka
Chennai- Honorary Consul of Ireland, Mecheri Centre, 49, Eldams Road, Teynampet, Chennai- 600018
Kolkata- Honorary Consul of Ireland, Keventer Agro Limited, 34/1 Diamond Harbour Road, Kolkata- 700027