Study in France: Know top universities, courses and admission cycle
Study in France- Along with being a favourite destination for tourists, France is highly sought after for its higher education. Home to some of the most famous writers and philosophers of the last century, France is also recognized for its science and management universities. Many international students study in France which is made possible by the addition of international courses in the English language. The most popular courses are in language, arts and humanities followed by sports sciences, economics, law and medicine. Changes to foreigner's rights, policy of one-stop shops and the proliferation of study programs taught in English are some of the factors helping to make studying in France a top destination for international students.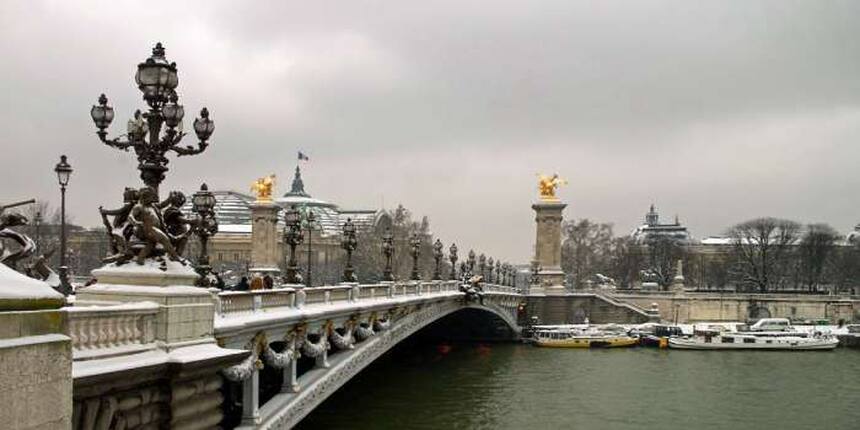 Moreover, a target of attracting 10,000 Indian students by 2020 to study in France has been set by the French government. An agreement between French Studialis and iNurture Education Solutions (higher education service provider will establish a centre of excellence in Bangalore that will create undergraduate and masters programmes for Indian students looking to study in France in subjects like tourism & hospitality, digital marketing and sports & luxury management.
Study in France: Country Introduction
France, which is officially called the French Republic, is a sovereign state in Western Europe. Its capital is Paris where students come to study in France from India and is the country's commercial hub with the largest business district. It is home to Europe's third-largest number of cultural UNESCO World Heritage Sites and leads the world in tourism, receiving around 83 million foreign visitors annually. France performs well in international rankings of education, health care, life expectancy and human development which is why so many students choose to study in France. Due to globalization and France becoming an international hub, it is possible to study in France especially for management and masters courses which are offered in the English language. Studying in France is an attractive proposition as it is a country rich in culture and art history with one of the most well-preserved histories in Europe.
Study in France: Top Universities in France
France, while being one of the most famous tourist destinations in the world, is also a prominent hub for Indian higher education aspirants. QS World University Ranking puts many universities of France amongst the best in the world. Université Pierre et Marie Curie (UPMC) and Ecole Normale Supérieure, Paris stay on top of all the major universities. Five of the top 100 student-friendly cities in the world are in France making it an attractive destination for international students looking to study in France. Paris has approximately 18 universities which cater to students from France as well as abroad. French universities also feature among the top global universities for a number of subjects, making France a top destination for students to study in France.
Top Universities by QS for studying in France
| | | | |
| --- | --- | --- | --- |
| Sno. | University | QS Rank |   |
|   |   | 2018 | 2019 |
| 1 | Ecole Normale Supérieure, Paris | 43 | 43 |
| 2 | Ecole Polytechnique | 59 | 65 |
| 3 | Université Pierre et Marie Curie (UPMC) | 131 | 131 |
| 4 | École Normale Supérieure de Lyon | 157 | 153 |
| 5 | CentraleSupélec | 177 | 137 |
| 6 | Sciences Po | 220 | 221 |
| 7 | Université Grenoble-Alpes | 236 | 289 |
| 8 | Université Paris-Sud | 242 | 239 |
| 9 | Université Paris 1 Panthéon-Sorbonne | 269 | 299 |
| 10 | Ecole des Ponts ParisTech | 270 | 263 |
| 11 | Université Paris-Sorbonne (Paris IV) | 293 | 293 |
| 12 | Université de Strasbourg | 303 | 348 |
| 13 | Université Paris Diderot - Paris 7 | 305 | 295 |
| 14 | Ecole Normale Supérieure de Cachan | 330 | 305 |
| 15 | Université Paris Dauphine | 355 | 355 |
| 16 | Université de Montpellier | 381 | 422 |
| 17 | Aix-Marseille University | 411-420 | 453 |
| 18 | Université Paris Descartes | 441-450 | 571-580 |
| 19 | Institut National des Sciences Appliquées de Lyon (INSA) | 451-460 | 478 |
| 20 | Université Claude Bernard Lyon 1 | 501-550 | 601-650 |
Study in France: Admission Cycle
There are 83 universities to study in France, including the world's first university, the Sorbonne in Paris which was established in the 13th Century. Many Indian students opt to study in France. The admission cycle for the September intake is:
March to April
Students should start early by choosing the universities they want to apply to and visiting their respective websites to get information pertaining to the documents required, application process and various deadlines.

Students should become familiar with loan options and scholarships to fund their studies in France.

Students should also start working on their admission application. It is also recommended to research accommodation options and keep a backup in case of a student residence hall.
April to June
Students should start preparing for the required standardised tests like GMAT, GRE, TCF or IELTS and take them around June to have buffer time for retaking the test. These will vary depending on the course and university. To study in France, register for language exams at least a month before the test date as it is very hard to study in France without IELTS score.
May to June
Students should shortlist the colleges and start applying to them to study in France. Statement of Purpose, required by almost all the universities, is a great way for students to talk about their strengths and reasons for studying in France.

Students should start contacting their professors/teachers/employer/direct managers for the required references to study in France. These references are important and might be checked by the university.

Students should search and start applying for scholarships, which may require additional documents and transcripts for students studying in France from India.
July to August
Students should not delay replying to college e-mails in order to take their application forward to study in France. Appear for personal/video interviews and the tests of the university, if applicable.

After receiving acceptance letters, students should make the decision to study in France as soon as possible. A non-refundable deposit is required to confirm admission to the university.
August to September
Students should start applying for student loans after getting their acceptance letter to study in France.

Gather paperwork for a France study visa and students should apply keeping in mind the time taken for France study visa processing. Candidates should keep in mind France student visa requirements.
Study in France: Admission cycle
| | |
| --- | --- |
| Institute | Application Deadline |
| Ecole Normale Supérieure, Paris | Feb 10 |
| Ecole Polytechnique | January 7, March 18 and May 6 |
| Université Pierre et Marie Curie (UPMC) | 1st semester - 31 May, 2nd semester - 31 October |
| École Normale Supérieure de Lyon | May 11 |
| CentraleSupélec | October 27 |
Study in France: Eligibility Criteria
Higher education in France is different from other countries of the world as interested students have to choose from different types of higher education institutes: Universities and Competitive Institutes (Grandes Ecoles) to study in France.
For French University
Students interested in studying undergraduate degrees at French universities need to have an equivalent degree to the French baccalaureat. If students are interested in studying in France, they need to give a personal interview.

For students applying for a master's program in a French university, they should have a relevant Bachelor's degree or equivalent degree diploma to study in France.

Students applying for the doctoral program to study in France need to have a master's degree or relevant diploma.
For Grandes Ecoles
To enter in French Grandes Ecoles, students are required to have baccalaureate or equivalent diploma.

Students are ranked on the basis of results obtained from competitive entrance examinations. These examinations are conducted at the end of a two-year preparation program known as CGPE.
Name of University

Eligibility Criteria

Ecole Normale Supérieure, Paris

Candidates to study in France
- should be under 26 years at the time of application
- must have lived in France less than 10 months during the academic year of the selection, not the previous year.
- must justify at least one year of undergraduate studies awarded by a foreign university during the calendar year preceding the start of applications.
- justify at least two years of undergraduate studies in a foreign university (outside France) following admission.

Ecole Polytechnique

The minimum scores required for being eligible to study in France are:
Cambridge Test - First (FCE) Grade B – 176
IELTS - 6.5
TOEFL IBT - 90
There is three-step selection process:
 – initial selection based on academic records, motivation letter and letters of recommendation
 – admission exams which are a second selection based on results of written and oral exams in maths, physics and a general scientific knowledge.
 – final notification by the admissions jury
No level of French is required to be admitted to the Graduate Degree Programs. However, candidates will be tested by the Language department on arrival and depending on the results might be asked to enrol in an introductory French Language course.

Université Pierre et Marie Curie (UPMC)

French B2 level is required for the Masters course. Apply through CampusFrance website. Admission without IELTS might be possible for some masters courses.

École Normale Supérieure de Lyon

For Indian students there is a common online process, called the CEF procedure (Center for studies in France), which is required to obtain a  France study visa. There are 3 levels and entry to each one is possible. The programme is open via a competitive entrance examination or the submission of an application dossier:
•Admission to the Licence 3 via competitive exam. The ENS Lyon entrance examination allows foreign students to enter the programme at the L3 level.
•Admission to the Licence 3 via application dossier. The procedure is the same as for French students. However, applications must be received as soon as possible to avoid visa issues.
Admission to the Master's programme via application dossier. Applications are centralized by the International Mobility Office of ENS Lyon. In the arts, humanities and social sciences C1 level of French is required to study in France, and for exact sciences, B2 level of French is required.
France Study Cost: Fee
An important reason to study in France is the affordable tuition fee since the fee of public universities is borne by the government. French study cost is not high as the tuition fees charged by French universities are affordable, with a nominal fee between €183 – €388. The study cost of the top five French institutions are:
France Study Cost: Top Institutes
| | | |
| --- | --- | --- |
| Sl.no | University | Annual tuition fee |
| 1 | Ecole normale supérieure, Paris | €183 - €388 |
| 2 | Ecole Polytechnique | € 12,000€ -€15,000 |
| 3 | Université Pierre et Marie Curie (UPMC) | € 183€ – € 606 |
| 4 | École Normale Supérieure de Lyon | € 1000 – € 1,370 |
| 5 | CentraleSupélec | €8,000 – €19,000 |
| 6 | Sciences Po | €6,550 – €14,100 |
Study in France: Scholarships
Even though tuition fees of public universities is nominal, this does not include the living expenses and tuition fees of private institutes, Grand Ecoles and management courses. With over 150 scholarships, there are a lot of opportunities to get a scholarship to study in France. The Indo-French Consortium of Universities (IFCU) was created to offer dual master's degrees or joint PhD research projects to students studying in France from India. Scholarship can be availed for joint degrees in nuclear technology, nano-technology and synthetic chemistry. French and Indian companies also offer co-financed scholarships to study in France. French firms such as Thales, Orange, DCNS, Alten, Michelin and Indian firms such as Neemrana group and Krishnakriti Foundation have offered scholarships to Indian students who want to study in France.
France Study Visa Process and Cycle
France receives a large number of Indian applicants aspiring to study Art and Design in France. It is also favourable for many students planning to study in France from India. The University of Angers, Grenoble Graduate School of Business, ESSEC institutes, ESCP-EAP are popular among Indian students aspiring to study in France in English.
Due to the demand and a high number of applicants, it is advisable to apply for a France study visa almost 3 months before the start of the semester. While preparing for the Visa interview, applicants should be prepared to answer questions on their study project, research options, future plans, family background and motivations behind choosing France. After completion of the course, the country gives a six-month extension on the student visa to look for a job. France study visa cost is 50 euros.
In 2007, an initiative was launched by the French embassy to increase the number of Indian applications. Applicants need to make only one electronic application to study in France by applying to over 20 institutes of higher learning. Instead, it is the CampusFrance office in India that checks the accuracy of the files and validates the information for universities. International students of all nationalities residing in France for more than 3 months must obtain a student residency permit. Below are the steps that students need to take to study in France:
Download the visa application from France VFS website and go through the list of requisite documents and the passport photo specifications.

Residents of Delhi and the Union Territory of Chandigarh along with many states can apply for France study visa at the French Embassy office in New Delhi. There are French Consulate offices in different parts of India for people residing in other parts of the country.

After paying the visa fee, students should get ready for their visa interview with a copy of their CampusFrance ID number. Students also need to submit their Passport, letter of acceptance from a French Academic Institution, a copy of degrees/diplomas and certificates, proof of financial statements, medical insurance for the first three months, copy of air ticket/PNR and accommodation proof to study in France. 
Study in France: Visa Cycle
| | |
| --- | --- |
| Sessions begin | September |
| Visa cycle | apply 3 months before the semester starts |
| Application begins | February/ March |
| Last date for submission | June |
France Study: Living Expenses
French education cost is low due to the universities being publicly funded. To cover the cost of living in private accommodation, a monthly revenue of €1,200 (minimum wage) is needed. Students in France have access to university halls of residence and restaurants. These lodgings receive state subsidies and the cost to students is reduced to €770. Students studying in France, regardless of nationality, also benefit from a state support for the living (estimated at 500 euros per month). Therefore, a minimum of €8,000 per year is required to live in France with student status. If the student wishes to have a place in the residence hall, it is important to specify the request as soon as possible because of the high demand.
It is important to note that France study cost is not the same for every region. Example – The cost of living is higher in Paris than any other French city (at least €130 more per month)
Schools provide assistance to their students in finding lodgings, especially in the inexpensive halls of residence. Below is a breakdown of France study cost:
| | | |
| --- | --- | --- |
| Particulars | Average France Study Cost in EUR | Average Monthly Cost in INR |
| Rental for 1 bedroom apartment | 550 | 37,603.50 |
| Basic Utilities (Electricity, Water, etc.) | 140 | 9,571.80 |
| Monthly Pass (Transport) | 48 | 3,281.76 |
| Telephone, Internet, etc. | 28 | 1,914.36 |
| Recreation | 100 | 6837.00 |
| Food and Drink | 145 | 9,913.65 |
| Monthly Average Spend | 1,011 | 69,122.07 |
All students enrolled, irrespective of nationality and the level of education, have the right to work during the course duration. Those with a France study visa can work up to 20 hours a week and as salaries are good, 600 euros a week can be earned while studying in France. International students are allowed to work for 964 hours each year and are not required to apply for temporary employment authorization or APT making it easier to study in France in English. This will help ease the burden of France study cost.
Also Read,
Top reasons to study in France