TOEFL Preparation Tips 2021
TOEFL Preparation Tips 2021 - Candidates aspiring to take TOEFL iBT, which is one the most popular English language proficiency tests, should go through TOEFL 2021 preparation tips. One must note that TOEFL iBT has four components - reading, listening, speaking and writing, with each posing an unique challenge. So, when preparing for TOEFL 2021, the student needs to make a special strategy for each section. For example, to prepare for the listening section, one may improve one's listening skills by paying attention to radio and tv broadcasts, or watch movies. The speaking section would need the student to also have good vocabulary and command over English, so one needs to practice speaking along with listening to broadcasts. Go through the rest of the article to learn the full details of TOEFL preparation tips 2021.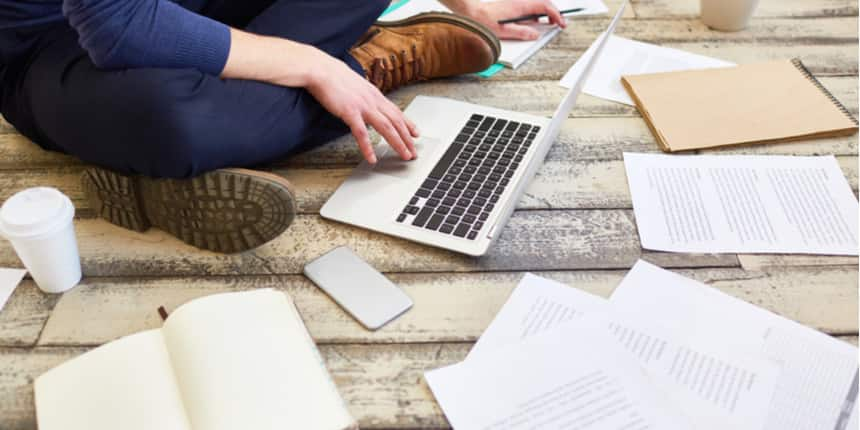 TOEFL Preparation Tips 2021
When preparing, the first thing the candidate ought to do is get familiar with the TOEFL syllabus.

The candidate then needs to know what kind of resources to use for TOEFL preparation.

What are the TOEFL 2021 preparation tips that can help the candidate to get a good score.

How to cover the TOEFL syllabus effectively.

Any other resources the candidate may refer to.

Note than TOEFL 2021 will be conducted in computer based mode, with the exam known as TOEFL iBT

A paper-delivered mode is also available but only for locations where internet testing options are not available.
TOEFL Test Pattern 2021
| | | | |
| --- | --- | --- | --- |
| Section | Time Limit | Questions | Tasks |
| Reading | 54 – 72 minutes | 30 – 40 questions | Read passages from academic texts and answer questions. |
| Listening | 41 – 57 minutes | 28 – 39 questions | Listen to lectures, classroom discussions and conversations, answer questions. |
| Speaking | 17 minutes | 4 tasks | Speak into a microphone about familiar topics and discuss material you read about and listened to |
| Writing | 50 minutes | 2 tasks | Read a passage, listen to a recording and then type your written response |
TOEFL Preparation Tips for Reading Section
The TOEFL iBT reading section evaluates the student's ability to read and understand materials that are used in an academic setting. During the course of the reading test, the student will be required to read 3-4 passages, each 700-word or so long, and answer 10 questions pertaining to each passage.
How to prepare for TOEFL Reading Section
Be a voracious reader: Take up any well-known newspaper like The Hindu, Indian Express, or a good magazine, or a book and read the content aloud. It would not only build vocabulary, but pronunciation.

Mind your grammar: It is important for the student to have a strong foundation in English grammar, the rules and how it works. Work on parts of speech, like noun, pronoun, adjectives, verb, adverb, and tenses.

Practice comprehension: Since the reading section closely resembles answering a comprehension test, one must learn how to decode the inherent message in a passage and how to answer questions related to them. So read as many passages you can, analyze it, and practice answering questions related to it.
TOEFL Preparation Tips for Listening Section
During the course of the listening test, the student will be asked to listen to lectures, classroom discussions and conversations. And based on these lectures and discussions, the student will have to answer relevant questions.
How to prepare for TOEFL Listening Section
Start listening to radio and tv broadcasts: Broadcasts over the radio and television are some of the best resources to improve one's listening abilities. The popular broadcast channels all have people with the correct diction and pronunciation, so there is no fear of learning the wrong stuff.

Watch English movies and TV series: These are other useful resources that one can fall back upon. In fact there are some movies and series that are considered recommended watching for improving one's listening skills.

Jot down the key points when listening to a broadcast or movie conversation: This way you will come to know where you falter, how your speaking skills can be improved, etc.

Mind the accent: Indians use a different accent from their English counterparts. But wherever the accent, the student must be able to understand it. So, ensure that you keep a careful eye to distinguish and understand different accents.
TOEFL Preparation Tips for Speaking Section
The speaking section is a close counterpart to the listening section and preparation for the two sections in some ways go hand-in-hand. The speaking section of TOEFL iBT is around 17 minutes long and requires the students to speak into a microphone. The student has to speak on familiar topics and engage in discussions on material that one has read about or listened to.
How to prepare for TOEFL Speaking Section
Read out loud: When reading a textbook or for that matter any textual matter, voice it while keeping a close eye on the pronunciation and clarity. The practice can be carried out even when listening to broadcast material; so if you are listening to a movie character, speak after him and check how you are sounding. Work on your weaknesses.

Record your voice: Today there are many apps that allow you to record your voice. You can compare your voice with experts for improvements.

Know the subject: It always helps if you know what you are speaking about, because otherwise you won't sound convincing. Also note that topics for the speaking section are picked from the reading and listening sections; so if you stay alert and absorb the key points of these sections, the speaking section would become much easier.
TOEFL Preparation tips for Writing Section
The writing section of TOEFL 2021 will have two tasks, including an integrated writing task and an independent writing task. During the writing test, the student will have to read a passage, listen to a recording and type the written response.
How to prepare for TOEFL Writing Section
Cultivate a reading habit: Unless you know about things, what will you write? So reading should be considered an integral part when preparing for this section. When it comes to choosing reading material, one may read newspapers like the Hindu, Indian Express, top magazines and also well-crafted fiction and non-fiction.

Take notes: These notes can keep you on track and help you identify bottlenecks and difficult points.So, you know what you need to do and get it fixed.

Do the necessary research: Research is also a key part of preparing for TOEFL. Considering you have to give your views, research would give you a strong footing as your arguments will have teeth and sound cogent.
Additional TOEFL 2021 preparation tips
While there is no TOEFL eligibility criteria for appearing in the test, institutes that use TOEFL test scores have minimum eligibility scores. The students need to know about them before applying to them and starting preparations for the exam.

The ETS makes available free online TOEFL iBT practice sets that the candidate can download and prepare for the exam. These practice sets are available for all the four sections.

The practice sets can also be taken online and will have a timer; so the candidate will be able to keep a tab on how much time is needed to complete a certain section. Based on test experience, the candidate will be able to make any changes to their preparation if needed.

The TOEFL iBT free practice sets provide material for one full length test.

For the writing section, one may work on one;s typing speeds.
Frequently Asked Question (FAQs) - TOEFL Preparation Tips 2021
Question: What are TOEFL 2021 Preparation Tips?
Answer:
To prepare for the English language proficiency test, TOEFL iBT, one must know what resources to use, how to study, etc, which are covered in the TOEFL Preparation Tips 2021.
Question: In what mode will TOEFL 2021 be conducted?
Answer:
The exam will be conducted mainly in computer-based mode, TOEFL iBT. The other alternative, the paper-delivered mode is available in a location only if internet testing is not possible.
Question: What are various sections one needs to prepare for TOEFL 2021?
Answer:
TOEFL has four sections - reading, writing, listening and speaking.
Questions related to TOEFL
Showing 188 out of 188 Questions