TOEFL Preparation Tips 2022 - Reading, Listening, Writing, Speaking, Pattern
TOEFL Preparation Tips 2023 - Candidates interested in taking the TOEFL iBT, one of the most well-known English language competency exams, should review the TOEFL 2023 preparation advice. The reading, listening, speaking, and writing sections of the TOEFL iBT each present a different challenge. Therefore, the student must develop a unique strategy for each component of the TOEFL 2023 exam. For instance, by paying attention to radio and television broadcasts, as well as watching movies, one might hone their listening abilities in order to prepare for the hearing portion. One needs to practise speaking in addition to listening to broadcasts because the speaking segment will require the learner to have a strong command of English and a decent vocabulary. For a complete explanation of the TOEFL preparation advice for 2023, see the rest of the article.
Stay up-to date with TOEFL News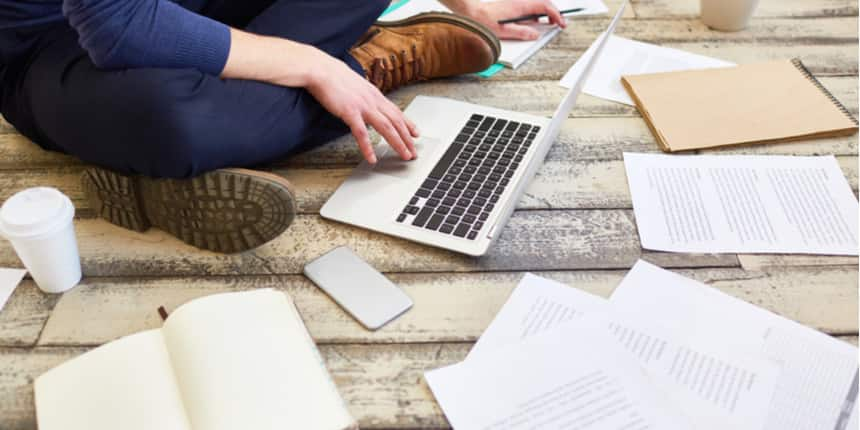 Also read:
TOEFL Preparation Tips 2023
The TOEFL syllabus should be familiarized by the candidate when they start their preparations.

The candidate must then be aware of the resources to use for the TOEFL study.

What preparation strategies for the TOEFL 2023 test may a candidate use to maximize their score?

How to properly cover the TOEFL syllabus.

Any additional sources the candidate might use.

Keep in mind that the TOEFL iBT exam will be administered in computer-based mode in 2023.

There is also a paper-delivered mode, although it is only accessible in places without online testing possibilities.


Popular exams to study abroad:
TOEFL Test Pattern 2023
| | | | |
| --- | --- | --- | --- |
| Section | Time Limit | Questions | Tasks |
| Reading | 54 – 72 minutes | 30 – 40 questions | Read passages from academic texts and answer questions. |
| Listening | 41 – 57 minutes | 28 – 39 questions | Listen to lectures, classroom discussions and conversations, answer questions. |
| Speaking | 17 minutes | 4 tasks | Speak into a microphone about familiar topics and discuss material you read about and listened to |
| Writing | 50 minutes | 2 tasks | Read a passage, listen to a recording and then type your written response |


TOEFL Preparation Tips for Reading Section
The TOEFL iBT reading section tests a student's proficiency with reading and comprehending academic texts. The student will read three to four sections totaling about 700 words each throughout the reading test, and they will then have to respond to ten questions about each passage.
How to prepare for TOEFL Reading Section
Be an avid reader. Pick up any reputable publication, such as The Hindu or Indian Express, a quality magazine, a book, or both, and read the text aloud. It would improve pronunciation in addition to vocabulary.

Understand your grammar. A solid understanding of English grammar, its rules, and how it functions is crucial for the student. Focus on the tenses and parts of speech, such as nouns, pronouns, adjectives, verbs, and adverbs.

Focus on comprehension practice. Learn to decipher a passage's underlying message and how to respond to questions based on it. This is important because the reading segment closely resembles answering a comprehension test. Consequently, read as many passages as you can, analyze them, and then practise responding to questions about them.
TOEFL Preparation Tips for Listening Section
During the course of the listening test, the student will be asked to listen to lectures, classroom discussions, and conversations. And based on these lectures and discussions, the student will have to answer relevant questions.
How to prepare for TOEFL Listening Section
Start listening to radio and tv broadcasts: The best sources for honing one's listening skills are broadcasts on radio and television. There is no concern about picking up incorrect information because everyone on the widely watched TV channels speaks and pronounces words correctly.

Watch English movies and TV series: These are some other beneficial resources that may be used as a backup. In reality, there are some films and television shows that are suggested for viewing for those looking to improve their listening abilities.

Note down the important points when listening to a broadcast or movie conversation: By doing this, you'll learn your weaknesses and how to talk more effectively.

Mind the accent: The accent of Indians differs from that of English speakers. However, the pupil must be able to grasp it regardless of the accent. Therefore, be sure to maintain a keen eye to recognize and comprehend various dialects.
Students also liked:
TOEFL Preparation Tips for Speaking Section
The speaking section closely resembles the listening section, and the two sections' preparation often overlaps. The speaking portion of the TOEFL iBT lasts for roughly 17 minutes and calls for students to use a microphone. The student must speak on well-known subjects and participate in debates on subjects they have read about or heard about.
How to prepare for TOEFL Speaking Section
Read out loud: When reading a textbook—or any literary material, for that matter—aloud, paying great attention to the pronunciation and clarity. The exercise can be done even while listening to broadcast content, so if you are watching a movie, speak after the character and listen to how you sound. Work on your shortcomings.

Record your voice: There are several apps available today that let you record your voice. You can assess changes by comparing your voice to that of professionals.

Know the subject: Knowing what you are talking about always helps because you won't seem convincing if you don't. Additionally, keep in mind that the themes for the speaking section are chosen from the reading and listening sections. As a result, if you pay close attention and remember the most important details from these areas, the speaking section will be much simpler.
TOEFL Preparation tips for Writing Section
An integrated writing task and an individual writing activity will both be included in the TOEFL 2023 writing component. The student will read a passage, listen to a recording, and type a written response during the writing test.
How to prepare for TOEFL Writing Section
Cultivate a reading habit: What will you write if you don't have knowledge of the matter? Therefore, reading should be regarded as a crucial component of your preparation for this area. One can read well-written fiction and non-fiction as well as newspapers like the Hindu and Indian Express, prestigious magazines, and newspapers like the Hindu and Indian Express.

Take notes: These notes can help you stay on course and assist you to spot obstacles and challenging areas. As a result, you are aware of what to do to fix it.

Do the necessary research: Another important aspect of TOEFL preparation is research. Research would offer you a firm foundation if you had to present your opinions, as your arguments would be persuasive and have substance.
Additional TOEFL 2023 preparation tips
Although there are no prerequisites for taking the TOEFL test, there are minimum requirements set by the institutions that use the test results. Before applying to them and beginning exam preparations, the students must be aware of them.

The candidate can acquire free online TOEFL iBT practice sets from the ETS to help them study for the test. Each of the four sections has a set of these practice questions.

The practice sets can also be completed online, and they come with a timer so the candidate can monitor how long it takes to finish each section. The candidate will be able to adjust their preparation as necessary based on their test-taking experience.

The free TOEFL iBT practice sets contain enough information for one entire test.

One could practise their typing speed before the writing section.
Stay tuned for more such informative write-ups on our website www.studyabroad.careers360.com.
Frequently Asked Question (FAQs) - TOEFL Preparation Tips 2022 - Reading, Listening, Writing, Speaking, Pattern
Question: What are various sections one needs to prepare for TOEFL 2023?
Answer:
TOEFL has four sections - reading, writing, listening and speaking.
Question: In what mode will TOEFL 2023 be conducted?
Answer:
The exam will be conducted mainly in computer-based mode, TOEFL iBT. The other alternative, the paper-delivered mode is available in a location only if internet testing is not possible.
Question: What are TOEFL 2023 Preparation Tips?
Answer:
To prepare for the English language proficiency test, TOEFL iBT, one must know what resources to use, how to study, etc., which are covered in the TOEFL Preparation Tips 2023.
Questions related to TOEFL
Showing 194 out of 194 Questions