SAT Registration 2022 - Application Begin, Check Process, Fee
SAT Registration 2022 – The College Board requires candidates to undergo SAT 2022 registration process to be able to appear for the internationally recognised entrance examination. The SAT registration 2022 procedure can be executed in both online and offline (via mail) modes. Before applying for the exam, candidates should check the requirement of their chosen institutes and decide whether to sign up for the SAT with or without Essay. Candidates need to create a web account, fill in details, upload a recent photograph and pay the SAT application fee to complete the registration process of SAT 2022. In this article, Careers360 provides information related to SAT registration 2022 including the registration dates, deadlines, application procedure, SAT application form fee etc.
Latest Updates: Click here for SAT 2022 Registration
Stay up-to date with SAT News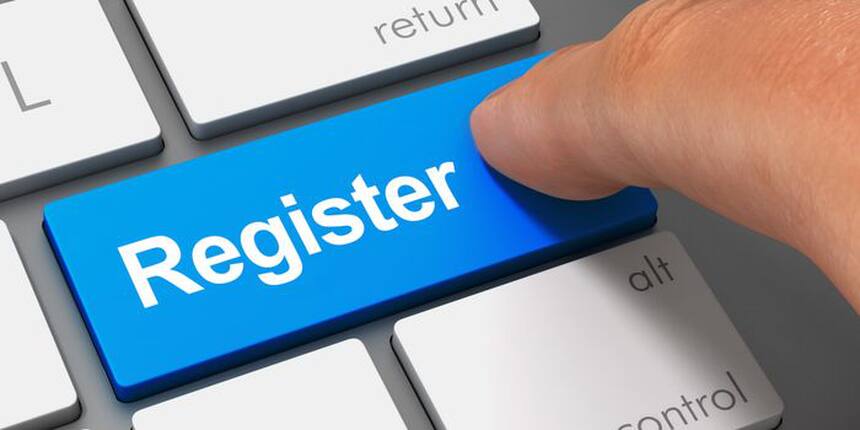 Popular Online Language Courses and Certifications
SAT Registration 2022: Registration Dates and Deadlines (International Candidates)
| | |
| --- | --- |
| SAT Date | Deadline for Registration, Changes, and Regular Cancellation |
| August 28, 2021 | July 30, 2021 |
| October 2, 2021 | September 3, 2021 |
| December 4, 2021 | November 4, 2021 |
| March 12, 2022 | February 11, 2022 |
| May 7, 2022 | April 8, 2022 |
More dates are available for international candidates pertaining to SAT Subject test 2022 in the table below.
4 min read
Feb 28, 2022
Read More
| | | |
| --- | --- | --- |
| SAT Subject Test Date | SAT Registration Deadline | Deadline for Changes, Regular Cancellation, and Late Registration |
| March 12, 2022 | February 11, 2022 | March 1, 2022 |
| May 7, 2022 | April 8, 2022 | April 26, 2022 |
| June 4, 2022** | May 5, 2022 | May 25, 2022 |
NOTE: **United States, Puerto Rico, and U.S. Virgin Islands only
Prior to filling the SAT application form 2022, it is imperative to be aware of the SAT eligibility criteria 2022. Following are the eligibility criteria for appearing in SAT 2022 exam.
SAT Registration 2022: Eligibility Criteria
As per the SAT eligibility 2022, students can take the SAT irrespective of their age but typically it is taken by students who are 17 or 18 years of age. It is highly recommended for candidates to take the SAT exam when they are in their senior high school.

Candidates can take the SAT 2022 test if they aspiring to apply for an undergraduate programme at any university in the US and other specified countries.

If candidates are applying for scholarships/financial aid and the university requires it as a part of the SAT application process.
SAT Registration 2022: Request to appear for SAT 2022 on a Sunday
6 min read
Mar 05, 2022
Read More
This special service is available only if candidates are not able to appear for the test on Saturday due to religious observance. However, to be able to take the SAT on Sunday, candidates must produce an official letter from the respective religious heads. Moreover, if an international test taker wants to take the test from India or Pakistan, the mentioned service is not available to them.
Student Also Liked
SAT Registration 2022 - Online or By mail
SAT Online Registration - The online SAT registration process 2022 has five simple steps. For the convenience of the candidates, Careers360 has provided a comprehensive guide pertaining to SAT registration.
Personal credentials- Aspiring candidates need to fill in their personal details through which they can track their test later and make alterations as and when required.

Creating student profile- Though this is not a mandatory section, however, if students create their profile with the conducting body it shares relevant information on universities.

Selecting SAT test centre – At the time of SAT registration, students choose their test date and test centre. They can use their area zip code to find the nearest available test centre to their location.

Upload photo- Candidates must upload their recent photograph (formal photo). The photo should meet the prescribed specifications and must be identifiable as you on the day of test. The digital photo should be in one of the mentioned formats, namely .jpg, .gif, .png.

Check out – Once all the steps are complete, candidates must ensure to go through the entire process to avoid any mistakes.
SAT Registration 2022: Registration/Application Fee
The application/registration fee of SAT exam 2022 is $55. Some students are eligible for a SAT exam fee waiver. For international examinees taking the test outside the US, need to pay extra which is added to the mentioned registration fees for SAT 2022. The payment of SAT registration fees is accepted via Credit Card and PayPal. Check the regional fees for SAT in the table below.
| | | |
| --- | --- | --- |
| Region | Countries in Region | Fee |
| Africa (Sub-Saharan) | Angola, Benin, Botswana, Burkina Faso, Burundi, Cameroon, Cape Verde, Central African Republic, Chad, Comoros, Congo, Republic of (Brazzaville), Congo, Cote d'Ivoire, Djibouti, Equatorial Guinea, Eritrea, Ethiopia , French Southern Territories, Gabon, Gambia, The, Ghana, Guinea, Guinea-Bissau, Heard Island and McDonald Islands, Kenya, Lesotho, Liberia, Madagascar, Malawi, Mali, Mauritania, Mauritius, Mayotte, Mozambique, Namibia, Niger, Nigeria, Reunion, Rwanda, Saint Helena, Ascension and Tristan da Cunha, Sao Tome and Principe, Senegal, Seychelles, Sierra Leone, Somalia, South Africa, South Sudan, Sudan, Swaziland, United Republic of Tanzania, Togo, Uganda, Zambia, Zimbabwe | $43 |
| Americas | Anguilla, Antarctica, Antigua and Barbuda, Argentina, Aruba, Bahamas, Barbados, Belize, Bermuda, Bolivia, Bonaire, Sint Eustatius and Saba, Bouvet Island, Brazil, Canada, Cayman Islands, Chile, Colombia, Costa Rica, Cuba, Curaçao, Dominica, Dominican Republic, Ecuador, El Salvador, Falkland Islands (Malvinas), French Guiana, Grenada, Guadeloupe, Guatemala, Guyana, Haiti, Honduras, Jamaica, Martinique, Mexico, Montserrat, Nicaragua, Panama, Paraguay, Peru, Saint Barthélemy, Saint Kitts and Nevis, Saint Lucia, Saint Martin (French Part), Saint Pierre and Miquelon, Saint Vincent and the Grenadines, Sint Maarten (Dutch Part), South Georgia and the South Sandwich Islands, Suriname, Trinidad and Tobago, Turks and Caicos Islands, Uruguay, Venezuela, Virgin Islands, British | $43 |
| East Asia/Pacific (Compact of Free Association members) | Federated States of Micronesia, Marshall Islands, Palau | $0 |
| East Asia/Pacific | Australia, Brunei Darussalam, Cambodia, China, People's Republic of, Christmas Island, Cocos (Keeling) Islands, Cook Islands, Fiji, French Polynesia, Hong Kong, Indonesia, Japan, Kiribati, Korea, North (DPR), Korea, South (ROK), Lao People's Democratic Republic, Macao, Malaysia, Mongolia, Myanmar (Burma), Nauru, New Caledonia, New Zealand, Niue, Norfolk Island, Papua New Guinea, Philippines, Pitcairn, Samoa, Singapore, Solomon Islands, Taiwan, Thailand, Timor-Leste, Tokelau, Tonga, Tuvalu, Vanuatu, Vietnam, Wallis and Futuna | $53 |
| Europe and Eurasia | Albania, Åaland Islands, Andorra, Armenia, Austria, Azerbaijan, Belarus, Belgium, Bosnia and Herzegovina, Bulgaria, Croatia, Cyprus, Czech Republic, Denmark, England, Estonia, Faroe Islands, Finland, France, Georgia, Germany, Gibraltar, Greece, Greenland, Guernsey, Holy See (Vatican City State), Hungary, Iceland, Ireland, Isle of Man, Italy, Jersey, Kosovo, Latvia, Liechtenstein, Lithuania, Luxembourg, Malta, Republic of Moldova, Monaco, Montenegro, Netherlands, Northern Ireland, Norway, Poland, Portugal, The Republic of North Macedonia, Romania, Russian Federation, San Marino, Scotland, Serbia, Slovakia, Slovenia, Spain, Svalbard and Jan Mayen, Sweden, Switzerland, Turkey, Ukraine, United Kingdom, Wales | $49 |
| Middle East/North Africa | Algeria, Bahrain, Islamic Republic of Iran, Iraq, Israel, Jordan, Kuwait, Lebanon, Libya, Morocco, Oman, Qatar, Saudi Arabia, State of Palestine, Syria, Tunisia, United Arab Emirates, Western Sahara, Yemen | $47 |
| South and Central Asia | Afghanistan, Bangladesh, Bhutan, British Indian Ocean Territory, India, Kazakhstan, Kyrgyzstan, Maldives, Nepal, Pakistan, Sri Lanka, Tajikistan, Turkmenistan, Uzbekistan | $49 |
SAT Registration 2022 – By Mail
One needs to register for SAT by mail only if candidates
1. Pay by cheque or money order (payable to "The College Board").
2. Are less than 13 years of age.
3. Register for Sunday testing for the first time.
4. Request the College Board to open a test centre in close proximity to one's place.
5. Cannot upload a digital photo (a part of the online SAT registration 2022 procedure).
SAT is an internationally acclaimed standardised test taken for college-level admission in the United States and few other countries. As per the SAT exam pattern 2022, it is mainly of two types: SAT Reasoning Test or SAT and SAT Subject Test. Both the SAT test patterns follow different formats to assess aspirants' knowledge. The SAT syllabus has been set keeping in mind the requirements of both the SAT formats. According to the new SAT scoring pattern, the exam will be scored on a total of 1600 while the Evidence-Based Reading/Writing and Mathematics sections will each be scored on a point scale ranging between 200 to 800. Although there is no alteration in the SAT test dates 2022, the duration of the test is now three hours, with an additional 50 minutes for the Essay, which is optional for candidates.
Also read,
Difference between SAT and ACT
How to send SAT scores to colleges
Questions related to SAT
Showing 304 out of 304 Questions