SAT Exam Pattern 2020 - The College Board conducts the Scholastic Assessment Test as per the given SAT 2020 exam pattern. There are two types of SAT tests, one is the SAT Reasoning test while the other one is the SAT subjects test. As per the SAT exam pattern 2020, the SAT assessment mostly consists of multiple types of questions. In the case of the SAT reasoning test, there will be four sections namely Reading, Writing and Language, Math and Essay(optional). The exam pattern of SAT 2020 also informs that each section will have a fixed number of questions or tasks and separate time limits will be given to attempt each section. As part of the marking scheme, each correct answer is scored by giving 1 point and no points are deducted for incorrect answers. The scores of SAT are reported in online mode and released in the form of percentile score that lets you compare your scores with the other students. Read this complete article to know about the SAT exam pattern 2020, marking scheme, score reports and more.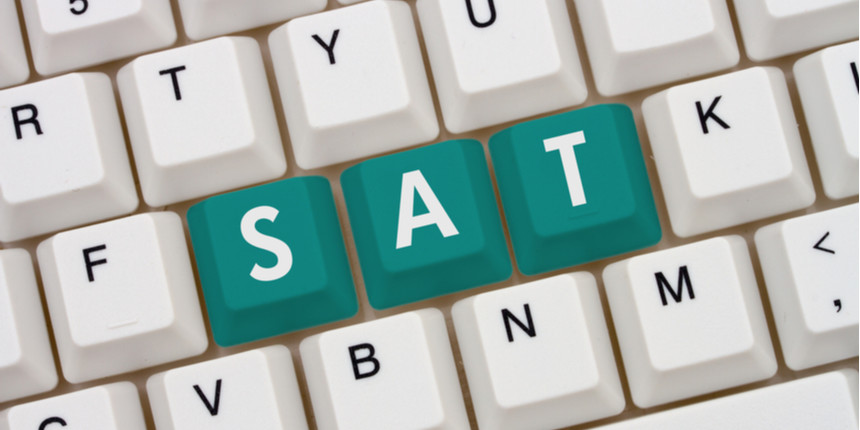 SAT Exam Pattern 2020 - General overview
Components

Details

SAT Format

SAT(Reasoning) Test

SAT Subject Test

Duration

Three hours (SAT without Essay)

3 hours and 50 minutes (SAT with Essay)

SAT Subject test - 1 hour

Number of sections in SAT (Reasoning) Test

Evidence-Based Reading and Writing,

Reading Test,

Writing and Language Test,

Mathematics

Essay (optional)

Overall score range of SAT (Reasoning) Test

400-1600

Total number of questions in SAT (Reasoning) Test

154 questions + 1 (optional essay)

Type of examination

Mostly objective

Number of Subjects in SAT Subject Test

20

Overall score range of SAT Subject Test

200-800
SAT Reasoning Exam Pattern - Explained
There are four sections in SAT Reasoning. Each section is allotted a fixed time duration within which the students will have to complete the test. The table given below explains the basic test format of SAT reasoning.
SAT Exam Pattern 2020 - SAT Reasoning Test
Component

Time allotted (minutes)

Number of Questions/Tasks

Reading

65

52

Writing and Language

35

44

Essay

(optional)

50

1

Math

80

58

Total

180

(230 with Essay)

154

(155 with Essay)
The SAT 2020 occasionally includes the questions for research purposes. If such a question appears in the test, the testing time will be extended by 20 minutes, so the candidates will have enough time to answer the questions. However, it should be noted that these kinds of questions will not be included in computing the scores.
How is the SAT Reasoning Scored?
One point is given to each correct answer and since there is no negative marking, candidates can answer every question even by simple guessing. If the responses are not given against a particular question, no point will be added or deducted for that. The table given below explains how SAT Reasoning is scored for each section.
SAT Reasoning Test Pattern
SAT score reported

Details

Score range

Total score

Sum of the 2 section scores

400–1600

Section Scores (2)

Evidence-Based Reading and Writing

200-800




Math

Test Scores (3)

Reading

10–40

Writing and Language

Math

Essay Scores (3)

(if the SAT Essay is taken)

Reading

2-8

Analysis

Writing

Cross-Test Scores (2)

Based on select questions in the Reading test, Writing and Language test and Math test. These scores show how well you use your skills to analyze texts and solve problems

in these subject areas.

Analysis in History/Social Studies

10-40

Analysis in Science

Subscores (7)

Reading and Writing and Language: Command of Evidence and Words in context

1-15

Writing and Language: Expression of ideas and standard English conventions

Math: Heart of Algebra, Problem-solving and Data analysis, and passport to advanced Math
SAT Subjects Test Pattern 2020
The College Board conducts SAT subjects tests for Math, History, Science, Literature and Languages. The SAT subject tests are of one-hour duration and give the student an opportunity to showcase the knowledge and skills of a particular subject.
It should be noted that the content of SAT subject tests is not taken from a particular textbook or teaching methods. Rather, it evolves to reflect the latest trends in what is taught in typical high school courses in the corresponding subject.
SAT 2020 Subject List
| | | | |
| --- | --- | --- | --- |
| Literature | Biology/EM | German | Italian |
| U.S. History | Chemistry | German with Listening | Latin |
| World History | Physics | Spanish | Chinese with Listening |
| Math Level | French | Spanish with Listening | Japanese with Listening |
| Math Level 2 | French with Listening | Modern Hebrew | Korean with Listening |
How are the SAT Subject Tests Scored?
Each of the SAT subject tests is scored depending on how many answer choices are given in the test. The total score range for a test remains on a scale of 200-800 in 10 point intervals. Each correct answer is scored positively and receives 1 point, while negative marking is done for incorrect answers in a given pattern as explained below.
1/4 point subtracted for each 5-choice

question

1/3 point subtracted for each 4-choice

question

1/2 point subtracted for each 3-choice

question

0 points subtracted for questions that are not answered at all.
SAT Exam Pattern 2020 - Score Reporting
The conducting body declares the result of both SAT and SAT subject test in online mode. Students may access their score reports by logging into the College Board account. The SAT score report contains the following information.
Percentiles score that lets the students compare his/her score with other students.

A search tool for career and college along with suggestions on the basis of the information you provided during the registration.

The prompt for the SAT Essay (if taken by the student) and a scanned copy of your response.
In the case of SAT subjects tests, the score reports are provided after several weeks of the exam. However, the student can get access to the SAT subjects scores for a fee, by calling at the customer support service number.
Frequently Asked Question (FAQs) - SAT Exam Pattern 2020
Question: What is the total score range of the SAT (Reasoning) test?
Answer:
The SAT Reasoning test is scored on a range of 400-1600.
Question: When may I send my SAT (reasoning) score to the colleges or universities?
Answer:
You can select up to four colleges/universities before appearing in the test and can send the scores at free of cost. Sending SAT scores to more colleges/universities will cost the processing fee.
Question: Is a calculator allowed for SAT subject tests?
Answer:
Yes, you can bring a calculator for appearing in the test.
Question: I have opted for the SAT with Essay at the time of registration, can I change my choice on the day of the test if I don't want to give the essay test?
Answer:
You can change your choice and decide not to give the essay only if you are a test taker below 21. You will need to make a request at the time of check-in. However, it also depends upon the discretion of the test centre staff who may accept such requests or decline for various reasons.
Question: Is there any negative marking in the SAT 2020?
Answer:
Yes, there is negative marking in SAT subject tests, however, in the case of the SAT Reasoning test, there is no negative marking.
Questions related to SAT
Showing 97 out of 97 Questions