GRE Sample Paper 2023 - ETS releases the GRE sample papers on its official website - ets.org. Candidates preparing for the GRE exam can download GRE Quant, Verbal, AWA sample Papers PDFs available on this page for free and practice them. GRE sample papers comprise a variety of questions from low, medium to difficult. Having access to certified GRE sample questions might help boost preparation for the GRE exam. Practice GRE tests are available for both the General and Subject Tests of the GRE. GRE sample questions are offered for each of the five sections of the GRE General Test 2023: Analytical Writing, Verbal Reasoning (two portions), and Quantitative Reasoning (two sections).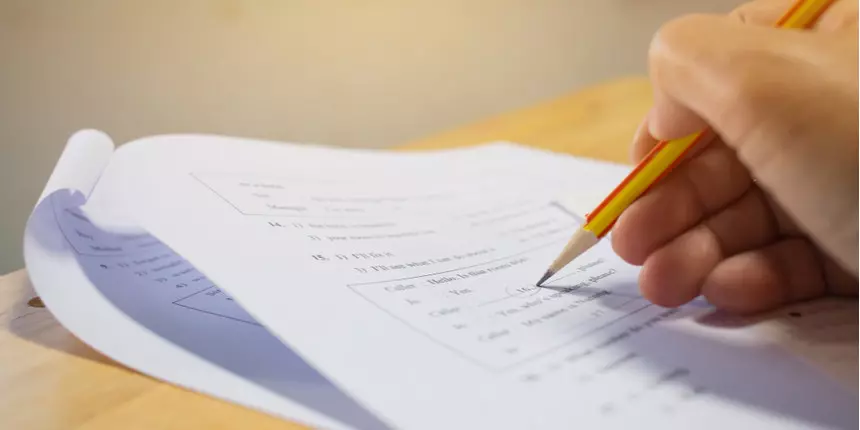 GRE Sample Paper - Download Practice paper, Prep Material
Additionally, ETS, the organization in charge of administering the test, also offers GRE practice tests online. These can assist candidates in learning the intricacies of the exam, such as how to move between different parts and respond to questions. For more information about the GRE sample papers, read the remainder of the article.
GRE Sample Papers Download
In the table below, GRE practice tests are mentioned. Candidates can click on the links provided and download the GRE 2023 sample papers and get a feel of the exam through the GRE exam sample. The sample papers adhere to the GRE syllabus.
GRE sample papers PDF download
GRE Sample Papers 2023 (General Test)
All sections of the GRE General Test have a variety of GRE test preparation resources available on the GRE official website. These include section-by-section GRE sample questions that can be used to gain an understanding of the different kinds of topics asked, how the questions are phrased, and other important details. The GRE sample question paper helps in this and solving sample papers is one of the important GRE preparation tips.
Candidates can use the links at ets.org to access GRE model papers (General Test). They can also get information on:
Overview of the Analytical Writing Measure

Overview of the Verbal Reasoning Measure

Overview of the Quantitative Reasoning Measure
GRE Test Preparation Materials in Accessible Formats
ETS makes GRE preparation materials such as GRE question papers available in many accessible formats so that those with any form of disability can use them and prepare for the test.
Introductory/Review Materials for the GRE General Test (All Accessible Test Formats)

Practice Tests for the Computer-delivered GRE General Test with Accommodations

Practice Tests for the GRE General Test in Additional Accessible Formats
To practice for GRE using materials in accessible formats, visit ets.org
GRE Exam Sample Papers 2023 (Subject Test)
Only paper-delivered, the GRE Subject Test 2023 is offered three times a year in September, October, and April. Candidates taking the GRE 2023 Subject test should be aware that it will test their expertise in any one of the following fields:
Mathematics
Physics
Psychology
The candidate may use the full-length tests that are offered on the official GRE website to practise for the topic exams. The applicant may use the corresponding answer keys to verify their responses.
GRE Test Syllabus 2023 - Verbal Reasoning
This section will test the candidate's ability to analyze and infer meaning from discourse, reason from incomplete data, comprehend multiple levels of meaning, including literal, figurative, and author's intent, summarize text, separate major from minor points, comprehend the meanings of words, sentences, and entire texts, and comprehend relationships between words and among concepts. The use of complicated verbal reasoning abilities will be emphasized. It is important for the candidates to solve GRE question papers to understand this section better.
GRE Syllabus for Quantitative Reasoning
This section will evaluate the following qualities in a candidate:
The capacity to understand, interpret and analyze quantitative information

Ability to solve problems using mathematical models

Ability to apply the basic concepts of arithmetic, algebra, geometry, and data analysis.

Quantitative reasoning skills.
GRE Syllabus for Analytical Writing
The Analytical Writing section will assess the candidate's analytical writing and critical thinking abilities, as well as their capacity to present and defend complex ideas with persuasive arguments and examples, as well as analyze claims and supporting data. The candidate's analytical writing abilities will be emphasized. Candidates can practice from the GRE sample papers 2023 to know the type of questions asked in the analytical writing section. The GRE sample questions will help them prepare.
GRE Exam Pattern 2023
Here are the details of the GRE test pattern which will help candidates solve the GRE sample papers based on the time duration and the number of questions they need to solve.
GRE Sections

No. of questions

Duration

Analytical Writing

Two tasks

60 minutes

Verbal Reasoning - 1

20 questions

30 minutes

Verbal Reasoning - 2

20 questions

30 minutes

Quantitative Reasoning

20 questions

35 minutes

Quantitative Reasoning

20 questions

35 minutes

Unscored

Varies

Varies

Research

Varies

Varies

Mode of exam

Computer-based test (CBT) mode
GRE test dates 2023
Candidates can sign up for one of the computer-delivered exams whose dates are indicated on the ETS website if they plan to take the GRE in 2023. There is online slot scheduling for the typical GRE test dates. Candidates cannot sign up for paper-delivered exams if their location offers computer-delivered testing and GRE General test dates are available. If a candidate lives in a region where the GRE is not provided in computer-delivered mode, they must apply online for the GRE paper-delivered test. It should be mentioned that the GRE topic test is only offered in paper-delivered mode.
GRE 2023 test dates - paper-delivered tests
There will only be a maximum of three GRE exam dates offered to candidates who must select paper-delivered examinations in 2023. (April, September, and October). Prior to GRE registration 2023, it is advised that candidates confirm the availability of the GRE 2023 exam dates. The number of times a candidate can take the GRE General exam is unrestricted. Although the GRE test can be taken whenever it is offered on paper, it can only be taken five times a year (in 365 days), with a minimum 21-day interval between attempts, hence candidates are advised to prepare from the GRE question papers 2023 to give their best.