LSAT Selection Process 2021
LSAT Selection Process 2021– Law School Admission Council (LSAC) has not given any specific criteria for LSAT 2021 selection process. The selection of the candidates will not only be based on their LSAT 2021 scores but a few other factors as well. Candidates are required to fulfill other criteria as part of the LSAT selection process 2018. Before a law school can make an admission decision, it is necessary that law school receives all the requisite documents. Candidates who wish to pursue law abroad must attempt LSAT conducted by LSAC in one of the four sessions conducted every year. Candidates can choose a test date according to the time period in which a particular law school conducts their admissions. Candidates are advised to check the eligibility criteria and test dates carefully before applying for LSAT 2021.
Stay up-to date with LSAT News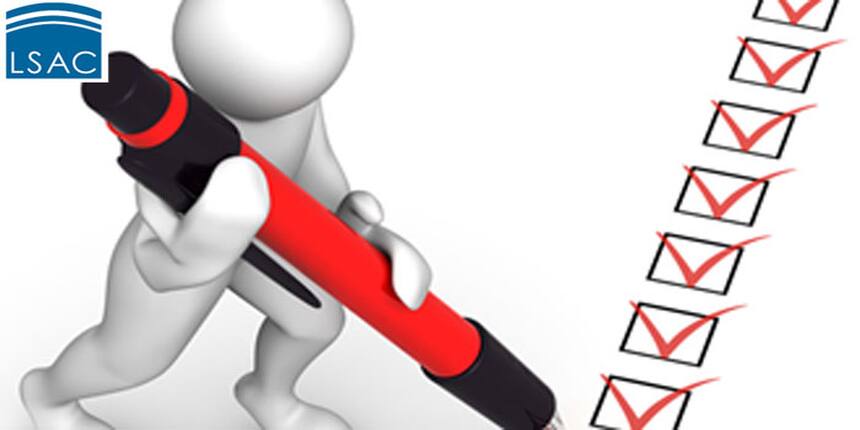 LSAT 2021 Selection Process: Important documents required
Application

Application fee (if required)

Letters of Recommendation

Credential Assembly Service law school report

Any additional requirements unique to that particular school
LSAT Selection Process 2021: Eligibility Criteria
Candidates can check here the LSAT eligibility criteria 2021 to understand the eligibility for individual law school.
LSAT 2021 Acceptable Degrees
Degree

Country

LLB (Bachelor of Law)/ Bachelor of Law

Bahamas, Bahrain, Bangladesh, Barbados, Belize, Bermuda, Botswana, British Virgin Islands, Cayman Islands, Antigua, Eritrea, Ethiopia, Fiji, Gambia, Grenadines, Hong Kong, Iran, Israel, Jamaica, Jordan, Kenya

North Korea, Kuwait, Lesotho, Libya, Myanmar, Nepal, Nevis, New Zealand, Nigeria

Palestine, Papua New Guinea, Philippines, Qatar, Saint Helena, Saint Kitts, Saint Lucia, Saint Vincent, Saudi Arabia, Sierra Leone, Sudan, Swaziland, Taiwan, Tanzania, Thailand

Tobago, Trinidad, Turks and Caicos Islands, Uganda, United Arab Emirates, Yemen, Zambia, Zimbabwe

Licence en Droit/ Maitrise en Droit/ License D'etudes Juridiques/ Licenciatura en Derecho/ Licenciatura em Direito

Algeria, Angola, Benin, Bolivia, Central African Republic, Chile, Costa Rica, Congo

Costa Rica, Cuba, Dominican Republic, El Salvador, Guadeloupe, Guatemala, Guinea, Haiti, Honduras, Martinique, Mauritania, Nicaragua, Portugal

Abogado

Argentina, Colombia, Paraguay, Peru, Venezuela

Magister Iuris; Magister der Rechtswissenschaften/ Master in de rechten / master en droit; or licenciaat / licencié from prior system/ Maitrise en Droit/ Magistar prava or Diplomirani/a pravnik/pravnica from prior system/ Maitrise/ Maitrise en Sciences Juridiques/ Master en droit or Maitrise en droit from prior system

Austria, Belgium, Benin, Bosnia and Herzegovina, Burkina Faso, Congo, Croatia, Czech Republic, Gabon, Macedonia, Madagascar, Mali, Reunion, Senegal

Slovak Republic
LSAT Selection Process 2018: Important Factors
LSAT Scores 2021: The LSAT 2021 scores are based on the number of questions answered correctly by the candidate.

Candidates' performance in undergraduate level: While considering the applications, law schools will consider the undergraduate grades scored by the candidate. The undergraduate grade point average (UGPA) is an indicator as to how well a candidate will perform in the law school.
LSAT Selection Process 2021: Admission Index
Certain law schools use a formula to combine the LSAT 2021 score and the UGPA into a single index number. The list of mathematical formulas enable the candidates to calculate the admission index for each law school is given in the 'Related Information' section on the 'Transcripts' page of the candidates LSAC.org account.
LSAT Selection Process 2021: Grade Conversion Table
LSAC Conversion

Grades as Reported on Transcripts

4.0 Scale

A to F

1 to 5

100–0*

Four Passing Grades

Three Passing Grades *

4.33

A+

1+

98–100

Highest Passing Grade (4.0)

Highest Passing Grade (4.0)

4.00

A

1

93–97

3.67

A-

1-

90–92

3.50

AB

3.33

B+

2+

87–89

Second Highest Passing Grade (3.0)

Middle Passing Grade (3.0)

3.00

B

2

83–86

2.67

B-

2-

80–82

2.50

BC

2.33

C+

3+

77–79

Third Highest Passing Grade (2.0)

Lowest Passing Grade (2.0)

2.00

C

3

73–76

1.67

C-

3-

70–72

1.50

CD

1.33

D+

4+

67-69

Lowest Passing Grade (1.0)

1.00

D

4

63–66

0.67

D-

4-

60–62

0.50

DE or DF

0.00

E and F

5

Below 60

Failure (0.00)

Failure (0.00)
* In some instances, a school's three-passing-grade system or numerical grading scale might be converted differently than shown here.
LSAT Selection Process 2021: Other factors that will be considered by the admission committee are
Undergraduate Course Study

College attended

Graduate Work

Ethnic/racial background

Individual character and personality

College curricular and extracurricular activities

Improvement in grades and grade distribution

Letters of recommendation

Personal statement or essay

Writing skills

Work experience or postgraduate experiences

Community services

Obstacles that have been overcome

Motivation to study and reasons for deciding to study law

State of residency

Past accomplishments and leadership

Conditional admission programmes
LSAT Selection Process 2021: Waiting list
Candidates who have qualified LSAT 2021 but are not on par with the others selected for a particular law school will be put on the waiting list of the law school. Candidates must note that those who are on the waiting list will be notified by the law school until as early as April or late July. Usually, law schools rank candidates who are in the waiting list. While some law schools inform the candidate their rank if the candidates are not informed the same they can contact the admission office to know as to how many students are on the waiting list.
LSAT 2021 is conducted in the months of February, June, September/October and December every year. While selecting the LSAT test dates and test centres, candidates must ensure to go through the provided list thoroughly.
Questions related to LSAT
Showing 140 out of 140 Questions