SAT Scores 2021– The College Board® releases the official SAT® 2021 scores on the official website as per the scheduled SAT score release dates. Candidates can check their SAT scores at studentscores.collegeboard.org/home as per the SAT score 2021 release dates given on this page. Test takers can enter their user name and password to access their SAT scores 2021 online. The colleges chosen by the applicants will receive scores within 10 days after the College Board® has released their SAT scores 2021. Candidates opting for SAT with essay will also receive their scores. All information regarding SAT score card 2021 including score pattern, the procedure to send SAT scores, score analysis and many more can be checked on this page.
Latest: Click here to download SAT Score Card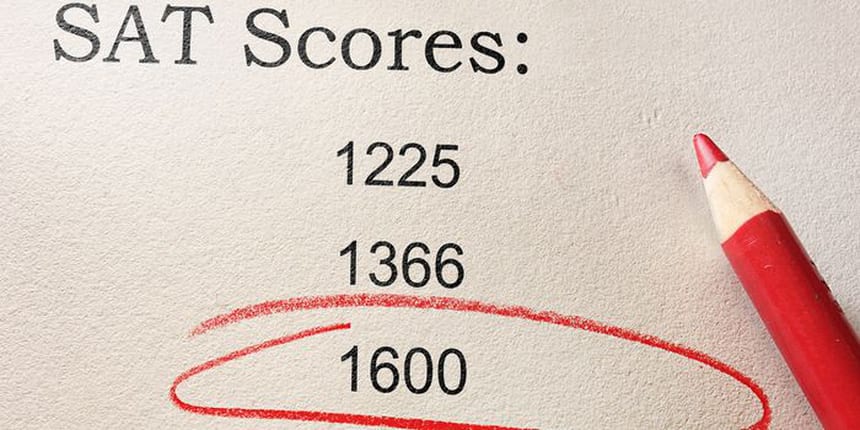 The overall SAT (reasoning) test is scored on a scale of 400-1600. Candidates who register for the test can get their score of SAT 2021 sent to four colleges for free. Additional SAT scorecards are subject to a stipulated fee charged by the conducting body.
SAT Score Release Dates
| | |
| --- | --- |
| SAT Test Dates | SAT 2021 Result Dates |
| April 13, 2021 | May 5, 2021 |
| April 27, 2021 | May 20, 2021 |
| May 8, 2021 | May 21, 2021 |
| June 5, 2021 | June 14, 2021 |
What does SAT test stand for?
SAT Test 2021 is conducted by the College Board for admission purposes. The test comprises of SAT Reasoning Test and SAT Subjects Test. Candidates may opt for one or both the SAT tests. They have the choice of writing SAT Subject test from 20 subjects. The SAT subject test is an hour-long, content-based exam used to assess a candidates' strength in that particular subject. SAT Test Patterns for both these tests are different. The SAT 2021 syllabus has been designed keeping in mind the requirements and the purpose of the tests. It is advisable to check SAT sample papers to be more informed about the exam patterns.
How to avail College Board SAT Scores
1. Paper score reports: Candidates who have registered by mail will receive paper SAT score reports if they don't have active College Board online accounts .
2. Print your SAT 2021 scores (desktop only): From the online SAT score report, click the View Details button. Next click on Download Report tab in the top right corner.
3. To receive SAT Scores 2021 by phone: For an extra fee, students can get SAT scores by phone from on the day they are released.
Note: Candidates may also request old SAT scores by paying a fee.
SAT Score Card: Distribution of SAT Scores 2021
Score Range

SAT Score

Details

400–1600

Total score

Sum of the two section scores.

200–800

Section scores (2)

Evidence-Based Reading and Writing, and Math.

10–40

Test scores (3)

Reading, Writing and Language, and Math.

2–8

SAT Essay scores (3) (optional)

Reading, Analysis, and Writing.

10–40

Cross-test scores (2)

Analysis in History/Social Studies and Analysis in Science.
Based on selected questions in the Reading, Writing and Language, and Math Tests.
Used to see how well as student uses these skills to analyze texts and solve problems in these subject areas.

1–15

Subscores (7)

Reading and Writing and Language

Writing and Language: Expression of Ideas and Standard English Conventions.

Math: Heart of Algebra, Problem Solving and Data Analysis, and Passport to Advanced Math.
Candidates have the option of choosing four SAT scores 2021 recipients at the time of registration. Candidates must choose the four colleges to send their SAT score card 2021 while registering. For additional SAT 2021 scores cards, candidates can request the same on payment of a nominal fee.
How are SAT scores 2021 evaluated?
SAT or SAT Reasoning Test: The overall SAT scores are reported on a scale from 400-1600. The additional sub-scores are reported for the essay(optional) ranging from 2- 8 points and for Reading, Writing and Language, and Mathematics on a 10-40 scale. For Evidence-Based Reading and Writing and Math, the score of SAT 2018 ranges between 200-800. The scores tell colleges how a candidate has performed compared to other students who took the test.
SAT Subject Test: SAT Subject Test 2021 scores are reported on a scale of 200 to 800. Language Tests with Listening include SAT subscores, ranging on a scale of 20 to 80. The subscores are used to compute the total score, but their individual contributions differ between the different subject tests, for example, the French, German, and Spanish with Listening tests, the reading subscore counts twice as much as the listening subscore; however, the Chinese, Japanese, and Korean tests subscores are weighted equally.
There is no negative marking in both the formats of SAT examination.
What is SAT 2021 Percentile Ranks?
Percentile ranks compare the scores amongst candidates who took the test. To cite an example, supposedly, a candidate's score in Biology Test is 500. If the percentile rank for 500 is 47, then it implies that the candidate did better than 47 percent of rest of the students who appeared for the test.
SAT Score Card 2021: How to send SAT scores?
Most colleges require applicants to send them the official SAT scores 2021 directly from the College Board; they do not accept copies of online score reports or score report labels on transcripts. One can inform the conducting body of SAT to send the SAT score 2021 reports to respective colleges before or after test day.
SAT is a standardised entrance examination for undergraduate aspirants and is usually taken by junior and senior high school students within the age limit of 17 to 18 years. The College Board does not specify any particular SAT eligibility 2021. It evaluates candidates' knowledge in reading, writing and math as well as other subjects like literature, chemistry, world history, languages among others. International test takers can appear for the test in the months of May, October, December, and March. November and June is reserved for SAT Subject test only. The candidates have the freedom to register for SAT test dates 2021 as per their preference and convenience.
Also read,
Difference between SAT and ACT
Study in USA: Know top colleges, courses and admission cycle
Questions related to SAT
Showing 217 out of 217 Questions