Student Visa Germany - Visa Checklist, Cost, Processing Time, Application Material, Status Tracking
What makes Germany a popular study destination?
German institutions, which offer higher education with no or low tuition fees and reasonable living expenses, have made the country one of the most sought-after study destinations for students from other countries and India alike.

The number of Indian students wanting to pursue their higher education in Germany has multiplied over the years due to German universities' ability to provide the most cutting-edge coursework and attractive employment prospects on the international market.

German universities are well regarded around the world for their excellent academic standards, research-based instruction, active academic communities, and successful post-study lives.

Additionally, German technologies are regarded as among the most advanced in the world, which increases the appeal of the nation as a study destination for foreign students.
Do you require a Germany study visa?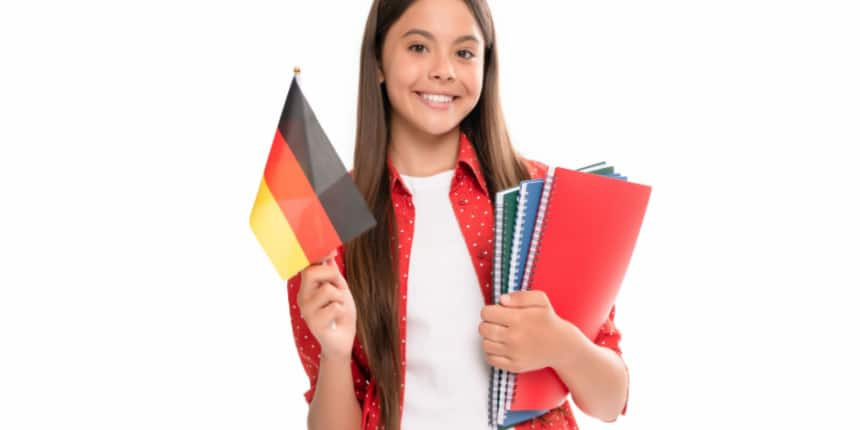 It is very evident that a sizable number of students are looking for information on Germany student visa and its related processes given the surge in the number of international students attempting to gain seats in German universities. Actually, depending on where you're from will determine if you need a Germany study visa.
Some international students may not require a Germany study visa to study in Germany, but they will still need to apply for a residence permit if their courses will last longer than 90 days once they arrive in Germany.

Most international students must obtain a German student visa from a German consulate in their home countries.

If you are a foreign national and have a letter of admission from a German university or another similarly reputable institution, such as a university of applied sciences, college of arts and music, or other similarly reputable higher education institution, you may be eligible for a German student visa.

Your Germany study visa will enable you to enrol in a full-time university course or a foundation programme.
German student visa categories
The Schengen visa and the German national visa are the two main categories of German visas. For studies lasting up to three months, a Schengen visa is necessary; for studies lasting more than three months, German national visas are required. German language course visas, student applicant visas, and other visas are also available for studying in Germany.
Germany student visa requirements
The following list includes the key records you must have on hand as you apply for your Germany study visa.
Application materials for Germany study visa
Your properly completed and signed application for a national visa.
A valid national passport and two copies of it.
Your proof of birth.
A copy of your marriage licence, if any.
Birth certificate for your child, if any.
Three current photos in passport format, maximum.
Where applicable, photocopies of your prior German resident titles.
One of the following qualifies as a "Finanzierungsnachweis," or proof of financial resources:
Confirmation of a deposit of €10,332 into a banned German bank account.

Letter of commitment and documentation of your parent's income and assets are required.

Verpflichtungserklärung, a letter of commitment from a resident of Germany. This letter is being sent to the German resident who will be covering the cost of your studies by the Alien Registration Office.

Your scholarship certificate, which details the expenses it pays for.

The bank guarantees that a reputable German bank will provide it to you.
Proof of enrollment in college.
Verification of your enrollment in the desired course, or "Zulassungsbescheid." This is a diploma from a reputable German university for higher learning. This document lists the start date of your course as well as the teaching language.

Proof of a verified intensive course, or "Intensiv-Sprachkurs," and of conditional admission, or "Bedingter Zulassungsbescheid." This document attests to your eligibility to take a language course before getting accepted to your chosen university. The course must last longer than six months and include at least 18 hours of instruction every week.

Proof of conditional admission to a university, including a letter from "uni-assist," admission confirmation from the applicant's end, and payment for the language course receipts.

In a "Studienkolleg" university-preparatory programme, admission confirmation is required.

A letter from "uni-assist," an admissions confirmation from the applicant, and correspondence between the applicant and the university regarding the terms of final admission are all acceptable forms of proof of conditional university admission.

Proof that you have officially registered for the course.
Evidence of your prior education:
Original certificate of graduation.

A degree certificate, if you intend to enrol in a master's or doctoral programme.
Health insurance for students.
Entry requirements for universities.
German or English language proficiency certification.
Also read:
https://studyabroad.careers360.com/articles/student-visa-for-australia
https://studyabroad.careers360.com/articles/student-visa-for-canada
How can you obtain a Germany study visa?
Even if the procedure for applying for a Germany study visa differs depending on the applicant's home country, breaking the Germany students visa requirements down into smaller parts will undoubtedly make things simpler for you. You're all set!
What German embassy or consulate is nearby?
Use the Internet to find the German embassy or consulate that is closest to you. It can be in your nation or one that is nearby. Make sure you have the right contact information and address.
Recognize the process and demands
Once you've determined which German embassy is closest to you, go to the student visa page on their website and carefully read through all the instructions on the appointment and application process for a Germany study visa. Before you schedule the visa appointment, thoroughly review the list of necessary papers and have them on hand.
Schedule a visa interview
When scheduling your interview for a Germany study visa, timing is crucial. It is a good idea to apply for your visa appointment weeks in advance because it is probable that all available slots for visa interviews will be taken when you are applying. The best time to schedule your visa interview is immediately following the receipt of your selected university's admission letter and the completion of the necessary financial arrangements for your stay and study in Germany.
Prepare and verify all of your visa documentation
Verify that you have all the necessary paperwork for your Germany study visa. Keep them all together in a single folder so that you do not have to spend the day of your visa interview looking for that one peculiar document.
Be confident and well-prepared for your visa interview.
At the time of your visa interview, you should have already paid the German student visa cost, which ranges from €60.00 to €75.00, and have the payment confirmation on hand. This cost is not refundable in the event that your visa is denied. Be sure you adequately prepare for the interview. On the day of the interview, project confidence and, most importantly, be honest.
Germany students visa requirements for bank balance
As of 2021, you must have €10,332 in your blocked bank account before you may apply for a Germany study visa. You might be wondering what a banned bank account is. A blocked account is a unique kind of account designed specifically for international students to demonstrate that they have enough money to live in Germany for a year while they are studying. Your likelihood of being granted a Germany study visa increases dramatically if you present a blocked bank account as evidence of your financial stability.
Processing period for German visas
Usually, 15-30 days are taken by the German Missions in India to process your Germany student visa after the interview. However, if additional documents are required or if the consulate is processing a large number of visas at a given time, it may take between 6-12 weeks.
How to schedule a meeting for a Germany study visa
Through VFS Global, you can very quickly schedule an online appointment for a German student visa. We'll meet you at the other end of the tunnel if you just follow these simple instructions.
Create an account on the VFS Global website for India by going to the "schedule an appointment" section. If you already have an account, just log in using your credentials.

Simply keep providing the requested information and select the closest VFS centre.

After choosing your visa category, proceed to the next screen to see a series of questions.

Provide thoughtful responses to each question. You will need to enter information from your passport, so keep it nearby.

Choose your appointment date now to complete the process.
Tracking your VFS application for a German visa
If you used VFS to apply for your German visa, you can track it using the reference number you will get in the mail. Enter your reference number and last name in the visa application tracking index. Your visa application's precise status will be visible to you.
How often does the Germany study visa get approved?
Despite having a 92 percent acceptance rate for student visas, the German government still rejects some visa applications because of things like poor financial circumstances, the wrong insurance choice, poor academic performance, a lack of German or English language proficiency, inconsistent study programme selection, inadequate interview preparation, or a mismatch between your profile and the country's future needs. These are some of the Germany students visa requirements you have to bear in mind before applying.
You can get your answers to many other questions here.
Frequently Asked Question (FAQs) - Student Visa Germany - Visa Checklist, Cost, Processing Time, Application Material, Status Tracking
Question: Can I obtain PR in Germany once my studies are over?
Answer:
Germany does not permit PR for foreign students. They are only eligible to apply for a PR once they have finished their studies and have worked in the state for a minimum of 2-4 years.
Question: What is the German Blue Card?
Answer:
The primary residence permit given to international graduate students is referred to as the EU Blue Card. The third-country nationals use this card to work in Germany using their expertise.
Question: In Germany, is it possible to convert a study visa to a work permit?
Answer:
You are free to carry out any lawful work while looking for a suitable career opportunity. You are free to apply for the conversion of your student visa to a work permit or an EU Blue Card after you obtain your employment offer.
Question: Can my family join me in Germany while I'm a student there?
Answer:
In order for your family to live with you while you study in Germany, some requirements must be satisfied, such as having enough money and living space. The German embassy or consulate you are working with will decide at its exclusive discretion.
Germany Updates and Articles
Questions related to Germany
Showing 202 out of 202 Questions
Student Visa Germany - Visa Checklist, Cost, Processing Time, Application Material, Status Tracking