GRE Syllabus 2021: ETS®- Educational Testing Service, the GRE® exam conducting body has prescribed two sets of GRE 2021 Syllabus as the test is conducted in two formats; GRE General Test and GRE Subject Test. The GRE Syllabus 2021 is entirely different for both General GRE and Subject GRE tests. While the GRE General test measures a candidate's verbal reasoning ability, quantitative reasoning, critical thinking and analytical writing skills, the GRE Subject Test evaluates the candidate's expertise in specific fields like Biology, Literature, Mathematics, among others. The difference in both the formats is reflected in the GRE test pattern. Also, both the tests use different yardsticks to measure the candidate's proficiency. While the GRE general test is scored on a scale of 130-170, the subjects tests are scored on a 200-990 scale. In this article, candidates can check the complete GRE Syllabus of all the three sections.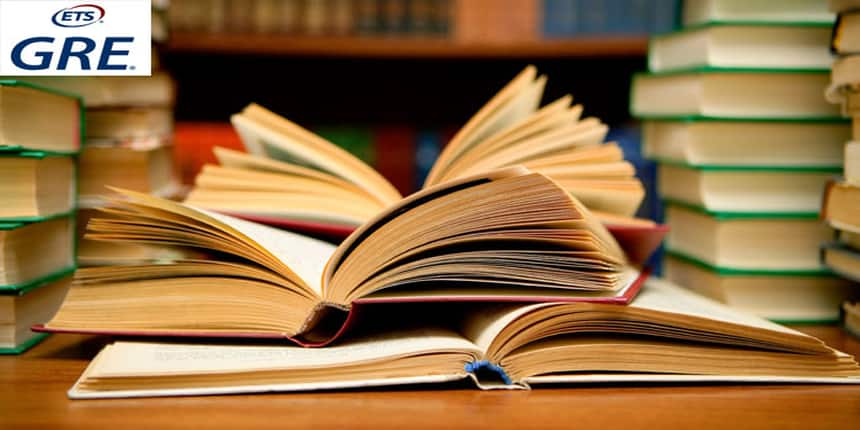 According to the GRE syllabus 2021, the General GRE test format covers three sections. They are:
Verbal Reasoning
Quantitative Reasoning
Analytical Writing
How to start?
It is important to know how to plan and prepare for GRE 2021, the most coveted exam and achieve the scores required for respective institutes.
Click here to know which GRE study materials to prepare from!
GRE 2021 Syllabus - Verbal Reasoning:
The verbal reasoning section comprises of three types of questions- Reading Comprehension, Text Completion and Sentence Equivalence. As per the GRE syllabus 2021, the Verbal Reasoning section measures a candidate's ability to:
Analyse and draw conclusions, understand and add value to incomplete data; identify the perception of the author;

Identify vital points and differentiate between relevant and irrelevant points;

Understand and summarise the structure of a text;

Understand the given words, sentences and entire texts; ability to focus on the meaning of the entire sentence

Understand relationships among words and among concepts.
Aspiring candidates can view the detailed analysis of the Verbal reasoning section along with sample questions here-
Click here to download Verbal Reasoning sample paper
GRE Syllabus 2021 - Quantitative Reasoning
The Quantitative Reasoning section of GRE test evaluates a candidate's ability to:
Understand and analyse quantitative information

Solve problems using mathematical models

Interpret quantitative information appropriately

Apply basic mathematical skills and concepts of Arithmetic, Algebra, Geometry and Data Interpretation.
Candidates can get a detailed analysis of Quantitative Reasoning here-
Click here to download Quantitative Reasoning sample paper
GRE 2021 Syllabus- Analytical Writing
The Analytical Writing section of GRE exam evaluates a candidate's ability to:
Articulate complex ideas effectively and with clarity

Support ideas with relevant reasons and examples

Examine claims and accompanying evidence

Sustain a well-focused, coherent discussion
Aspiring candidates can view the detailed analysis of the Analytical Writing section along with sample questions here-
Click here to download Analytical Writing sample paper
The syllabus of GRE 2021 pertaining to the GRE Subject test format:
As per the GRE syllabus 2021, the GRE subject test judges a candidate's knowledge in a specific field of academic study. These subject tests are emphasized by the undergraduate programs. Candidates must note that not every graduate program asks for a Subject Test, so one needs to ensure that the program which he/she has chosen requires taking the desired Subject Test of GRE.
The Subject Test of GRE is available only in the paper-and-pencil version.
The Subject Test is for candidates who have extensive knowledge in any one of the mentioned seven disciplines.
| | | |
| --- | --- | --- |
| Biology | Chemistry | Literature in English |
| Mathematics | Physics | Psychology |
Subject Tests of GRE are meant to test your knowledge and skill level in a particular subject area.
Points to Remember for GRE Subject Test-
Aspiring students planning to appear for the GRE Subject test are advised to do so during the month of November.

The student should register himself/herself six weeks before the exam date.

It takes another six weeks before the Subject test results are made available to the test takers.

The advantage of appearing for the GRE Subject test in November is that the scores will be available to the student before the deadline for the respective admission dates of most foreign institutes.
Interested to know which universities do not require GRE score? Check here
Also, Click here to take online GRE mock tests and get access to other GRE test preparation series.
GRE is a standardised test conducted by ETS® is accepted for admission to various disciplines at many graduate and business schools worldwide. It is available at more than 1,000 test centres in more than 160 countries. Aspirants can opt to take the test once every 21 days and dates are available around the year. It is offered as a computer-delivered test at most locations around the world and as a paper-delivered test up to three times a year in areas where computer-delivered testing is not available. However, before registering for GRE one must make sure that seats are available on that specified date. There are no specific GRE Eligibility Criteria stated by the officials of ETS. Aspirants can apply for the test irrespective of age and qualification. However, applicants have to keep in mind the eligibility criteria of the respective universities they are applying to. Prospective test takers are also urged to read up a little on how GRE is scored as it will help to understand the exam pattern better resulting in remarkable scores.
The conducting authority of GRE test, Educational Testing Service (ETS), however, does not have any selection procedure of its own to measure the test scores of GRE aspirants. The final selection procedure depends on the particular institute the candidate applies to.
Also Read:
GRE Scores for Top US Universities
GRE for MBA: More students are taking the GRE route to business schools
Questions related to GRE
Showing 482 out of 482 Questions