GRE syllabus- Educational Testing Service (ETS®) has prescribed two types of GRE syllabus as the test is conducted in two formats; GRE General Test and GRE Subject Test. The objective of GRE 2023 is entirely different for both General GRE and Subject GRE tests. While the GRE General test syllabus measures a candidate's verbal reasoning ability, quantitative reasoning, critical thinking, and analytical writing skills, the GRE Subject Test syllabus evaluates the candidate's expertise in specific fields like Chemistry, Psychology, and Mathematics, among others. The difference in both formats is reflected in the GRE syllabus. In this article, candidates can check the complete GRE syllabus of the GRE exam.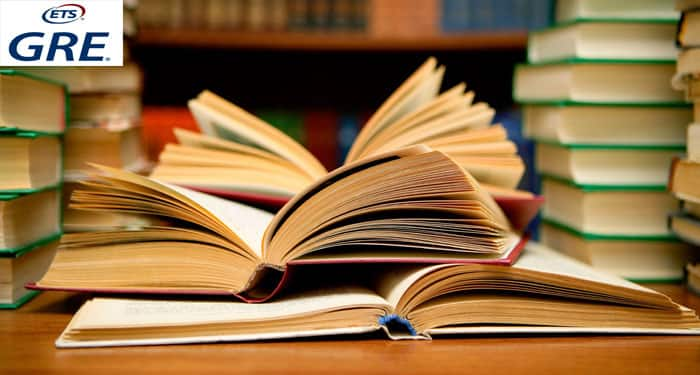 GRE Exam Syllabus 2023
TOP EXAMS: IELTS | TOEFL | GRE | GMAT
Country Guide: UK | Ireland | Australia | Canada
GRE syllabus-General Test Syllabus
According to the GRE syllabus 2023, the General GRE test format covers three sections. They are:
Verbal Reasoning

Quantitative Reasoning

Analytical Writing
The GRE syllabus 2023 for the general test is different from the GRE subject test. GRE general test can be taken on a computer or on paper-based method.
GRE syllabus-GRE exam pattern and time
Here, you will read about the GRE exam pattern and time for each section of the test. Besides, you will also know about GRE exam pattern and marks. The total number of questions asked in the GRE general test is 82, out of which, 80 are MCQs and two are descriptive (essay form).
Section

Total questions

Types of Questions




Score Range

Duration

GRE Verbal Reasoning

20+20= 40

Reading Comprehension

Text Completion

Sentence Equivalence

130-170 (in 1 point increment)

60 minutes (30 minutes per section)

GRE Quantitative Reasoning

20+20= 40

Quantitative Comparison Questions

Numeric Entry Questions

130-170 (in 1 point increment)

70 (35 minutes per section)

GRE Analytical Reasoning Questions

1+1= 2

Analyzing an Issue

Analyzing an Argument

0-6 (in 0.5 point increment)

30 minutes for each task

Total

80 MCQs

2 Descriptive

-

260-340

3 hours 10 minutes
How to start?
It is important to know how to plan and prepare for GRE 2023, the most coveted exam and achieve the scores required for respective institutes.
Click here to know which GRE study materials to prepare from!
GRE syllabus-GRE Syllabus PDF for Verbal Reasoning
This section assesses the candidate's ability to analyze, evaluate and synthesize the written material. They need to interpret the meaning of the word, sentence or passage, understand literary terms, concepts, differentiate between minor and major concepts. There will be three sections of the verbal reasoning question paper namely; reading comprehension, text completion and sentence equivalence.
Reading comprehension- questions are targeted to check how well the candidate understands and interprets the given paragraph. They need to understand the text structure, identify the author's assumption and perspective, find the meaning of words and sentences, explain the text, analyze the text and derive conclusions from the text.

Text Completion- This section tests the candidate's ability to interpret and evaluate the information given in small passages of five sentences. They have to fill one to three blanks based on the information provided in the passage.

Sentence Equivalence- In this section candidates have to complete the passage with the help of partial information given. There will be one blank is given and six answer choices. Candidates have to mark correct answer choices and there will be no marks for partially correct answers. To answer such questions, candidates must read the sentence properly, identify words or phrases significant to the sentence and fill in the blank with a word that is more appropriate for the answer.
Aspiring candidates can view the detailed analysis of the Verbal reasoning section along with sample questions here-
Click here to download the Verbal Reasoning sample paper
GRE syllabus-GRE Syllabus for Quantitative Reasoning
The quant section comprises basic mathematical skills, understanding of elementary mathematical concepts and the ability to reason quantitatively and solve problems with quantitative methods. In the exam, there will be two subsections and each subsection will contain 20 questions based on arithmetic, algebra, geometry and data analysis. The time duration for each subsection is 35 minutes. The GRE exam pattern total marks score range for GRE quant is 130-170.
Quantitative reasoning will have four types of questions. These are: -
Quantitative comparison questions- In these types of questions, candidates need to draw a comparison between two quantities and find out which statement best describes the comparison.

Multiple choice questions (select one answer choice)- Candidates need to select one correct answer from the five given choices.

Multiple choice questions (select one or more answer choices)- candidates need to select more than one correct answer from the given choices. No marks will be given for partially correct answers.

Numeric entry- candidates have to calculate and write the answers. These questions will not have any options given.
IMS FREE Online GRE Mock Test
Are you prepared for GRE? Take IMS FREE Online GRE Mock Test.
Start Now
GRE syllabus-GRE Quant Syllabus for Each Section
Arithmetic - the topics of the GRE exam syllabus include properties and types of integers, such as divisibility, factorization, prime numbers, remainders and odd and even integers; arithmetic operations, exponents and roots; and concepts such as estimation, percent, ratio, rate, absolute value, the number line, decimal representation and sequences of numbers.
Algebra- topics of the GRE syllabus 2023 include operations with exponents; factoring and simplifying algebraic expressions; relations, functions, equations and inequalities; solving linear and quadratic equations and inequalities; solving simultaneous equations and inequalities; setting up equations to solve word problems; and coordinate geometry, including graphs of functions, equations and inequalities, intercepts and slopes of lines.
Geometry- topics of the GRE 2023 syllabus include parallel and perpendicular lines, circles, triangles — including isosceles, equilateral and 30°-60°-90° triangles — quadrilaterals, other polygons, congruent and similar figures, three-dimensional figures, area, perimeter, volume, the Pythagorean theorem and angle measurement in degrees. The ability to construct proofs is not tested.
Data analysis- topics of the GRE exam syllabus include basic descriptive statistics, such as mean, median, mode, range, standard deviation, interquartile range, quartiles and percentiles; interpretation of data in tables and graphs, such as line graphs, bar graphs, circle graphs, boxplots, scatterplots and frequency distributions; elementary probability, such as probabilities of compound events and independent events; conditional probability; random variables and probability distributions, including normal distributions; and counting methods, such as combinations, permutations and Venn diagrams. These topics are typically taught in high school algebra courses or introductory statistics courses. Inferential statistics are not tested.
Click here to download the Quantitative Reasoning sample paper
Popular exams to study abroad:
GRE syllabus-GRE exam syllabus for Analytical Writing
The section of the GRE exam syllabus assesses the critical thinking and analytical writing skills of the candidate. The section will have two separately timed analytical writing tasks of 30 minutes each. The section is marked on a scale of 0-6 with 0.5 increments.
The two tasks are the following: -
GRE Analyse an Issue Task- In this section, candidates need to think critically about the given topic/statement and express it in their own words. They need to write at least 500-600 words on general interest topics. The test is subjective and depends upon the candidate's ability to express his thoughts with compelling reasons.

GRE Analyse an Argument Task- The section will assess the candidate's ability to analyze and evaluate the given argument. They need to write at least 500-600 words in 30 minutes. There will be a passage given with reason and evidence and candidates have to analyze the author's case.
To score in this section, candidates need to practice their reading, writing and vocabulary. They can read feature articles, journals, essays, and editorials on general interest topics. They need to practice their expressions, grammar, vocabulary to put forth their point in a structured manner in limited time duration.
Click here to download the analytical writing sample paper.
GRE syllabus-GRE Subject Test Syllabus
As per the GRE syllabus 2023, the GRE subject test judges a candidate's knowledge in a specific field of academic study. These subject tests are emphasized by the undergraduate programs. Candidates must note that not every graduate program asks for a Subject Test, so one needs to ensure that the program which he/she has chosen requires taking the desired Subject Test of GRE.
The Subject Test of GRE is available only in the paper-and-pencil version.
The Subject Test is for candidates who have extensive knowledge in any one of the mentioned four disciplines. These are part of GRE syllabus 2023.
GRE Maths syllabus PDF

Chemistry

Physics

Psychology
Subject Tests of GRE are meant to test your knowledge and skill level in a particular subject area through the GRE syllabus 2023.
You may also like to read:
Points to Remember for GRE Subject Test
Aspiring students planning to appear for the GRE Subject test are advised to do so during the month of November.

The student should register himself/herself six weeks before the exam date.

It takes another six weeks before the Subject test results are made available to the test takers.

The advantage of appearing for the GRE Subject test in November is that the scores will be available to the student before the deadline for the respective admission dates of most foreign institutes.



Also Read: