What is SAT – Formerly stood for Scholastic Aptitude Test, now simply the SAT® is an internationally acclaimed entrance exam administered for selecting candidates for undergraduate courses in the US and other countries. The test is intended to assess students' readiness for college. The SAT is designed to be aligned with high school curricula, as the questions reflect more closely what students learn in high school. Each year, SAT is taken by over three million aspirants on a global scale. The SAT Test 2018 is conducted internationally in the months of October, December, March, May, and June (SAT Subject test). The SAT Test Dates for the US candidates are scheduled in the months of May, June, August, October, November, December, and March. The College Board® is the conducting authority founded in 1900 is composed of more than 6,000 schools, colleges, universities and other educational organizations. In this article, Careers360 has provided all the related information what is SAT.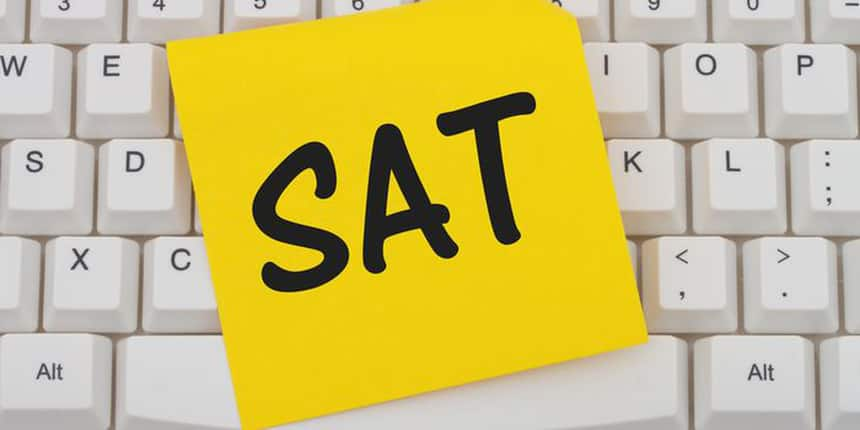 Quick Glance: SAT Test
Components

Details

Name of Examination

SAT

SAT Format

SAT (Reasoning) Test

SAT Subject Test (20 Subject options)

Exam Duration

Three hours (excluding Essay)

3 hours and 50 minutes (including Essay)

Registration Fee for SAT

$47.50 (without Essay)

$64.50 (including Essay)

Registration Fee for SAT Subject Test

$26 (fee entitles up to three subject tests)

Scoring Range

 200-800

Score Validity

Five (5) years

Eligibility Criteria

Not specified

Number of Sections

Mainly three sections –

Reading

Writing and Language

Mathematics

Essay (optional)
SAT Score Pattern and Time Distribution
SAT(Reasoning) Test

Component

Time (minutes)

Number of Questions

Reading

65

52

Writing and Language

35

44

Essay (optional)

50

1

Math

80

58

Total

180 (230 mins with Essay)

154 (155 mins with Essay)
SAT Registration, Fee and Testing time
Two methods which are widely used to register for SAT 2018 are Online and via Mail. Although registering online is the quickest and the most convenient way to apply for SAT test, prospective test takers need to register by mail ONLY if they are below 13 years of age.
One can take up to three SAT Subject Tests on a single test date by paying $26. For every additional subject, test takers need to add $22 (Except Language Tests with Listening). The cost of the SAT test with and without Essay are $64.50 and $47.50 respectively.
All test centres across the globe open at 7:45 am and doors close at 8 am. unless otherwise mentioned on the admission ticket. Candidates are not allowed to enter once test starts under any circumstances. If one is late or absent on test day, he/she has the option to re-schedule. SAT Testing commences between 8:30 and 9 am.
What is SAT Score Structure and Validity
SAT Scores: The total SAT score ranges between 400-1600. The Evidence-Based Reading and Writing Section score ranges between 200–800 and the Mathematics section is scored on a 200 to 800-point scale. Finally, the optional essay is scored on the scale between 2 to 8. There is no composite SAT Essay score to be precise, the three scores are not added together and there are no percentiles provided by the conducting body.
Validity: SAT scores are valid for five years from the date of the test. Test takers can request a Question-and-Answer Service up to five months after their respective test dates.
What is SAT: Additional information
Breaks between SAT exam- Typically, there is one 10-minute and one five-minute break during the test, the only times one can eat and drink. However, the ID and the admission ticket should always be handy as they will be checked every time candidates enter the testing room.
Support- For assistance related to exam, test takers may visit the official website, sat.collegeboard.org. The College Board offers free SAT sample papers & free practice tests as well.
Questions related to SAT
Showing 97 out of 97 Questions