Study In Canada For International Students - Intakes, Tests, Cost, Top Colleges, Scholarships and Visa
Canada as a study destination offers high academic quality at an affordable cost that makes the country one of the most sought-after amongst international students. If you want to study in Canada university as an international student, you must know that approximately 70,000 international students were found attending various courses in Canada until August 2019 and this figure is depictive of its popularity worldwide. This country has slowly and steadily carved its place in the study abroad domain due to its robust education system topped with liberal government policies including those on post-work study and immigration.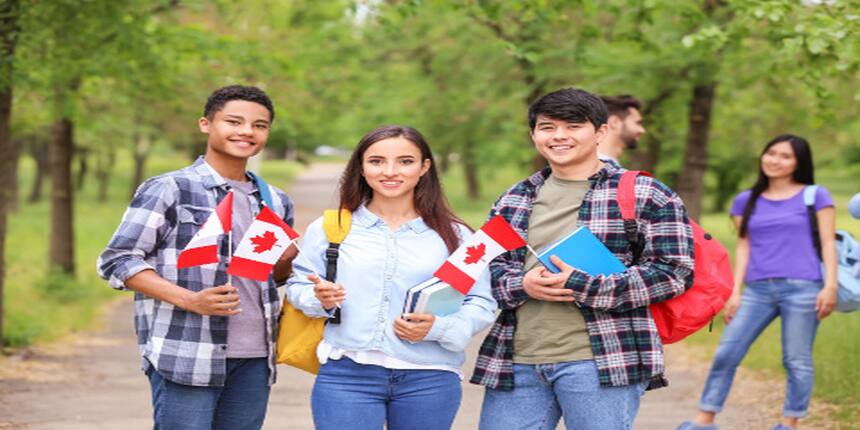 Contrary to the earlier point of view that Canada as a study destination was only for the affluent, it has now become accessible for aspirants from varied backgrounds. While Canada has top colleges like University of British Columbia, University of Toronto and the likes, it also offers community colleges to students looking for affordable education, including short-term courses as well. These are exactly the reasons why study in Canada for international students has become such a major trend in the past few years.
Top 7 reasons that make study in Canada for international students highly conducive
Quality of education
The system of study in Canada university is supervised by provincial governments throughout the country thus maintaining a consistently high standard of education. While the choice of pursuing a bachelor's or master's degree is available to students; specialized, advanced and post-graduate diplomas are also available at Canadian colleges. You have access to a myriad of relevant course options related to engineering, IT, healthcare, agriculture, sports, management, accounting, economics, mining, petroleum, renewable energies and much more.
Opportunities for skill development
The system of study in Canada university offers a co-operative work opportunity to students, which means they can work in their area of study and gain professional experience even while studying. Generally a student gets 4 months in a year of study to work which makes it 16 months in a four-year course giving them a natural upper hand over students who don't have work experience.
Opportunity to earn while studying
Along with the co-op, students are also allowed to work for around 20 hours per week inside the campus or even outside. International students can also apply for a three-year work permit after completing their studies. Though this depends on the course they are pursuing.
Affordability for international students
In comparison to other countries, Canada turns out to be much cheaper and thus, falls well into the affordability range. Given the work opportunities the country offers to its students, studying in Canada university promises an impressive return on investment. Students can also apply for various available scholarships and cut down the cost even further. The factor of affordability makes study in Canada for international students highly attractive.
High quality of life
Canada is considered one of the safest and most peaceful countries in the world. International students are granted the same rights and opportunities as a Canadian native. What also makes studying in Canada desirable is its world class healthcare, infrastructure, high education standards topped with basic amenities like clean water, fresh air, less population and thus, a peaceful and healthy life.
Cultural diversity
Canada has been known for its diversity since people from various countries have been migrating to Canada for a very long time. This has over time, developed a sense of acceptance and respect for different cultures, festivals, cuisines, art forms, languages and everything in between, in the people of Canada.
Easy immigration
IRCC offers a platform for immigration to international students who wish to live in Canada permanently. After all, they have spent an ample amount of time while studying and working there, and the government respects that fact. Due to the liberal immigration policies, study in Canada for international students becomes highly attractive. You can find more information on this at www.canada.ca.
Intakes in Canada education system
If you wish to study in Canada university, you should understand their intake system first. The education system of Canada offers three intakes for international students - fall, winter and summer intakes. The Fall intake begins in September and it is in this intake that the maximum number of students apply as well as maximum acceptances are there for applications. The winter intake begins in January which has a comparatively lesser number of university and course options as compared to the Fall intake. The summer intake is usually for short-term courses and begins in May. This intake has very few university and course options. If you know well about the intakes, researching and knowing all about study in Canada for international students becomes easier for you.
English language tests to study in Canada
TOEFL
TOEFL score is admissible in all Canadian universities and the score remains valid for two years. The average qualifying score for Canadian universities ranges from 80 to 100. A student can be exempted from taking TOEFL if they have scored >670 in the critical reading section in the Old SAT exam or have obtained a reading test score >35 in the SAT reading test. A student who has attended an academic institution with English as their official language for 4 or more years also does not need to take the TOEFL.
IELTS
Upon taking the IELTS exam, a student can apply to up to 5 institutions based on the score for free. For a student to get a Canada visa, they require a minimum score of 6, though most colleges ask for a score of 6.5. A student can study in Canada without IELTS if:
They have resided in an English speaking country for a minimum of 4 years or is a citizen of a country with English as their official language; or

If they have attended an English medium school for a minimum of 3 years.
PTE
PTE (Pearson Test of English) is an assessment of a student's reading, listening, speaking and writing skills. A student can be exempted from taking this test if they have completed 3 years of education in an academic institution with English as their first language.
CAEL
The CAEL (Canadian Academic English Language Assessment Test) has centres in the USA, India, Canada, China, UAE and Philippines. Your English listening, writing, reading and speaking skills are assessed through this test, and the score is evaluated on a scale of 10 to 90.
Studying in Canada fees
Study cost
| | |
| --- | --- |
| Study program | Average annual fee |
| Undergraduate course | 13,000 to 20,000 CAD per annum |
| Postgraduate master's course | 17,000 to 25,000 CAD per annum |
| Doctoral degree | 7,000 t0 15000 CAD per annum |
| MBA | 30,000 to 40,000 CAD per annum |
Living cost
| | |
| --- | --- |
| Expense type | Cost in CAD & INR |
| Flight expense | INR 1,00,000 – INR 2,00,000 per flight |
| Study permit fee | 150 CAD (INR 11,123) |
| Work permit fee | 155 CAD (INR 11,493) |
| IELTS test fee | INR 14,700 |
| Accommodation | 5000 – 10,000 CAD (INR 2,67,000 – INR 5,39,000) per annum |
| Travel expenses | 80 – 110 CAD (INR 4300 – INR 6000) per month |
| Health insurance | 300 – 800 CAD (INR 17,000 – INR 44,000) |
| Food expenses | 300 – 400 CAD (INR 17,508 – INR 23,344) per month |
| Entertainment | 750 CAD (INR 43,770) per month |
List of popular scholarships available for study in Canada for international students
Vanier Canada Graduate Scholarships

Ontario Graduate Scholarship

Lester B. Pearson International Scholarship Program

President's Scholarship for World Leaders

International Leader of Tomorrow Award

University of Manitoba Graduate Fellowship (UMGF)

The Seneca Renewable Entrance Scholarship of Merit for International Students

Assist-on Scholarship

Trudeau Foundation Scholarships

Fonds de recherche du Québec Scholarships and Grants

Pierre Elliott Trudeau Foundation Doctoral Scholarships
Top cities and colleges for study in Canada for international students
| | |
| --- | --- |
| Top cities in Canada | Top colleges |
| Montreal | McGill University |
| | Concordia University |
| | University of Montreal |
| Vancouver | University of British Columbia |
| | Simon Fraser University |
| Toronto | Ryerson University |
| | University of Toronto |
| | York University |
| Ottawa | Ottawa University |
| | Carleton University |
| Quebec City | Bishop's University |
Visa requirements for study in Canada for international students
The usual requirements for a students visa include the following:
A valid passport

Attested copies of your 10th, 12th and degree certificates

Educational references

Professional references

Statement of purpose

Proofs of extracurricular activities

Acceptance letter from your future academic institution

Payment proof

Proof of available funds

Study permit

English proficiency scores

Any additional requirements as prescribed by the university
Frequently Asked Question (FAQs) - Study In Canada For International Students - Intakes, Tests, Cost, Top Colleges, Scholarships and Visa
Question: Is there any age limit for a Canadian student visa?
Answer:
While applying to study in Canada university, while there is no age limit to apply for a student visa, you have to carefully justify your gap years if any.
Question: How much does a PG diploma cost in Canada?
Answer:
On an average, a PG diploma for fields like healthcare, technology, business and finance costs around 18,000 - 20,000 CAD from a renowned college.
Question: What is the criteria for an international student to work in Canada after they graduate?
Answer:
A graduate international student from a Canadian post-secondary college can work in Canada for up to 3 years after their graduation. A student must apply for a work permit within 180 days after completion of their degree.
Canada Updates and Articles
Questions related to Canada
Showing 537 out of 537 Questions
Study In Canada For International Students - Intakes, Tests, Cost, Top Colleges, Scholarships and Visa