Study in Germany 2023 - Cost, Eligibility, Exams, Scholarships, Visa requirements
Germany is a popular destination for study abroad for international students. The reasons why international students choose to study in Germany are the low cost of education, wide range of courses on offer, the high quality of education in world class universities, courses in English medium, and public universities which offer free education.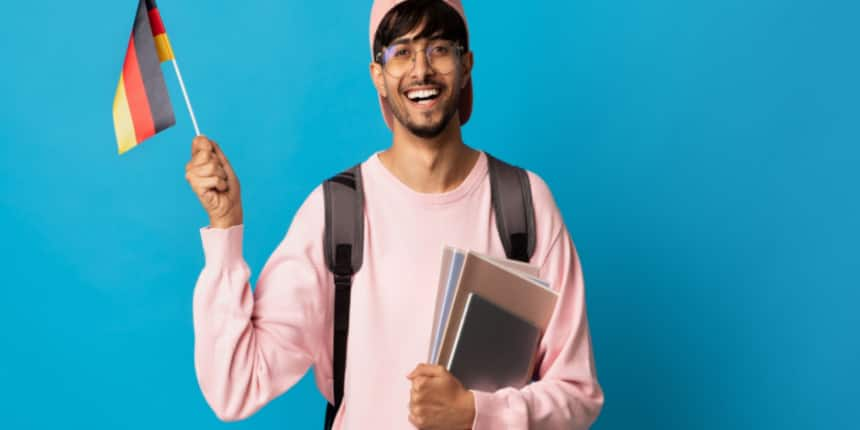 The fact that Germany is a leader in engineering education and has numerous job opportunities in this sector make it a top choice for international students to study and later work here. Germany has become a popular study abroad destination due to these reasons.
Intakes for universities in Germany 2023
Though the timelines for intakes vary among German universities, the deadlines come under two broad timelines which you must keep in mind when making your application.
Intake 1- This is during the summer semester which is between March and August. For this semester, you must submit your application before January 15th of that year.
Intake 2- This is during the winter semester which is between September to February or October to March. The application for this semester must be submitted before July 15th of that year.
How to choose university/course to study in Germany
You will have to do some groundwork before you choose the right course and university to study in Germany.
You can take the help of The German Academic Exchange Service (DAAD) where you will get access to almost 2,000 programs available in German universities which also includes about 1,389 programs in English.
It is quite hard to come across undergraduate courses taught in English at German universities because they are very few. However you can opt for courses taught in both English and German where the first two to four semesters are taught in English which gives you enough time to learn German. This will help you understand the course material taught in this language. The best part is some universities offer these German language courses in-house.
Admission process to study in Germany 2023
Select the study program and the course you want to study.

Make a list of the German universities where your course is offered.

Contact your shortlisted colleges and universities.

Check on the eligibility and the admission requirements.

Take the tests required for admission.

Explore options to finance your studies.

Get confirmation for admission.

Apply for a student visa.
Eligibility to study in Germany 2023
The eligibility criteria to study in Germany will vary depending on whether you are applying for undergraduate or postgraduate studies.
If you are planning to apply for an undergraduate course, then you must have completed your high school education. You must also be on par with the German Hochschulzugangsberechtigung" (HZB) which is basically a university entrance test.
There are no specific tests for international students wishing to study undergraduate courses in Germany, but your high school marks must meet the requirements of the university you are applying for. Some universities require that you pass the FSP or the Feststellungsprüfung. This is basically an exam designed to highlight your aptitude for enrolling in a course. The exam is conducted separately by universities so the dates
and the exam specifications will vary. Moreover this exam will be based on the subject you are applying for.
If you are applying for a masters in Germany, then you will have to write the GRE exam. The GRE test score is accepted by most German universities.
In case you are applying for management, finance or business courses in Germany then you must write the GMAT. Some management courses consider GRE scores for admission.
The entrance exams required to study in Germany are usually specific to the university you are applying for. So it is better to check with the university before you take these tests.
Language proficiency tests to study in Germany 2023
The language proficiency requirements are similar for both graduate and undergraduate courses. Since German is the official language, many courses are taught in German. However various graduate and undergraduate programs are taught in English as well.
It is important to pass the English language proficiency tests such as TOEFL, IELTS or the PTE and have the required score in any one of these tests to get your admission to a German university.
As for the German language, you must pass a test in the German language in case you are applying for a course that will be taught in German. Universities in Germany accept scores from any one of these two German language tests.
1.TestDAF
Testdaf or the Test Deutsch als Fremdsprache (Test of German as a Foreign Language) is conducted by TestDAF Institute, Germany. This test will assess your understanding of the German language and your communication skills in German. Most of the German universities accept the TestDAF score but the score requirements will vary.
2.DSH
DSH or the Deutsche Sprachprüfung für den Hochschulzugang or DSH is also a language proficiency test for German language. This is a university specific exam where each university will conduct their own DSH exam and you will have to meet the DSH score requirements pertaining to that particular university.
Visa requirements to study in Germany 2023 for international students
If you wish to study in Germany you must apply for the Student Visa once you have gained admission to a German university. The visa will be valid throughout your course. But before this you must apply for a Student Applicant Visa.
With a Student Applicant Visa, you can go to Germany to appear for entrance exams for the universities that you have applied for. The validity of this visa is for three months which can be extended for another six months. The maximum extension allowed for this visa is 9 months. You can apply for a student visa once you have gained admission to a German university but it has to be within 9 months.
Documents required for German student visa
Transcript and certificates as proof of passing the qualifying exams.

Proof of completion of secondary education.

Score of any required tests for admission such as the GRE or GMAT.

Results of English language proficiency tests such as the IELTS, TOEFL, PTE, when you are a non-native English speaker.

Certificate for passing the German language test, if you are taking up a course where the medium of instruction is the German language.

Health insurance policy.

Additional requirements as specified by the university where you will study.
Also read:
Study costs in Germany for international students
Tuition cost
One reason Germany is a popular destination for study abroad is the fact that the public universities do not charge any tuition fee for both undergraduate and masters programs, even for international students. However they charge an administrative fee which comes to 100-350 Euros per semester.
Private universities however charge tuition fees which are comparatively less in relation to tuition fees in the US or UK or Australia.
Tuition fee
| | |
| --- | --- |
| Study Program | Average Tuition Fees |
| Undergraduate Degree | 26,000 Euros per year |
| Master's Degree | 40,000 Euros per year |
Living cost
The average living costs for international students in Germany is between 700 to 1000 Euros per month. The cost of living will include food, accommodation, transport etc. Living expenses in larger cities like Berlin or Frankfurt will be around 900 to 1,500 Euros per month while in smaller cities like Hannover or Leipzig it will be around 750 to 1,100 Euros per month.
Scholarships for students in Germany
International students who wish to study in Germany can take advantage of scholarships provided by public and private organizations. The German Academic Exchange Service (DAAD) offers a financial aid program. It helps you choose from various scholarship options based on your subject and focuses on German and international students and researchers. Apart from this, there are independent research institutes that offer scholarships to students and research scholars. Here are some of the popular scholarships offered in Germany:
1.The DAAD scholarship
2. Heinrich Böll Foundation Scholarship
3. DeutschlandStipendium National Scholarship Program
4. Konrad-Adenauer-Stiftung Scholarship
5. Erasmus Scholarship Program
6. The Friedrich Ebert Stiftung Scholarship
List of scholarships to study abroad by country
Top universities to study in Germany 2023
The universities in Germany are reputed for their quality of teaching and the quality of education they offer. They offer a range of courses from STEM subjects to professional degree programs. Eight German universities figure in the top 150 universities of the world based on QS ranking.
| | |
| --- | --- |
| Name of University | QS ranking |
| Technical University of Munich (TUM) | 50 |
| Heidelberg University | 63 |
| Ludwig Maximilians University Munich | 64 |
| Freie Universität Berlin | 127 |
| Humboldt University Berlin | 128 |
| Karlsruhe Institute of Technology (KIT) | 136 |
| Technische Universität Berlin | 159 |
| RWTH Aachen University | 165 |
| University of Freiburg | 172 |
| University of Tübingen | 177 |
Best countries to study abroad
Top courses to study in Germany 2023
Medicine

Engineering

Law

Natural sciences

Psychology

Business and economics

Industrial Engineering

Finance

Architecture

Social sciences
Jobs and internships in Germany 2023
Working while studying
International students in Germany can work here for 120 full days or 240 half days in a year. They are allowed to work full-time during their vacations.
Do note that a job as a research assistant or student assistant at your university will not be counted towards your limit.
Overseas students on a German student visa can work full-time in Germany during their regular university breaks. However they cannot work as freelancers or be self-employed during their course of study.
The best option would be to take up a job related to your field of study.
Post study work options
International students can get a post study work permit (PSWP) which has a duration of 18 months when they can look for a job related to their course. With the right university degree, you will be able to secure a good job in Germany.
Top eight reasons why you should study in Germany
Public universities have no tuition fees while private universities have minimum tuition fees.

World class universities.

Choice of hundreds of academic courses.

Practical approach to learning will provide you with valuable hands-on experience.

Affordable living cost.

Students from around the world help you appreciate different cultures.

You will get an opportunity to learn German.

You will get opportunities to work in the country once your course is over.
Also explore benefits of studying in other popular study destinations here:
Top consultants for study in Germany
Edwise International

IDP Consultancy

Y-Axis

Global tree

AECC Global

iSchoolConnect

Manya

IBT overseas
This article has covered some of the major aspects about studying in Germany. It will surely help you in your preparation and application to study in Germany. For more information on studying in Germany as well as other popular study destinations, keep following www.studyabroad.careers360.com.
Frequently Asked Question (FAQs) - Study in Germany 2023 - Cost, Eligibility, Exams, Scholarships, Visa requirements
Question: Should one know German to study in Germany?
Answer:
Most of the universities in Germany have German language as the medium of instruction especially for undergraduate courses. So a student applicant must have some knowledge of the language. You can either show the results of the German language test or take a course in German. The recognised German language tests are the DSH, TestDaF (Test of German as a Foreign Language), GDS (Goethe Institut German Language Diploma) and the DSD.
You can also opt for courses taught in English but if you are a non-native speaker, you must submit proof of your proficiency by submitting the scores of either your TOEFL or IELTS test. You may need to submit this with your application to universities.
Question: What are the types of German study visas?
Answer:
German Student Visa: This is a visa for international students who have gained admission in a German University to a full-time study program.

German Student Applicant Visa: You will need this visa if you must apply in person for admission to a university course, but you cannot study in Germany with this visa.

German Language Course Visa: This visa is required if you want to study for a German language course in Germany.
Question: Is IELTS compulsory to study in Germany?
Answer:
Though it is good to have an IELTS score if you are opting for a course taught in English, there are many universities in Germany that do not insist on IELTS. For this exemption, you must have graduated in a course previously where English was the medium of instruction.
Question: Is there an age limit for applying to graduate and masters programs in German universities?
Answer:
There is no age limit for applying to German universities, some universities have graduates who are more than 28 years old.