Study in Australia: Know top universities, courses and admission cycle
Study in Australia – With over 1,100 institutes, 43 universities (40 Australian universities, two international universities, and one private specialty university), and over 6,24,001 (2017 statistics) international students Australia justifies its title of being one of the top destinations to study abroad. Majority of the international students who study in Australia hail from China (30 percent), followed by India (11 percent), Nepal (five percent),Malaysia (four percent), and Brazil (four percent). International students can pick from a wide range of programmes offered at various colleges and universities. In 2017, the number of Indian students enrolled in Australian courses were 87,615. Management, Engineering and Mathematics are some popular field of study in Australia and the enrollments happen mostly in the Higher Education, VET, Schools, English Language Intensive Courses for Overseas Students (ELICOS) and Non-award sectors. Management captures nearly half the international students population who pursue study in Australia. Moreover, international students have options to enrol themselves in online degree programme in Australia.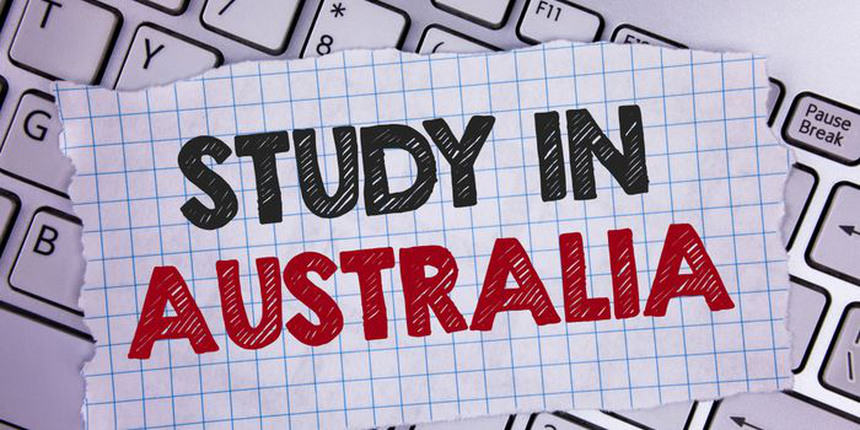 Study in Australia: Country introduction
Australia officially the Commonwealth of Australia, is a sovereign country comprising the mainland of the Australian continent, the island of Tasmania and numerous smaller islands. It is the largest country in Oceania and the world's sixth-largest country by total area. The neighbouring countries are Papua New Guinea, Indonesia and East Timor to the north; the Solomon Islands and Vanuatu to the north-east; and New Zealand to the south-east. Australia's capital is Canberra, and its largest city is Sydney. Thinking of Australia reminds all about the see sandy beaches, koalas, barbeques and water. However, the country has so much more to offer than just that. Many foreign students are choosing Australia as their study abroad destination- thanks to its world ranking universities, friendly natives and high living standard. You can say life in Australia is laid-back in nature unlike fast moving countries such as the USA. Australia has six of its universities making into the list of top universities in world and is also the third most sought-after study abroad hub. The country is also known worldwide for its higher education system, ranking 10th in the U21 Ranking of National Higher Education Systems.
Study in Australia: Top 20 Universities in Australia 2018
The most efficient way of selecting your study abroad destination is to go by the number of world ranking universities in the country. The higher the universities are ranked, the better is the country considered for higher education. Australia boasts top universities such as University of Melbourne, Australian National University and University of Sydney to name a few. One of the key reasons for Australia's popularity among international students is that it is a research-intensive country with strong infrastructure for the same. Some of the popular locations for students to study in Australia or best students cities in the country are Melbourne, Sydney and Canberra among others. Top courses to study in Australia are MBA, Engineering, Accounting and Finance, Sports Management, Hospitality and Tourism Management.
To pursue study in Australia, it is imperative to gather knowledge about the top institutes for better understanding and successful decision. Following table displays the name of the top 20 universities in the Australia with their respective official rankings:-
Top Universities in Australia 2018
 

 

QS Rank

THE Rank

ARWU Rank

SL.No

University

2018

2017

2018

2017

2017

2016

1

The Australian National University

20

22

48

47

97

77

2

The University of Melbourne

41

42

32

33

39

40

3

The University of New South Wales

45

49

85

78

101-150

101-150

4

The University of Queensland

47

51

65

60

55

55

5

The University of Sydney

50

46

61

60

83

82

6

Monash University

60

65

80

74

78

79

7

The University of Western Australia

93

102

111

125

91

96

8

The University of Adelaide

109

125

134

142

101-150

101-150

9

University of Technology Sydney

176

193

201–250

201—250

301-400

301-400

10

The University of Newcastle(UON)

224

245

251–300

201—250

301-400

301-400

11

University of Wollongong

232

218

251–300

251—300

201-300

301-400

12

Macquarie University

240

247

251–300

251—300

151-200

201-300

13

Queensland University of Technology (QUT)

247

276

201–250

201—250

201-300

201-300

14

RMIT University

247

252

401-500

401-500

401-500

401-500

15

Curtin University

262

306

351–400

401-501

151-200

201-300

16

University of South Australia

279

288

201–250

251—300

--

--

17

Deakin University

293

355

301–350

251—300

201-300

201-300

18

University of Tasmania

313

370

301–350

301—350

201-300

201-300

19

Griffith University

325

336

251–300

251—300

301-400

301-400

20

La Trobe University

360

386

351–400

351—400

301-400

301-400
To explore more, click and read- Top Universities in Australia 2018
Study in Australia: Admission Cycle
Institute

Level of study

Application deadline

The Australian National University

UG

Mid-December

PG

Mid-December

The University of Melbourne

UG

Late December

PG

Last week of October (For February intake)

The University of Sydney

UG

Last week of January (For March intake)

PG

Last Friday of January each year ( For March intake)

The University of New South Wales

UG

Last week of November

PG

Last week of November

The University of Queensland

UG

Last week of November

PG

Last week of November

Monash University

UG

Apply anytime of the year(depends on seat vacancy)

PG

Late November

University of Western Australia

UG

First week of Dec (For February intake)

First week of June (July intake)

Last week of June (medicine and dentistry)

PG

No specific deadlines (Must apply at the earliest)

The University of Adelaide

UG

Varies as per programme

PG

First week of December (varies)

University of Technology Sydney

UG

Last week of Nov (For February intake)

PG

Last week of November (For February intake)

Macquarie University

UG

No specific deadlines (Submit application at least three months before)

PG

Last week of October (Some programmes)

First week of February (September intake)
*Source- Official university websites
Study in Australia: Timeline of Admission Cycle
| | |
| --- | --- |
| Month | Timeline |
| May- June (previous year) | Research your options |
| June | Register for standardised test and take test |
| July | Prepare the application package and get you test scores. |
| August- September | Start applying |
| October- November | Applications close |
| December-January | Colleges start replying to applications |
| December | Prepare your finances, explore scholarships and apply for education loans. |
| December-January | Apply for the students Visa |
| February | Departure preparations |
| February- march | Session starts |
Study in Australia: Eligibility Criteria
The academic criteria (including evidence of English language proficiency) aspirants need to meet in order to pursue higher studies in Australia vary much on the level of education they wish to study. Every University/Institution have different admission requirements, so prospective students should read the course information available on respective websites and contact them for further advice.
A general guidance on entry requirements for the different levels of study are mentioned below for a holistic understanding.
English Language Proficiency - Entry requirements vary between institutions; however most universities and institutes accept IELTS score, some of them accept both IELTS and TOEFL test scores. The other accepted proficiency tests are PTE Academic, and CAE.
Vocational education and training - Mostly there are no entrance exams for VET institutions. However, some courses may require pre-requisite subjects or work experience.
For Undergraduate Studies - To gain admission into an Australian undergraduate course candidates will need to have an Australian Senior Secondary Certificate of Education (Year 12), or the overseas equivalent. Moreover, some of the undergraduate courses have specific pre-requisite subjects.
For Postgraduate Studies – A satisfactory completion of at least one degree at undergraduate level is a mandate for taking up postgraduate courses. Few institutions may take research ability or relevant work experience into consideration as well. GMAT is required by some universities for the MBA programme.
Additional Information- To meet the academic requirements of an Australian high school qualification, one can consider taking a Foundation course. Commonly known as bridging study, these intensive courses help meet the entry requirements. The tenure of these courses are usually one year and are offered by most higher education institutions.
Study in Australia: Scholarships
Studying abroad is a pricey affair, especially when it comes to pursuing higher studies in Australia- one of the costliest destinations to pursue higher studies. Nevertheless, despite being home to several world ranking universities studying in Australia is affordable compared to other study abroad hubs, namely the USA or the UK. And, if aspirants are planning to study in Australia and pursue MBA or Engineering, things could get expensive especially if someone is dependent on external financial aid. While an MBA degree can cost above AUD 50,000, Engineering on the other hand can sum up to AUD 38,000. The average cost of study per year for foreign students is over AUD 40,000, including the tuition fee and cost of living in Australia. International students can avail the scholarships provided for studying in Australia. Some of the major government  scholarships for international students in Australia are-
Australia Awards Scholarships (AAS) for bachelors, masters and doctoral courses

Endeavour PG Scholarship Award

International PG Research Scholarship Award

Indo-Australia S&T Visiting Fellowship Programme

Australia-India Strategic Research Fund

Australia International Postgraduate Research Scholarships (IPRS)

Australian Government Research Training Program (RTP)-

Australia APEC Women in Research Fellowship
Study in Australia: Australia admission and Visa cycle
After deciding on the university and checking the Australian admission cycle requirements, aspirants then need to focus applying for the student visa to study in Australia. The subclass 500 Australian student visa allows international students to stay in the country to pursue a full-time programme at a recognised institute or university. The best part of the Australian Student Visais even eligible family members can accompany international students who decide to study in Australia. According to the admission cycle of Australia, the Subclass 500 Australian Student Visa allows eligible foreign students to reside in the island country up to the complete duration of their respective courses. To be eligible for the visa, candidates must first be offered admission into university of their choice and must be enrolled in a full-time programme at a recognised university. International students go through a strict application process before being offered an Australian student visa. Australian admission cycle is considered complete once the deadline is over and the aspirant has applied within the same.
Study in Australia: Key facts of student visa
Name of Visa

 Cost of Visa

Eligibility

Length of Stay

Student visa (subclass 500)

From AUD 560

Be at least six years of age

Have been accepted to study at an educational institution in Australia

Possess health insurance.

Up to five years
Kindly note- Family members can accompany the candidate to Australia if the names are included in the visa application. Family menbers may join the aspirant in Australia after the applicant is granted his/her visa as a subsequent entrant.
Visa Processing Time
| | | |
| --- | --- | --- |
| Stream | 75 per cent of applications processed | 90 per cent of applications processed |
| Foreign Affairs or Defence Sector | 18 days | 34 days |
| Postgraduate Research Sector | 54 days | 86 days |
| Non-Award Sector | 20 days | 44 days |
| Schools Sector | 46 days | Four months |
| Independent ELICOS Sector | 33 days | 50 days |
| Vocational Education and Training Sector | 33 days | 59 days |
| Higher Education Sector | 26 days | 41 days |
Candidates must remember that the processing times may vary and is liable to change.
Study in Australia: Living Expenses
Australia does not have a typical lifestyle. Some Australians choose a laid-back life in the country, while others prefer living in busy cosmopolitan areas. Regardless of where they choose to stay, Australians enjoy a high quality of life. Knowing the average living costs in Australia is a vital part of the financial preparation.
The costs provided below are approximate figures only. Aspirants should be aware of the costs and should be aware that the costs may vary depending on the location of study in Australia.
| | |
| --- | --- |
| Components | Cost (Australian dollars) |
| Hostels and Guest-houses | $90 to $150 per week |
| On campus accommodation | $90 to $280 per week |
| Shared Rental | $85 to $215 per week |
| Rental | $165 to $440 per week |
| Home-stay | $235 to $325 per week |
| Groceries and eating out | $80 to $280 per week |
| Gas, Electricity | $35 to $140 per week |
| Public Transport | $15 to $55 per week |
| Phone and Internet | $20 to $55 per week |
The Department of Home Affairs has financial requirements that one must meet in order to receive a student visa for Australia. From 1st February 2018, the 12-month living cost is:
Primary Applicant - $20,290

Partner or Spouse - $7,100

Child - $3,040
Education agents in respective home countries can assist aspirants with applying to study in Australia. It is a requirement under the ESOS Act, that all institutions maintain a list of appointed agents and the same to be published on their website. Applicants are advised to visit the institution's official website at which one intends to study to view the list of their agents in near proximity.
Also, read
Top reasons to study in Australia
Study abroad destinations: Canada Vs Australia
Actuarial science and Actuaries- An Interview session with Dr Gaurav Khemka
Australia Updates and Articles
Questions related to Australia
Showing 53 out of 53 Questions