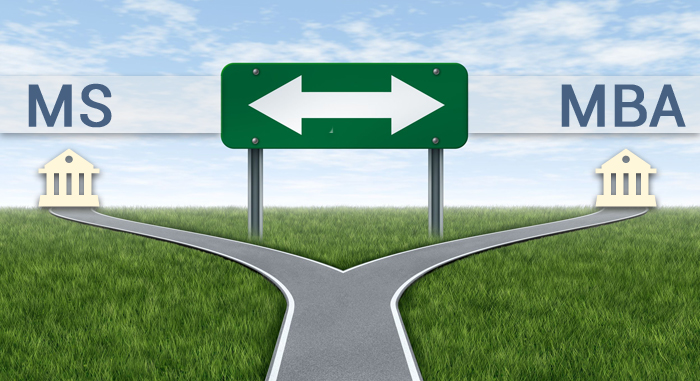 MS or MBA abroad - While there is a wide range of career opportunities up for exploration abroad once you have completed your bachelors in engineering, most students, typically, opt for either of the two fields- MS or MBA. A survey by QS revealed that FAME (Finance, Accounting, Business Management and Economics) and STEM (Science, Technology, Engineering and Mathematics) are the two most sought after courses for international students with FAME capturing the bigger chunk at 42.8%.


Traditionally, engineering students have been known to opt for MS related courses for further knowledge and insights into the subject. However, in the last couple of years, a large number of students are increasingly opting for management related courses owing to the assimilation of management strategies in all areas of work.


The big question that arises here is what should a student pursue after his undergraduation in engineering? While the common answer would be further studies in the same subject through an MS, the students also have the option to pursue MBA to hone their management skills.


Here we bring you some points that highlight the essential differences in the courses in terms of requirements and monetary aspects.  


Read below to know whether you should pursue an MS or MBA abroad:


Who can pursue an MS or MBA abroad ?
An MS or Master of Science is an academic degree which is based on the scientific learning of a subject. An MS course enhances your understanding of a field through a micro level subject analysis. So, if you opt for an MS in Civil engineering your course might include subjects like Construction, Geomatics, Geotechnical, Infrastructure Materials, Structural and Transportation, among others. However, being technical in nature, more often than not an MS course is applicable only for those who have prior study or work experience in the field.  So, to pursue an MS degree in computer science the student should ideally have an undergraduate degree in the same. While many universities do not have any strict requirement Bachelor's degree in the same course, the course specifics do demand prior knowledge of the same.
Unlike for MS, students are not, essentially, required to have prior technical knowledge for pursuing an MBA. In fact, business schools have one of the most diverse class profiles among all subjects. For example, almost 36% of the MBA class for 2017 at Harvard Business School is from STEM related fields while 20% of the students in the Haas School of Business are from engineering. Not just STEM, both these schools also have large chunks of students from fields like social sciences, design and even healthcare.


Work experience for MS or MBA abroad:
One of the most important factors to consider while aiming for an MBA degree abroad is work experience. Most of the top business schools across the world require work experience for entry into their MBA classes. While some schools do not demand it, the selection procedure reflects that majority of the students have work experience. For, while Stanford does not have any minimum requirement for work experience, most of the students have an average of 4 years of professional experience. The same goes for most of the top business schools. In fact, in countries like Australia and New Zealand, the focus is more on work experience than the academic qualifications of the students. Also, aspirants who want to pursue executive MBA have to support their application with 8-12 years or more of work experience which could also include a managerial position.


Top 5 business schools with work experience requirement:
| | | | |
| --- | --- | --- | --- |
| University | Country | Financial times | Work experience |
| Harvard Business School | US | 1 | 3-5 years |
| London Business School | UK | 2 | 5.5 |
| University of Pennsylvania: Wharton | US | 3 | 5 |
| Stanford Graduate School of Business | US | 4 | 4 |
| Insead | France / Singapore | 4 | 6 |
While work experience is a major requirement in majority of the MBA programmes, it is not imperative in MS courses. In majority of the cases, MS courses do not demand or require prior experience as the focus is more on the academic qualification and research work of the applicant. So, if you have an undergraduate degree in engineering and want to go for Masters directly after that, an MS course would be more advantageous and easier to get into than an MBA programme abroad.


Monetary aspects
Besides offering new experiences, education abroad in countries like the USA, UK or Australia also ensure demand in the job sector delivering monetary satisfaction. More often than not, pursuing an MBA is also seen as an investment. Hence, the return on investment is a big factor while considering whether you want to pursue MS or MBA abroad.


According to a Bloomberg data, a fresh MBA graduate who switches his career can get an increase of as much as $55,000 over his pre- MBA salary. Further, an FT report also says that young 24 year olds can get a massive 145% increase over their previous salary post pursuing an MBA degree.


"A graduate management degree is an outstanding investment in the personal, professional and financial aspirations of students," says Bob Alig, GMAC- Graduate Management Admission Council's- executive vice president for school products.
If we consider the cost of pursuing MBA and MS programmes in USA, we find that while cost of studying MS can be in the range $30,000 - $50,000 annually, that of an MBA can go upwards $60,000 annually. 
The table below shows the cost of pursuing both the programmes in top universities of USA:
| | | |
| --- | --- | --- |
| University | MS Fees | MBA fees |
| Massachusetts Institute of Technology (MIT) | 44,000 USD - 46,000 USD | $65,750 |
| Harvard University | 38,000 USD - 40,000 USD | $61,225 |
| Stanford University | 40,000 USD - 42,000 USD | $64,050 |
| University of Chicago | 44,000 USD - 46,000 USD | $63,980 |
| University of California, Berkeley (UCB) | 26,000 USD - 28,000 USD | $57,220.50 |
Passion:
Before deciding whether to pursue MS or MBA abroad, the most important thing to consider while planning to pursue your studies abroad is your passion. If you have a more technical bent of mind and want to do further research in you subject then an MS course is the best option for you. However, if you were always inclined toward the managerial aspects of work like planning for a project or steering the team toward implementation, then an MBA degree would be best for you. As education consultant Karan Chopra puts it: "Students should choose a programme based on their interests and career aspirations."