USA is one of the most popular study abroad destinations in the world, especially for masters courses. More than 70% of the universities in the US offer MS programs in subjects ranging from science, business management, IT computer science, data analytics. Another major advantage of pursuing MS in the US is the freedom of choosing any subject you wish. Since the US follows an open education system which allows you to apply for any specialisation in your masters regardless of which subject you studied in your bachelor's course. The admissions to top MS specialisations in the USA is based on achievement in academics and scores in exams like TOEFL, GRE or IELTS. This article covers details on the top MS specializations in the USA and how you can apply for them.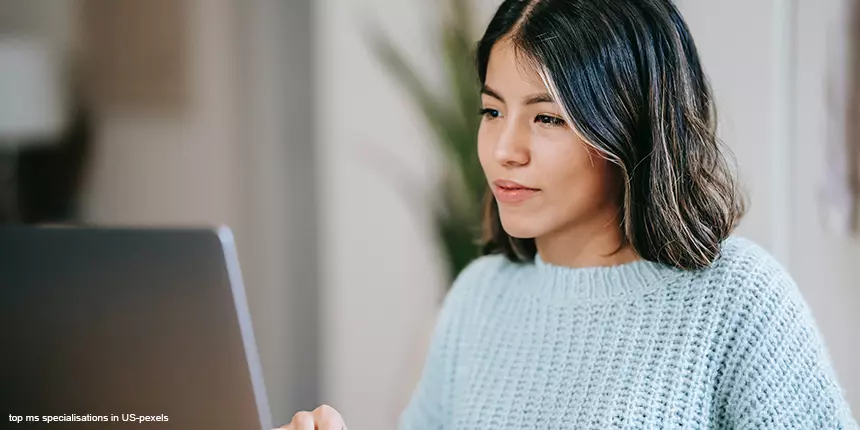 Top MS specialisations in USA - List, Requirements, Cost, Scholarships
TOP EXAMS: IELTS | TOEFL | GRE | GMAT
Country Guide: UK | Ireland | Australia | Canada

Advantages of Doing MS in USA
Doing an MS course in the US has the following advantages:
International students who do an MS in a STEM subject in the US can get a 24-month work visa extension after their MS.

After an MS degree students can apply for research opportunities where they can work as teaching assistant (TA) or research assistant (RA).

As a teaching assistant they can earn USD 500 to 1200 per month by working part-time.

As a research assistant they can earn a stipend of about USD 1500 per month.

There are more chances to get a work permit after their MS.

Students have a chance to get a merit-based scholarship of up to USD 10,000 for a year in order to pursue an MS degree.

MS programs in the US provide experiential learning opportunities and internship programs that equip students with skills to work in actual job environments.

There are more job opportunities for MS degree holders in the US and other countries. They stand a chance to be employed in major industries across the globe. According to the U.S. Bureau of Labor Statistics (BLS), employment opportunities for MS degree holders will increase by about between 2020 and 2030.

According to a report by Statista published last year, students with an MS in engineering will have the highest starting salary of around 85,000 USD per year followed by those with an MS in computer science who will have an annual salary of around 82,000 USD per year.
Annual starting salary of MS graduates in US for 2022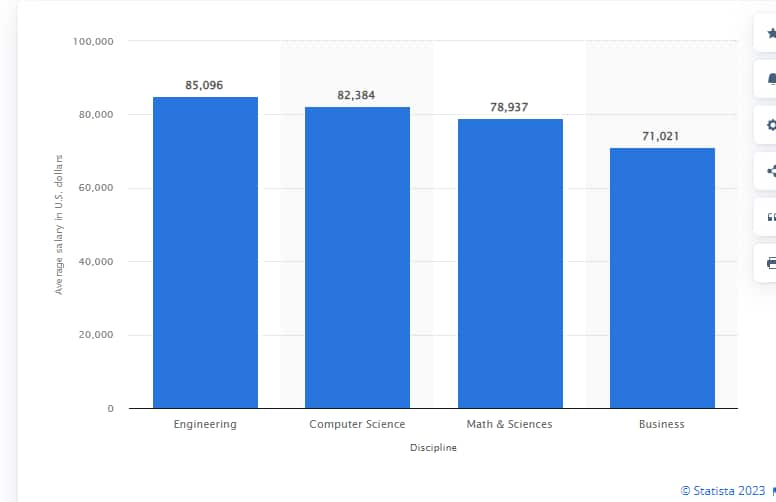 Source- Statista
USA MS Specializations List
Most prospective students ask which MS course is best in USA. However, the answer really depends on indivdual choices. Here are the top ten MS courses in the US:
MS in Computer Science

MS in Management Information Systems

MS in Wireless Communications

MS in Power Engineering

MS in Life Sciences

MS in Pharmacy

MS in Embedded Systems

MS in Game Design and Game Development

MS in Petroleum Engineering

MS in Very-large-scale integration (VLSI)
Top Universities for MS in USA
Here are the top universities offering MS specialisations in the USA. They are listed based on their QS ranking for 2023.
Some of these are Ivy league universities. Apart from these there are tier 1, tier 2 and tier 3 universities which offer some top MS courses in the US. Before you zero in on a specific university to do your MS, check whether it is offering the course you wish to do.
Selecting Courses for MS in USA
Selecting your MS specialization courses among the top US universities can be an easy task provided you know what you need and are clear about what you are looking for. Prospects must also learn about various branches in MS offered by USA Universities as there are plenty of MS branches after B. Tech for Indian students. Here are a few things you can consider before you choose from the top MS specialisations in the US:
Analyse your interests. Do a self-introspection and identify what interests you. Once you have identified this, analyse the MS specialisations that you can do.
Study the scope of your interests. Since you know the MS specializations list you can do, find out the subjects you need to study, their different branches and most importantly the job prospects for each and find out if there are any particular subjects that have more career scope than others.
Take into account your academic background. Though you need not choose the same MS specialisation in US as your bachelor's degree, it helps if you have a strong profile in terms of projects, relevant courses, certifications or internships related to the subject you choose in case it is different from your academic background so far.
Consider other factors such as how long the a specialisation in MS degree will take to complete, the cost, the universities where you can apply etc.
Requirements for Top MS Specialisations in US
Undergraduate degree in a relevant field with a minimum score of 60 percent.

Work experience if required.

Valid passport and USA student visa.

Updated resume.

Proof of funds.
Cost of Top MS Specialisations in USA
The cost of study in USA for MS courses will include both the tuition fees and the cost of living. The tuition cost of doing an MS in the USA will be between USD 40,000 to 70,000. You must also take into account the living costs of studying in the US which will be around $10000 to $18000 per year. The living cost includes your accommodation, boarding, food, travel, books, clothing and entertainment costs.
Scholarships to Study Top MS Specialisations in USA
You can apply for a scholarship to study MS in the USA. You can also apply for a student loan to facilitate your study expenses when you do your MS specialisation. Here are some of the scholarships in the USA which you can apply:
Stanford University Scholarships

Yale University Scholarships USA

University of New Haven Scholarship

University of Memphis Scholarships

University of Minnesota Fellowship

AAUW International Fellowship Program

ACI Foundation Scholarship

Onsi Sawiris Scholarship

Rotary Peace Fellowship Program

Clark Global Scholarship Program

The HAAA Scholarship

Treasure Scholarship at Boise State University

Boston University Presidential Scholarship

Berea College Scholarships

Cornell University Financial Aid

Illinois Wesleyan University Scholarships

Jeffersons Scholars Foundation National Fellowship

University of Miami Stamps Scholarship

University of Mississippi Scholarships