Top Reasons to Study in Canada - Numerous foreign students from all over the world come to study in Canada as it is one of the most sought-after study-abroad destinations. The country is known for its reputed universities and top-notch education. Along with quality education, the country provides education at affordable rates. Students studying in Canada can also work for part time jobs, which can can cover the living costs in Canada. More international students prefer to study in Canada and it receives a record number of student visa applications every year. When looking at options to study abroad, students discover why study in Canada is the most preferred choice. Read further to know the top reasons to study in Canada that motivate you to choose Canada for study abroad.
TOP EXAMS: IELTS | TOEFL | GRE | GMAT
Country Guide: UK | Ireland | Australia | Canada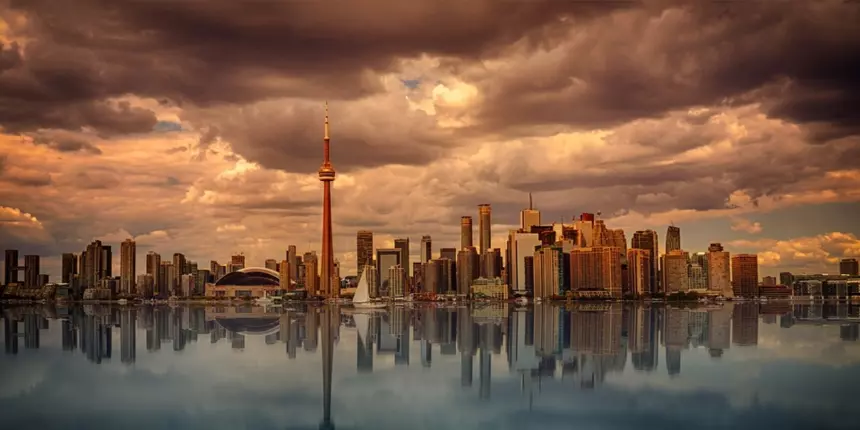 Top reasons to study in Canada - Tuition Fees, Universities, Immigration, Living Cost
10 Reasons to Study in Canada
Well, there are many reasons to study in Canada but making them in short and just a brief of few top reasons, which be considered before planning for education in Canada are listed below.
Presence of top universities in the world.
Affordable cost of education
Affordable cost of living in Canadian cities
Opportunities to work part time while studying and earn.
Flexible post-study immigration rules.
Experience of a multicultural society
Access to innovative courses
Career opportunities
Safety
Student friendly cities in Canada.
Why Study in Canada?
The degrees in Canadian universities provide a wealth of opportunities for many international students across the world. It's not just the education, the country's beautiful landscapes, diverse culture, peaceful environment, etc., and a lot more things are contributing to the top reasons to study in Canada. Students who are planning to study abroad in Canada must know the benefits of studying in Canada to finalize its as a study abroad destination or not. The following reasons will justify your choice.
1. High-ranking universities
Over 31 universities in Canada, a hub for the education of international students, are included in QS's list of the top universities in the world for 2024. Given the country's wealth of prestigious universities, student-friendly cities, and research-based programs in disciplines like engineering and management, it should come as no surprise that Canada is one of the first nations that come to mind for students who want to study abroad. The top universities in Canada which rank high across the world are the top reasons to study in Canada for international students. With the Canada student visa benefits, the international students gain the opportunity to undergo education in Canada.
Students also read
2. Affordable Education
High educational standards are one of the main benefits of studying in Canada. At the same time, the universities fee here is affordable which is why Canada is best for study. Educational institutions in Canada provide a wide variety of courses in numerous academic areas. Canada is the preferred study abroad destination chosen over the UK, USA, and Australia due to lower tuition costs. Canada has a considerable number of affordable universities for international students. The tuition fee depends on the course and the university. For instance, doing an MBA costs between CAD $30,000 and $130,000 per year at one of the top Canadian colleges, while it costs between USD $80,000 and USD $150,000 at a top US university. The tuition expenses in Canada also vary based on the province where a student is enrolled, with Ontario having the highest fees. This is one of the top reasons to study in Canada.
Approximate tuition fees in Canada
| | |
| --- | --- |
| Level of study | Tuition fee per year |
| Undergraduate | CAD $29714 |
| Postgraduate | CAD $17,744 |
| MBA | CAD $27,397 |
| MBA (Executive) | CAD $56,328 |
*Source: Statistics Canada
3. Affordable Cost of Living
The cost of living in Canada generally varies, based on the province or city with certain cities being more expensive than others. Low cost of living compared to the USA, UK, New Zealand and other countries is one of the benefits of studying in Canada. The largest contributor to the cost of living for students is accommodation in Canada, which can be reduced by opting for university housing. However, students can choose course options and their university based on their budget. This is one of the top reasons to study in Canada for international students and can give you a perspective on why choose Canada.
Living Expenses in Canada Cities
| | |
| --- | --- |
| City | Average monthly living expenses |
| Mississauga | CAD $835 |
| Vancouver | CAD $975 |
| Ontario | CAD $940 |
| Quebec | CAD $1190 |
| British Columbia | CAD $645 |
4. Work While Studying
Work while studying in Canada is perhaps one of the major reasons to choose Canada. Students get an opportunity to earn some additional income while studying. This makes it possible for students to pay for expenses, including travel, school materials, and personal expenses. Students may opt to work on or off campus depending on the availability of jobs. This is one of the benefits of studying in Canada for international students.
Full-time students may work off campus, but they must be enrolled in accredited Canadian universities. They can work for up to 20 hours per week throughout the school year, and they may work full-time during the breaks in between semesters. Students who wish to work while studying do not require a work permit, but they must be enrolled full-time, have a current study permit, and be qualified to work while they are studying.
5. Post-study Immigration Options
Students who like to work after the study in Canada can apply for the PGWP. The period and validity of the PGWP depend upon the time duration of the course that students have completed. The PGWP helps international students gain Canadian work experience and later permanent residency (PR) in the Canada country. The Canadian government gives preference to PR applicants who have both Canadian education and work experience. The advantages of having a PGWP make it one of the top reasons to study in Canada.
6. Multicultural Environment
Students can engage with people from various backgrounds while studying in Canada. A great thanks to the country's multicultural environment, which broadens their horizons and provides a different life experience for the students beyond education. This is one of the main reason why International students proudly say "This is Why I choose Canada for study." Additionally, Canada is a multilingual nation where, in addition to English, French is widely spoken across the nation. International students are more likely to interact with individuals from diverse cultural origins, social statuses, and linguistic backgrounds, which eliminates the feeling of being an outsider in the country. This opportunity to interact with a diverse population is one of the reasons to choose Canada to study.
7. Access to Innovative Courses
Canada is one of the most innovative nations in the world, according to the Global Innovation Index. The nation is renowned for its standing in numerous disciplines and is at the forefront of computer and information technology. The best courses to take in Canada are in some of the most innovative fields, such as telecommunications, engineering, biotechnology, aerospace engineering, and environmental sectors. The fact that many research-based programmes are included in the Canadian educational system and are centred on technological research and innovation and become a top reason to study in Canada.
In addition to producing qualified graduates in a variety of academic disciplines, Canada is renowned for providing top-notch education in a wide range of subjects.
8. Career Opportunities
Canada has world renowned companies in the field of telecommunications (Bell), biotechnology, video gaming, manufacturing, banking, mining and aeronautical engineering. The average annual salary of a graduate from a Canada university is CAD 75,348, that is around 47 L INR. Salaries may go high depending on the skills of an individual and course of study. Not just in Canada, many graduate degrees (MBA, MS in Computer Science) earned from top universities in Canada are valued throughout the world.
9. Safety benefits of studying in Canada
Canada is at 11th place in Global peace index 2023. While public safety is the top priority in Canada with effective police forces, students admitted to universities don't have to worry about their safety on campus. Being a world capital for quality education, many universities in Canada go extra mile to provide safety measures to students.
10. Top Canadian Cities to Study
Canada has five of the world's top student-friendly cities in the world. This is one of the benefits of studying in Canada for Indian students. The best student cities in Canada included in the QS Ranking 2024 are listed below. Students pursuing their studies in the cities are benifited from in terms of the affordability in purchasing several products or services that meet their living requirements in Canada while studying.
Best Student Cities - QS Ranking
| | |
| --- | --- |
| City | QS 2024 Ranking |
| Toronto | 11 |
| Montreal | 13 |
| Vancouver | 18 |
| Ottawa | 57 |
| Quebec City | 111 |
It is understandable why the number of international students applying to higher education programs at Canadian universities has increased significantly over the past few years with the given the top reasons to study in Canada.
Like to know about other
Top Universities in Canada with Fee Details
According to the QS World 2024 ranking the top 3 universities like University of Toronto, McGill University, University of British Columbia hold positions in the top 100 are located in Canada. Many students would be curious to know the fee rates of these top universities for studying in Canada. Here are the average fee details for UG bachelors courses are given to get an approximate estimate of tuition costs for studying at these top universities Canada.
Top Universities fee details
S.No

University

Approximate tuition fee for UG bachelors course per year

1

52 lakhs

2

50 lakhs

3

40 lakhs
Even though the prices of studying in the top universities of Canada seem may bit high, but due to the advantages quality in education and boundless career opportunities after the course of study may seem it worth of studying in Canada.It is understandable why the number of international students applying to higher education programs at Canadian universities has increased significantly over the past few years with the given top reasons to study in Canada. Students planning their studies in Canada can look forward the the bachelors or masters in Canada and check the admission process to study in Canada and gain the benefits to study in Canada.