Benefits of Studying in Ireland
Benefits of Studying in Ireland- Ireland is a country with a reputation for academic excellence, green landscape, friendly people and a rich heritage. There are many benefits of studying in Ireland. The enormous opportunities available to international students makes it a popular destination for many students. One of the key benefits of studying in Ireland is it has a highly rated education system that emphasizes skill development and entrepreneurial skills. The country has top universities that offer courses from science, technology, humanities to economics. The universities promote innovation and creativity from students.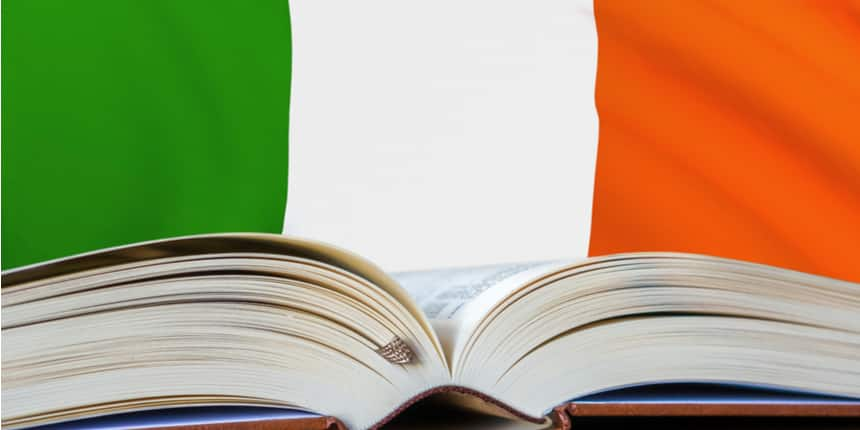 The comparatively low tuition fee, living costs and post-study visa are some other benefits of studying in Ireland.
According to the Higher Education Authority (HEA), 11% of students in Irish Universities are from different countries, with 4.39% from India. Read further to know more about the benefits of studying in Ireland.
Top 7 benefits of studying in Ireland
1. Use of English language
The medium of instruction in the Irish universities is English. The language is spoken by most international students and the fact that the majority of the population in Ireland speak English makes it a favored destination for international students. There are no language barriers to overcome in order to study here. For admission in Irish institutes, international students need to submit an English proficiency certificate from an authorized test provider like IELTS or TOEFL.
2. Post study visa
Among all the EEA member countries, Ireland's post-study visa facilities are most favorable for international students. One of the benefits of studying in Ireland is that the country offers a post study work visa. To get a post study visa, students can apply under the Irish Third-level Graduate Scheme.
Under this scheme students from non-EU countries can stay back in Ireland after their studies in order to look for employment or apply for a green card/work permit. During this period they can work full-time for up to 40 hours per week.
For a bachelor's degree, stay back is allowed for one year and after the master's a 2-year stay back is allowed. Once they find a job, they can apply for a Green Card also known as the Critical Skills Employment Permit.
3. High-Quality Education
Ireland's universities rank among the top 5 % in the world rankings. Irish education is respected for its contribution to research, innovation and skill development. There are nine universities, 14 institutes of technology, five colleges of education and numerous private colleges offering certificates, diploma and degree programs. The educational institutes are monitored by the Irish government through the National Framework of Qualification to maintain uniformity in the quality of education. The courses in the universities of Ireland are tailored in such a way to suit the careers that students want to pursue.
According to the QS world university rankings for 2023, here are the top eight universities of Ireland.
| | | |
| --- | --- | --- |
| | Name of University | QS Ranking |
| 1 | Trinity College Dublin, University of Dublin | 98 |
| 2 | University College Dublin | 181 |
| 3 | National University of Ireland, Galway | 270 |
| 4 | University College, Cork | 303 |
| 5 | Dublin City University | 471 |
| 6 | University of Limerick | 531-540 |
| 7 | Maynooth University | 801-1000 |
| 8 | Technological University Dublin | 801-1000 |
4.Lower cost of education
In Ireland, the cost of education is much lower compared to other countries. This is because the government provides financial support to most of the universities. For instance, the cost of studying at Maynooth University is around 7,000 Euros, which is cheaper than many other institutions in Europe. The tuition fee may vary based on the course and the university where you plan to study.
The average undergraduate course fees can range between 9,000 to 21,000 and the postgraduate fees can range from 9,000 to 20,000 Euros.
Apart from the cost of studying in Ireland, the average cost of living is also quite affordable. If personal expenses are included, the average living cost for an international student comes up to 5000 to 9000 Euros per month.
Popular Exams
5. Work opportunities
Ireland is home to top companies in the pharmaceutical, agriculture and technology sectors, which provide multiple job opportunities to students who have completed their education here.
Famous tech giants like Google, IBM, LinkedIn, Pfizer, Microsoft, Facebook, Apple have their head offices located in the country for European Operations. There is high demand in sectors like life sciences, IT, pharma, data engineering, data analytics, med-tech analytics and health care. The employability rate of the majority of Irish institutes is at 80-96%.
Students can easily find work and develop relevant job skills post-completion of studies under the Irish Third Level Graduate Scheme. In addition, the country also allows part-time work options to students – 20 hours (during classes) and full time-40 hours (during holidays) to support their living costs in Ireland.
Apart from this, Ireland is suited just a short flight away from other European countries such as Germany, UK, France or Switzerland which makes it possible to look for jobs in these countries. Irish universities also encourage students to look for internship opportunities in these countries, which give students a chance to later find a job.
6. Safe and friendly
Irish people are known for their warm and friendly nature. The country ranked 8th in Global Peace Index and 7th in the happiness index in the 2021 rankings. Ireland is a safe and friendly place for students, adding to another benefit of studying in Ireland.
7. Culture and travel
Ireland is full of scenic landscapes and rugged mountain ranges. The Irish people are close to their culture and traditions. They enjoy sports, music, dance, food and drinks in their free time. Pub culture is an important part of Ireland, and one can find lively bars and pubs at every corner of town or city. The fact that the country has produced great geniuses in the field of literature, arts, and science reflects the creative bent of its people. So, another benefit of studying in Ireland is that after study and work, it's a great place to explore different traditions, culture and ways of living. Being in close proximity to other EU nations, one can explore other countries in Europe while studying in Ireland.
Read here, Most Affordable Countries to Study Abroad
Frequently Asked Question (FAQs) - Benefits of Studying in Ireland
Question: Can I bring my family to Ireland as a student?
Answer:
Students from non-EEA countries are not allowed to bring their family members to Ireland. Spouses and children will have to apply for a separate visa if they wish to come to Ireland to join their family member studying in Ireland.
Question: Is medical insurance required to study in Ireland?
Answer:
Yes, students from non-EU and EEA countries are required to get medical insurance before they apply for a student visa.
Question: Can international students get a scholarship to study in Ireland?
Answer:
International students have access to a number of scholarships, however the scholarships are decided by the universities where they will be studying. Students will have to directly contact the university for these scholarships.
Question: What is the validity of the Ireland student visa?
Answer:
Ireland has two types of student visas:
C study visa: This visa is valid for three months and is used by students to participate in a training program or course that is of duration of 90 days or less.

D study visa: The validity of this visa is longer than three months. This is the visa usually opted by international students.
Question: When should I apply for an Ireland student visa?
Answer:
It is better to apply for your student visa as soon as possible, because the visa processing may take eight weeks or more. You can apply for the visa three months before your arrival.
Ireland Updates and Articles
Questions related to Ireland
Showing 3 out of 3 Questions
126 Views
what could be the pay in india after mim from ucd smurfit or Trinity college of Ireland?
Hello aspirant.
you need to select the right countries for the MIM. France, the Netherlands, Germany and Sweden have 12–18 month stay back periods during which you can search for a job. You should be able to secure one after an MIM even with limited work experience because the degrees carry a lot of value in those countries. As of 2020, the UK is offering a 2-year stay back period for your job search as well. Hence you can consider these destinations.
159 Views
Where is the HPAT Ireland class in Mumbai?
Hello Tanuja, I don't think there are an HPAT classes in mumbai. HPAT is meant for the EU students who want to take admission in Medicine course in colleges in ireland. So, india is a non-EU country, so there is no need of taking the HPAT test because there is no need. That is the main reason there are no HPAT coaching in india.