Study in UK 2022 - Cost, Eligibility, Tests, Scholarships, Visa Requirements And More
So you have set your mind on studying abroad and you are reading this article to reassure you about your decision. Or maybe you have just started thinking on these lines and trying to read up on factors that motivate you to think further about it. Every student envisions themselves studying abroad at one or the other point and why not! After all, studying abroad is a global phenomenon that provides students a glimpse of the world they would be part of.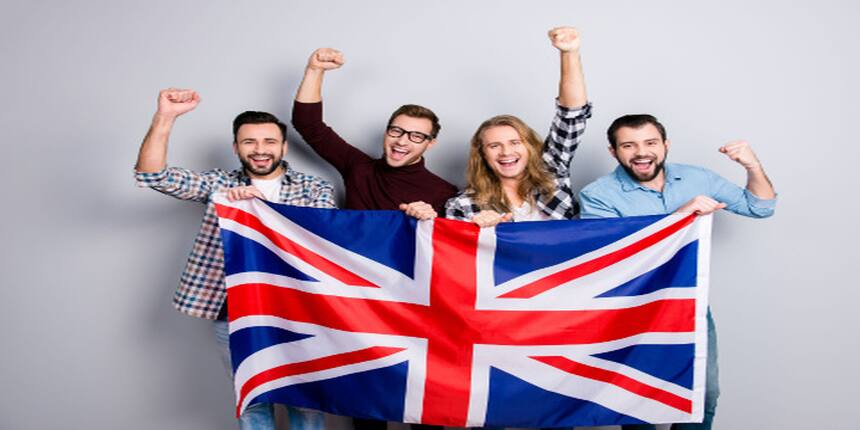 Studying abroad is not just about gaining academic excellence but also about developing a holistic perspective about various countries, cultures, languages, and everything else that comes along with it. Studying abroad instills a sense of respect not only for the country you are studying in but also for your own homeland. It gives you more understanding of how you can be a pioneer in contributing to your country's growth and development.
Here in this article, we are going to be discussing studying in the UK and the various aspects you need to factor in while applying for your dream colleges in this country. The British education system is regarded as one of the finest in the world with highly prestigious educators in every field. The UK is considered a highly suitable country for international students given its 82% average retention rate of international students.
Higher Education System in the UK
The UK boasts of various educational institutions that offer higher education, including specialized schools, colleges and universities where international students can pursue their undergraduate, masters and doctorate degrees. Let us understand in brief how the education system in the UK works.
Undergraduate Courses Offered by the UK Universities
| | |
| --- | --- |
| Program | Duration |
| Higher National Certificate (HNC) or Diploma (HND) | 1 to 2 years |
| Certificates or Diplomas of Higher Education (Cert HE/Dip HE) | 1 to 2 years |
| Foundation Degrees (Fd A/Fd Sc) | 6 months to 2 years |
| Degrees (BA, B.Sc, BEng | 3 years in England, Wales and Northern Ireland |
| | 4 years in Scotland |
| Sandwich Degrees | 4 years with a year in the industry |
| Integrated courses (where a master's is awarded as the first degree such as MEng | 4 years |
Postgraduate Courses Offered by the UK Universities
| | |
| --- | --- |
| Program | Duration |
| Postgraduate certificates and diplomas (PG Cert/PG Dip) | 9 to 12 months |
| Taught Masters (such as MA, M.Sc., LLM, MBA and MRes) | 1 year |
| Research Masters (such as MPhil, Ph.D. and DPhil) | 2-3 years |
Cost of Study in the UK 2022
Study Cost in UK
| | |
| --- | --- |
| Study Program | Average Fee (in Euros) |
| Undergraduate bachelor degree | GBP 10,000 – GBP 20,000 per annum |
| Postgraduate master's studies | GBP 10,000 – GBP 20,000 per annum |
| Doctoral degree | GBP 15,000 – GBP 24,000 per annum |
Living Cost in UK
| | |
| --- | --- |
| Expenses | Approximate Monthly Cost |
| Bills (electric/gas/water) | £40 - £50 |
| Food and housekeeping | £160 - £200 |
| TV license | £12.56 |
| Mobile phone | £15 - £50 |
| Clothes and shoes | £25 |
| Leisure and sports | £10 - £20 |
| Books and stationery | £21 |
| Socializing | £120 |
| Travel and transport | £32 |
| Childcare (if required) | £656 |
Pathway programs
The Pathway programs help students enter university-level courses while strengthening their language skills. These courses are for students who need extra help in learning the English language, since it is the primary language used for teaching in all colleges and universities.
Quality Assurance Agency (QAA)
The QAA is an independent body that assesses the standard of education being imparted in all public colleges and universities in the UK. The QAA is also responsible for ensuring that quality education, learning and research opportunities are available to all students.

The Framework for Higher Education Qualifications of Degree Awarding Bodies is responsible for maintaining the quality of higher education through their guidelines. There exist two separate frameworks - one for England, Wales and Northern Ireland and the other for Scotland.
Popular Exams
| | |
| --- | --- |
| Top Cities | Top Universities |
| London | Imperial College London |
| | University College London |
| | King's College London |
| | The London School of Economics and Political Science (LSE) |
| Edinburgh | The University of Edinburgh |
| | Heriot-Watt University |
| | Queen Margaret University |
| Manchester | The University of Manchester |
| | Manchester Metropolitan University |
| | University of Salford |
| | University of Bolton |
| | Royal Northern College of Music |
| Glasgow | University of Glasgow |
| | Glasgow Caledonian University |
| | University of Strathclyde |
| | The Glasgow School of Art |
| Coventry | Coventry University |
| | Coventry College |
| | University of Warwick |
| Nottingham | University of Nottingham |
| | Nottingham Business School |
| | Nottingham Trent University |
| Birmingham | University of Birmingham |
| | Aston University |
| | Birmingham City University |
| | Newman University |
| Aberdeen | University of Aberdeen |
| | Robert Gordon University |
| | North East Scotland College |
| | Marischal College |
| Newcastle-upon-Tyne | Newcastle University |
| | University of Newcastle |
| | Durham University |
| | Keele University |
| Brighton | University of Brighton |
| | University of Sussex |
Studying in UK - Know About Eligibility
The first step towards gaining eligibility for studying in the UK as an international student is to take the general and language exams as per the course you are aspiring to study. Let us understand more about these exams and the ones you shall have to take.
SAT
Most UK universities accept SAT (Scholastic Assessment Test) scores for admission into their coveted undergraduate programs.
IELTS
English being the primary language of teaching in this country, you have to take the IELTS (International English Language Testing System). For your successful application, while you have to attain a minimum band of 6, some universities also ask for a band over 6.5. Thus, it is important to understand the requirements of your dream universities extremely carefully.
PTE
PTE (Pearson Test of English) is a test used to determine a student's basic ability to comprehend the English language. The PTE score is used to satisfy the English proficiency requirement in various graduate and postgraduate courses in the UK.
GMAT
GMAT (Graduate Management Admission Test) is required in most universities if you are looking to study a graduate business course. This exam mainly tests your general knowledge with respect to subjects like Algebra, Arithmetic, Geometry, Grammar, etc.
GRE
You will have to take the GRE (Graduate Record Examination) if you are applying for a graduate degree program in the UK.
You may need to take some specific tests if you are wanting to take up specific courses. Let us talk about some of them.
Cambridge Law Test
If you are a law aspirant, you may need to take this paper-based test that judges your critical thinking skills.
LNAT
LNAT (The National Admissions Test for Law) tests your reasoning ability, information interpretation ability, analytical skills and conclusion derivation skills. This test does not need you to possess prior knowledge of law as a subject of study.
MAT
MAT (Mathematics Admissions Test) is conducted by Oxford and Cambridge for students aspiring to study an undergraduate degree course in Mathematics or Computer Science.
STEP
STEP (The Sixth Term Examination Paper) is for admission into the University of Cambridge and University of Warwick. This exam tests your knowledge of undergraduate mathematics subjects.
BMAT
If you wish to apply in the courses of Medicine, Biomedical Sciences and Dentistry, you have to take the BMAT (Biomedical Admissions Test).
GAMSAT
The GAMSAT (The Graduate Medical School Admissions Test) is taken by aspirants of UK medical graduate courses.
HPAT
If you want to become a healthcare professional, you have to take the HPAT (Health Professions Admission Test).
UKCAT
If you want to enroll for medical or dental degree programs, you have to take the UKCAT (UK Clinical Aptitude Test).
While most course-related exams for UK universities are conducted between August and November, it is always best to check the deadlines and prepare yourself accordingly.
Visa Requirements for Studying in the UK
The usual cost of student visa for the UK is INR 36238 and an additional fee of INR 22809 is levied if you use the priority service.

The cost of super-priority service is INR 99116.

Also, an additional charge of Immigration Healthcare is levied.
Types of UK Visas for International Students
| | | |
| --- | --- | --- |
| Type of Visa | Visa Duration | Application Fee |
| Short-term study visa | More than 6 months and less than 11 months | INR 19369 |
| Student visa | Duration of the program | INR 36238 |
| Child student | 16-17 years | INR 36238 |
For eligibility for a student visa, you must meet certain requirements which are as follows:
Must possess an offer for a seat from a licensed Tier 4 sponsor;

Must be able to speak, read and write English fluently;

Must possess the required financial proofs that ascertain that you can afford the study and living expenses; and

In case of a short-term study visa, you must show your intention to leave the UK within 30 days after completing your course.
Documents Required for Tier 4 UK Student Visa
Your current passport and other travel related documents;

Evidence of sufficient funds;

Confirmation of Acceptance for Studies (CAS) reference number and related documents;

Coloured passport-sized photographs;

Tuberculosis screening (if required);

Assessment documents; and

Academic Technology Approval Scheme (ATAS) clearance certificate, if required.
Additional documents may be required in case you are not a national of the country you are applying from, you are under 18 years of age, or have dependents.
6 Reasons Why You Should Study in the UK
Here are some benefits of studying in the UK listed out, especially for international students.
The UK has some of the finest and most prestigious universities in the world.

There is immense diversity in the UK.

International students find incredible support in tuition, academics, housing, etc.

Studying in the UK will have immense benefits in your English language learning.

There are plenty of job opportunities after graduation in the UK.

It is a great place to live where you can have fun and enjoy life.
So, here were a few things we have updated you about studying in the UK. Stay tuned to our website www.careers360.com for more informative articles on all you need to know about your dream study destinations.
Also Read -
Frequently Asked Question (FAQs) - Study in UK 2022 - Cost, Eligibility, Tests, Scholarships, Visa Requirements And More
Question: What is CAS?
Answer:
CAS (Confirmation of Acceptance for Studies) number is required for you to apply for a visa to study in the UK. It is an extremely important document that is matched by your institution with a unique reference number, which you have to mention on your Tier 4 visa application form.
Question: How long does it take to get a UK student visa?
Answer:
Usually, the UK visa process can take up to 30-45 working days from your admission to your final visa. It takes about 15 working days to process the student visa application, though it varies from case to case.
Question: Is the study gap acceptable in the UK?
Answer:
If you are a master's applicant, you can have a maximum of 10-12 years of work experience from the year of your graduation. In case you are a bachelor's applicant, you can have a maximum of 2-3 years of work experience. You will always have to justify your gap years with your work experience.
Question: Can international students work in the UK?
Answer:
You will be allowed to work up to a maximum of 20 hours per week during term-time and full-time during holiday breaks, obviously with conditions applied.
United Kingdom Updates and Articles
Questions related to United Kingdom
Showing 15 out of 15 Questions
Study in UK 2022 - Cost, Eligibility, Tests, Scholarships, Visa Requirements And More