Study in Ireland - Cost, Intakes, Eligibility, Scholarships, visa requirements
Ireland is one of the popular study abroad destinations in Europe for international students. The factors that make Ireland worth considering are the safe environment and also the fact that English is the medium of instruction. The country has some of the best universities that offer courses in subjects ranging from science, technology, humanities to economics. The universities here encourage innovation and creativity from students.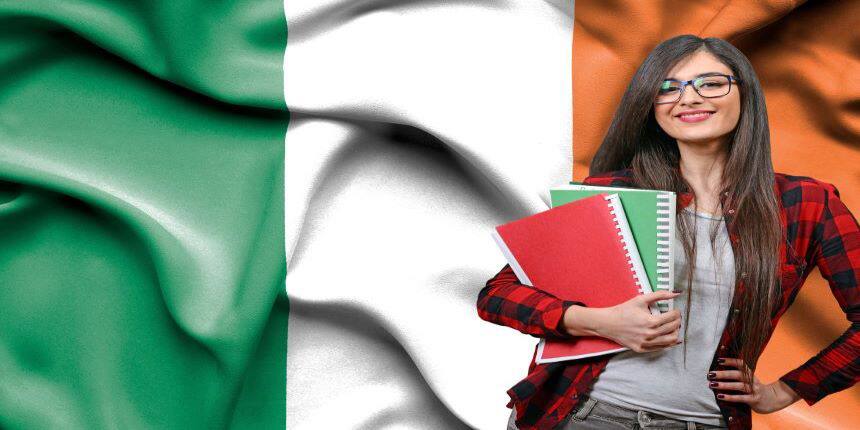 Apart from this, Ireland is home to top companies in the pharmaceutical, agriculture and technology sectors, which provide multiple job opportunities to students who have completed their education here.
Eligibility to study in Ireland
International students wishing to study in Ireland must have a minimum score of 60% in the qualifying exam. You must have completed 18 years in order to apply for an undergraduate course.
If you are applying for a masters program then you have finished a bachelor's degree in the relevant subject.
Ireland has two types of student visas:
C study visa: You will have to apply for this visa if you plan to study in Ireland for less than three months. This short stay visa is used by those who wish to participate in a training program or course that is of duration of 90 days or less.

D study visa: You will have to apply for this visa if you enroll for a course that is longer than three months. This is the visa usually opted by international students.
Documents required
When to apply
Universities in Ireland have two intakes in a year. These are also called a semester in some universities.
Intake 1 or Fall Semester- Begins in September
Intake 2 or Spring Semester- Begins in January
How to choose university/ course to study in Ireland
Here are some basic steps to study as an international student in Ireland
Cost of education and living costs to study in Ireland
The tuition fees to study in Ireland varies based on the country the student belongs to. Students from the EU, EEA, Switzerland or the UK will incur the same tuition costs as Irish students. The tuition fees will be around 3000 Euros for such students.
However if it is the first degree that these students are studying and there is no repetition of a year or semester, then the fees will be paid by the Higher Education Authority or HEA that comes under the Irish government's department of Higher Education and Skills.
Students from outside these countries will have to pay their own fees. The tuition fees for these students is not regulated by the Irish government.
The tuition fees vary based on the course, duration of study and the level of study. The fees can range between 9900 Euros to 34,000 Euros. Undergraduate course fees are payable every semester while postgraduate program fees have to be paid on an annual basis.
Living expenses in Ireland
The living expenses for a student in Ireland will vary depending on the city or location he is studying in. Here is the average cost of living in the popular student destinations in the country
| | |
| --- | --- |
| Dublin | 1,100-1,800 Euros per month |
| Galway | 800-1,100 Euros per month |
| Cork | 860-1,400 Euros per month |
If personal expenses are included, the average living cost for an international student comes up to 5000 to 9000 Euros per month.
International students have access to a number of scholarships and funding programs offered by either the Irish government, universities or private entities. Every university has a right to establish the criteria for giving scholarships so before you apply to study in an Irish university check on this aspect as well.
Here is a list of scholarships available to international students
According to the QS world university rankings for 2023, here are the top eight universities of Ireland.
| | | |
| --- | --- | --- |
| | Name of University | QS Ranking |
| 1 | Trinity College Dublin,University of Dublin | 98 |
| 2 | University College Dublin | 181 |
| 3 | National University of Ireland,Galway | 270 |
| 4 | University College,Cork | 303 |
| 5 | Dublin City University | 471 |
| 6 | University of Limerick | 531-540 |
| 7 | Maynooth University | 801-1000 |
| 8 | Technological University Dublin | 801-1000 |
Work while studying and post course work options
Students can work part-time while studying. They can work for 20 hours per week and for 40 hours during their vacations.
Post study work options: Students can apply for a post study work permit with a duration of two years once they have completed their studies.
Students who have completed their studies can stay in Ireland for up to 24 months to find a job. Once they find a job, they can apply for a Green Card also known as the Critical Skills Employment Permit.
Top five reasons to study in Ireland
Excellent higher education system: The higher education system in Ireland is of high quality with the Irish government investing in the education system and infrastructure. There are more than 500 programs offered by universities here. The university degrees here are recognised globally.

Part time work opportunities: International students can work part-time during their course. The Irish government provides international students with a Green Card which allows them to work during their studies. Some of the universities here provide excellent internship opportunities to students.

English is the medium of instruction: The courses here are taught in English which is a blessing to international students who wish to study in Ireland as there are no language barriers to overcome.

Courses meet international standards: The courses taught here meet international standards and the students passing out of Irish universities have access to high quality education and training

Easy visa application process: The application process for a student visa is comparatively easy even for non EU and non EEA citizens.
Students can also read :
Frequently Asked Question (FAQs) - Study in Ireland - Cost, Intakes, Eligibility, Scholarships, visa requirements
Question: Is the IELTS score required to study in Ireland?
Answer:
Irish universities and colleges require a minimum band score of 6.5 from student applicants.
Question: What is the processing time for the Ireland student visa?
Answer:
The processing time varies based on the country the student belongs to. It takes an average of four to eight weeks to process the student visa.
Question: What are the entry requirements for admission to a masters program in Ireland?
Answer:
Students must have completed 15 years of formal education to apply for a masters program. Postgraduate programs have a duration of one year in Ireland.
Question: Can I study in Ireland without IELTS?
Answer:
Yes, it is possible to study in Ireland without IELTS. Some universities accept students without an IELTS score and consider other English proficiency tests. You must check with the university before making your application.
Ireland Updates and Articles
Questions related to Ireland
Showing 11 out of 11 Questions