MBA in Canada: Know the study cost
MBA in Canada: Being a degree which ranks amongst the most sought-after and best-paid degrees in the world, MBA doesn't come cheap. An MBA program at any of the top universities like Stanford or Harvard in the USA, for example, have some of the highest tuition fees in the world taking into regard all disciples and programs. Therefore, candidates planning on pursuing an MBA abroad should be aware of the prevailing fee structure in the top universities and also the cost of living in order to financially prepare themselves for the program. Canada, in terms of tuition, is significantly less expensive than the USA and therefore an increasing number of students have been applying for an MBA in Canada making it one of the hot-spots for business education.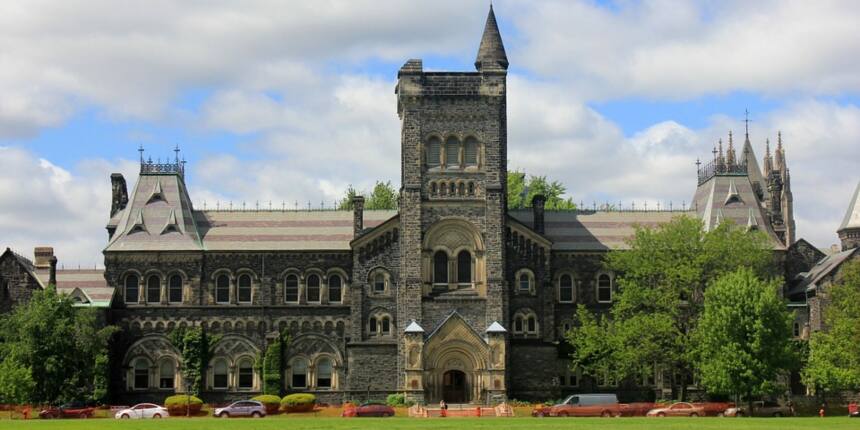 Before we delve into the details regarding the cost of studying MBA in Canada or MBA course fee in Canada, here's what an MBA in Canada has to offer:
Business schools in Canada offer a welcoming environment

Opportunities to work, both on-campus and off-campus

According to a Business Week report, 1/3 of the best business programs outside of the United States are Canadian business school programs

An easy to maneuver visa process and immigration policy
Popular Online Language Courses and Certifications
MBA fees in Canada
11 min read
Mar 05, 2022
Read More
A major component of the total cost of study in Canada is the tuition fee, which differs with the university of application, a similar trend to the one followed for MBA fees in top Business Schools across countries. At the top is Rotman School of Management, the number one B-school in Canada, according to QS MBA rankings, where the two-year program costs $120,680. Ivey Business School, Schulich School of Business and Smith School of Business follow close behind with tuition fees equivalent to with fees of $92,500, $99,400, and $93,000 respectively.
Mid-range B-schools include the Alberta School of Business and the Beedie School of Business at Simon Fraser University with the tuition in the range of CAD $50,000 - $60,000.
The most cost-effective business schools in Canada offering high-quality MBA programs include names like John Molson School of Business at Concordia University. The best program to look out for MBA in Canada is the program offered by HEC Montreal with a total tuition of an exceptionally low CAD $34,000. Additionally, the program offered by HEC Montreal is 1 year in duration and therefore, prospective students can also cut down on a lot of other costs which constitute the living expenses in Canada.
9 min read
Mar 17, 2022
Read More
14 min read
Mar 05, 2022
Read More
Furthermore, a shorter program would entail that the candidate can enter the professional environment and start earning earlier. This does not mean that two-year programs are a disadvantage, as they have their own unique features. The best thing to do would be to choose a program that best suits the applicant, both monetarily and otherwise.
MBA in Canada - Ranking, Duration, Fees
B-School

QS Ranking

Avg. Work experience of applicants

Program duration

Tuition Fees

CAD $

World University

Canada

(MBA)

Rotman School of Management, University of Toronto

28

1

8 years

2 years

$120,680

Desautels Faculty of Management, McGill University

33

2

5 years

2 years

$89,000.00

Ivey Business School, University of Western Ontario

214

3

4.8 years

1 year

$92,500

Schulich School of Business, York Université

481

4

5 years

1 year

$99,400

Smith School of Business, Queen's University

239

5

5 years

1 year

$93,000

HEC Montréal




6

7 years

1 year

$34 000

Sauder School of Business, University of British Columbia

47

7

5 years

16 months

$80,060

John Molson School of Business, Concordia University

464

8

13.5 years

16 months

$37,100

Alberta School of Business, University of Alberta

109

9

3.8 years

2 years

$57,909

Beedie School of Business, Simon Fraser University

264

10

5 years

16 months

$51,700
Student Also Liked
Cost of living in Canada
The secondary source of expenditure contributing to the cost of pursuing an MBA in Canada is living costs, which include accommodation, transportation costs as well as personal expenses. The estimated cost of living in Canada varies depending upon the city of residence. Generally, it falls in the range of CAD $965 - $1,160 per month, not including accommodation costs. Accommodation cost depends on various factors, including the type of accommodation which could be either shared or single. Living near the campus would further reduce transportation costs, as well as help students, save time. staying on-campus in a single room at Sauder School of Business costs around CAD $7,650; which saves both money and time.
Typical Living Expenses in Top Canadian Student Cities
City

Top Universities for MBA

Ave. Monthly Living Expenses (approx.)

Montréal

McGill University, Concordia University, HEC Montréal

INR 54,878

CAD $980

Toronto

University of Toronto, York Université

INR 65,922

CAD $1,177

Vancouver

University of British Columbia

INR 59,624

CAD $1,065

London

University of Western Ontario

INR 52,320

CAD $934

Edmonton

University of Alberta

INR 58,714

CAD $1,048
Insurance Fee for pursuing MBA in Canada
For students who want to pursue MBA in Canada, additional charges for health insurance are also required to be paid. Without a valid health insurance, most universities do not offer admission. There is no fixed insurance plan, with universities mostly having their own preferred ones, like University of Toronto has University Health Insurance Plan (UHIP) and Sauder School of Business has Medical Services Plan (MSP). These plans don't have any fixed figures for charges and may vary from program to program, depending on the course duration, extended coverage and the extent of coverage. Sometimes, the overall tuition for MBA in Canada is inclusive of the health insurance charges.
Also in addition to health insurance, travel insurance is also a requirement for prospective students, especially since students are required to travel a lot. While travel insurance isn't mandatory for admission, it is recommended by many universities.
Expenses Related to Admission Requirements
As part of the admission requirement, candidates have to show TOEFL/IELTS scores as proof of English language proficiency. Another major requirement for MBA admission is GMAT or GRE test scores. All of these tests are significantly higher priced and effect any prospective student's pocket to an extent.
Work Opportunities in Canada
While the fee for an MBA in Canada isn't usually as high as the fee for the top programs in the USA, conjuring such finances can still be a challenge for many, especially those coming from economically weaker sections. To overcome these difficulties to an extent, there are a number of options for employment for international students in Canada. Citizenship and Immigration Canada (CIC) allows international students to work on-campus or off-campus or even opt to work as co-opt students or interns during their stay in the country. Students who are qualified for off-campus work can work up to 20 hours a week during their academic sessions and can work full time during the holidays. To be eligible for on-campus work, the candidate needs to be a full-time student and have a valid work permit. This enables students to work at various bookstores, university libraries, and coffee shops.
Students looking for financial help are urged to check out scholarship options, as there are many organizations willing to extend a helping hand to meritorious students.
Also read:
MAD over MBA: Aiming for the Stars
MBA Tuition Fees Across Countries
Best MBA Specializations in the World
MBA in Canada: Know the study cost