How to apply for masters in Canada?


How to apply for masters in Canada - Over 300,000 international students make way to Canada, one of the hottest destinations to pursue higher education. In fact, the last few years have seen a four-fold increase in the number of international students exploring the country's educational system. One of the major factors why Canada continues to attract foreign students is because of its vibrant cities and a plethora of multi-cultural communities. Canada has students from all over the world coming to study in its quality institutions, thereby making it a truly diverse student nation.

Although Canada offers a wide variety of options for graduate studies, many international students are unaware about how to apply for Masters in Canada and what makes them eligible to study at one of its top universities.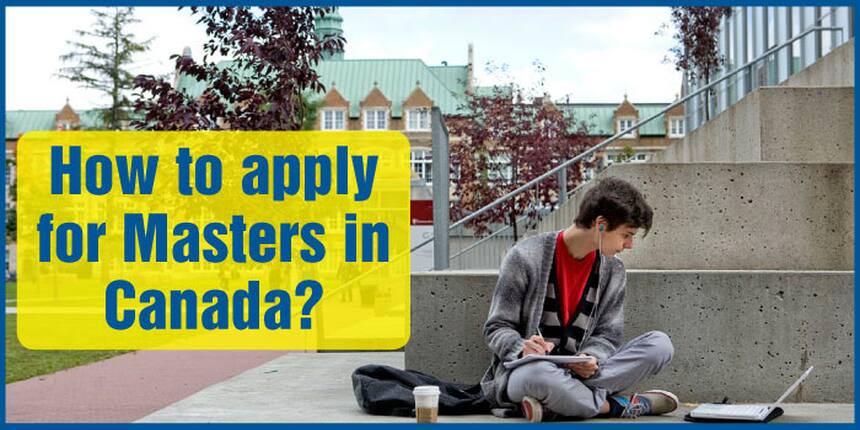 Here we have explained the entire process for applying for a Masters' programme in Canada right from the time you need to research to finally submitting your application form.
Read the steps below to know how to apply for Masters in Canada:
Choose the course you want to study: While most students who plan to study abroad are sure of the programme, there is still room for further research. Canadian universities offer a wide range of courses to international students to explore. So, it is always better to research for courses that you might not be aware of but definitely fall within your area of interest. Not many would be knowing that universities in Canada offer courses in international forestry or petroleum land management.
Know the universities: There are nearly 100 universities in Canada spread over 13 provinces and territories. It gives the international student a lot of options to choose from so many universities. While selecting universities, it is advisable that you keep 8-10 universities in your application checklist. Also, you should start researching for the universities at least 15 months prior to the beginning of the session. If you are interested in applying for Fall, make sure you check out for universities between May and June. That leaves you enough time to go through your exams and arrange for the admission requirements accordingly.
Here are the top universities in Canada:
| | | | |
| --- | --- | --- | --- |
| Institute | THE | QS | ARWU |
| University of Toronto | 20 | 20 | 24 |
| University of British Columbia | 32 | 43 | 37 |
| McGill University | 39 | 21 | 67 |
| McMaster University | 94 | 113 | 90 |
| University of Montreal | 113 | 83 | 101-150 |
| University of Alberta | 124 | 84 | 101-150 |
| University of Victoria | 173 | 290 | 201-300 |
| University of Waterloo | 251-275 | 169 | 201-300 |
| University of Ottawa | 188 | 218 | 201-300 |
| University of Calgary | 226-250 | 171 | 151-200 |
| Dalhousie University | 226-250 | 235 | 201-300 |
| Carleton University | 226-250 | 501-550 | 401-500 |
| Laval University | 226-250 | 298 | 201-300 |
| Simon Fraser University | 226-250 | 222 | 201-300 |
| Western University | 226-250 | - | 201-300 |
| York University | 226-250 | 421-430 | 401-500 |
| Queen's University, Ontario | 251-275 | 187 | 201-300 |
| University of Guelph | - | 431-440 | 201-300 |
| Université de Sherbrooke | - | 441-450 | - |
| Concordia University | - | 461-470 | - |
| University of Saskatchewan | | 481-490 | 301-400 |
| University of Manitoba | 301-350 | 501-550 | 301-400 |
| University of Quebec | - | 501-550 | 401-500 |
Check deadlines:
Admissions for Masters courses at Canadian universities usually start in September though some programmes also open their applications in May and July. For schools, which accept students in September, deadlines range from the fall to winter.
Here are the deadlines:
University

Application deadline(tentative)

University of Toronto

December to January

University of British Columbia

January

McGill University

January- March

McMaster University

January- March

University of Montreal

February

University of Alberta

September admission: July 1

January admission: November 1

May admission: March 1

July admission: May 1
Eligibility:
A majority of the universities in Canada require the applicant to have 16 years of education or a four- year Bachelor's degree. However, students who have completed their Master's degree after a three-year Bachelor's are also eligible to apply for admission to Masters at a Canadian university.
Work experience: Work experience is an important requirement for admission to Canadian business schools. Some specialized colleges might also demand work experience certificates from you. Generally, Canadian universities ask for experience of 2-3 years in a specific field, preferably related to the course of study.
Register for test: The next step in applying for Masters in Canada is to register for the standardized tests required for admission to graduate courses. Some of the tests to be taken are:
GMAT: Most of the business schools in Canada require GMAT as a criterion for admission into a wide range of management programs like Master of Business Administration (MBA), Master of Accountancy and Master of Finance programs. The GMAT evaluates a candidate on four yardsticks: Analytical Writing Assessment, Integrated Reasoning, Quantitative and Verbal. It is valid for 5 years and can be taken within a 16-day break between two tests.
GRE: GRE is accepted by both business schools and other colleges offering Masters related programmes. GRE has three main sections- Analytical Writing, Verbal Reasoning and Quantitative Reasoning.
IELTS: IELTS is a major English language proficiency test accepted by universities in Canada for admission to their Masters programmes.
TOEFL: TOEFL is also accepted as a valid English proficiency test in Canadian universities. TOEFL is an English proficiency for students from non-native English speaking country students. TOEFL is conducted more than 50 times a year at 4,500 test centres in 165 countries worldwide.
Popular Online Language Courses and Certifications

Application package for Masters in Canada:
Academic transcripts: Academic transcripts include all the qualifications that you will list in your application form. Start arranging your transcripts from October itself.
SOP: The Statement of Purpose is required by most universities in Canada for admission to their Masters programmes. The Statement of Purpose details the candidate's reasons for applying for the programme and also his goals in life.The university or department usually sets the word limit to the SOP though usually it is around 500 words.
LOR: The Letter of Recommendation is an assessment of your potential by a third person, maybe a professor or an employer. Most universities require at least two to three recommendation letters.
Resume: Some universities, especially business schools, require you to submit a resume alongwith the application. A resume contains an aspirant's basic information like date of birth, academic qualifications and achievements.
Post applications: The universities which are willing to admit you will send their offer letter by March or April. This is the time to start arranging for your funds. You can either apply for scholarships along with the applications or take education loan from bank. Most banks offer loans upto 15 lakhs rupees. However, there are some others which cover the whole study amount.
Study permit: Apply for the Student Permit with Citizenship and Immigration Canada by May or June. It generally takes about a month for the study permits to be processed.

Students Also Liked

Stay tuned to www.studyabroad.careers360.com for more stories on study opportunities in Canada
Canada Updates and Articles
Questions related to Canada
Showing 458 out of 458 Questions
How to apply for masters in Canada?