Cost of studying in Germany: Germany is always a favorite haunt of international students, and especially those who want to pursue STEM courses. One obvious reason why students want to study in Germany is because its higher education is highly subsidized. Also, Germany is known for its research-oriented education, with the thriving automotive industry among the biggest employers in the country.
One element that sets Germany apart from many of its counterparts is that it offers tertiary education free for both national and international students in its public universities. For students who are anxious about tuition fees in Germany, or for that matter the cost of studying in Germany, there can be no better news, because tuition fee makes up a major chunk of study abroad expenses.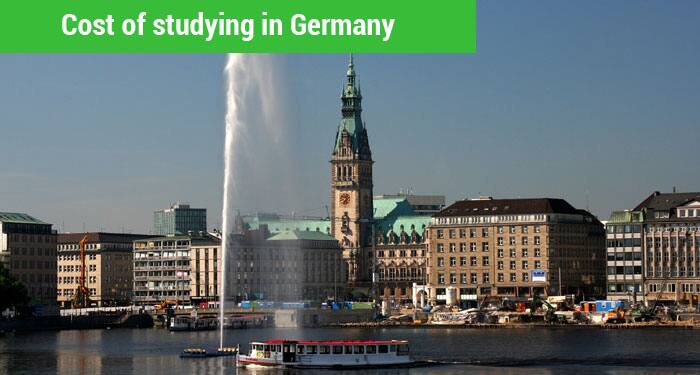 Cost of Studying in Germany for International Students
University costs in Germany
Though public universities do not charge tuition fees in Germany, they charge certain fees in the name of union fee, administrative costs and semester ticket, but they tend to be mostly moderate. Take for example Freie Universität Berlin, which doesn't charge its students any tuition fees, except in the case of continuing education. So, the major expense that remains is related to cost of living in Germany.


Tuition fee at top public universities in Germany:
| | |
| --- | --- |
| University | Amount per year |
| Humboldt University Berlin | EUR 620 |
| Ludwig Maximilian University | EUR 244 |
| Technical University of Munich | EUR 144 |
| University of Heidelberg | EUR 364 |
| Karlsruhe Institute of Technology | EUR 1500 |
| Technical University of Berlin | EUR 308 |
| Free University of Berlin | EUR 354 |
What about private universities in Germany?
Unlike public universities, if you get admission in a private university in Germany you have to pay the customary tuition fees. German private universities charge tuition fees from both local and international students. The cost of completing a particular degree in Germany varies from university to university, but German private institutions are known for their specialized programs and can be competitors to public universities. The average cost of a program offered by a private university is between 15,000 to 28,000 Euros per year.
How to cut costs and finance your studies?
The cost of studying in Germany is much more if studying in a private university than at a public university. To cope with the additional expenses, students can look for scholarships and grants; there are many scholarships like DAAD scholarships which help meritorious but financially weak international students pursue their dreams. Keep a close eye on them.


Cost of living in Germany
A clear picture about the total cost of study will emerge only if we start taking into account the living cost in Germany. There are several components like accommodation, transportation, clothing and health related expenses.


Monthly living expenses in Germany for international students:
The average living costs for international students in Germany is between 700 to 1000 Euros per month. The cost of living will include food, accommodation, transport etc. Living expenses in larger cities like Berlin or Frankfurt will be around 900 to 1,500 Euros per month while in smaller cities like Hannover or Leipzig it will be around 750 to 1,100 Euros per month.
Sometimes even your discipline of study influences your living cost, like if you choose courses like MBA and engineering, some of the best courses in Germany, you may have to take up rigorous internship or practical classes which in turn may prompt you to stay close to the university. Accommodation cost in Germany, as it is elsewhere, is typically more near the university than those far away from it.

Choosing an accommodation:
You will spend most of your time at your chosen accommodation, outside the class room. Therefore, make a wise decision while zeroing in on accommodation in Germany. Students often get confused whether to go for on-campus or off-campus accommodation. If you want privacy and independence, off-campus accommodation will suit you, but the university will not be responsible for your wellbeing in such cases. But if you go for on-campus accommodation, the university will look after your wellbeing and you will get to stay in a close community.

Students are also suggested to check out homestay accommodation, as they allow students a great opportunity to improve their knowledge about the locality and its culture, apart from providing the safety of staying in a family environment.

Remember, accommodation cost in Germany can be kept to a bare minimum with the right amount of research; so don't shy away from doing the requisite homework.


Admission requirements that contribute to cost of studying in Germany
Eligibility criteria for MBA aspirants include GMAT or in some cases GRE test scores. You must pay the exam fee for whatever exam you choose.
Insurance-related expenses
Whether you are studying in the USA, Canada, Australia, or for that matter Germany, you will have to produce evidence of sufficient health insurance coverage. Most universities in Germany, public universities included, require students to submit certificates detailing their medical cover at the time of enrollment, or before the commencement of classes. So, it is important to find an affordable health insurance.

Students in Germany have the option of choosing between a Statutory Health Insurance Plan and Private Insurance Plan. Health insurance costs can be between 95-115 Euros per month based on the insurance provider.


Also, studying abroad means you will be doing some serious travelling which would mandate a travel insurance plan to cover exigencies like baggage loss, ticket cancellation and medical emergencies. It isn't a mandatory admission requirement though.
Stay tuned to www.studyabroad.careers360.com for more stories on Germany
Best countries to study abroad