Ireland has become a popular study abroad destination for international students, owing to the many courses it offers and the quality of education in its universities. The tuition fees for courses are reasonable and international students have the opportunity to work while they are studying. On top of it, Ireland also offers many post-study work opportunities. These are some of the reasons more international students are choosing to study in Ireland.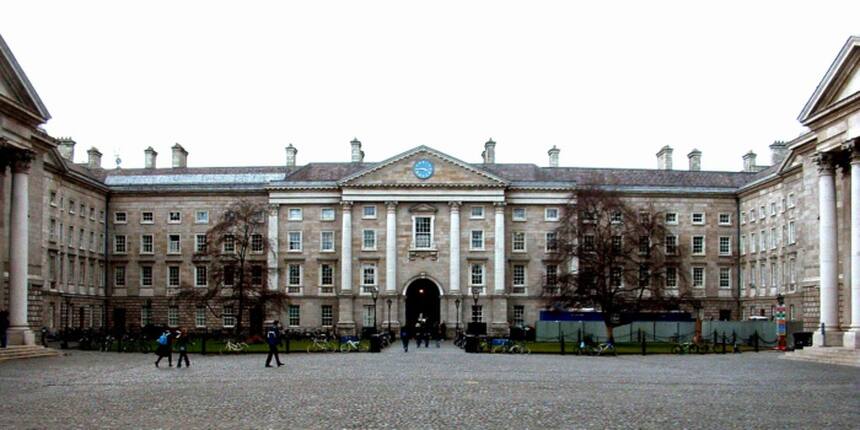 One of the attractive options for international students is to do a masters course in Ireland. Even though Ireland is a relatively small country, the universities here have a formidable infrastructure and a high quality of teaching which is on par with the best universities in the world. The other reasons to do masters in Ireland are:
Ireland is an English-speaking country, so language issues are minimal for those coming from other countries to study here. There is no requirement to learn the local language.

Irish universities offer a diverse environment owing to the large number of international students who study here.

Ireland is home to ancient universities, for instance, the Trinity College, Dublin, is one of the oldest institutions in the world.
Also read
Benefits of studying in Ireland
Masters in Ireland for international students
There are about 13 universities in Ireland that offer a masters course. The length of a MS course in Ireland is between 1-2 years and the average fee for a masters degree is around 4000 Euros. The duration of the academic year is between September to August.
The universities here are internationally renowned and many of them offer masters courses to students. International students wishing to do an MS in Ireland can either study at a university or at an institute of technology based on what they wish to study.
Top universities in Ireland for masters course
There are many universities in Ireland for masters and more than a quarter of the students studying at these universities are graduate students. The universities here offer excellent course curriculum and research programs for students wishing to pursue MS in Ireland.
Universities in Ireland offer masters courses in a wide range of subjects and diverse fields. In fact a quarter of the students in Irish universities are pursuing a masters course. The universities here offer excellent course curriculum and research programs for students wishing to pursue MS in Ireland.
According to the QS world university rankings for 2023, here are the top eight universities of Ireland.
| | | |
| --- | --- | --- |
| | Name of University | QS Ranking |
| 1 | Trinity College Dublin,University of Dublin | 98 |
| 2 | University College Dublin | 181 |
| 3 | National University of Ireland,Galway | 270 |
| 4 | University College,Cork | 303 |
| 5 | Dublin City University | 471 |
| 6 | University of Limerick | 531-540 |
| 7 | Maynooth University | 801-1000 |
| 8 | Technological University Dublin | 801-1000 |
These are some of the best universities in Ireland to pursue a masters degree. Here are some masters programs or MS courses that international students can consider pursuing in Ireland.
Masters in finance

Masters in computer science

Masters in dietetics

Masters in computer science

Masters in marketing

Masters in data science

Masters in economics

Masters in physiotherapy

Masters in psychotherapy

Masters in clinical psychology

Masters in accounting

Masters in forensic science

Masters in economics

Masters in nursing

Masters in cyber security
Irish institutes of technology: International students looking at a MS in Ireland can also consider Irish institutes of technology or IoTs that were established for imparting professional education and training to meet the employment needs of high skilled industries.
However they have now expanded to cover subjects as diverse as technology, humanities, media, science and the arts. Though most of these IoTs offer undergraduate programs, some of them do offer post graduate programs.
Indian students considering a MS in Ireland can consider the Irish cities of Dublin, Cork, and Galway or Limerick to do their masters course where some of the well-known universities are located.
Popular exams for study abroad
Structure of a masters course in Ireland
Masters courses in Ireland are open to students who have finished an undergraduate degree. The length of a masters degree in Ireland is one year if it is a full-time course whereas some MS courses can be of two years especially if they are research-based study programs.
If it is a two-year program, you will spend the first two semesters in completing your study units and the next two semesters on a research project and dissertation. The dissertation will influence your grade and will be assessed by external examiners.
If you wish to further study for a doctoral degree then you can enroll for a Masters by research program.
The structure of the academic year is between September and August. Classes are conducted between September to December and again between January and June with vacation breaks for Christmas and Easter and the summer break.
Cost of masters program in Ireland
While the cost of MS programs in Ireland will vary between universities, international students should pay the same fee as domestic students.
The cost of a one-year post graduate degree program for EUand EEA students will be around 4,400 to 10,000 Euros per year whereas it will be on the higher side for courses like business and medicine which is around 20,000 to 30,000 Euros.
For non EU and EEA students a one year program will cost between 9,950 to 34,500 Euros while the cost of courses in business schools and medical schools will be on the higher side.
Funding options for masters in Ireland
Students can explore funding options such as scholarships from charitable organizations and government institutions such as the Irish research council.
Eligibility requirements to apply for a masters in Ireland
Students should have passed an undergraduate degree in a relevant subject preferably with a second class honors degree.
Application to a masters in Ireland
International students can apply for a masters in Ireland through the Postgraduate Applications Center (PAC). This is an online portal where students can get information on various masters programs in Ireland, and requirements for individual programs. The PAC conducts the whole admission process from providing information to confirmation of admission. Students can apply for multiple courses but will have to pay a non-refundable processing fee of 50 Euros.
Study visa requirements to do masters in Ireland
Students from non-EU/EEA countries will have to apply for a Ireland study visa to enter Ireland and register with the The Irish Naturalization and Immigration Service (INIS) if they plan to live in Dublin or with the Garda National Immigration Bureau (GNIB) if they are planning to live outside Dublin. They will also require an Irish Residence Permit or IRP which will cost 300 Euros.
Visa application for masters in Ireland
International students will require an Ireland study visa to do a postgraduate program in Ireland. They will have to provide:
A valid passport.

Proof of admission from an Irish university.

Proof of having health insurance (if required).

Proof of having enough funds for your studies.
Work options after masters in Ireland
Ireland is always open to the idea of providing employment to international graduates in Ireland after their studies. The third level guarantee scheme is designed to promote this aspect.
Under this scheme non-EU and EEA students can work in Ireland for 24 months in a full-time job of up to 40 hours per week after their graduation. They do not require any special permit but will have to renew their residence permit to make use of this option. They will need a letter from their university confirming the completion of a graduate course.
The graduate permit will be initially renewed for 12 months and you can renew it for another 12 months provided you can prove that you have been looking for employment. You can even apply for the Irish Green card which is a permanent work permit when you have found a suitable job in Ireland.
Student Also Liked
Frequently Asked Question (FAQs) - Masters in Ireland
Question: What are the documents that are required for application to a masters program in Ireland?
Answer:
Copies of your academic certificates.
Letters of recommendation.
Copy of your passport.
Copy of your resume.
Results of English language proficiency test.
A SOP if required.
Question: What are the eligibility requirements to study MS in Ireland for Indian students?
Answer:
Applicants to MS courses in Ireland must have a bachelor's degree or diploma. The undergraduate degree must be relevant to the master's program the student wants to pursue.
Students must have a 2.1 honors degree or a minimum score of 60 percent in their undergraduate course from an Indian university.
Students must also have a high level of English language proficiency.
Question: When should one apply for postgraduate courses in Ireland?
Answer:
The universities in Ireland have two-semesters. The academic sessions start either from late August or early September and end in May. One can start the application process in February till the last week of March. The dates may however vary for different universities and the application period for masters in Ireland is nearly 9 months.
Question: What is the duration of the masters course in Ireland?
Answer:
Most of the courses have a one-year duration of full time study while some courses have a two-year duration.
Question: Is it possible to get a scholarship to study MS in Ireland?
Answer:
International students wishing to study MS in Ireland can apply for scholarships offered by the Irish government and other organizations based on merit. These are some of the scholarships available to international students.
Government of Ireland Postgraduate Scholarships

Government of Ireland International Education Scholarship

University Scholarships

Scholarships offered by nonprofit or private organizations.
Ireland Updates and Articles
Questions related to Ireland
Showing 3 out of 3 Questions
126 Views
what could be the pay in india after mim from ucd smurfit or Trinity college of Ireland?
Hello aspirant.
you need to select the right countries for the MIM. France, the Netherlands, Germany and Sweden have 12–18 month stay back periods during which you can search for a job. You should be able to secure one after an MIM even with limited work experience because the degrees carry a lot of value in those countries. As of 2020, the UK is offering a 2-year stay back period for your job search as well. Hence you can consider these destinations.
159 Views
Where is the HPAT Ireland class in Mumbai?
Hello Tanuja, I don't think there are an HPAT classes in mumbai. HPAT is meant for the EU students who want to take admission in Medicine course in colleges in ireland. So, india is a non-EU country, so there is no need of taking the HPAT test because there is no need. That is the main reason there are no HPAT coaching in india.