AROUND 70-100

scholarships are offered by various universities  for international students.
The Netherlands offers a wide variety of study options to students with 1,465 courses being offered in English as a medium of instruction. According to the Neso (Netherlands Education Support Office) Desk India, there is a growing interest among international students to study in the Netherlands. The courses applied for in the order of popularity are Engineering, Management, Biotechnology, Architecture & Urban Planning, agriculture-related studies, dairy-related studies and Social Sciences.

Higher education system in the Netherlands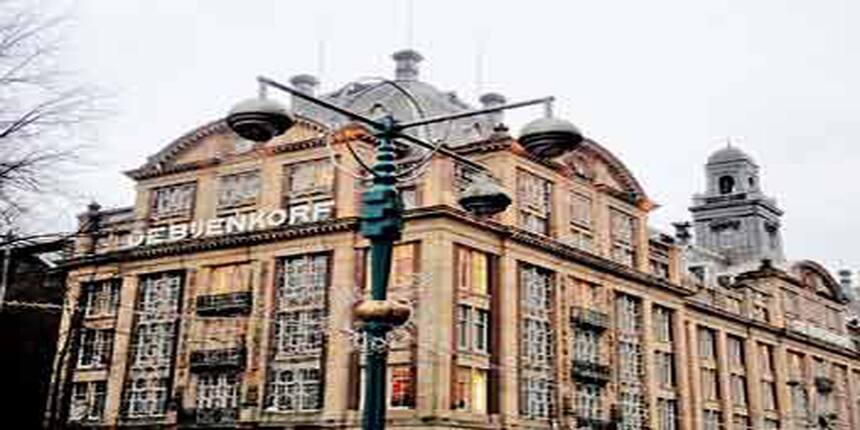 Higher education in the Netherlands is organised around a three-cycle degree system, consisting of bachelor's, master's and PhD degrees.
Two types of higher education programmes are offered to study in the Netherlands: research-oriented degree programmes offered primarily by research universities, and professional higher education programmes offered mainly by the universities of applied sciences.

Primary and secondary education in the Netherlands
Children are allowed to begin school at the age of four, but are not legally required to do so until the age of five. Primary education lasts eight years (of which seven are compulsory). During their last year, students are advised on the type of secondary education they should pursue.
Secondary education, which begins at the age of twelve and is compulsory until the age of sixteen, is offered in various forms and at different levels. VMBO programmes (four years) combine general and vocational education and prepare pupils to go on to senior secondary vocational education and training (MBO), lasting one to four years. There are two types of general education that grant admission to higher education: HAVO (five years) and VWO (six years). Pupils are enrolled according to their ability. The last two years of HAVO and the last three years of VWO are referred to as the 'second phase' (tweede fase), or upper secondary education. During these years, pupils focus on one of four subject clusters (profielen), each of which emphasises a certain field of study in addition to satisfying the general education requirements. Each cluster is designed to prepare pupils for study at the tertiary level. A pupil enrolled at a VWO or HAVO  school can choose from the following subject clusters:
1.  Science and Technology (Natuur en Techniek)
2.  Science and Health (Natuur en Gezondheid)
3.  Economics and Society (Economie en Maatschappij)
4.  Culture and Society (Cultuur en Maatschappij)
Only the six-year VWO diploma grants access to bachelor's programmes at research universities; the HAVO diploma and the highest level of MBO grant access to bachelor's programmes at universities of applied sciences.

Higher education in the Netherlands
HOMESTAY PROVIDERS

ensure international students are well looked after
Higher education in the Netherlands is offered at two types of institutions: research universities and universities of applied sciences. Research universities include general universities, universities specialising in engineering and agriculture, and the Open University. Universities of applied sciences include general institutions as well as institutions specialising in a specific field such as agriculture, fine and performing arts or teacher training. Research universities are primarily responsible for offering research-oriented programmes whereas universities of applied sciences are primarily responsible for offering programmes of higher professional education, which prepare students for specific professions. These tend to be more practice oriented than programmes offered by research universities.
In this binary, three-cycle system, bachelor's, master's and PhD degrees are awarded. Short-cycle higher education leading to the associate degree is offered by universities of applied sciences. Degree programmes and periods of study are quantified in terms of the ECTS credit system.
The focus of degree programmes determines both the number of credits required to complete the programme and the degree which is awarded. A research-oriented bachelor's programme requires the completion of 180 credits (three years) and graduates obtain the degree Bachelor of Arts or Bachelor of Science (BA/BSc), depending on the discipline. A bachelor's degree awarded in the applied arts and sciences requires 240 credits (four years), and graduates obtain a degree indicating the field of study (for example, Bachelor of Engineering, B Eng, or Bachelor of Nursing, B Nursing). An associate degree in the applied arts and sciences requires 120 credits (two years), and students who complete the two-year programme can continue studying for a bachelor's degree in the applied arts and sciences.
A research-oriented master's programme requires the completion of 60, 90 or 120 credits (one, one-and-a-half or two years). In Engineering, Agriculture, and Mathematics and the Natural Sciences, 120 credits are always required. Graduates obtain a Master of Arts or Master of Science (MA/MSc). A master's degree awarded in the applied arts and sciences requires the completion of 60 to 120 credits and graduates obtain a degree indicating the field of study (for example, Master of Architecture, M Arch).
The third cycle of higher education in the Netherlands, leading to a PhD, is offered only by research universities. The major requirement is completion of a dissertation based on original research that is publicly defended. All research universities award the PhD. In addition to doctorate programmes, the three engineering universities offer technological designer programmes consisting of advanced study and a personal design assignment in a number of engineering fields. The technical designer programme requires two years of study to complete and graduates obtain the degree Professional Doctorate in Engineering (PDEng). The training of medical specialists is the responsibility of the professional group in an organisational setting at a university hospital.

Requirements for access to higher education in the Netherlands
For access to research-oriented bachelor's programmes, students are required to have a VWO diploma or to have completed the first year (60 credits) of a bachelor's programme at a university of applied sciences. The minimum access requirement to universities of applied sciences is either a HAVO diploma or a diploma of secondary vocational education (MBO), provided certain conditions are met. The VWO diploma also grants access to universities of applied sciences. For access to both types of higher education, pupils are required to have completed at least one of the subject clusters that fulfil the requirements for the higher education programme in question. A quota, or numerus fixus, applies for access to certain programmes, primarily in the medical sciences, and places are allocated mainly using a weighted lottery.
Potential students older than 21 years who do not possess one of the qualifications mentioned above can qualify for access to higher education on the basis of an entrance examination and assessment (recognition of prior learning). For access to certain programmes, particularly those in the fine arts, students have to demonstrate the required artistic abilities and interest. The only access requirement for the Open University is that applicants must be minimum eighteen years of age.
For access to all master's programmes available, a bachelor's degree in one or more specific disciplines is very essential, in some cases in combination with other requirements. Graduates with a bachelor's degree in the applied art subjects and sciences usually have to fulfil additional requirements for access to a research-oriented master's programme.

Credit system and grading
A student's workload is measured in ECTS credits. According to Dutch law, one credit represents 28 hours of work and 60 credits represent one year of full-time study. The grading system used in the Netherlands is on a scale from 1 (very poor) to 10 (outstanding). The lowest passing grade is 6; 9s are seldom given and 10s are extremely rare. Grades 1-3 are hardly ever used. The academic year is 42 weeks long.

Quality assurance and accreditation
A guaranteed standard of higher education, and alignment with the Qualifications Framework for the European Higher Education Area, is maintained through a system of legal regulation and quality assurance, in the form of accreditation. The Ministry of Education, Culture and Science is responsible for legislation pertaining to education. The agriculture and public health ministries play an important role in monitoring the content of study programmes in their respective fields. Though any institution can offer programmes only accredited colleges can offer degrees.
Quality assurance is carried out through a system of accreditation, which is administered by the Accreditation Organisation of the Netherlands and Flanders (NVAO). According to the Dutch Higher Education Act, all degree programmes offered by research universities and universities of applied sciences must be evaluated according to established criteria.
Programmes that meet the criteria are accredited for six years. Only accredited programmes are eligible for government funding; students receive financial aid and graduate with a recognised degree only when enrolled in, and after having completed, an accredited degree programme. All accredited programmes are listed in the Central Register of Higher Education Study Programmes (CROHO).

Cost of Education and Scholarships in the Netherlands
Dutch higher education is subsidised and tuition fees are relatively low. There are many sources of funding available to you for studying in Holland.
Annual tuition fees for a degree programme or course at a Dutch higher education institution start at approximately €1,700 for EU students. The costs of programmes and courses for non-EU students are generally higher. The average tuition fee for them for bachelor's programmes lies between €6,000 and €12,000, whereas the costs for a master's programme lie between €8,000 and €20,000.
Before you start searching for scholarships check if your institution has an exchange programme with a Dutch institution. This is the easiest and cheapest way to study in Holland.
Some countries offer financial support or assistance to their students when they enrol in regular degree programmes abroad. They help either directly which is in the form of a monthly grant or loan or indirectly by providing  tax benefits for your parents.
Contact the international office of your university to check the options suitable and  available to you. Visit Grantfinder to find out which scholarships are available for you

Student life in the Netherlands
Although the buildings of a single university might be spread throughout a city and only some higher education institutions  have campuses, they do have a real student culture.
Each institution has a network of associations that bring students together for academic activities, sports and recreation. They are run by students, and some of them are internationally oriented. Two of the larger international student associations are AIESEC and the Erasmus Student Network (ESN). 
International students also experience the warmth in the attitude of the Dutch and say it is easy to coexist there. Even the classroom relationships are very candid. The students have all the freedom to pose questions and enter into arguments with the teachers. This makes the environment conducive for the students
Many cities also have several separate student associations, not connected to any institution. And there are usually pubs, restaurants and other meeting places where many students hang out.
Generally speaking, the Dutch higher education community seeks to be part of society and is not isolated from it.

General Information:
1.  A student can work 10 hours per week during his study & full time during vacations.
2.  No personal interviews
3.  4 weeks required for visa approval 
4. Students from EU/EEA member states do not need  a residence permit to be allowed to work in the Netherlands.


Useful Websites to study in Netherlands
www.nuffic.nl
Website of the Nuffic, the Netherlands organisation for international cooperation in higher education, which is also the Dutch ENIC/NARIC.
www.rijksoverheid.nl/ministeries/ocw
Website of the Dutch Ministry of Education, Culture and Science (OCW).
www.vsnu.nl
Website of the Association of Universities in the Netherlands (VSNU), the umbrella organisation of research universities in the Netherlands.
www.hbo-raad.nl
Website of the Netherlands Association of Universities of Applied Sciences (HBO-Raad), the umbrella organisation of universities of applied sciences in the Netherlands.
www.knaw.nl
Website of the KNAW, the Royal Netherlands Academy of Arts and Sciences (Koninklijke Nederlandse Akademie van Wetenschappen).
www.nwo.nl
Website of the NWO, the Netherlands Organisation for Scientific Research (Nederlandse organisatie voor Wetenschappelijk Onderzoek).
www.nvao.net and http://.nvao.com/nqf-nl
Websites of the Dutch-Flemish Accreditation Organisation (NVAO), including an overview of accredited programmes and information on the National Qualifications Framework the Netherlands.
www.ib-groep.nl/zakelijk/ho/croho/croho.asp and www.internationalstudy.nl
Websites of the Dienst Uitvoering Onderwijs with the CROHO register and with a list of institutions that have signed the Code of Conduct.
www.nuffic.nl/internationalstudents
Website provided by Nuffic with detailed information about studying in the Netherlands.
www.pieonline.nl
Website of the Platform for International Education with information about the Institutes for International Education.
www.s-bb.nl
Website of SBB, the foundation for Co-operation on Vocational Education, Training and the Labour
Market.
http://nlnrp.nl/certificaatsupplement.html
Website of the National Reference Point for information on vocational education, including information on Certificate Supplements.
Source: Nuffic Neso India
 (Based on inputs  from the Dutch embassy )
Netherlands Updates and Articles
Questions related to Netherlands
Showing 1 out of 1 Questions
18 Views
Does one require 16th year of eductaion to do their Masters in the Netherlands?
Hello aspirant,
You definitely need to do your 16th year of study which is your 11th in order to do masters not only in Netherlands but in all countries. You have to complete you 10+2 and degree in order to peruse a masters degree. It is the basic compulsion in all countries.
Hope the above information helped you!
Thank you!