Engineering in New Zealand: How much does it cost?
Many students choose New Zealand as a study abroad destination because it offers high quality education and has an innovative education system that is in tune with the student's needs. Among the many reasons to study in New Zealand, the education system here is a combination of traditional teaching methods and technology enabled learning. Students are encouraged to think independently and discover solutions on their own which will help them develop unique ideas.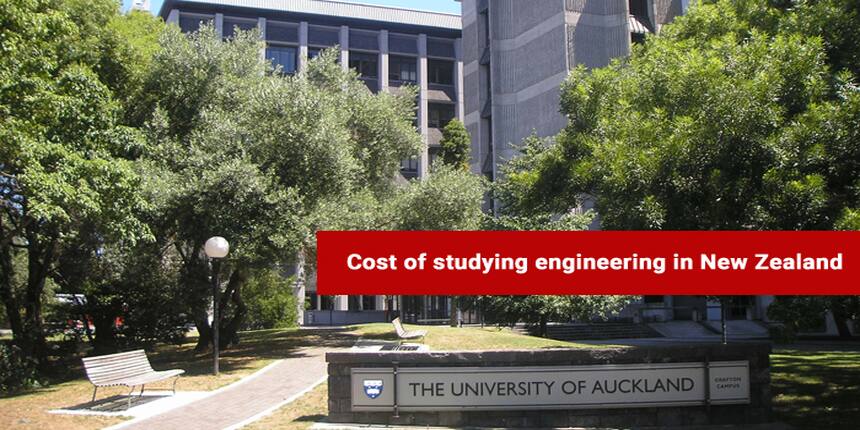 Also, the small class size, typical of most universities in New Zealand, is built for hands-on education. Many students come to New Zealand because the tuition fee is amongst the lowest in the world, or may be because they want to take advantage of the abundant work opportunities that are on offer.
If you are planning to study engineering in New Zealand, then these are good reasons you can consider.
Studying engineering in New Zealand! You can pick a university at random and yet chances are things won't go wrong. Universities like AUT use cutting-edge technology and universally-acclaimed faculty to impart great skills and technical and theoretical know-how to students so that they can go out and chart their own success stories across the world. But while quality is an assured commodity at universities in the country, students want to know about the cost of studying engineering in New Zealand, like whether there is a substantial difference in tuition fee between the universities.
Engineering in New Zealand: Tuition Fees
If someone enquires us about the cost of studying engineering in New Zealand, naturally our mind goes to the tuition fee of the program, which probably has to do with the fact that tuition fee makes up the bulk of the study-abroad expenses.
Like in the undergraduate level, the University of Auckland charges an annual tuition fee of NZ$40,633, while the University of Canterbury has a fee range of NZ$29,100- $38,900 for different engineering specializations.
Meanwhile, Auckland University of Technology (NZ$34,910) and Massey University (NZ$31,410 - $34,590) find themselves locked in a close battle regarding tuition fee.
Besides these two universities, there are Victoria University of Wellington, University of Otago and University of Waikato where tuition fee is in the range of NZ$ 31,000 - NZ$33,000 making them the cheapest options available. Generally speaking, universities with low tuition fees would certainly lower the cost of studying engineering in New Zealand, but it shouldn't be the only criteria for selecting a university. The city where the university is located can be a good reason in itself whether to pick or reject a university. After all, these days the concept of student cities is gaining momentum and students want holistic development instead of being bogged down by only academic concerns.
Engineering Fee at top universities in New Zealand
QS Ranking

Annual Tuition fee

Undergraduate

Postgraduate

The University of Auckland

82

NZ$40,633

NZ$37,025 (Engineering); NZ$45,512 (Engineering -geothermal energy courses)

University of Otago

173

NZ$27,700

NZ$29,800

University of Canterbury

211

NZ$29,100- $38,900

$35,600- $36,480

Victoria University of Wellington

229

NZ$31,439

NZ$34,118

Massey University

337

NZ$31,410 - $34,590

NZ$ 34,590

University of Waikato

338

NZ$31,390

$33,310 (Engineering -Master's Thesis); $34,430 (Engineering – Postgraduate)

Auckland University of Technology (AUT)

481-490

NZ$34,910

NZ$34,910
Engineering in New Zealand: Cost of living
Moving on from tuition fee, the next item on our list is living cost. Now while you can easily budget for tuition fee, figuring out the cost of living isn't so easy. Also, how your living expenses look like will depend largely on the choices you make, and not on some external stimuli, like you may choose between renting flats, homestay or hall of residence as your accommodation. You can opt to go for a movie or opt out; use public transport to commute to your university, get a pillion ride on your friend's bike or, have your own private vehicle. Now change any of these variables, and you will get a completely different picture of cost of living. Generally, it is advisable for students, though, to use every means they can adopt to keep a tight leash on cost of studying in New Zealand under, without affecting their studies.


Living cost for international students in New Zealand
In addition to the expenses mentioned in the above chart, there are additional one-off expenses, including around $500 and $1000 on books and another $600 - $900 on clothing. Students in New Zealand are also expected to pay one-off placement fee which facilitates them to find the correct host family. All these additional costs add up to around $1660-$2460.


Additional one-off expenses
| | |
| --- | --- |
| One off placement fee | $330 |
| Books and stationery | $500 - $1000 |
| Parking | $230 |
| Clothing | $600 - $900 |
| Total | $1660-$2460 |
Contribution of insurance fee to cost of studying engineering in New Zealand
Health insurance is required for admission into universities in New Zealand. But unlike most other academic destinations, universities in New Zealand have designed their own collaborative health insurance plan, Studentsafe-University. A group insurance plan, it is valid for the entire duration of the student's study program.

Engineering fee in NZ normally includes the premium for the Studentsafe-University, and students don't have to fill a separate application form for availing the benefits of Studentsafe-University, as the premium is included in the tuition fee itself. You are, however, permitted to opt out of this plan and instead go for a private plan of your choice; the only condition being the private plan must provide comparable coverage.
As for travel insurance, you will be covered by the university's travel plan for all study-related travel and don't have to pay any extra money.
Engineering in New Zealand: Expenses related to admission requirements:
Exam-related expenses are at many times overlooked, but they also make a difference in the final analysis when calculating the overall cost of studying engineering in New Zealand. English language proficiency tests like TOEFL and IELTS also require you to pay a certain fee. If you don't account for these small expenses, their accumulated value can stump you. So better to be prepared than to be sorry!
Also read:
Top courses to study in New Zealand
Stay tuned to www.studyabroad.careers360.com for more stories on New Zealand
Frequently Asked Question (FAQs) - Engineering in New Zealand: How much does it cost?
Question: Are engineers in demand in New Zealand?
Answer:
New graduates are in high demand and there is a shortage of skilled engineering professionals in New Zealand. The government is encouraging engineers to move to New Zealand because there are many engineering jobs on the Immigration New Zealand skill shortage list.
Question: What are the accommodation options available to international students in New Zealand?
Answer:
The leading universities here offer accommodation in the campus to international students provided they apply on time. The other options are renting out an apartment with other students or going for home-stay options where students can stay with a local family.
Question: Is New Zealand good for engineering?
Answer:
With a wide range of degrees offered at institutions across the country, New Zealand is a great place to study engineering. Some engineering courses in New Zealand are offered through universities, such as the 4-year Bachelor of Engineering course offered by 6 out of 8 universities.