Work Opportunities in New Zealand for International Students- Work opportunities in New Zealand for International Students: With each passing year an increasing number of students from India travel to New Zealand to pursue higher studies, owing to the number of benefits of studying in New Zealand. But there is another, often downplayed reason why students are heading to New Zealand in large numbers- it is the flexibility and scope of working part-time in the country while also pursuing one's studies. International students in New Zealand are allowed to work up to 20 hours per week to support their studies. Apart from reducing their financial burden, these work opportunities in New Zealand are a great way for international students to get acclimatized to NZ's way of life, and culture and get a first-hand experience of the job market. We will look at more details on work opportunities in New Zealand in this article.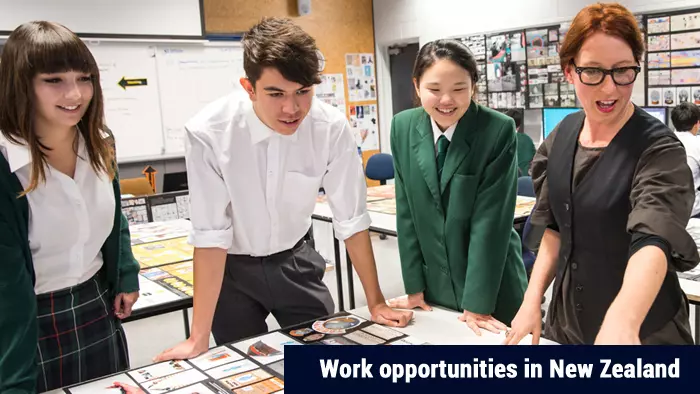 Work opportunities in New Zealand for International Students
Advantages of work opportunities while studying in New Zealand
The cost of pursuing a programme in New Zealand can be offset by earning from part-time work. An MBA course from any of the top universities in New Zealand can cost you between 55,000 to 65,000 New Zealand dollars. Now if you can find yourself a part-time job, you will be assured of NZ $20 per hour, which translates to NZ $400 per week, assuming you work the maximum allotted 20 hours per week. So, by the end of the year, you will have almost NZ $ 20,800 in the bank, which more or less takes care of your living expenses and part of your tuition fees as well. This is what makes work opportunities for international students in New Zealand worth exploring. And don't forget that NZ $ 20 is the minimum you will be earning; if you are lucky enough and have the skills, you can earn much more than that. Moreover, if you have a scholarship, getting a job would only help balance out the course fee and other expenses.


While work opportunities in New Zealand for international students are encouraging, there are certain criteria and student visa policies set by the New Zealand government that students have to fulfil. Let's check them out:
Working during the term
Using your Student Visa, you are permitted to work part-time for up to 20 hours per week, while during scheduled holidays, you can even work full-time. The only concern while taking up a job should be that your work shouldn't affect your studies, as it should be your top priority.

To take advantage of the 20-hour work window, you have to meet one of seven requirements. Three of the most common requirements include:
Your study programme should be of a minimum two-year duration

If your study leads to a qualification that falls under the Skilled Migrant Category, you will be allowed to work.

If your study period is for at least one academic year and is part of an authorised tertiary student exchange programme, you can work in the country.
However, there are some special cases under which students may be allowed to work more than the prescribed 20-hour limit. These may include:
Programmes which require you to earn a set number of hours as work experience
Students in master's or Ph.D. programmes at a tertiary institution in New Zealand are allowed to work unlimited hours.
Use scheduled breaks to work full-time
Unlike during the term, there are many work opportunities in New Zealand for international students that allow them to work full-time during scheduled breaks.
If you are enrolled in a one-year academic programme that is worth 120 credits or more, you can work during all the scheduled breaks.
You have at least one year of full-time study in New Zealand.
If you are studying in a course that has a credit value of 120 and is spread out over an eight-month period, or at least two semesters, you may work full-time over the Christmas and New Year's holidays.
Required conditions for students to work while they study in New Zealand
If you are permitted to work part-time or full-time in New Zealand, your New Zealand work privileges will be listed on your e-Visa. It will be written in a letter or put in your passport. If you are not eligible to work but try to work, you may have to leave New Zealand and drop out of your studies because this is a violation of visa conditions.
Students are not permitted to work as a prostitute, invest in a prostitution business or operate a prostitution business in New Zealand.
Students must pay taxes if they are working in New Zealand.
Employers demand that you get proper permission
Unless you have the documents to prove you have the requisite permission, employers won't employ you. So, it is a good idea to have all work permits in place before approaching a potential employer.
Work opportunities in New Zealand for students
International students can find work opportunities in New Zealand in various sectors. Some of the job roles they can apply for are:
Tutor

Retail Sales Assistant

Waiter/Waitress

Sales Worker

Bartender

Call centre worker

Supermarket Assistant

Cook

Kitchen Hand

Office Clerk
Students can find job postings for part-time jobs in various portals such as the student job search portals, university support service pages, online platforms etc. in New Zealand.
Working while you study in New Zealand will help you earn some money that can help pay a part of your tuition fees through your income and get you valuable work experience which will help greatly in your job search once your course is over.
You might like to read about