Steps to take education loan
Steps to take an education loan: An Education loan process has several steps, right from calculating the finances to disbursement of the loan. Generally, getting an education loan sanctioned is a tedious task for both students and parents. Many a time, people make simple mistakes in calculating the finances and submitting the documents which in turn delay the entire process. This article explains the process of getting an education loan stepwise. You can read education loan from SBI to study abroad 2022-23.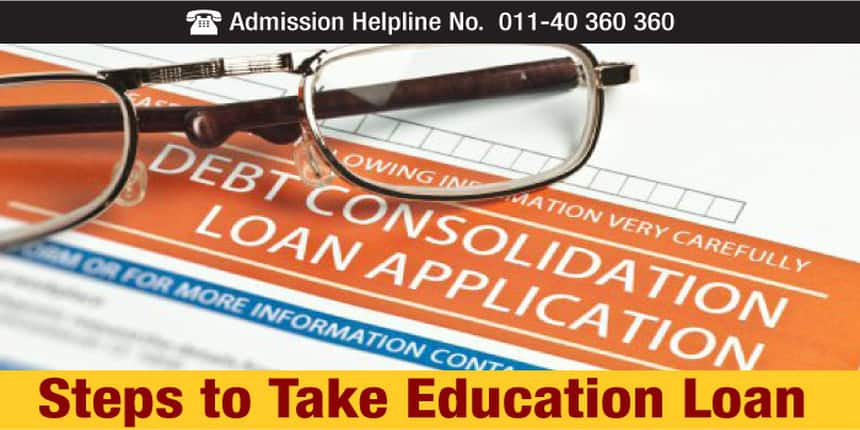 Step 1: Fill in the application form
The candidates can either collect the application form from the banks or apply online by visiting the bank's official web page. The candidate must have in hand his/her admission offer letter from the university along with the details of the study expenditure. The candidate must also provide the required documents for education loan such as:
Passport size photograph

Resident proof of the applicant

Photo identity proof

Academic documents

Income proof of the guarantor
Step 2: Verification of the details and documents
Once the candidate submits the application form along with the supporting documents for student loan, the bank will verify the details. The process of verification differs from bank to bank. Some banks prefer a personal conversation with the candidate where they enquire about academic qualification and excellence. In case the bank requires more details, it will inform the candidate.
Step 3: Sanction/ rejection of education loan
If the bank is satisfied with the documents provided by the candidate, it sanctions the educational loan. Once the loan is sanctioned, the bank will issue a Loan Offer Letter mentioning the amount to be given to the candidate. The candidate can use this letter for admission process to state the source of income to support his/her studies. The bank also sends an Education Loan Agreement to the student, which states the terms and conditions of the student loan, interest rate and repayment strategies. Once the loan is granted, the student needs to sign a promissory note.
Step 4: Disbursement of education loan
Once all the formalities are completed, the bank will disburse the education loan. The education loan amount is given to the candidate through:
Demand Draft

Cheque

Electronic transfer to the university
Also read:
Study abroad Education loan: How it works to your advantage
Top Education Loan Providers in India to study abroad