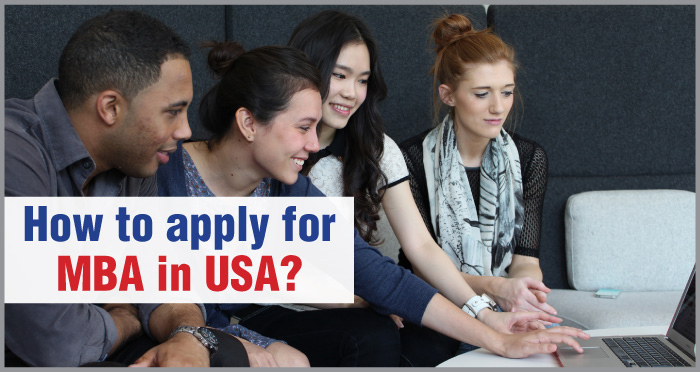 How to apply for MBA in USA?
An MBA from a university in the USA is one of the most sought after courses among international students vying for a management degree. The international students' preference for the US can be gauged from the fact that more than 50 percent of students wishing to pursue management studies abroad send their GMAT scores to the US universities every year. 
However, one of the biggest hurdles that an aspirant faces is how to apply for an MBA in the USA? They are confronted by questions like when does the application process start, what are the requirements of the business schools, whether GMAT score is enough for qualification or how much weightage is given to SOP, LOR and the rest of the application package.
Here we have explained the entire process of applying for an MBA programme in the USA right from the time needed to research for universities to submission of application forms.
Read ahead how to apply for MBA in USA


Research for Business schools: The first thing to consider before applying for MBA in the USA is to check the colleges that offer courses the applicant wants to pursue. It should be noted that the USA is known for management studies offering degrees on a wide range of business programmes right from full-time to executive programmes. Therefore, the applicant should have a clear understanding of the programme he wants to pursue and his area of specialization.
Here are the top management schools in USA:
| | | | |
| --- | --- | --- | --- |
| Institute | Financial Times | The Economist | ARWU |
| Harvard Business School | 1 | 6 | 1 |
| Stanford Graduate School of Business    | 2 | 9 | 7 |
| University of Chicago – Booth School of Business | 9 | 1 | 2 |
| Dartmouth College – Tuck School of Business | 20 | 2 | 32 |
| University of Pennsylvania: Wharton | 4 | 11 | 8 |
| Columbia Business School | 5 | 10 | 6 |
| University of Virginia – Darden School of Business | 33 | 3 | - |
| MIT: Sloan | 8 | 12 | 3 |
| New York University – Leonard N Stern School of Business | 17 | 8 | 9 |
| Yale School of Management | 10 | 19 | 13 |
(2014-15)


Check deadlines:
Universities in the US do not have a common deadline for all business courses. Also, most MBA colleges have more than one round of deadlines. The general practice is that universities in the US usually recommend international students to apply in the first or second round itself so that they have enough time for visa application. Below are the deadlines of some of the business schools.
Business school

Round

Deadline

Harvard Business School

ROUND 1

ROUND 2

ROUND 3

9th SEP

6th JAN 

4th APR 

Stanford Graduate School of Business   

ROUND 1

ROUND 2

ROUND 3

22nd SEP 

12th JAN

5th APR 

University of Chicago – Booth School of Business

ROUND 1

ROUND 2

ROUND 3

17th SEP

5th JAN

5th APR

Dartmouth College – Tuck School of Business

Early Action Round   

November Round      

January Round           

April Round

7th October

4th November

6th January

4th April

University of Pennsylvania: Wharton

ROUND 1

ROUND 2

ROUND 3

29th SEP 

5th JAN 

30th March 
While one can send the application and all documents by post, most universities also allow the applicant to submit the application online. Then there are some universities which require the applicant to send the application via email also.


Eligibility Criteria for MBA in the US:
A majority of the universities in the USA require an applicant to have a minimum 16 years of education before applying for MBA. Therefore, the applicant must have completed at least four years of education (graduation or diploma) after 10+2. Students who have completed their Master's degree are also qualified to apply for MBA in the US.


Required exams:
GMAT and GRE are two predominant exams that aspirants need to undertake to pursue management studies in the USA. 
One should, ideally, register for tests at least 3 months prior to the application deadline so that test scores are ready at the time of filing of the application
GMAT: One of the most important elements of the application package for admission to MBA in the USA is the GMAT score. The GMAT is a standardized test which evaluates a candidate on four yardsticks -Analytical Writing Assessment, Integrated Reasoning, Quantitative and Verbal. The GMAT test score is valid for up to 5 years and is held round the year at over 600 test centres across the world.
Aspirants can register for GMAT as and when they require their GMAT scores. However, candidates have to take at least 16 days break between two attempts. Also, they can't appear for more than five GMAT exams within a 12-month period.
The minimum GMAT scores required by top universities in the USA:
Bschool

Programme

GMAT score/range

Stanford University- Stanford Graduate School of Business

MBA

740

University of Chicago – Booth School of Business

MBA

720

Harvard Business School

MBA

730

University of Pennsylvania-Wharton

MBA

728

Northwestern University-

Kellogg School of Management

MBA

717

Dartmouth College – Tuck School of Business

MBA

716

Columbia University-

Columbia Business School

MBA

716

Duke University-Fuqua School of Business

MBA

690

Cornell University-

Samuel Curtis Johnson Graduate School of Management

MBA

700

University of Michigan

Stephen M. Ross School of Business

MBA

702
(Source- Universities)


GRE: GRE was first accepted for admission to a management course by Stanford in 2005. Since then, most of the institutions like Harvard, Wharton, UC Berkeley, Duke, MIT, NYU, and Yale have started accepting it. At present, more than 1,000 business schools in the US accept GRE in their selection procedure.


One can take the GRE Test once every 21 days, up to five times within a 12-month period. This applies even if the candidate has cancelled scores on a test taken previously.
Work experience:
Most US universities require work experience for entry into their MBA programmes. While some Business Schools do admit students without experience, a majority of them require work experience ranging between 2- 10 years, depending on the kind of programme one wants to pursue.


Jatin Bhandari, CEO and co-founder of PythaGurus, which has been training students to crack the admission process at top business schools, puts it this way:
"I will encourage everyone to work for a few years before they can think about an MBA program. Without work experience, they will have an artificial understanding of an MBA program and will feel that it will give them some sort of managerial perspective and they will get to work at a higher salary. They need to first work in the industry and learn to operate in a professional environment, learn to write emails, learn to face rejection in a professional set up, work with difficult bosses, work with peers who do not approve of all your ideas. Once they get through a rigorous learning, it will make a lot of sense to apply to top MBA programs."
Interview:
The interview is one of the most important rounds for admission into MBA programmes in the USA. Remember, interviews are conducted by invitation only. The university will first analyse the candidate's academic records as well as GMAT or GRE scores before inviting the candidate for an interview.


An interview is basically a conversation where the candidate is asked about his background and why he wants to join the particular MBA programme.
The application package for MBA in US:
Recommendation letters:  Letters of recommendations are statements that reflect the candidate's potential from the point of view of a third person. Most universities require at least two to three recommendation letters.

SOP: A statement of purpose has to be written by the candidate and should reflect his life goals as well his reasons for wanting to join the institution. Most universities require the statement of purpose within the limit of 500 words.

Resume: Some universities require the candidate to submit a CV along with the application. It should contain basic information like date of birth, academic qualifications and achievements.

GRE/TOEFL/GMAT/IELTS score proofs besides reporting the test scores officially.

Academic Transcripts for the qualifications listed in the application form.

Work experience certificates, if applicable

Photocopies of the candidate's passport

Certificates for extra-curricular activities mentioned in the application form.

WES Evaluation documents, if required by the university.
Essays:  Some business schools might ask the candidate to write essays. Essays are usually 400-500 words long but the length of the essay depends on the university's requirement. While some universities may give a candidate a topic to write on, other universities may give an option to the candidate to write on a relevant topic of his interest. Generally, the candidate is asked to submit 2-3 essays. 
Offer letters: The business schools usually take a few weeks to respond to applications. Most applicants receive their acceptance or rejection letter between February and April for the September intake.
More like United States of America