Engineering in Canada: With majority of international students opting for engineering, the subject stands in the forefront of global education in Canada. One of the major reasons behind the popularity of engineering in Canada is that the country boasts some of the best engineering institutions like the University of Toronto and UBC which fall among the top engineering colleges in the world. Canada is also one of those international destinations which is cheaper compared to other engineering study hubs across the world and that is why people prefer to study in Canada. Before applying to best universities in Canada, it would be helpful to know about the cost that you have to incur while pursuing engineering in Canada.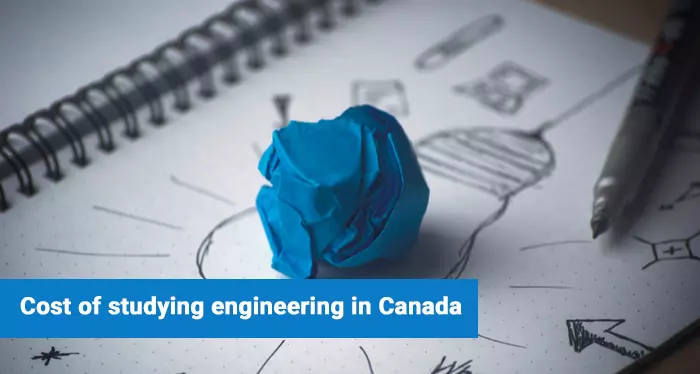 Engineering in Canada: Tuition Fees, Top Universities with QS ranking, Cost of exams
Engineering in Canada: Tuition fees
Tuition fee is one of the biggest factors that international students consider while applying to universities abroad. Thankfully, Canada is one of the reasonable countries when it comes to charging tuition fees from international students. This is, of course, one of the major reasons why many students prefer to study in Canada to avoid the exorbitant steep tuition fee charged by engineering colleges in USA and Australia. Sample this, the fee for studying engineering in USA is around 60,000 CAD per annum but that in Canadian colleges is around CAD 40,000. Also, the tuition fee at many universities in Canada depends on the number of units that an international student has to pursue to complete the course.
Engineering tuition fee across top universities in Canada:
| | | |
| --- | --- | --- |
| University | QS ranking 2023 | Tuition fees UG (annual) |
| | 31 | $37,054 |
| | 34 | $62,250 |
| | 47 | $52,872 |
| | 110 | $40,290 |
| Western University | 32 | $61,724 |
| | 152 | $ 61.724 |
| | 154 | $63,000 |
| | 233 | $25,463 |
Engineering in Canada: Living expenses
Tuition fee is only one part of the expenses that international students have to take care of while considering engineering in Canada. Another major expense that should be part of the student's budget plan is the living expenses to study in Canada. Needless to say, living expenses is an element that could have huge variations depending on factors like city, accommodation and the requirements of the student. If your university is in cities like Toronto or Calgary, your living expenses could be higher compared to living in cities like Montreal. Also, your living budget for pursuing engineering in Canada would depend on the lifestyle that you maintain in an international city.
However, an international student can manage his expenses within a budget by selecting options like sharing accommodation, reducing entertainment expenses etc. Apart from being in a multicultural environment, everyone wants to live in a safe city. Enrolling in an international university does not just mean studying a programme in a foreign land, it also involves exploring the country with all its experiences. So more often than not, aspects like entertainment too have to be taken into consideration to map out your living expenses in a country.
Average yearly expenses
| | |
| --- | --- |
| Cost factor | Average cost per year |
| Accommodation | 3000 to 8400 CAD |
| Food | 3600 CAD |
| Transport | 1200 CAD |
| Medical | 800 CAD |
| Utilities | 3000 CAD |
Engineering course in Canada - Cost of examinations:
Besides the usual expenses including tuition fees and living expenses, there are expenses that a student has to incur before starting to pursue engineering in Canada. First in the list comes exam registration. Most of the engineering colleges in Canada demand scores of standardised tests like GRE for admission to their programmes. While GRE general test score is mandatory, you need to take GRE subject test depending on the requirement of the university. Students going for undergraduate studies have to take SAT which costs around $54. Further, students also have to appear for either IELTS or TOEFL test to show proof of English proficiency if they come from non-native English speaking countries.
Also read: