Cost of studying engineering in Germany: Germany is a popular destination for international students. The reasons why international students choose to study in Germany are the low cost of education, wide range of courses, quality education at world-class universities, courses taught in English, and public universities offering free education. The fact that Germany is a leader in engineering education and offers many employment opportunities in this field makes it the best option for international students to study and later work here. Let us look at the cost of studying engineering in Germany.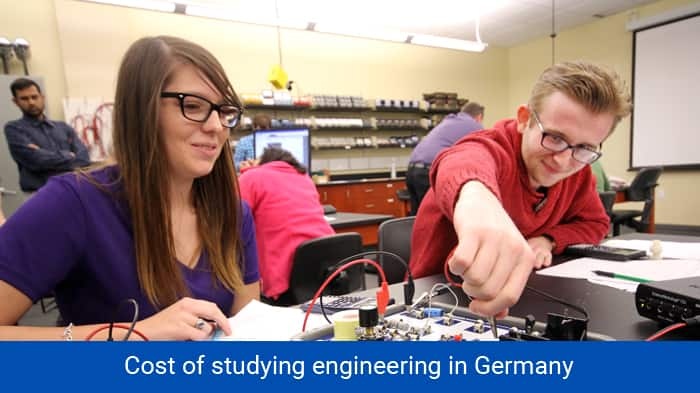 Engineering in Germany: How much does it cost?
Top ranked German Universities
Name of University

QS ranking

2023

Technical University of Munich (TUM)

50

Heidelberg University

63

Ludwig Maximilians University Munich

64

Freie Universität Berlin

127

Humboldt University Berlin

128

Karlsruhe Institute of Technology (KIT)

136

Technische Universität Berlin

159

RWTH Aachen University

165

University of Freiburg

172

University of Tübingen

177
Engineering in Germany: Tuition fees
If you enroll at a public university in Germany and take up undergraduate engineering studies, you don't have to pay any tuition fees, as already mentioned earlier. Also the unique thing about Germany is students from outside the EU/EEA pay the same fee as those within. This is in contrast to major study abroad destinations.
In case of master's degree, you will have to pay a nominal semester fee.
Tuition fee at private universities: Private universities are expectedly more expensive and their fees range between 1500 to 3500 euros per year depending upon the university.
No fee for PhD students at public universities: PhD study is free at all public universities in Germany – at least for the first six months of the program. PhD students, nevertheless, have to pay the semester fee for administration and similar other costs.
Cost of living
A big contributor to the overall cost of studying is living cost, which encompasses a gamut of items including accommodation cost, travel expenses, recreation and entertainment. The average living costs for international students in Germany is between 700 to 1000 Euros per month. The cost of living will include food, accommodation, transport etc. Living expenses in larger cities like Berlin or Frankfurt will be around 900 to 1,500 Euros per month while in smaller cities like Hannover or Leipzig it will be around 750 to 1,100 Euros per month.
So, it is important that you take this into consideration when calculating the total cost of studying engineering in Germany.
Living cost is probably the only expense where you can save some money; after all not everyone is fortunate enough to get a scholarship and has to make do with loans. Like when selecting accommodation, you can decide whether to go for shared or single accommodation. Single accommodations are costly, and you may opt for shared accommodation. At other times, you may opt between on-campus and off-campus accommodation based on convenience and cost.
Cost of examinations
Another important component of the cost of studying engineering in Germany is cost related to admission requirements. While the language of instruction in most German universities in German, if you opt for a English language Master's program, you have to give evidence of your English language skills, or in other words scores of TOEFL or IELTS. TOEFL test cost is US $ 190, while IELTS costs between US $ 215-310.
Insurance-related expenses
Health insurance coverage is mandatory for international students seeking admission in a German university. In fact, universities in Germany demand that students submit certificates detailing their medical cover at the time of enrollment, or in some special cases, before the commencement of classes.
Students have the option of choosing between a Statutory Health Insurance Plan and Private Insurance Plan. A Statutory Health Insurance Plan costs around 105 to 111 Euros per month and is meant for students who haven't purchased a local insurance in their home country. The alternative to the statutory cover is the private insurance plan which provides comparable coverage. But before you buy a private insurance plan, make sure that it is accepted by your university; one way of doing that is to consult a public insurer in Germany, who will guide you on the type of plan you need to buy. Otherwise, there is the risk of buying a plan that isn't accepted by your university, something you need to avoid to keep cost of studying engineering in Germany within reasonable limits.
Many students also prefer to buy travel insurance to cover exigencies like baggage loss, ticket cancellation and medical emergencies while studying engineering in Germany. It isn't a mandatory admission requirement, but something that would provide you an extra layer of protection.
Also read:
Stay tuned to www.studyabroad.careers360.com for more stories on Germany