Study in USA - Cost, Eligibility, Tests, Scholarships, Visa Requirements And More
Given that there is no official ranking system of colleges and universities in the USA, the first step you need to take in order to study in the USA is to research your best fit course and university options. While searching for the best-fit university may seem like a daunting task at first, if you simply categorize your suitability criteria into academic, financial, and personal, you have achieved the first milestone. Also, make sure you start your search at least 12 to 18 months before the academic year you wish to enroll in the U.S. college of your choice. Doing this gives you ample time to research exhaustively and then prep yourself accordingly.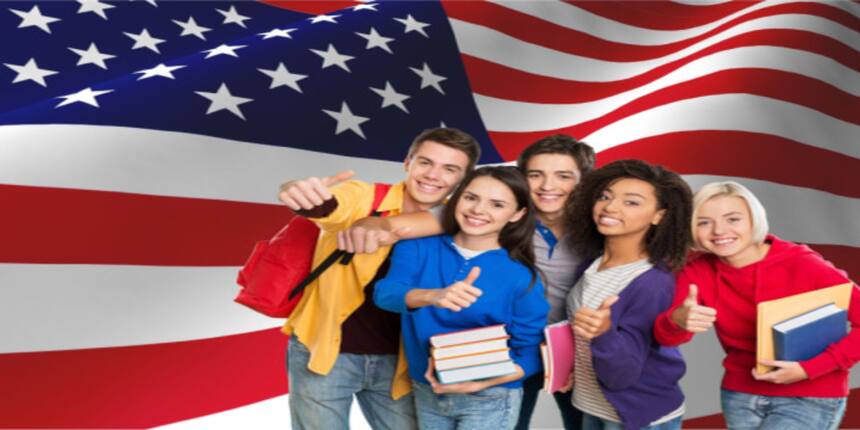 The undergraduate education system in the US primarily focuses on liberal arts and sciences. You can take up your major field of study along with a wide range of subjects. At this point, it is imperative for you to gain an understanding of what to expect when you study in the USA. You can either go for a two-year course or a four-year course. While the two-year courses are offered by junior or community colleges that provide an associate or intermediate degree, the four-year courses involve full-time study and award a bachelor's degree.
Eligibility Criteria to Study in the USA
Now that you have decided to study in USA, the next step is to check the eligibility criteria you need to fulfill. This primarily depends upon the course you pick. For e.g., you need formal education of 16 years as a minimum requirement for MS programmes. Do check the course and the university requirements for this.
In addition, you will need to appear for entrance tests like SAT, GMAT, GRE etc. This again depends on the course you plan to study in the USA. In addition, you may be required to also appear for a language test like TOEFL. For subject specific courses, there are tests like PCAT, MCAT and DAT.
Other requirements you need will be a good resume, a statement of purpose and at least two strong letters of recommendation.
After you have decided to study in the USA, it is time for you to think about the eligibility criteria you need to fulfill. There are various general exams based on the course you want to pursue including SAT, GMAT, GRE, and a language exam TOEFL. There are also a few other tests you need to take like PCAT, VCAT, MCAT, and DAT if you are going for a subject-specific course. Along with the test scores, there are other requirements you need to prep yourself on. These include your resume, at least 2 strong letters of recommendation, and your statement of purpose.
Study in USA - Know Visa Requirements
The primary thing to obtain to study in USA is a student visa. There are different types of visas like F1 student visas, J-exchange visas, and M-student visas.
F1 student visa - This is needed to study at an accredited US college or university or if you want to study English at an English language institute.

J-exchange visa - This comes into play if you wish to participate in an exchange program in high school or university study.

M-student visa - It is required for non-academic or vocational study in the USA.
USA Student Visa - Documents required
The process of applying and obtaining a US student Visa is easier if you carry out your documentation carefully and in time. So, here is a checklist of documents you need to keep handy for your US student visa process.
A valid passport that shall remain valid at least six months beyond your stay in the USA.

Your acceptance at an SEVP-approved school.

Your Form I-20.

SEVIS application fee payment.

Non-immigrant visa application and the Form DS-160 confirmation page.

Your photograph in the required format.

Academic documents like transcripts, diplomas, degrees, and certificates.

Evidence of sufficient funds ensuring that you will be able to bear your living expenses during your stay in the USA. These documents will include bank statements, financial undertaking by your sponsor, and scholarship details.
You will also be required to provide evidence that you shall leave the country when your study program is over. You may also have to appear for a personal interview at the US embassy or consulate.
Study in the USA - Something About Intakes
The education system in US universities offers multiple intakes and it's important to know about these intakes before applying for your study in USA. The three intakes offered in the USA education system are Fall intake, Spring intake and Summer intake.
Fall intake - This begins in August (August to December).

Spring intake - This begins in January (January to April).

Summer intake is restricted to select colleges and courses and begins around May (May to August).
Want to Study in the USA? Choose Your College Wisely
The education system in the USA provides you with some great options in terms of colleges, it may pose some challenges while choosing the one you wish to attend for the sheer fact that you may never have visited it. Thus, it becomes all the more important to have your selection criteria in place before your zero on the one that is for you. Let's talk about some of the key factors that you must consider before deciding on the college you want to attend.
Academic field - the major you want to pursue
Almost all colleges in the USA offer technology and business courses but if you want to go for a more specialized study in the USA, you must narrow your search and choose your college accordingly.
Graduate and degree colleges
If you have completed high school or a university study without having earned a degree, you are eligible for an undergraduate program in the USA where you will be awarded a graduate degree after completing the course. Whereas, master's and doctoral programs offer degrees after the completion of the course.
College ranking
Research on reliable websites for college ranking while planning to study in the USA. Some highly ranked universities are extremely competitive and thus, you need to match your targeted universities with your scores and overall profile.
Location and culture
Know all that you can about the geography of the colleges you are applying to. You must be sure about its suitability to your origin and overall lifestyle. Also, search about the culture prevalent around the colleges and be sure you would be comfortable in the setting.
Cost of education
A lot of your decisions will depend on the cost of education. You will arrive at the approximate total cost of your education in the USA by considering the study cost and living cost. You can consult the college website for the education cost. Generally private colleges are more expensive than the public ones, though getting into a public college is way more competitive.
Scholarships to Study in USA
Here is a list of scholarships to study in the USA for international students:
Fulbright Scholarships USA

Stanford University Scholarships

Yale University Scholarships USA

University of New Haven Scholarship

University of Memphis Scholarships

University of Minnesota Fellowship

AAUW International Fellowship Program

ACI Foundation Scholarship

Onsi Sawiris Scholarship

Rotary Peace Fellowship Program

Clark Global Scholarship Program

The HAAA Scholarship

Treasure Scholarship at Boise State University

Boston University Presidential Scholarship

Berea College Scholarships

Cornell University Financial Aid

Illinois Wesleyan University Scholarships

Jeffersons Scholars Foundation National Fellowship

University of Miami Stamps Scholarship

University of Mississippi Scholarships
Approximate Cost of Study in USA for International Students
Undergraduate Courses:
International students end up paying anywhere between $25,000 - $35000 per annum at a public university and $30,000 - $45,000 at private universities for undergraduate courses. On the other hand, community colleges offering 2-year associate degree courses charge around $2500 - $3000 per annum.
Postgraduate Courses:
International students generally end up paying $20,000 - $35,000 for public colleges and $35,000 - $50,000 for private colleges per annum.
Approximate Living Costs for Study in USA
By and large, the living cost in the USA comes to around $10000 to $18000 per year, and thus, $1000-$1500 per month. This expense includes your accommodation, boarding, food, travel, books, weather-specific attire and entertainment costs. Some additional expenses will also be incurred that will include your travel expenses to and from India; purchases such as furniture, desktop, rental car, etc.; medical costs beyond what is covered by your health insurance; and additional costs when you stay in the US for your summer breaks; social outings, weekend trips, etc.
Best USA Cities for International Students
According to the coveted QS ranking, Boston tops the list of the best US cities for international students. Here is a list of the ten most sought-after US cities for international students along with their top universities according to QS World University Rank 2022.
| | | |
| --- | --- | --- |
| City | College | Rank |
| Boston | Massachusetts Institute of Technology (MIT) | 1 |
| | Harvard University | 5 |
| | Boston University | 112 |
| | Tufts University | 275 |
| | Northeastern University | 342 |
| New York | Columbia University | 19 |
| | New York University | 42 |
| | Stevens Institute of Technology | 701 |
| | Fordham University | 801 |
| San Francisco | Stanford University | 3 |
| | The University of California, Berkeley | 32 |
| | University of San Francisco | 1001 |
| Los Angeles | California Institute of Technology (Caltech) | 6 |
| | The University of California, Los Angeles (UCLA) | 40 |
| | University of Southern California | 112 |
| Chicago | University of Chicago | 10 |
| | Northwestern University | 10 |
| | University of Illinois, Chicago | 285 |
| | Illinois Institute of Technology | 444 |
| | Loyola University, Chicago | 801 |
| Atlanta | Georgia Institute of Technology (Georgia Tech) | 88 |
| | Emory University | 160 |
| | Georgia State University | 751 |
| Philadelphia, Pennsylvania | University of Pennsylvania | 13 |
| | Drexel University | 651 |
| | Temple University | 751 |
| Pittsburgh | Carnegie Mellon University | 53 |
| | University of Pittsburgh | 163 |
| San Diego | The University of California, San Diego | 48 |
| | San Diego State University | 1001 |
| | University of San Diego | 1001 |
| Baltimore | John Hopkins University | 25 |
| | University of Maryland, Baltimore County | 751 |
7 Reasons Why You Should Study in USA
Let us look at some benefits of pursuing your study in the USA.
Some of the finest universities in the world are situated in the USA.

The institutions possess high academic standards and offer world-class education and research opportunities to its students.

US universities offer flexible educational programs where you have the opportunity to customize your courses according to your interest and career aspirations, until you decide your major at the end of the second year of your study. This holds true for both undergraduate and graduate programs.

American universities conduct orientation programs, workshops and training programs along with offering a robust student support system.

Studying in an American university provides you with an opportunity to gain exposure to different cultures, races and nationalities.

You will be learning with students from different countries which will provide you with a rich education experience. It will help you develop into a person who understands and respects diversity in terms of cuisines, customs, festivals and art.

The vibrant campus environment will make you feel at home and enrich your learning experience with new ideas from some great minds.
Frequently Asked Question (FAQs) - Study in USA - Cost, Eligibility, Tests, Scholarships, Visa Requirements And More
Question: Is studying in the USA difficult?
Answer:
You can actually follow "work hard, party harder" while you study in the USA. Though study in the USA is academically challenging and many students work part-time to sponsor their studies, the environment is highly conducive for students to explore and enjoy the American culture.
Question: Which intake is best to study in the USA?
Answer:
Fall intake is a better option as you will have completed two semesters of study when entering your first summer. Whereas, if you go for a spring intake, you will have completed only one semester when entering the summer. Spring intake students shall have to wait two more semesters after that summer to pursue their first summer internship.
Question: What age does college start in the USA?
Answer:
College and university courses begin in the thirteenth year of school, basically when you turn 17 or 18 years of age. A 2-year college program offers an associate degree while a 4-year college program offers a bachelor's degree.