Study in USA: Know top colleges, courses and admission cycle

Study in US - The US records the world's largest international student population, with more than 1,000,000 students choosing to explore and broaden their education and life experience in the United States (US). Nearly five percent of all students aspire to study in USA and thus get enrolled in higher-level education in the US as international students; the numbers are increasing each year. From the era of mid-1950's, when international student enrollment was only 35,000 approximately, study in United States has come a long way.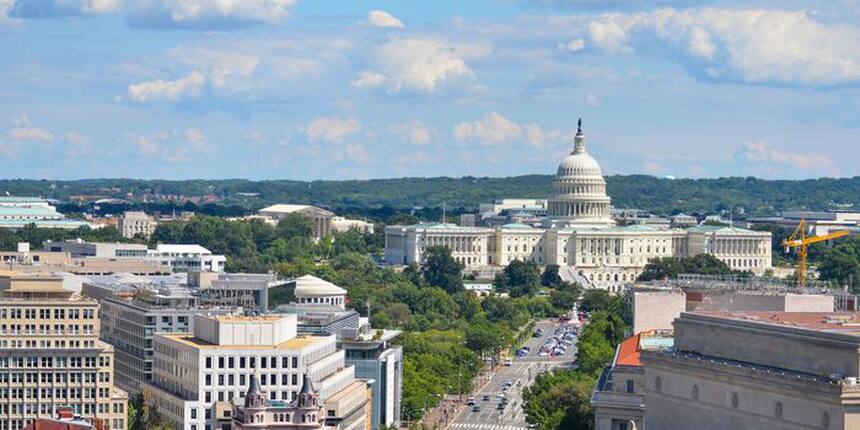 According to a new global survey, the US is one of the top destinations for international aspirants, with nearly two-thirds of respondents placing it in their top three countries for abroad studies. Global reputation of a university is still considered to be the primary motivator for studying abroad, with 40 percent and 43 percent of undergraduate and postgraduate respondents, respectively, placing it in the top reason. Once a prospective student finalises the USA to be his/her destination for pursuing higher education, the questions that crop up are where and how to study in the US!
Being a dominant study abroad hub, the USA offers a wide range of study options to students from diverse educational backgrounds. Hence, the initial step is to perform an extensive research on the universities in the country and check whether they provide the programme one wants to pursue. The requirements and deadlines of the university should be well-documented; choice of universities should be narrowed down. This will not only save time but also help one understand which universities are ideal for the academic background and profile one has. Careers360, in this article, brings to you the complete guide to 'Study in US' including the admission cycle, eligibility, scholarship, visa procedure, living expenses etc that will help any aspirant plan his/her plan of study.
Country Introduction
Geographically located in the Western Hemisphere on the continent of North America, the United States is recorded as the fourth-largest country in the world. Its total area, including Alaska and Hawaii, is 9,629,091 sq km. It is bordered on the North by Canada, on the East by the Atlantic Ocean, on the South by the Gulf of Mexico and Mexico, and on the West by the Pacific Ocean. The nation's capital, Washington, D.C., is located on the mid-Atlantic coast.
State services include fields of education, transportation, health and social welfare, public protection (including state police and prison personnel), housing, and labour. A known fact, the US economy is the world's largest. In variety and quantity, the natural resources of the United States probably exceed those of any other nation, with the possible exception of the former Soviet Union. The United States is among the world's leading exporters of coal, wheat, corn, and soybeans. However, because of its vast economic growth, the United States depends increasingly on foreign sources for the raw materials, including oil.
Study in United States (US) - The cost of a college education varies between institutions. There are county and state universities that receive government funding and offer reduced tuition for residents of the region. Students attending both public and private institutions remain eligible for federal aid in the form of grants or loans. Institutions generally offer their own scholarship and grant programmes as well for studying in US. The adult literacy rate has been estimated at about 97 percent.
Top 20 Universities in USA 2018
To pursue study in US, it is important to know the top institutes for better understanding. The following table projects the name of the top 20 universities in the US with their respective rankings:-
Sl.no

University

QS Ranking

THE Ranking

ARWU

2018

2017

2018

2017

2017

2016

1

Massachusetts Institute of Technology (MIT)

1

1

5

5

4

5

2

Stanford University

2

2

3

3

2

2

3

Harvard University

3

3

6

6

1

1

4

California Institute of Technology (Caltech)

4

5

3

2

9

8

5

University of Chicago

9

10

9

10

10

10

6

Princeton University

13

11

7

7

6

6

7

Cornell University

14

16

19

19

14

13

8

Yale University

16

15

12

12

11

11

9

Johns Hopkins University

17

17

13

17

18

16

10

Columbia University

18

20

14

16

8

9

11

University of Pennsylvania

19

18

10

13

17

18

12

Duke University

21

24

17

18

26

25

13

University of Michigan

21

23

21

21

24

23

14

University of California, Berkeley (UCB)

27

28

18

10

5

3

15

Northwestern University

28

26

20

20

22

26

16

University of California, Los Angeles (UCLA)

33

31

15

14

12

12

17

University of California, San Diego (UCSD)

38

40

31

41

15

14

18

Carnegie Mellon University

47

58

24

23

80

68

19

New York University (NYU)

52

46

27

32

29

29

20

Brown University

53

49

50

51

101-150

90
Note- For further details on the top universities of US, follow the article mentioned below-
Study in US Admission Cycle
Typically, universities in the US offer three different academic sessions for student intake, namely fall, spring and summer. Out of these sessions, fall is most feasible for international students who aspire to study in the USA as it provides them with sufficient time to manage funds as well as apply for the student visa. It is a mandate for aspiring students to understand the US admission cycle so that they can keep a track on the admission deadlines of the universities of their choice and plan accordingly. The fall session commences in late August/ early September. Therefore, it is recommended that a student should start researching the prospects one year prior to the desired year of joining. Apart from this, US universities allow students to apply for a course through three admission plans - Early admission, Regular admission and Rolling admission. Early action under early admission lets students to apply to their choice of university before the regular admission process. Under this system, students have to apply at the respective universities in November so that they can be notified about their selection by mid-December. Many US admission deadlines are not fixed due to the early and regular action application processes. The majority of US admission deadlines fall in November, mid-December and January. Also, application dates usually vary between departments of a university/college. Therefore, the best way to kick-start one's plan to study in US is to get in touch with the concerned departments to get the exact deadlines for the desired programme.
Study in USA- Admission Cycle: Timeline
| | |
| --- | --- |
| Month | Timeline |
| June (previous year): | Research your options |
| July | Register for standardised test and take test |
| August | Prepare the application package and get your test scores. |
| September | Start applying |
| November- Dec- Jan | Applications close |
| February- March | Colleges start replying to applications |
| April- May | Prepare your finances, explore scholarships and apply for education loans. |
| May- June | Apply for the students Visa |
| July | Departure preparations |
| August | Session starts |
Under Regular action process, however, applicants who are looking forward to studying in United States have to abide by the regular application process. Regular action has regular application start dates and deadlines, which you must follow before applying. It is up to the prospective applicant when he/she wants to apply, however, sticking to the application deadlines. After which candidates should start appearing for the standardised tests like TOEFL, IELTS (English proficiency tests) or GRE, SAT, GMAT (Aptitude Test) etc. Many US universities offer Rolling Admission as well, under which applications of students are accepted for as long as seats are available in the university.
Study in the US- Admission cycle 2017-18:
Institute

Level of study

Application deadline

Massachusetts Institute of Technology (MIT)

UG

Early action- Early November

Regular action- Early January

PG

Mid December

Harvard University

UG

Early action- Early November

Regular action- Early January

PG

Mid December- January

Stanford University

UG

Early action- Early November

Regular action- Early January

PG

Early December

California Institute of Technology

UG

Early action- Early November

Regular action- Early January

PG

Mid December & Early January (varies as per programme)

University of Chicago

UG

Early action- Early November

Regular action- Early January

PG

Early December or Early January (varies as per programme)

Princeton University

UG

Early action- Early November

Regular action- Early January

PG

Mid December

Yale University

UG

Early action- Early November

Regular action- Early January

PG

Mid December and Early January

Johns Hopkins University

UG

Early action- Early November

Regular action- Early January

PG

Mid December & Mid January

Cornell University

UG

Early action- Early November

Regular action- Early January

PG

December- January- May (deadlines may vary depending on programme)

University of Pennsylvania

UG

Early action- Early November

Regular action- Early January

PG

Deadlines vary
* The information provided above are the tentative deadlines for admissions in US.
Eligibility Criteria
Most USA colleges and universities require one or more standardized admissions tests in order to fetch admissions into both their Undergraduate and Postgraduate programmes. SAT, ACT, GRE, GMAT, MCAT, LSAT, TOEFL, IELTS, PTE Academic – looks like an alphabet soup!
It is imperative to provide proof of a candidate's English Language skills by appearing in tests like TOEFL or IELTS. Even if one has qualified the language tests as per college/university standards, institutes might ask applicants to go through their own entrance test.

In order to study in US, the candidate must obtain decent scores in the entrance tests based on aptitude such as GRE, GMAT, LSAT, SAT etc.

Letter of recommendation from at least one faculty member from the previous school/college is required. Also, certificates of achievement and proof of participation in extra-curricular activities will be required for admissions.

The statement of purpose (SOP) or essay as mentioned in the admission form is also a mandatory document. The quality of the essay does make a lot of difference in terms of the US admissions.

If one is applying for an undergraduate course, should have completed 10+2 to study in the USA. To apply for graduate-level courses, candidates must have completed at least 16 years of formal education.

Providing proof of finances is required to assure college/university authorities that an aspirant will be able to carry on studies with ease
US colleges/universities may ask international students to take the following tests to be taken before he/she is officially granted access to the institution:
If a candidate is aspiring to pursue an undergraduate course, then college/university might ask to take SAT Reasoning and Subject Tests.

Students aspiring to take admission in a graduate course, one could be asked to take one of the following (or more as per college/university requirement) tests: GRE General Test, GRE Subject Test, or GMAT test.

For a candidate interested to study in USA and opt for the creative course like Fine Arts, he/she might be exempted from admission test scores (but TOEFL scores is a mandate). At times, colleges ask applicants to submit creative material for analysis of one's potential.

For Medicine: Medical College Admission Test (MCAT)

For Pharmacy: Pharmacy College Admissions Tests (PCAT)

Dental Admission Test (DAT) for dental course students

Veterinary Aptitude Test (VCAT)

For Law Students: Law School Admission Test (LSAT)

Some other tests are: Certified Public Account Accountant Examination (CPA); United States Medical Licensing Examination (USMLE); Council for Graduate of Foreign Nursing Schools (CGFNS).
USA Scholarships
World-class universities, better career prospects and a dynamic campus experience calls for huge financial implications as well. So, it is equally important to check the scholarship avenues to be able to pursue study in US, to be precise a particular course in the United States. There are various scholarships awarded to Indian Students to accomplish study in USA. Apart from the concerned university, scholarship schemes granted by the Government, or sponsored by individual private, public or public-private organizations are also offered. Some of the renowned US scholarships are listed below-
Top Scholarships for Indian Students to Study in the USA
Name of Scholarship
Fulbright-Nehru Fellowship
Hubert H Humphrey Fellowship
Joint Japan/World Bank Graduate Scholarship Programme
AAUW International Fellowships
Which Are the Best Colleges offering lucrative Financial Aid in the USA?
Some private colleges offer hefty financial aid to students so much so that the cost of attending them becomes much more affordable – often close to the tuition fees of public school. Following is the list of five such institutions:-
Princeton University

Stanford University

Massachusetts Institute of Technology

Harvey Mudd College

California Institute of Technology
USA admission cycle: Visa Cycle
For an international student desirous to move to the United States to pursue study in the US, there are three different kinds of student visas that you could be issued: F1 Visa, J1 Visa or M1 Visa. The F1 and J1 visas allow for the possibility of employment in the US during your stay, while the M1 Visa does not. An aspirant needs to be familiar with the types of visas, how they impact the financing while in the USA and how to go through the process of application and arrival formalities.
The US admission cycle comes to an end with the US visa process. It is one of the major steps you have to take care of before heading to the country. You must make sure to apply for the US student visa on time. The recommended time to apply for the US student visa is three-four months prior to the month of entering the country. When you apply to a university, you will receive a Certificate of Eligibility-required for visa application- only if you are offered a place in the university. The visa process is comparatively a lengthy but an easy one. It is worth a wait as 4,71,712 F-1 Student visas were issued last year and there are currently 12,08,074 lakhs students in the United States on F and M visas! The international student visa applicants, aspiring to study in USA receive priority from the Embassy or Consulate so if one's program of study is about to begin, he/she must explain the same to the Embassy when applying for the visa.
What are the steps of processing the Student visa for USA?
Following are the steps to attain the US student visa:-
Apply to and be accepted by a Student and Exchange Visitor Program (SEVP)-approved school in the US (six to twelve months prior to US study)

Pay the Student and Exchange Visitor Information System (SEVIS) fee

Complete a US student visa application along with the specified photo(s)

Pay the visa application fee

Schedule and attend a visa interview.
Living Expenses
Living expense is the amount of money required to facilitate a certain level of living, including basic expenses of stay in the US such as housing, food, tuition, books and stationeries, taxes, and health care during the period of study in the USA. Cost of living in the United States is 178.48% higher than in India (aggregate data for all cities, though rent is not taken into consideration). Rent in the United States is 477.01% higher than in India (average data for all the cities).
An example would help understand the tuition fee structure and logistical expenses in the US universities-
MIT Quick Facts (Massachusetts Institute of Technology)
Undergraduate Tuition and Living Expenses
Nine months' tuition and fees for 2017–2018 are $49,892. In addition, undergraduate room and the board is approximately $14,720 depending on the student's housing and dining arrangements. Books and personal expenses are about $2,818.
Graduate Tuition and Living Expenses
Graduate students generally incur greater expenses than undergraduates. Most attend the institute for a calendar year rather than an academic year, increasing the cost of tuition fee. In 2017–2018, nine months' tuition and fees are $49,892 (specific programs and departments may have different tuition amounts). Summer term tuition in 2017 was approximately $16,510 for students enrolled in courses.
* Source- Official university websites
Careful planning is imperative to ensure that one will have a rewarding educational experience in the United States. If he/she is realistic about the financial needs, one will be better able to enjoy the exciting academic and cultural experience of living and learning in the United States.
Also read:
US Student Visa: Busting myths
Things to know before studying in USA
United States of America Updates and Articles
Questions related to United States of America
Showing 47 out of 47 Questions
Study in USA: Know top colleges, courses and admission cycle