GRE preparation books and study materials
GRE preparation books and study materials -Almost every enquiry on study abroad leads one to the Graduate Record Examination or GRE. And why not? GRE is, perhaps, one of the most important exams for students who wish to pursue their master's degree abroad, especially, in USA, Canada, Singapore and many other countries. Best part is that the GRE is a single entrance exam for admission to a wide range of postgraduate courses like engineering, humanities, life sciences and so on. However, to get entry into the best universities across the world, test takers have to ensure high scores in the GRE test which is only possible through in-depth preparation for GRE.
Stay up-to date with GRE News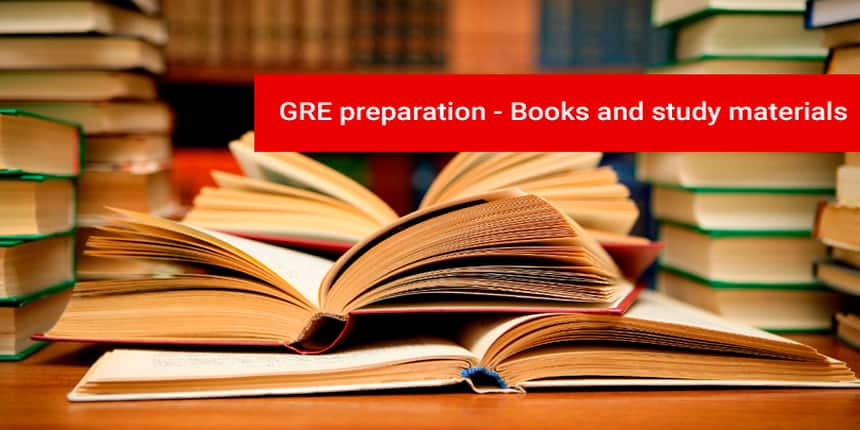 GRE test pattern
Now, GRE general test has three sections-Verbal Reasoning, Quantitative Reasoning and Analytical Writing, while the GRE subjects test has subjects like Biochemistry, Cell and Molecular Biology, Biology, Chemistry, Literature in English, Mathematics, Physics and Psychology. Both the Verbal and Quantitative sections are scored on a scale of 130-170 while Analytical section is scored on a scale 0-6. Aspirants preparing for GRE should study from GRE study materials.


GRE test pattern 2023:
Measure

Number of Questions

Allotted Time

Analytical Writing(One section with two separately timed tasks)

One "Analyse an Issue" task and one "Analyse an Argument" task

30 minutes per task

Verbal Reasoning

(Two sections)

20 questions per section

30 minutes per section

Quantitative Reasoning

(Two sections)

20 questions per section

35 minutes per section

Unscored

Varies

Varies

Research

Varies

Varies
GRE Preparation Books and GRE Study Materials:
Educational Testing Service (ETS): The conducting authority of GRE, ETS produces some of the best GRE preparation books. In fact, ETS's official GRE study materials are must buys for every GRE aspirant. The advantage of preparing from ETS guides is that the sample papers and practice sets are in sync with the actual GRE test. The best in the series is of course the ETS super power pack which includes a bundle of verbal and quantitative GRE preparation books, test preparation materials, expert tips, among others. Besides, ETS offers a comprehensive guide which aims at clearing conceptual doubts of the sections.
List of ETS GRE study materials:
Official super power pack

The Official Guide to the GRE

The Official Guide to the quantitative reasoning

The Official Guide to verbal reasoning
Manhattan prep: Manhattan prep's books are some of the most popular GRE study materials for GRE aspirants.Of course, like in ETS you can go for the whole set or individual GRE preparation books. The Manhattan Prep GRE set includes 8 guides on topics like word problems, decimals, number properties, algebra etc. A word of caution here-Don't use the Manhattan prep GRE set as a last minute study tool. This comprehensive set should be a part of your elaborate preparation strategy while you are attempting the topics.
List of GRE preparation books and GRE study materials by Manhattan Prep:
5 lb. Book of GRE Practice Problems

500 Essential Words: GRE Vocabulary Flash Cards

Manhattan Prep GRE Set of 8 Strategy Guides
Kaplan: Study abroad exams and Kaplan go hand in hand.The education provider has not only been guiding students in their preparation but also offers a wide range of GRE study materials for students preparing for the test. Kaplan's most popular package is an annual GRE Premier and GRE Complete. Kaplan's GRE premier has an incredible 2200 practice questions and 6 full length practice tests. Further, it also includes an online QuizBank which has 500 questions for the aspirants to solve.
List of GRE preparation books and GRE study materials by Kaplan:
GRE Premier 2016 with 6 Practice Tests

GRE Premier 2017 with 6 Practice Tests

GRE Vocabulary Flashcards

GRE Math Workbook

GRE 2017 Strategies, Practice & Review with 4 Practice Tests
Barron's: Known as a master test prep provider, Barron's list of GRE preparation books offer a comprehensive set of tips and practice tests for GRE aspirants. Barron's GRE is of course the most popular of the lot. Currently, in its 21st edition, the GRE study materials contain strategies for all the sections- verbal, analytical and quantitative along with model tests and answer keys. Barron's GRE study material also gives the buyer free access to its GRE online courses, including practice questions and video tutorials.
Virant: Vibrant brings out one of the few good GRE preparation books which cater to the analytical writing section of GRE. The most popular of the lot is the latest edition of Vibrant's GRE Analytical Writing, which offers very simple and clear strategies to ace this section. The best part about these GRE preparation books is that they offer sample essays on topics similar to that which come in GRE tests.


GRE preparation- Online and practice sets: There are many GRE study materials available online that students can use besides books. In fact, you have the option of downloading pdfs on the various topics. You can even take mock tests online to check your time-management skills. You can either download the materials or buy online preparation kits Besides that, you can also refer to IELTS preparation sample papers.
Click here to download GRE Sample Papers for free!
Also read:
Stay tuned to www.studyabroad.careers360 for more news and updates on GRE
Frequently Asked Question (FAQs) - GRE preparation books and study materials
Question: How many sections are there in the GRE general exam?
Answer:
The GRE general exam comprises of 3 sections:
Verbal Reasoning

Quantitative Reasoning

Analytical Writing Assessment
Question: What are the subjects that are tested in the GRE subject test?
Answer:
The GRE subject test covers the following subjects:
Mathematics

Chemistry

Physics

Psychology
Question: What is the purpose of the GRE subject test?
Answer:
Subject Tests of GRE are meant to test your knowledge and skill level in a particular subject area.
The Subject Test is for candidates who have extensive knowledge in any one of the mentioned four disciplines.
Mathematics

Chemistry

Physics

Psychology
Questions related to GRE
Showing 445 out of 445 Questions