PTE Academic 2021: Pearson- the PTE AcademicTM conducting body administers the three-hour computer-based exam Pearson Test of English (PTE) Academic 2021 round the year. It is a computer-based test for evaluating the English language proficiency of the non-native English speakers who are aspiring to study abroad or seeking immigration. The result of PTE 2021 academic test is available within five business days. The three-hour PTE Academic test 2021 appraises a real-life measure of test takers' language ability and the PTE Academic 2021 score is accepted for admission to several institutions across the world, including countries like – Australia, Canada, New Zealand, the UK and the USA. Illustrious universities, too have started accepting PTE Academic 2021 include Harvard, Yale and INSEAD. The Australian government accepts PTE Academic for the visa application process as well. Apart from being recognized by a number of universities across the world, even ministries of education and employers accept it as a proof of English language proficiency.
Stay up-to date with PTE Academic News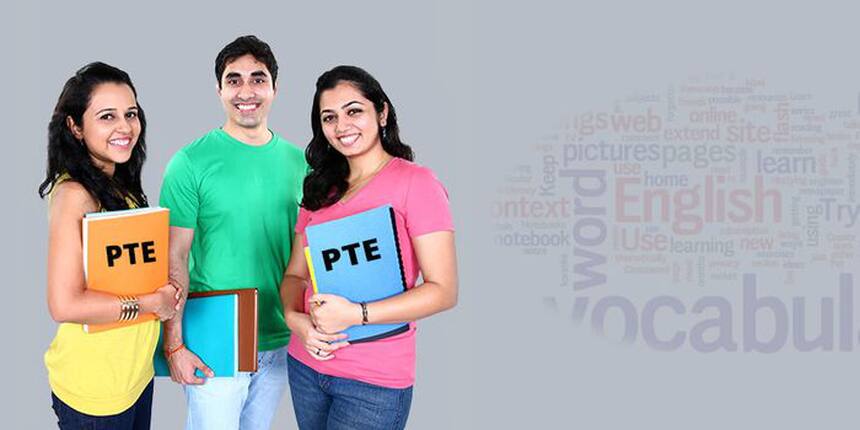 Watch the video to know all about PTE Academic
Key Highlights of PTE Academic 2021
Exam Name: Pearson Test of English Academic
Commonly Known As: PTE Academic
Exam level: International Level Test
Conducting body: PTE Academic is accredited by the Qualifications and Curriculum Authority, acronymed as QCA; organized in association with Edexcel Limited, the largest UK awarding body for academic and vocational qualifications.


There are no specific eligibility criteria related to academic qualification. However, candidates need to be at least 16 years of age before they appear for the PTE 2021 Academic test. Students who are between 16-17 years, need to produce certificates of parental consent to appear in the exam.
4 min read
Feb 28, 2022
Read More
PTE 2021 Eligibility Criteria:
Applicants should be minimum 16 years of age
Applicants below 18 years must submit proof of parental consent
Popular Online Language Courses and Certifications
Students who are keen to appear for the PTE 2021 Academic exam need to register themselves through the official website of Pearson. To book a PTE Academic 2021 test online, one has to create a Pearson VUE account. Web account creating will require an aspirant to feed in details like Personal information, Contact information, and Additional information. After completing the procedure, a candidate can schedule his/her exam date.
Step 1: The first step towards registering for the PTE is to create the Pearson VUE account. Within 24 hours of the account registration procedure, candidates will receive an email with the login details.
Step 2: With the login details, one can sign in to schedule the test.
Click here to start the registration process for the PTE 2021 .
6 min read
Mar 05, 2022
Read More
11 min read
Mar 05, 2022
Read More
Things to Remember while registering/applying for PTE Academic 2021 test:-
1. Roman characters should be used while registering.
2. Name and Date of Birth should be exactly as it appears on the identification that one intends to produce on the day of the exam. If the name or date of birth(DOB) appears differently on the ID than what has been entered during the registration process, the candidate can be refrained from appearing in the PTE Academic/ PTE-A 2019 test.
Student Also Liked
PTE Academic Fee Structure
The fee structure of the PTE Academic 2019 exam varies across countries. In India, the standard application fee of the PTE Academic is INR 13,300 which includes 18% GST.
The Late Booking fee amounts to INR 16,225. Following are the accepted forms of payment, credit card (Visa®,
MasterCard®, American Express ®, or JCB®) or debit card (Visa ® or MasterCard® only).
There are no set dates for the PTE 2021 Academic test and willing candidates need to register on the PTE Academic official website to check the available dates specific to test centres across cities. It may also be noted that the availability of PTE-A dates depends on factors like the presence of a local test centre in a particular city.
The computer-based PTE Academic exam covers a range of subjects; however, it does not require to have knowledge of those subjects. The test is to evaluate the English language proficiency. The total duration of PTE-A test 2021 is for three hours. There are three main parts to the PTE-A test; Speaking and Writing (merged together), Listening and Reading. There are twenty different question formats, ranging from multiple choice to essay writing and interpreting information. Excerpts from lectures have a range of accents in the PTE-A test, from British and American to non-native speakers. Candidates might come across pie charts and graphs as well apart from the regular question sets.
Exam Format of PTE Academic 2021
Sections

Duration

Task

PART 1: PTE Academic Speaking & Writing




77 – 93 minutes

1. Personal Introduction

2. Read Aloud

3. Repeat sentence

4. Describe image

5. Paragraph

6. Answer short question

7. One sentence

8. Re-tell lecture

9. Essay (20mins)

PART 2: PTE Academic Reading




32 – 41 minutes

1. Multiple choice questions (x2)

2. Re-order paragraphs

3. Fill in the blanks (x2)




An optional ten-minute break

PART 3: PTE Academic Listening




45 – 57 minutes

1. Summarize spoken text

2. Fill the blanks

3. Multiple choices x2

4. Highlight the correct summary

5. Highlight incorrect words

6. Select missing word

7. Write from dictation
PTE Academic does not have any fixed test centres, as Pearson allows candidates from all over the world to appear for the test. It is one of the major reasons why test takers can pick PTE 2021 test centres depending on their convenience. PTE Academic is available on 363 days at over 200 locations across the globe. Candidates can find PTE Academic test centres in almost every city; all they have to do is to select the PTE Academic test centre as per his/her convenience.


PTE results 2021 are accessed via an online account. Candidates will receive an email notifying them about the score availability. After one receives the same, will need to log in to the Pearson VUE account that was created to book the test. The PTE Academic 2021 score will be accepted by 6,000 academic institutes across the globe including some renowned names like Yale and London Business school. The score of PTE 2021 will be accepted by Australia for Visa purpose as well.
PTE Academic scores are valid for up to two years from the date of the exam. Once the two-year period expires, the PTE 2018 score is automatically removed from the site and no longer be visible. Typically, PTE Academic 2018 Results are declared within five business days. There is no specific minimum PTE score set by the conducting officials for admission to institutions as the institutes follow individual selection procedures.
Steps to check PTE 2021 Result
1. Go to your Pearson VUE account
2. Enter login details
3. Click 'My Account'
4. Click 'View Score Report'
5. Save/ download your PTE score
How to send PTE Academic 2021 result/score to colleges and universities?
The PTE 2021 result should be sent through the secure portal of Pearson. No institution accept paper or PDF versions of PTE Academic score reports.
Steps to follow:-
Login to your Pearson VUE account.

Click 'Send Scores'.

Type the name of your chosen institution in the field marked 'Institution / Organization / Department / School' and click 'Search'.

Tick the box placed next to the institution's name when it appears in the list.

Review your details then scroll down the page and click 'Next' and then 'Next' again to confirm.
How to apply for a visa to work or study in Australia or New Zealand?
While registering with PTE Academic 2019, the test takers should tick either of the boxes asking for scores to be allocated to the DIBP (Australia) or INZ (New Zealand), so that the scores are automatically sent to them.
Candidates can strategize the PTE test 2021 based on the three-P process; Plan, Prepare and Practice. Aspirants need to focus on rigorous exercise and constant analysis of the sample test papers. Candidates should consider the factor of time as well. They can time their test to get the feel of the exam day. It is advisable to write as many essays as possible to crack the Writing section with flying colours!
Also, Read
Latest Articles
PTE Academic Application Form 2021 - Candidates willing to app...
13 Feb 2021
PTE Academic Preparation Tips 2020 - Candidates can check here...
27 May 2020
Questions related to PTE Academic
Showing 95 out of 95 Questions