How to send IELTS scores to universities
How to send IELTS scores to universities -If you are planning to study abroad, be ready to prove your English language proficiency by taking standardised tests like IELTS Test. Language proficiency score is one of the essential parts of an admission package and getting a good score is mandatory to make it to the top universities. In fact, universities like Oxford, Harvard and Cambridge require international students to score at least 7.0 to be eligible for most of their programmes.
Stay up-to date with IELTS News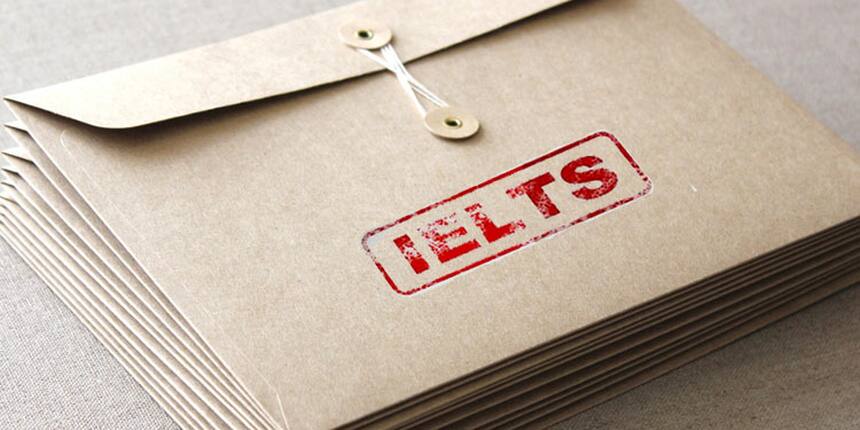 As an admission process, you must send IELTS scores to universities you are applying to. In this article, we explain the simple process on how to send IELTS scores to universities and other key details pertaining to IELTS score.
Before we explain the procedure of sending IELTS scores to universities, we bring you the process to calculate your IELTS band score and how to check IELTS result.
How to calculate your IELTS band score
IELTS is scored on a 9-band scale, where you will be given score from 1 to 9 for all the four sections- Listening, writing, reading and speaking. IELTS scores range between 0 and 9. Your score can be either in full or half band, i.e., 7.0 or 5.5, respectively. You will score a band for each section: listening,writing, speaking and reading, followed by an overall band score. The overall IELTS band score is the average of all the sections. For better understanding, here is an example:
Popular Online Language Courses and Certifications
How to calculate IELTS Band Score
Sections

Scores

Listening

5.0

Reading

7.0

Writing

6.5

Speaking

6.5

Total IELTS band score

5.0+7.0+6.5+6.5=25/4

= 6.25
When the total IELTS band score ends with .25 or .75, the score is rounded off to the next half or full band. In the above case, the IELTS score would be 6.5.
Calculation of IELTS Band Score
Sections

Scores

Listening

3.5

Reading

4.0

Writing

4.0

Speaking

4.0

Total IELTS band score

3.5+4.0+4.0+4.0=15.5/4

= 3.875
In this case, the total IELTS band score of 3.875 is rounded off making it 4.0.
How to send IELTS scores to universities?
After taking IELTS, the next step is to wait for the IELTS scores. IELTS results are usually out after 13 days of taking the test. You can also preview your result on the official website. There may be circumstances when you may not be able to view your result. In such cases, the exam authority communicates it to you. Before we proceed with how to send IELTS scores to universities of your choice, let us first guide you through the process to check your IELTS scores.
Streamed Webinar
08 Apr'22 05:00 PM to 08 Apr'22 06:00 PM IST
4 min read
Feb 28, 2022
Read More
How to check IELTS scores:
Visit the official website

Click 'Take an Exam' and click IELTS

On right-hand side click 'Your Results'

Now click 'Preview your results online'

Fill in the details and click 'Find'
To fill in the details, you need the following:
Correct test date (when the test was taken)

Date of Birth

Identification document number

Applicant/ candidate number
Please note- the candidate/ applicant number will be given to you on the test day. Thus you must keep it safely to preview your result after the 13th day.
Student Also Liked
How to send IELTS scores to universities: How to register for IELTS
The conducting authorities of IELTS allow international students to send IELTS score to five universities of their choice, which they have to select at the time of IELTS registration. You can check your IELTS score through the same account.
Here is how students can register for IELTS and select universities to send IELTS scores to:
Visit the British Council website

Click 'Take an exam' and 'IELTS'

On the right-hand side click 'IELTS registration'

Click 'Register for IELTS now'

On the left-hand side you can find the test dates by filling in the details

The next page will display the test date availability. You can choose the available date and click 'Apply' next to it.

Read the declaration carefully and tick mark against the box and click 'Continue'.

The next page asks you to fill in your personal details

At the end of the page, there is an option if you want to send IELTS scores to other institutions. Click 'Yes' to send the result.

Click 'Continue' once you fill in the correct details.

On the next page, you can specify the five universities where you want to send IELTS result.
Make sure you fill in the correct details, once you fill in the details go through the entire page to cross check if there is any mistake.
Once you select five universities, the test center forwards copies of your IELTS Test Report Form (TRF) to them free of cost. They will be sent electronically, however, there are some cases where the institutes require hard copies of IELTS test report forms. Institutions that have subscribed to electronic download of the TRF will receive the results electronically. For institutes that require original TRF, you can ask your IELTS test centre to send the TRF copy via airmail with an additional cost of USD 3.75. If you want to send it via courier to international destinations, you must pay USD19. Further, you can also attach copies of your IELTS TRF to your university application form.
You will receive only one copy of your IELTS test result form. The TRF has your photograph on it and an inbuilt security system so that it cannot be copied or altered.
Please note that additional test report form takes 14 working days to be processed upon receipt of documents. Institutions may be able to view candidates' scores through the IELTS TRF Verification Service. To do this they will need your TRF number which can be found in the bottom right corner of your Test Report Form.
How to correct your IELTS scores?
It is very rare to come across a mistake in the marking. However, if you come across such a case, you can apply to British Council's (or IDP: IELTS Australia and Cambridge English Language Assessment, whichever is the conducting authority in your country) enquiry on results service for a re-check of the test. Make sure, you get the re-check done within 6 weeks i.e., 42 days of the exam date. The best part of the re-check -- you can choose which sections of the test you want to get re-checked.
However, there is a fee in case you raise enquiry on results service of $97 that is refunded if there is any change in your overall IELTS scores. The enquiry on results service can take up to 10 weeks to complete.
Stay tuned to www.studyabroad.careers360.com for more news and updates on IELTS
Questions related to IELTS
Showing 438 out of 438 Questions