GMAT Registration 2023- Graduate Management Admission Council (GMAC) has started the GMAT registrations 2023 for GMAT focus edition on August 29, 2023. GMAC keeps the registration for GMAT exam open throughout the year. The process for the GMAT registration 2023 is quite simple. The GMAT registration link is available online on the official website mba.com. Candidates can schedule the GMAT exam date as per their readiness for the GMAT or by the application deadlines of the colleges. GMAT registration 2023 can also be done over phone or mail but with additional charges. Students can find it easy to register for the GMAT exam if they are aware of the steps for registration. The GMAT registration 2023 official website is mba.com. Read through the article to get detailed information about GMAT registration 2023.
To register for GMAT 2023 - Click here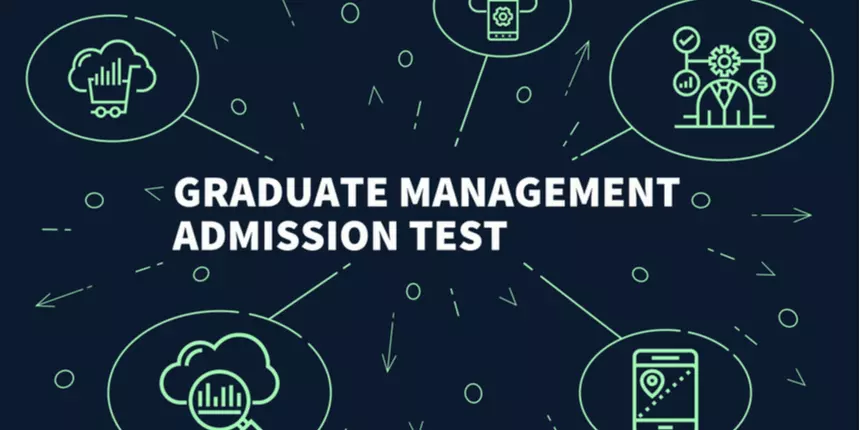 GMAT Registration 2023 - Application, How to Fill, Fees
GMAT Focus Edition-Registration
The registration process for the GMAT focus edition can be done online through the mba.com website. First, the candidates need to register an account on the mba.com website and then proceed further. The registration for the GMAT focus will start on August 29, 2023. The candidates can attempt the GMAT focus edition from November 7, 2023.
GMAT Focus Edition Dates Overview
| | |
| --- | --- |
| Registration Opens | August 29, 2023 |
| Testing Starts | November 7 2023 |
How to apply for GMAT
Here is the GMAT application process:
Students will have to log in to the mba.com account with their user ID and password.
They should then select the GMAT test mode like home or test centre.
Students should then choose the date and time and location for the test.
They should then make the payments of the GMAT application fee and complete the GMAT slot booking before the GMAT application form last date.
The GMAT application remains the same for the GMAT focus edition as well.
Eligibility for GMAT registration
Applicants should check the minimum eligibility for the GMAT before registering for the GMAT. Candidates must be at least 18 years old to be eligible to take the GMAT 2023. If candidates are between the ages of 13 and 17, they must provide written evidence with parental or guardian consent. However, there is no higher GMAT age criteria to take the GMAT exam.
Points to consider before GMAT registration and slot booking
Admissions for study abroad programs and application deadlines: Students need to be informed of the MBA application deadlines and various admissions for study abroad programs. You must therefore decide how long it will take you to prepare your application.
Preparation time: Students must determine how much time you will need to study for the GMAT. Students typically spend between three and six months getting ready for the GMAT exam in 2023.
Choice of country: Each country and each university has a different set of deadlines, admission requirements, GMAT cutoff scores, and other requirements. All of these variables must be considered by the student.
How to register for GMAT?
Candidates can take the GMAT exam online or at the centre. They can do GMAT exam registration through the following methods:
1. Online GMAT Registration- Candidates can register for GMAT online by registering on GMAT registration official website - mba.com. They have to create a profile and start filling the form on the GMAT registration date. Detailed descriptions of the steps for registration are explained below.
2. Phone registration for GMAT - Candidates can do GMAT registration over the phone by calling the GMAT customer service in their region. They have to pay an additional service fee of US$10. GMAT India office phone no- 00911244945270 (Mon to Fri- 9 am to 6 pm).
3. Postal or fax registration - Candidates have to complete the application form on mba.com. Pay their GMAT registration fee by cheque or money order. Download and mail the application form along with the GMAT form fee payment details.
We hope this answers the question on how to register for GMAT.
Different ways to register for the GMAT
There are different ways to register for the GMAT, this includes registration online, registration over the phone or registration by phone or fax.
GMAT Registration process
Information required for GMAT exam registration
Full name as mentioned on the passport
E-mail address
Correspondence Address
Phone number
Date of Birth
Nationality
Payment details (Credit/Debit Card) for the GMAT registration fee
Education Details
Work Details (Optional)
NOTE: You also need a laptop/computer and a stable internet connection.
Steps for registration
Step 1 - Go to the GMAT official website, which is mba.com and click on create an account. Fill in the details- First name, last name, e-mail address and password.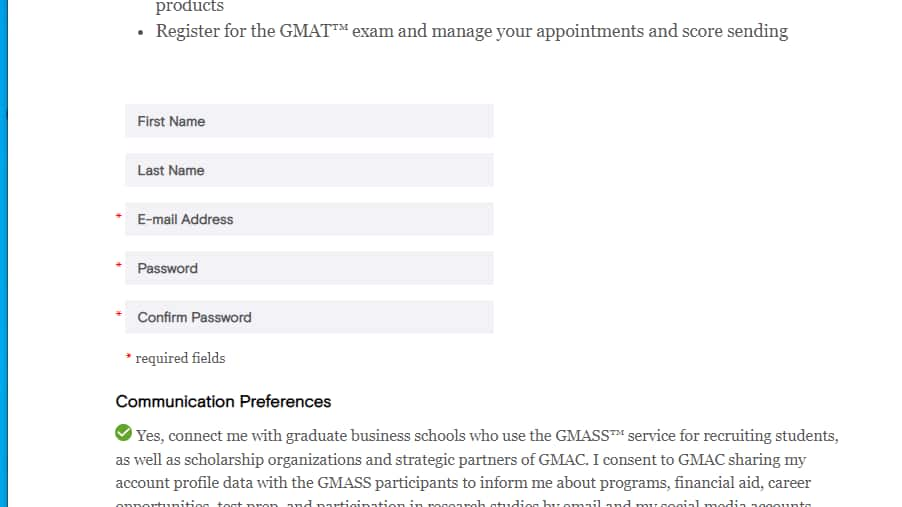 Step 2- Once you finish your GMAT candidate login, click on the 'Exams' tab on the top of the page and click on 'Register'.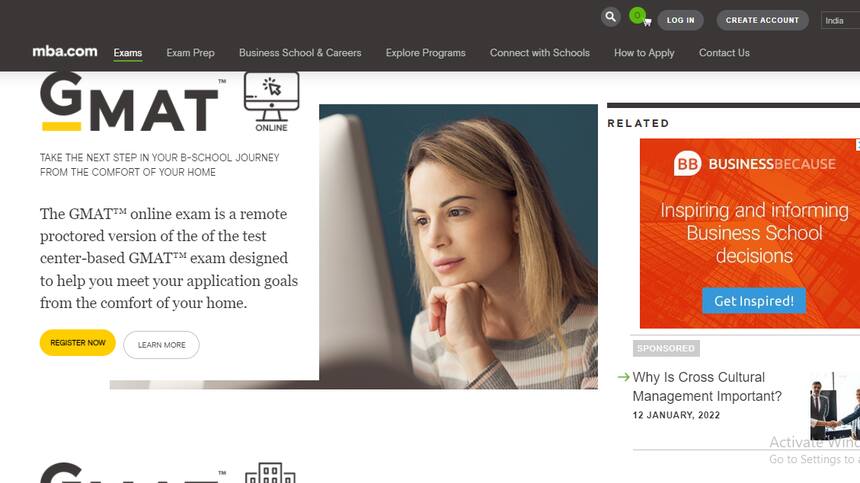 Step-3 Start making a GMAT profile by adding the following personal information.
In personal information enter details such as country/region, address, telephone number, mobile number and language.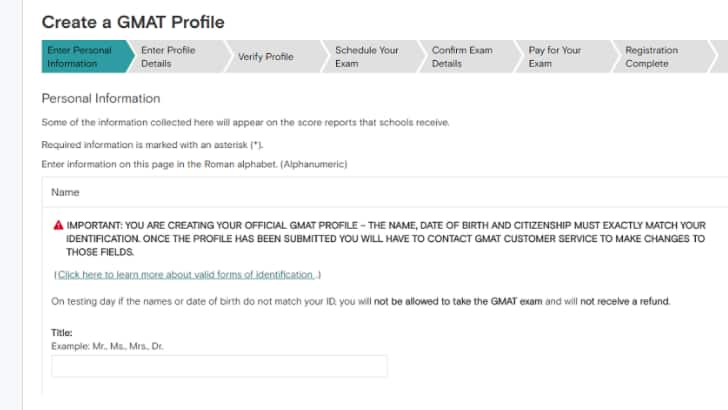 Step-4 Verify your profile
Step-5 Schedule GMAT 2023 exam by choosing a GMAT test centre.
Candidates can select up to three test centres to check the availability of the preferred dates.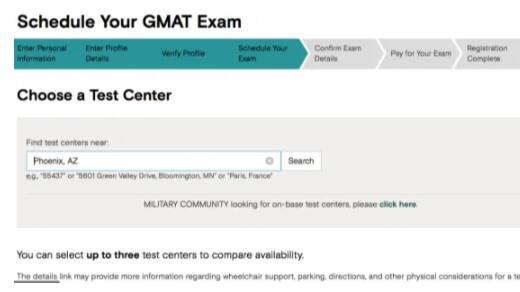 Step-6 Select the preferred GMAT exam dates 2023 and time slot for the GMAT exam.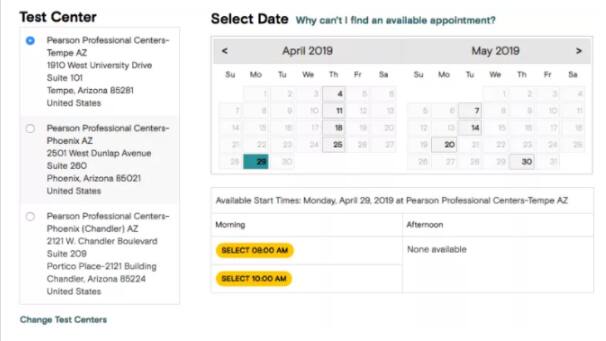 Step-7 Pay the GMAT registration fee online through net banking/debit card/credit card/NEFT. After payment of the GMAT registration fees, the process is complete. A confirmation mail will be sent to your email ID.

Registration and login information is required to make a reservation for the GMAT. Successfully registered applicants can reserve their GMAT seat by following the simple steps below.
Steps for GMAT slot booking
Here are the steps for GMAT slot booking
Login to GMAT official website-start.gmat.com/gmatregister.
Candidates will be asked to indicate their city. They were then given a list of test centers in their city or locations closest to their city. Candidates can select up to three test centers in order of preference.
Candidates must now reserve a GMAT seat at these test centers as indicated on the GMAT test date page provided. The notes shown in green are available for reservation.
Select the GMAT location and date as per your convenience from the options provided.
Complete the reservation by paying the corresponding fee.
GMAT registration fees
Here are the details of the GMAT registration fee.
GMAT registration fees particulars
| | |
| --- | --- |
| Particulars | GMAT Fee |
| Online GMAT registration | US$275 |
| GMAT registration through phone | US$275 + US$10 (customer service fee) |
| GMAT Focus Registration Fee | US$275 |
For the GMAT registration 2023 through post, candidates have to pay the GMAT registration fee via cheque or money order.
Rescheduling and cancelling GMAT exam
Candidates can reschedule and cancel the GMAT exam online or through phone. They cannot make any changes in the exam dates 24 hours prior to the exam date. They can reschedule the exam to another country by calling customer service over the phone. Through phone, there will be an additional fee of US$10 for both cancellation and reschedule of the GMAT exam.
GMAT Reschedule Fee
US$50- More than 60 days prior to appointment
US$100- 15 to 60 days prior to appointment
US$150- 1 to 14 days prior to appointment
GMAT Cancellation Fee
Here are the refund details of the GMAT exam fee in case students decide to cancel their GMAT registration.
US$50 refund- 1 to 14 days prior to appointment
US$75 refund- 15 to 60 days prior to appointment
US$100 refund- More than 60 days prior to appointment
GMAT test centres in India
The GMAT exam in India is conducted in the following cities- Hyderabad, Visakhapatnam, Delhi, Ahmedabad, Amritsar, Ranchi, Bangalore, Bhopal, Cochin, Dehradun, Indore, Noida, Gurugram, Guwahati, Pune, Nagpur, Manipal, Mumbai, Mysore, Chennai, Lucknow, Jaipur, Kolkata, Pilani, Surat, Vadodara, Vijayawada.
Also read