What is a Bachelor of Music? - A Bachelor of Music is an undergraduate degree chosen by candidates who are interested in becoming singers, music directors, and musicians. Music is the art of combining sounds to express ideas and emotions. Music can show emotions using rhythms and melody. The sound of music creates a good harmony for the people listening to it. It even acts as a medicine for candidates who are in depression. A Music degree helps the candidate to play music through vocals or musical instruments. There are different types of music degrees in bachelors such as Music Composition, Music performance, Music Business, and Music Technology.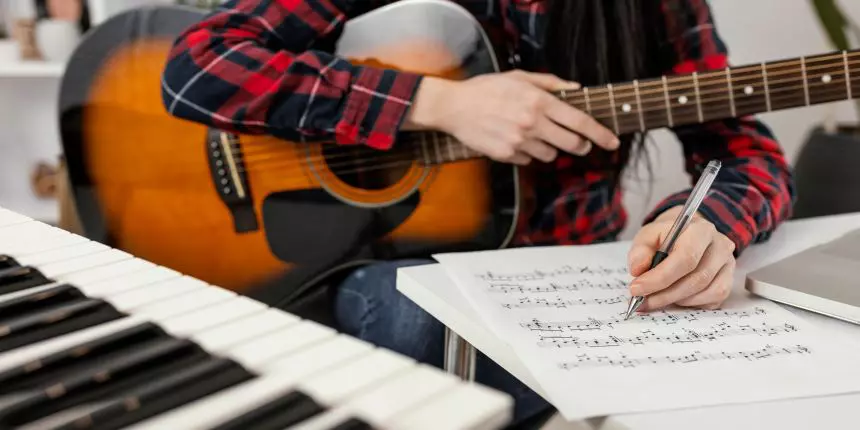 Bachelor of Music
TOP EXAMS: IELTS | TOEFL | GRE | GMAT
Country Guide: UK | Ireland | Australia | Canada
Highlights for Bachelor of Music Degree
| | |
| --- | --- |
| Course Name | Bachelor of Music Degree |
| Course Duration | Three Years |
| Mode of Study | Full time and Part time |
| Eligibility for course | Undergraduate in Arts |
| Admission Process | Based on Interview |
| Job positions | Art Director, Concert Promoter, Disc Jockey, Film Music Director, Editor, Music Teacher, and Recording Technician. |
Bachelor Of Music Eligibility
Candidates must fulfil a few eligibility requirements that are needed to pursue the course. Here are the few basic details mentioned
Candidates must complete their 12 years of education with a minimum GPA of 2.0 or 2.5 in some universities.

Candidates should have a diploma in music or similar other art degrees with minimum marks of 5.5 to six GPA in IELTS.

Candidates should have a minimum age of 23 years if they are applying for full time and 21 years if they are applying for part time.
Bachelor of Music Degree Admission
The admission details will be different from one institution to another. Students who want to pursue this course at Maynooth University need to give an interview and based on their performance they will get a seat in the college. Maturity candidates should give exams and perform well in the examination and then they will apply for the university.
Bachelor Of Music Admission Process
Candidates applying for Bachelor's in Music should have all their previous certificates and clear their exams till the 12th class.

Candidates from the EU, EFTA, and UK can apply to universities offering Bachelor's in music example: Maynooth University.

Candidates can visit the official websites of colleges and universities and fill out the application form before getting admitted into the college.
Bachelor of Music: skills required
Candidates after completing a bachelor in music and who are interested in becoming singers, musicians, and technicians. He or she should possess the minimum skills that are mentioned below:
Communication: Communication is an important skill in the field of music. It will help us in understanding the client's requirements and can do the work efficiently and effectively. To communicate with others and gather the information we need to learn communication

Creativity: A study investigates music as a source of creativity. Since music has been shown in other studies to improve cognition, learning, and memory, it stands to reason that it may also have an effect on creative thinking.

Motivation: Motivation helps the candidate to increase stimulation. This is why motivation is important for musicians. Music frequently increases our mobility and motivates our bodies to move. Because physical activity stimulates mental activity, music promotes productivity and motivation.

Discipline: Songwriters and singers must learn the discipline to become successful singers. This skill not only helps us in the field of music but also helps us in scheduling our day-to-day schedules. The discipline of the candidate will result in the growth of his or her career.
Bachelor of Music: Subject and Syllabus
Candidates who are interested in the music field and wanted their career growth in the music field. They have to learn the course in the particular field only. The music degree is divided into three years with different topics and subjects. The candidate can get in depth knowledge about the course when they go through the syllabus and learn them. Here is the table listed with the syllabus that is covered under this degree.
| | |
| --- | --- |
| Applied Music Techniques | Analytical Methods |
| Introduction to Irish Traditional Music | Music and Film |
| Music and Cultural Practice | Plainchant Performance |
| Music and History | Performance |
| Introduction to Orchestration | Basic Keyboard skills |
Scope of Bachelors of Music
Music is a universal medium that has the ability to cross all geographical boundaries. It is, without a doubt, an excellent method for calming emotions and expressing inner feelings. There are few people who have not been influenced by music in some way. Candidates devote their energy to music-related activities as musicians or music professionals. It allows you to pursue your passion and do something you enjoy doing.
The initial stage in this field may be difficult, but with experience, good exposure, and a platform, one can reach massive heights. There are many people who succeeded in this field. There are numerous opportunities in the music industry. One of the hobby courses is the Diploma in Music. Students who complete the course can work as music teachers in the film industry, music industry, and colleges. Students may also establish their own music schools. Songwriters, conductors, composers, music editors, and other job profiles are available after completing a Bachelor of Music.
Career Options after Bachelor of Music
Students after completing a Bachelor of Music will have numerous opportunities and they can work in different organisations such as the film industry, Television industry, and music industry. Here are the few career options mentioned below
| | |
| --- | --- |
| | A music teacher is a trained professional who teaches music as a subject in schools. Music teachers teach students practical methods and theory of general music, singing, and musical instrument playing. |
| Music Composer | Music composers create and write original musical scores for vocal and instrumental performances in a variety of genres. Music's purpose is to convey an appropriate tone or mood for films, television shows, radio shows, dramas, advertisements, video games, songs, and orchestras. |
| Music Directors | Music directors direct and prepare musical ensembles for performances. They hold auditions, select music, provide training, and ensure that all instruments are maintained. Music directors can work with orchestras, choirs, or bands. They are also capable of working in radio and television. |
| Audio Engineer | Audio engineers collaborate with clients such as record producers, musicians, and artists to record the sound they are making and manipulate the equaliser, compression, and gates. They must be highly skilled at operating and maintaining recording equipment. |
| Audio Technician | Audio technicians, also known as sound technicians, aid in the recording and producing sound by setting up sound and recording equipment, testing it, and making adjustments. They are typically employed in recording studios, concert halls, television, film, and radio. |
| Instrument Teachers | An instrumental teacher works in the field of music education. This can occur in formal educational settings such as schools, as well as privately in studios or from home. |