IELTS-International English Language Testing System is jointly managed by British Council, IDP: IELTS Australia and the University of Cambridge ESOL Examinations (Cambridge ESOL). IELTS too has graduated from being a multiple choice test-the English Proficiency Test Battery (EPTB) in the 1960s primarily for the purpose of screening international applicants to the UK's educational institutions by the British Council, to the English Language Testing Service (ELTS) in the 1980s, and finally to a more innovative format today. According to administrators, ELTS was influenced by the growth in 'communicative' language learning and 'English for specific purposes'. The present version of IELTS is a result of major revisions.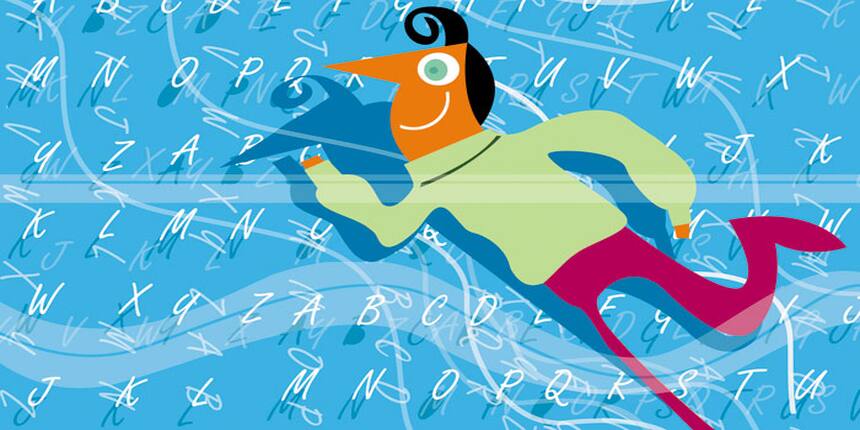 The 1989 format introduced the candidates to two non-specialised modules, Listening and Speaking, and two specialised modules, Reading and Writing. While the non-specialised modules tested general English, the specialised ones assessed the candidate's skill in three discipline fields namely Physical Science & Technology; Life & Medical Sciences and Business Studies & Social Sciences (Module A, B & C respectively). In 1995, the field-specific modules A, B and C were replaced with one Academic Reading Module and one Academic Writing Module. Measures were taken to gather data on test performance and candidate background to factor the issue of fairness. In 2001, the revised IELTS Speaking test was introduced and in 2005, new assessment criteria for the Writing Test were made operational. The same year, computerised version of IELTS was also introduced.
To know all about IELTS, watch the video below:
Taking the IELTS Test
IELTS Band
IELTS Band
Score Scale
Implication

9

Expert user

8

Very good user

7

Good user

6

Competent user

5

Modest user

4

Limited user

3

Extremely limited user

2

Intermittent user

1

Non-user

0

Did not attempt the test
Step one is to opt for one of these IELTS formats: the IELTS Academic module or the IELTS General Training module. While the first is for candidates willing to get admission to study or train in English at a UG or PG level in an educational institute; the latter is suitable for candidates who wish to undertake work experience/training programmes, or for immigration requirements (primarily to Australia, Canada and New Zealand). This format is also for those who plan to complete their secondary education in an English-speaking country. The test is either a paper-based or computer-based (CB IELTS).
Both IELTS formats are made up of four compulsory sections – Listening, Reading, Writing and Speaking. The difference is in academic text for reading/writing in the Academic Module while test material is based on training for the second module. The Reading section assesses the test taker's skill in reading as s/he answers the questions (multiple choice, sentence completion, summary writing, matching information, short-answers etc.) after reading one long text in each of the sections. The texts are taken from books, journals, magazines and newspapers on academic topics of general interest which may also have non-verbal materials such as diagrams, graphs or illustrations. The Listening section has four sub-sections. The first one is a conversation between two people set in an everyday social context. Second is a monologue or a speech. Third section is a conversation between up to four people set in an academic setting and the final one is a monologue on an academic subject, for instance an academic lecture. Each section is heard only once.
"In IELTS the Academic module caters to those who want to study and the general training module caters to those who wish to work"
The IELTS speaking test, which is recorded, consists of three parts that simulate a face-to-face oral interview with an examiner. The first part is Introduction and interview wherein the examiner introduces him/her and asks the candidate a few questions on familiar topics like home, family, work, studies and interests. Part two is the Individual's turn that asks the candidate to talk about a particular topic. The test-takers are given 1 minute to prepare their talk, and are allowed to make notes. They are then asked to speak for 1-2 minutes on the topic and also respond to one or two questions. Part-3 is known as two-way discussion where the candidates are asked further questions that are connected to the topic in Part 2. These questions present an opportunity to discuss more abstract issues and ideas.
The writing section has two tasks. Task 1: Look at any data, graph, chart or diagram and describe, summarise or explain the implied meaning or information in their own words. Task 2: Write an essay in response to a point of view, argument or problem. Responses to both must be written in a formal style.
Assessing IELTS test and IELTS test scores
IELTS uses a unique nine-point scoring system to measure and report test scores. You get a score for each language skill or sub-tests (listening, reading, writing & speaking) and an overall band score (OBS) on a band scale from one to nine. These scores are reported in whole or half bands. Each of the sub-test scores is equally weighted and the OBS is calculated by taking the mean of total of the four individual sub-test scores.
According to IELTS administrators, the test is advantageous for candidates because it is fair and unbiased. This is due to international teams of writers contributing to test materials and ongoing research. The test writers from different English-speaking countries, who develop IELTS content, also add to the real-life situations that exist in different countries.
Tips for IELTS
"Increase your vocabulary using memory cards, skim quickly to identify important points in a passage and draw inferences"
Read regularly, particularly textbooks, newspapers and/or materials that cover various subject areas. Increase your vocabulary using memory cards, skim quickly to identify important points in a passage and draw inferences. Watching movies and TV, listening to the radio and to the resources available on the Internet, helps a lot. Also attend lectures and try to outline the key points. For Speaking, practise with native speakers of English or join a club whose members converse in English about travel, movies, music etc. Prepare salient points to start with and practise giving responses for a minute to gradually increase the time. For improving writing skills; list out familiar topics and practise writing about them. Increase your word power, knowledge of idioms and grammatical structures so you can use them naturally when writing. One must plan to take the ELT two to three months before the earliest application deadline, so that your scores arrive at your institutions in time. Ideally start preparing at least eight weeks before the opted test date to guarantee your success. 


International English Language Testing System (IELTS)- An overview
Skill
Score range total score: 1 (lowest) to 9 (highest)
Possible number of
questions; timing
Remarks

Reading

Each correct answer equals 1 mark. The scores out of 40 are converted to the IELTS 9-band scale *Indicative Score**:Raw score 15 = Band Score of 5; 23=6; 30=7 and 35=8

40 questions; 3 sections




(2,150-2,750 words): Each




section contains one long text on academic topics of general




interest; 60 minutes

The tasks primarily assess your skills in1. Reading for gist, reading for main ideas & for detail2. Understanding inferences and implied meaning3. Recognising a writer's opinions, attitudes and purpose4. The development of and argument

Listening

Each correct answer equals 1 mark. The scores out of 40 are converted to the IELTS 9-band scale *Indicative Score**:Raw score 16 = Band Score of 5; 23=6; 30=7 and 35=8

40 Questions- 4 sections; nearly 30 minutes (plus 10 minutes' transfer time)

The tasks are based on listening to lectures, classroom discussions and conversations based on which a range of listening skills is assessed:1. Understanding of main ideas & factual information2. Recognising opinions, attitudes & purpose of the speaker3. Ability to follow the development of an argument4. Ability to connect and synthesise information

Speaking

Assessment as per four criteria of the IELTS Speaking Test Band Descriptors (fluency and coherence, lexical resource, grammatical range & accuracy, pronunciation). Example, you get 9 if you speak fluently with only rare repetition or self-correction; speak coherently;




develop topics fully and appropriately; use vocabulary with full flexibility and precision; use full range of grammar structures naturally, and use a full range of pronunciation features with precision and subtlety

Three parts: Introduction and interview (4-5 minutes);




Individual long turn




(3-4 minutes); Two-way




discussion (4-5 minutes).




Total-11-14 minutes

A wide range of speaking skills  is assessed:1. Ability to communicate opinions & information on day-to-day topics and common experiences2. Ability to speak at length on a given topic using appropriate language and organising ideas coherently3. Ability to express and justify opinions4. Be able to analyse, discuss & speculate about issues 

Writing

Candidates are assessed according to four criteria of the IELTS Writing Test Band Descriptors (task achievement/response, coherence & cohesion, lexical resource, grammatical range & accuracy) e.g. you get 9 if you fully satisfy all requirements of the task; use cohesion in such a way that it attracts no attention; use wide range of vocabulary with very natural and sophisticated control of lexical features; use wide range of structures with full flexibility & accuracy

Two tasks: writing  at least 150 words for Task 1 and at least 250 words for Task 2; 60 minutes

In Task 1, the candidates are assessed on:1. Their ability to organise, present & compare data2. Ability to describe the stages of a process; to describe an object or event or sequence of events3. Ability to explain how something worksIn Task 2, candidates are assessed on1. Their ability to present a solution to a problem2. Ability to present and justify an opinion3. Ability to compare and contrast evidence, opinions and implications and4. Ability to evaluate & challenge ideas or an




argumentTask 2 contributes twice as much as Task 1 to the score
* Scores out of 40 are converted to the IELTS 9-band scale and the band score boundaries are set so that all candidates' results relate to the same scale of achievement
** Based on 2006 tests, the mean raw scores achieved by candidates at various levels in Listening and Academic Reading tests provide an indication of the number of marks required to achieve a particular band score
Also Read:
Download IELTS Sample Paper 2014
Know minimum IELTS score required for top B-Schools

Suggested Reading:
Questions related to IELTS
Showing 430 out of 430 Questions