Description
A course in foriegn languages will develop your language skill in speaking, reading, writing, translation and interpretation in the language of your choice. You will be introduced to history, culture and literature of the particular language. Audiovisual language laboratory facilities and films make learning the language simple and interesting.Download this quick guide that will help you shape a career in the interesting field of foreign languages.
Student Reviews
Showing 1-2 of 2 Reviews
only gives you a guideline not sufficientnn
...
I think this is best book
...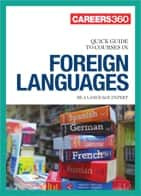 Careers360 Quick Guide to Foreign Languages